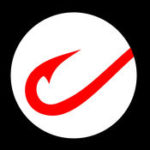 Animated Fishing Knots app is going to find a home on the phone of any angler. This app has the ability to span all types of fishing with its enormous collection of knots. It's also easy to navigate and work with. I think this plays a huge part in its functionality for any fisherman whether they are running a boat off the continental shelf or if they are on a small stream on top of a mountain.
The Animated Fishing Knots app is a great reference in a small package that won't take up much space on your phone. I think any outdoorsman will appreciate that.
Main Features of Animated Fishing Knots App
⇒ The Animated Fishing Knots App opens with a short page of instructions and a picture of giant largemouth bass. From there you are greeted with an interface that offers an extensive list of knots. These knots can be sorted in two ways. The first way is by category. The app offers up four distinct categories if you choose this option.
Miscellaneous.
Tie Two Lines Together.
Tie a Loop in a Line.
You can also sort these knots by name. This breaks them down in alphabetical order. If you are in search of a knot by name this is the best method to use.
From here you can choose a knot and take two options. Next to each knot, there is an INFO button and a PLAY button.
⇒ The INFO button will show the knot in its completed form and give a few words about the knot itself and what its useful for.
⇒ If you choose the PLAY button it will take you to an animation that features how the knot is tied. The animations are short and a little rough to follow. You get an info section and an animated video for every knot in the application.
What I Liked The Most?
Lots of Knots
There is a lot to like about this app. Someone did a lot of work compiling these knots in one place. There are more than a handful of knots that I have never even heard of. This is exciting to a guy like me.
It may be overkill for others but having the right knot for the job is paramount. I find it to be very interesting in all the ways that you can utilize these knots.
Unique Categories
What makes this app stand out is how it offers the four unique categories of knots. When you are dealing with this many knots and you see them only by name it becomes very hard for you to find the knot you need. In most cases, you will be unsure of the name or what it does. That being said it is much easier when you break them down into their unique use. If I am looking to attach a fly to a hook I have that category to explore.
When you break something like knots into categories it helps the average person understand what's possible. It helps them navigate to what they need. While many apps offer a group of knots its rare that you find something that categorizes them for you in a way that makes sense.
⇒ By far the most impressive feature here is not just the categorization but the categories chosen for the user to pick from. It is only four of them but they are the most important four that you could ask for.
What I Liked/ The Least?
Animation
Unfortunately, for this app, I really was not a fan of the animation. I thought that the animations were crude, and some did not even really give enough info to the person tying the knot. Since I have been fishing and tying knots for many years I could follow the animation and see where they were trying to go.
When I thought about what a beginner would see it concerned me. Some things like twists in lines were shown using a strange hand animation that never really turned a full three hundred and sixty degrees. Instead, the hand appeared to simple show the back of the hand and then the palm. I was not a fan of this. For someone who was trying to learn knots, I thought it was an ugly way to show knot tying.
The animated fishing knots app has a great collection of knots. It is one of the best out there for fishing exclusively. The problem with the app is the animation and that is terrible news because it is the feature of the app. For each knot, you will find a great picture of the knot that shows you exactly where you are going. You will also find a great section of information about all the wonderful things this knot can be used for.
Unfortunately, the animations need to be redone to include more detail.
Looking at comparable apps that use live people to tie knots there is really no comparison. The animations of this app really drop it down a level. This fishing app has some serious benefits even without the animations but when you get into complicated looping knots the instruction suddenly becomes necessary.
⇒ The animations are also the only instruction for the knots. There is no step by step written directions. This means that you must really be sure of the animation which is less than helpful.
My Final Take
In the world of fishing knots, diversity should be considered. The Animated Fishing Knots app offers an incredible array of knots with some essential information and pictures on each. The effective categorization makes it easy for you to fill your need.
The app is small and easy to navigate. Any angler has room to throw this app on their phone and have a resource in the creek or on the ocean.
While the animations are not up to par with other apps you can still get an idea of what is trying to be presented. If you come from a background where knots are part of your life you will have no trouble navigating and executing. If you are a newbie you may have some trouble.