From the constant marches and runs of Fort Benning Phase, through the ruggedness of Mountain Phase, and on to the waters of Florida Phase, your feet will encounter all types of terrain that will test your endurance and the quality of your boots.
Make sure you are prepared for everything that Ranger School will throw at you!
Poor foot care can lead to improper gait, bad posture, and back problems. For service members entering grueling programs like Ranger School, foot care is all the more important.
Anyone who has gone on ruck marches in the military or backpacked for a couple of weeks in the wilderness knows how much difference a good pair of boots can make on your overall morale. So don't neglect your feet!
A small investment in a quality pair of boots will keep you energetic and ready to run or march as needed. You are going to be on your feet a lot, so your boots will be one of your most important pieces of equipment.
All five of these best boots for ranger school are under $200, making them affordable. So, can you really afford not to have one of these boots when you go to Ranger School? If you are in a rush, then we recommend looking at the Garmont T8 Bifida.
This boot will really shine during the field phases of Ranger School while providing comfort throughout the entire program.
Note: All of the boots listed here comply with AR 670-1. Though, it would be a good idea to also check with your Ranger School instructors to make sure that the boot you want is OK for school.
Our 6 Best Boots for Ranger School
---
No products found.
An internet search for the top five tactical best boots for Ranger School will turn up most of these names alongside many others. These five boots are not best-kept secrets. They are widely known to be top performers for intense training programs like Ranger School.
I chose these five best boots for ranger school out of the many others after first consulting online message boards for military members, browsing the Exchange website, performing price comparison, and reading customer reviews on Amazon. That research led me to these five boots. This list provides a good mix of "Light†boots and "Heavy Duty†boots that are high quality and within an affordable price range.
Reviews of the Top 6 Best Boots for Ranger School
---
1. Danner Tachyon
Best for warm weather
---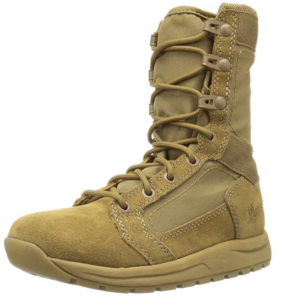 The Tachyon provides sturdiness all around from thick all-rubber outsoles to the military-standard eight-inch shaft. What sets this boot apart from the others is its ultra-lightweight construction.
At only 13 ounces per boot, you may wonder if this boot really can hold up to the trials of Ranger School. But you can rest easy knowing that Danner did not compromise boot integrity for the sake of weight alone.
There is a lot of nylon for flexibility and ventilation, but leather reinforces the boot in all the right places to keep your foot and ankle secure.
You want this boot for ruck marches and training in hot summer weather. Just wait and see how much cooler and dryer your feet are than your squadmates' feet after a full day's march in the Southern heat.
— Why do we recommend this?
It's perfect for warm weather use. Lightweight construction with superior ventilation in mind keeps the Danner Tachyon breathable and comfortable during hot, summer marches. This boot is comfortable and flexible but still provides normal support.
---
2. Reebok Dauntless 
Best for agility & running
---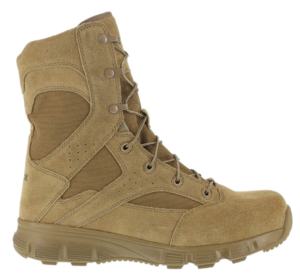 The name says it all here—Dauntless. Wear this boot with confidence, because you can handle all that Ranger School will throw your way in Reebok's go-to tactical boot.
This is one of the best boots for ranger school when you want to be fast on your feet during the ruck marches and PT of Benning Phase. But it will also hold up to the demands of the Mountain and Florida phases as well.
The thick rubber sole will give you the sure footing you need on the rough and wet terrains you will encounter. The Dauntless is not the sturdiest boot, but its high shaft provides adequate ankle support while keeping you light on your feet.
— Why do we recommend this?
The Dauntless is a comfortable piece of footwear that makes movement and agility a top priority. You get the ankle support of an eight inch boot with the flexibility of a soft-toe boot constructed with nylon and mesh for ventilation and comfort.
No products found.
---
3. Garmont T8 NFS -Â TOP PICK
Best for wet climates
---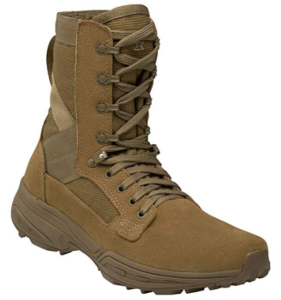 You will be glad you have the Garmont T8 NFS boot on your feet when you get to the Florida Phase of Ranger School.
This boot not only has the ventilation and breathability of a lightweight boot made with nylon construction, but Garmont has constructed this boot with quick-drying materials that let your boots dry faster on your feet and overnight.
The Garmont T8 NFS will perform well during the Benning and Florida Phases. It will give you adequate support during the Mountain phase, too, but it is not a Heavy Duty booty.
— Why do we recommend this?
Garmont made drainage, ventilation, and drying a priority with the T8 NFS boot. If your feet sweat excessively or you know you will often be sloshing across streams, then the Garmont T8 NFS boots will serve you well without compromising the integrity of a high-shaft boot.
**The Heavy Duty Boots
No products found.
---
4. Garmont T8 Bifida
Best multipurpose—comfort and breathability of a lightweight boot with superior support
---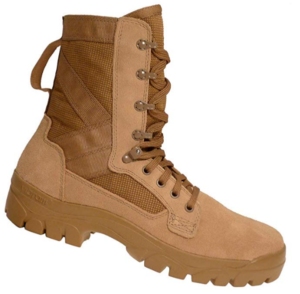 Think of the Garmont T8 Bifida as a Heavy Duty NFS with a thicker outsole that boasts a more defined tread for better grip on slick and uneven terrain.
This boot is sturdy and strong enough to handle all the punishments of the Mountain phase, but it will also provide a little of the ventilation that the lightweight boots are known for.
The Garmont T8 Bifida will not dry as quickly as the NFS, but it is still a solid choice for wet environments. This boot is my favorite pick because it has a little thicker construction that will give you peace of mind when traversing uneven terrain.
That support also translates to extra comfort that will help your feet throughout all phases of Ranger School.
If you do want extra moisture control and waterproofing, then try this boot with cushioned, sweat-wicking socks and maybe a product that provides a water-resistant coating.
— Why do we recommend this?
The breathability and lightweight construction of nylon mesh combined with the more durable Texon and canvas materials make the Garmont T8 Bifida a Heavy Duty boot with some of the features you love in a lightweight tactical boot.
Grab a few pairs of the Fox River Men's Wick Dry Maximum Mid Calf Military Sock when you purchase the Garmont T8 Bifidas or any other boots.
These socks provide extra cushioning (a double bonus if you also swap out your factory insoles for more cushioned ones) while still wicking moisture away from your feet.
No products found.
---
5. Belleville One Xero 320Â 
Best for sturdiness & ankle support
---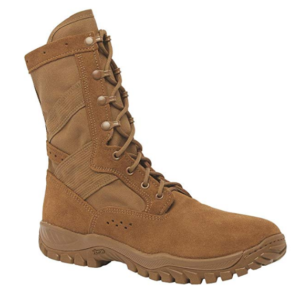 When you know your feet are going to take a beating—and let's face it, your feet are going to go through hell and back before you finish Ranger School—a lot of people want a strong boot that offers rigid support and maximum durability.
The Belleville One Xero 320 does just that. There is some nylon fabric for ventilation, but there is also a lot of leather up and down this boot that keeps your ankle supported.
Belleville One Xero boot isn't all bare-bones, though: The insole is removable, so you can fit the boot with your own for more comfort.
— Why do we recommend this?
The Belleville One Xero 320 is an affordable luxury Heavy Duty boot. It is not a lightweight running boot, but it will provide a solid performance throughout Ranger School. On top of dependability, the Belleville One Xero offers a comfortable fit that protects your feet day after day.
Stop putting up with sore heels after every ruck march. Be sure to check out the Superfeet GREEN Full Length Insole on Amazon.com.
This insole provides two inches of heel support that will turn your workhorse of a boot into a luxury footwear item. The Superfeet GREEN Full Length Insole is a best seller. It's worth looking into this with the purchase of any boot with removable insoles.
No products found.
---
---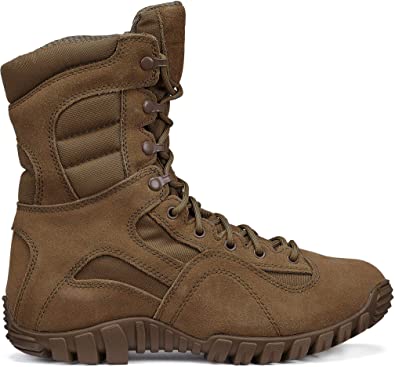 Tactical Research's TR550 Khyber 2 is a great all-rounder boot in dark beige pair. The TR550 impressed me a lot with its great break-in that allows the shoe to adjust to the contours of the feet so well that going down a size doesn't feel much different from wearing the actual size.
Whether you want a quality shoe for ranger school or for outdoor wear, TR Men's Khyber TR550 8″ Lightweight Mountain Hybrid Boot would be a great choice.
Features
Standard Military Height sole
Hundred percent of cattle hide leather and nylon upper
Shock absorbent cushioned Midsole
VIBRAM "IBEX†100% rubber outsole
Pros
Boots adjust to the shape of the feet, especially around the arches for a great fit and maximum comfort
Sturdy and durable
Great tread with good grip
Suitable with thin or thick socks
Cons
Breaking in takes time, it may take up to a couple of weeks for the boots to adjust to the feet.
The boots may feel uncomfortable initially
No products found.
---
FAQ's About Choosing The Best Boots For Ranger School
---
How Do You Know If a Boot is Good?
There are a few things to consider when buying a new pair of boots. Some buying criteria will be the same no matter what the intended use, while other criteria may be unique to your needs.
For Ranger School, the very first criteria to check off your list is AR 670-1 compliance.
As already mentioned, all five boots that I have chosen meet this requirement, but you may want to check with your instructors for any other restrictions they may have.
Other than compliance with U.S. Army regulations, what else should we consider? Ranger School will take you from paved roads to rugged hillsides to swamps and rivers.
You definitely want to consider all the terrain you will face, and the equipment you will have to shoulder throughout the course. With those things in mind, here are a few common questions that you should ask about the boots you consider buying.
Is this a Light boot or a Heavy Duty boot?
Tactical boots are not all made the same. Some boots are designed for short marches and fast runs, and other boots are designed for slow, steady, continuous use in rugged terrain. Let's call these general types "Light†and "Heavy Duty.â€
Both types will be a standard height of about 8â€. The difference comes in the thickness of the boot.
Light boots have thinner upper construction so that you can be more agile—think faster run times.
Heavy Duty boots have thicker construction all around—think heavier boot and thicker upper construction for even more ankle support.
Ranger school has a variety of terrain and physical demands, so there is no right answer to which type you should choose.
Some soldiers prefer the Light boots, while others prefer the extra support of a Heavy Duty boot. This list has a mix of Light and Heavy Duty boots.
So, is it a Light boot made for marches or a Heavy Duty boot made for long-distance, rugged use? This is an important question to ask because it will determine how much breaking-in time is needed before you head off to training.
You definitely don't want to start Ranger School with a stiff pair of new boots.
What Material(s) is The Sole Made of?
Not all soles are made the same either. You want a thick sole with good tread, sure, but you also want a material that will do its job and still be in once piece when you graduate Ranger School.
You don't want the sole falling apart piece by piece during week two of Mountain Phase.
Rubber is a time-tested material for boot soles. It is durable and waterproof, so it makes sense that even in the era of synthetics, some high-quality boots still use all-rubber outsoles.
Vibram soles are increasing in popularity, though. Vibram soles are waterproof and long-lasting, so a quality boot with a good Vibram outsole typically has as long a life as a similar boot with a rubber outsole. 
Is the Insole Removable?
It is important to consider not just the outsole, but the insole as well. With all the synthetic materials available, designers are able to focus on creating soles—out-, mid-, and insoles—that should provide better arch support, shock absorption, etc. than boots did 30, 20, or even 10 years ago.
But sometimes you want even more support for those long ruck marches.
Removable insoles will allow you to swap out the factory sole for an orthopedic insole without worrying about crowding your toes or making your foot sit too high in the boot.
If you like orthopedic insoles, then look for a boot with removable insoles.
Is This Boot Breathable?
Ventilation is important when you are wearing your boots for days on end. You want a material that breathes enough for your socks and feet not to be wet from sweat after a day of marching over dry ground.
Having sweat-wicking sock liners and expensive socks will do no good if that moisture cannot get out of your boot.
You always want proper drain screens or drainage holes so that your boot will not retain too much water after crossing streams.
We all know what happens when our feet stay wet for too long: At best the skin just gets raw and blistered. Hopefully, that's the end of it, and no serious medical attention is required.
But blistered feet will make Mountain Phase and Florida Phase very uncomfortable, so always look for drainage and ventilation.
How Much Does This Boot Weight?
The weight of a boot will not be a major factor in your buying decision. As you can see in our comparison table, most high-quality boots weigh about the same.
The only time that weight should truly impact your purchasing decision is if the weight of a boot is an anomaly—far below or above the average weight of others in its category.
A boot that weighs 9 ounces, for instance, probably has an incredibly thin and weak sole, as well as thin construction elsewhere. You would not want to wear a boot like that through Ranger School.
On the other hand, a boot that weighs 32 ounces may be pushing the upper weight limit. In that case, I would closely compare its other features with similar boots to see if there is a lighter option that offers the same functions I want.
Which Boot Stomps Out The Competition?
---
Out of all the boots that are AR 670-1 compliant, there are many quality ones to choose from. The five we reviewed have stood up to the rigors of Ranger School time and again.
These boots have a mix of features between them—some are sturdy while others are flexible, some are quick-drying while others are thick and don't drain as well—that should give you a suitable choice for whichever phase of Ranger School feels most daunting to you.
For our top choice, though, we suggest the Garmont T8 Bifida. The Bifida is not the cheapest boot on the list, but at around $150 it is affordable.
For the price of some stylish sneakers, you can easily buy this pair of boots along with thick insoles and some cushioned socks.
The Bifida does a good job of straddling the line between a Light and Heavy Duty boot. It is thick yet breathes enough, and it is sturdy yet still provides decent mobility.
Considering the variety of terrains and exercises you'll encounter in Ranger School, the Garmont T8 Bifida will give you comfort and a bit of an edge throughout it all.
If you like this article, you might also be interested in Best Rubber Hunting Boots Review.
Comparison of the Top 6 Best Boots for Ranger School
The Boot
Type
Soles
Ventilation
Weight*
Danner Tachyon
Light
Rubber / Removable insert
Drain screens
13 oz.
Reebok 8†Dauntless
Light
Rubber / Removable insert
Nylon mesh lining
18 oz.
Garmont T8 NFSÂ 

  Top Pick 

Light
Rubber
Nylon mesh lining /Â  Quick-dry materials
19 oz.
Garmont T8 Bifida
Heavy Duty
Vibram
Nylon mesh lining
20 oz.
Belleville One Xero 320
Heavy Duty
Vibram / Removable insert
Medial & lateral vents
20 oz.
TACTICAL RESEARCH TR Khyber TR550
Light
Vibram IBEX 100% rubber
Nylon fabric
24 oz.
*Your boot weight may vary depending on the size of the boot. Use the weights listed here to compare the weight differences between the boots.