Do you want to hunt with style? Or how about having a great weapon with an accurate aim and impressive shooting range?
The best crossbow is all you need to turn your hunting trip in a memorable and fruitful experience.
Because for serious hunters, there is no compromise on their hunting gear and weapons.
Do you know what gives you an edge over your prey's brutal force?
That's right: it is your hunting weapon.
Apart from being an impressive weapon with spot-on accuracy, crossbows look stylish and manly. It lends an aura of elegance and regality to your whole personality.
Now imagine yourself looking like a badass hunter with that crossbow hung on your back. Who could resist such charm?
Human has favored crossbow since medieval ages. They used it in wars, in hunting, and archery. And even now it is a popular weapon among hunters.
But with an upgraded version developed according to the need of hunters, these Crossbows got even better.
In this article, I am going to review the five best crossbows for the money. No matter, if you are a beginner crossbow user or an experienced one, this article will help make your buying decision easier.
---
Best Crossbows – Our Picks
---
Last update on 2020-10-01 - Images from Amazon Product Advertising API
But before all that, it is imperative to know the factors responsible for the best crossbows. I am going to walk you through some crucial aspects so that you get the best deal for your money and not regret your buying decision later.
Let's hit the road, shall we?
How to Choose Best Crossbow for Money?
For beginners, choosing a crossbow can be a complicated business. There are so many things and terminologies that can create confusion and you can very well end up with a lousy product.
On top of that, the crossbow market is saturated with different sizes, designs, and mechanisms that can jumble up your mind quickly.
To avoid all that and clear all your confusion, here are a few aspects you need to keep in mind before hitting that "buy" button.
Recurve Vs. Compound Crossbow- Which One To Pick?
First, you need to decide on the type of crossbow you want as it can get a bit confusing otherwise.
A recurve crossbow is a traditional crossbow with a simple design. It is lighter compared to the compound bow, which makes it ideal for long-distance hunting in the woods.
The drawback is that the shooting speed is slower than the compound counterpart. The profile of recurve design is broader, which makes it challenging to maneuver in narrows spaces in the woods.
Additionally, it is hard to cock, but a cocking device can solve that problem.
The dynamics and innovative design of the compound crossbow make it lighter and faster than recurves. The puller system attached to the limbs makes it sturdy and accurate. Enhanced speed and enhanced accuracy make compound bows a favorite among hunters for the reason that you have the maximum chance to shoot accurately.
They are more discreet and silent compared to recurve ones. The limbs are shorter, which makes the overall profile much compact and sleek.
One drawback of a compound bow is that if something is wrong with your compound bow, you need to take it to the professionals to get fixed.
Compound bows are suitable for people who want more speed to their shots and are short on time while hunting.

Crossbow Weight
Usually, it is said that the more massive the crossbow, the better. But it all depends on your motive and purpose of shooting. If you are going to use the crossbow from one location like in archery or target practice, you can opt for a heavy crossbow.
But out in the wood, hunting your prey and scouting the terrain with a large crossbow can be a pain in the neck. You need a fast and light crossbow for hunting those stealthy deer.
The draw weight is also vital to consider while making the purchasing decision.
---
Best Crossbow – Products Reviews
---
1. Burnett Jackal Crossbow Package
---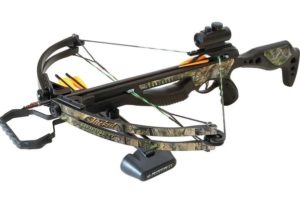 Burnett is in the crossbow field for over five years and has successfully changed the crossbow game for hunters.
The jackal crossbow by Burnett is an ideal choice for beginners and children for the fact that it is lightweight, easy to use, and above all, safe. That is the reason jackal crossbow is so popular among the crossbow users.
The ingenious and smooth military-styled design is the best fit for you if you are on the lookout for a weapon that delivers devastating blows.
The stock handle is pretty comfortable to hold, and the lightweight of the jackal makes it even more practical.
With the jackal crossbow on your shoulder, you don't have to bother about the shoulder strain on those extended hunting trips.
Equipped with high energy wheels and quad limbs combined with a cable system, the shooting speed is as impressive as 315 FPS. You can quickly drop a deer with this kind of speed.
The draw weight of 150 pounds and high kinetic energy behind each shot is adequate to knock off your prey easily and quickly.
The accuracy of this crossbow is unquestionable. You will have no trouble mounting an arrow with Picatinny rail, and the shot will be precisely on the dot.
And finally, the camouflage design makes it discreet enough not to startle the game. The crossbow is silent, which is ideal if you don't want to scare your prey away.
The package includes quivers, 3-20 inch arrows, and a red-dot sight so you can get started right away.
Features
Camouflage design
Perfect accuracy with red dot sight up to 40 yards
Five year warranty
Quad limbs
5 lbs. trigger pull
AVI foot stirrup and bolt retainer
Pros and Cons
Light Weight
Cool Design
Suitable for adults and children
Safe and secure crossbow
No loud Noise
Amazing value for money
Reasonable Price
Lining up cross strings can be tricky
Last update on 2020-10-01 - Images from Amazon Product Advertising API
---
2. Wicked Ridge by TenPoint Invader G3 Crossbow Package
---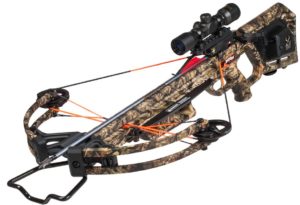 Nasty ridge invader by TenPoint is one of the fastest and lightest crossbow ever. It is a perfect entry-level crossbow for anyone who wants to try their hand at crossbow hunting.
By introducing cutting-edge technologies and taking the crossbow game to the next level, TenPoint has established its reputation as one of the most reliable brands in the crossbow industry.
The wicked ridge invader is the fastest and lightest crossbow ever made by Tenpoint. The framework and body cut out of this crossbow have reduced its weight significantly.
Thermal stability and vibration-proof stock give you a comfortable grip. With auto-engage safety, you have easy access to the safety lock.
The shooting speed of 330 feet per second and the spot-on accuracy makes it a premium level crossbow with a reasonable price tag.
The package includes ACU-5 cocking device, which helps reduce the draw weight by 50%. The wicked ridge invader is silent as a cat, so when you are out in the woods, you don't have to worry about startling the animals before the arrow hit them.
The accuracy of this crossbow, even at 40 yards, is spot on. You can easily hunt deer and whitetails without any fail.
The sight scope is pretty accurate even at 30 yards so you won't have any difficulty pinning your prey for a spot on fire.
Wicked ridge crossbow is proudly engineered and developed in the USA with attention to every minute detail, which is why it is one of the most accurate and fastest plus lightest crossbows out there.
The package comes with a quiver, three arrows, a multi-line scope, and a cocking device. You are all set to start shooting right out of the box.
Watch this video for easy assembly:
Features
Self-retracted cocking system
Comes with quiver, bows, cocking device and a scope
Shooting speed 330 FPS
Axle to axle width 22.6 inches
Length 37.75 inches
Draw weight 165 lbs.
Pros and Cons
Easy Cooking and Firing mechanism
Optimum accuracy
Multi-line scope is on point
Silent operation
Safest and fastest crossbow
Economical
Worth every penny
The scope is not fog-proof
The range is not illuminated
Last update on 2020-10-01 - Images from Amazon Product Advertising API
---
3. TenPoint Turbo GT Crossbow Package
---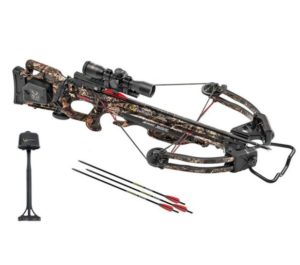 The well-balanced and sturdy looking Turbo GT crossbow by Tenpoint has everything the best crossbow should have. The high-quality design, as well as substantial built, makes it a long-lasting crossbow that is going to serve you for years to come.
The sizeable forward grip is easy to grasp and comfortable, so you can shoot without any concerns. The kinetic energy of this crossbow is enough to let you hunt any game you want with accuracy.
It is fast, as well as accurate and silent. Your prey would not get alert until an arrow hit it, thus increasing your chances of hitting the target.
And the cherry on the top is that the camo design doesn't stand out in the woods hence giving you a chance to shoot on point.
The accompanying 3x scope adds more to the functionality of this best crossbow. Ultra-bright optics lets you take an accurate shot because you get a clear picture of your target. The red/green illuminated reticle makes this scope a suitable choice for hunting in poor light conditions.
The reinforced safety wings and the cutout in the grip allow the user maximum safety and comfort, so you don't end up with your fingers wound up in the flight deck.
Features
Axle to axle width – 17.5″ to 13.5."
Power stroke 12.6."
340 FPS shooting speed
Draw weight 175 lbs.
Package includes two scopes of 3x, cocking mechanism, three arrow quiver, and quiver bracket: three-pack TenPoint elite carbon arrows, instructional DVD.
Pros and Cons
Easy to cock
Silent shooting
Discreet Camo Design
High quality and cool profile
Suitable for target shooting as well as hunting big game
3 x scope for a spot on placement
Last update on 2020-10-01 - Images from Amazon Product Advertising API
---
4. EXCALIBUR CROSSBOW Null Matrix SMF
---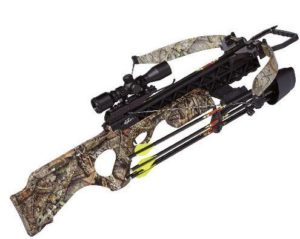 Excalibur matrix grizzly is a treat for those hunters who always wanted an Excalibur crossbow but couldn't afford it. EXCALIBUR produces the best crossbows and is a premium brand in the crossbow industry.
The build and weight of any crossbow will determine its quality. The grizzly matrix is an insanely lightweight on the one hand, while on the other hand, the design is well balanced and sturdy.
Frame construction material is SMF which gives it enough power to hit the bull's eye. What more could one want during hunting?
The narrow design and the camo pattern gives it a badass and wicked look that is fitting for a serious hunter.
Features
Recurve design
Bow weight 5.5 lbs.
Mossy oak design
Shooting speed 297 FPS
3 lbs. trigger pull
Pros and Cons
A sleek and compact design
Ideal for woods.
Lightweight
Worth every penny
Scope provides accurate site
Easy cocking mechanism
Extremely reliable
The construction material of rails is not aluminium
Last update on 2020-10-01 - Images from Amazon Product Advertising API
---
5. SA Sports 306119 Empire Beowulf Crossbow
---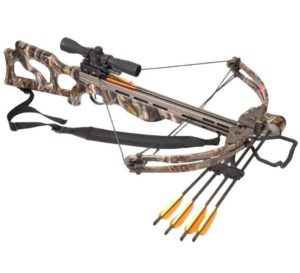 SA sports Beowulf is a coveted crossbow among hunters because of the versatile features that come with a reasonable price tag.
The power and strength with which this crossbow shoot is mind-blowing. With 115 FPKE and 360 FPS, this crossbow is a wicked weapon fitting to take out any big game.
SA sports is the best crossbow in the market because it lets you shoot from 50 yards distance with accuracy.
The lightweight synthetic stock and barrel make it a light crossbow which is an ideal feature to have for extended hunting trips.
SA sports is most quiet and discreet crossbow in this price range. This is one of the most significant advantages because animals have enhanced the sense of hearing, and the last thing you want while hunting is a noisy weapon.
Auto-safety switch and anti-dry fire mechanism ensure that your safety is not compromised at any level.
The construction material and the design is developed, keeping in mind the rough conditions of the wild so you have peace of mind knowing that it can take a bit of beating in the weather.
Features
Bow length 35."
Bow width 19."
Power stroke 14."
Trigger weight 3.5 Lbs.
Draw weight 175 Lbs.
Package includes 4×32 multi-reticle scope, quiver, and three arrows.
Pros and Cons
Great noise suppression
Lightweight and stealthy
Practical design
Value for money
High velocity
Easy to put together
Scope's quality is not up to the par
Limited one year warranty period
Last update on 2020-10-01 - Images from Amazon Product Advertising API
---
The Final Word
If you are a fan of "hunger games" (aren't we all?), the iconic longbow of Katniss Everdeen attracted many hunters. But here is a thing, we aren't living in an era of wood and stone anymore, so you don't have to put up with those large and unsightly crossbows.
More and more people are switching to crossbows for hunting thanks to their accuracy, compactness, silent firing mechanism. A right crossbow will last you for years. Listed above are some of the light crossbows available in the market, and you will get full value for your money? Hands down!
We hope that with our guidelines and tips, you will be able to understand and differentiate between the different types of crossbows and their parts. We hope that with our help, you will now find the best crossbows that will last you years to come.
If you have any recommendations, comments, or if you want to talk about your experience with your favorite crossbows, then please share it with us in the comments section below.
Product Comparison Table
So hunters, shoot good and hunt well with best crossbows!