To successfully hunt a buck on the private land parcels, having the best deer attractant is inevitable. Without luring the whitetails in your proximity and getting some additional time to take the perfect shot, you cannot catch a trophy. If you simply march on a hunting land without thinking ahead, you'll waste your time and energy wandering there uselessly.
The deer attractant plants/scents/feed are being used by hunters for decades now and are some of the most foolproof solutions to beat a buck's speed.
Who Needs a Deer Attractant?
There are two explanations to this question, let's discuss them one by one:
Local people own most of the eastern and southern North American states. These natives use their land for gardening, agriculture, and hunting.
Now, if you own a land parcel in American states where deer are native, you already know how crazy the people are about hunting these bucks and collecting their trophies.
So, even if you don't hunt on your private property, you can convert it into a walk-in hunting land (WIHA) or public land open to sportsmen (PLOT), and make it a source of passive income. Similarly, if you are an avid hunter yourself, there is nothing better than playing on your land (no restrictions, phew).
If you aren't a hunting landowner, you have to pay for getting access to these parcels present across the USA. Since no one likes wasting money, you must ensure that your next visit to private hunting space is a success.
For that, you have deer attractants. Hunters often use one-off attractants (unlike owners who plan a long-term benefit) in the form of scents, mineral blocks, and powder deer feed.
When you visit a WIHA or PLOT, taking along an effective deer attractant will help you play a successful game without any unnecessary exertion. You spread the deer attractant in different corners of that land, get on your tree-stand, and weight for the buck to come there. Once a deer is munching on that feed or sniffing the aromatic scent, you can take the perfect shot and hunt it down in one go (sounds impressive, no?).
What Does a Deer Attractant Do?
Although a common notion is that these attractants are only used to lure the deer, it's not 100% true. Apart from attracting them, deer feed attractants strengthen their bones, increase their body mass, and make them healthy.
Also, the deer mineral attractants are mainly used to provide the bucks with required minerals and salts which they cannot get from foraging over grass and herbs. A powder food with essential proteins, carbohydrates, calcium, and other trace minerals will fortify your favorite deer's health and make it ready for next season.
As salt is essential for deer to function normally, using salt as an attractant is one of the most natural solutions. You can simply get salt blocks and drop them in the area where deer visit frequently. Once they spot that block, they'll scoot towards it, giving you time to hunt them.
Since now we know the significance of deer attractants, let's compare some of the available options first. Later in this article, you'll get a buying check-list as well; so, stay tuned and read through!
---
Best Deer Attractants – Our Picks
---
Last update on 2023-12-01 - Images from Amazon Product Advertising API
Top 6 Best Deer Attractant Reviews
---
1. Whitetail Institute Imperial Tall Tine Tubers Food
---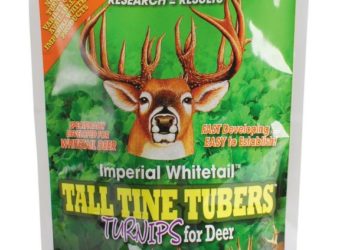 Deer need forage round the year. During summer, they consume green plants and herbs, while dry wood, tree barks, and leftover forage is their winter food.
Seasonal changes often make deer food scarce, and they struggle to find a good and steady food source. That's the time when whitetail institute tall tine tubers food come in the picture.
This food bag consists of dry turnip seeds, which you can preferably sow from October till December.
Once fully grown, these tubers prove to be an excellent deer attractant. The outer green parts serve as deer food during the summer season, and the turnips serve them during severely cold months.
Fortunately, whitetail institute tall tubers food does not give in during harsh weather conditions and ensures that bucks regularly visit your private land.
As turnips are sweet, deer prefer munching over them. Also, these whitetail turnips grow in size quickly, and regardless of the number of visitor deer, your farm will remain lush green and full of turnips.
These seeds are cold and drought resistant, ensuring your food plot is never barren.
Depending upon the size of your land, you can select amongst 3 lbs and 12 lbs packages and plant the seeds effortlessly.
Whitetail institute has explicitly formulated these nutrient-rich turnip seeds so that you don't have to add fertilizer in the food plot.
Features
Turnip seeds
Year-around food
3 lbs & 8 lbs packages
Dry seeds
Suitable for moist soils
Cultivable in October, November, and December
Pros & Cons
Pros
Cold and drought resistant.
Deer like both tubers and turnips.
Sweet in taste.
Large-sized turnips.
Fast-growing tubers.
It can bear harsh weather.
Cons
Last update on 2023-12-01 - Images from Amazon Product Advertising API
---
2. Wildgame Innovations Acorn Rage
---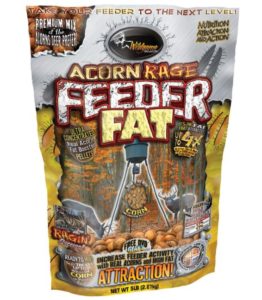 Acorn is one of the deer's most favorite food. Since acorns are not widely available in the wild, they work as best deer feed attractants.
This attractant comes in a coarse powder form, which you have to unload in the food plot and let the deer eat it.
You can either use hanging food pots or dump it directly to the ground. Hunters use hanging food pots when it's time to shot the buck. Conversely, regular feeding is generally done through random scattering.
Wildgame innovations mixed dry acorns with crushed soybean food and made this fortifier deer attractant. Acorn rage has 28% protein and 17% fats in it, which works brilliantly to enhance the deer's mass. If you use it regularly, the deer will get strengthened bones, antlers, and teeth.
This large 15 lbs pack can serve for weeks-months, depending upon the abundance of deer on your property.
Due to acorn rage's intense aroma, deer can sense it from a far-off place and hurry toward the pile by using their sharp sniffing power.
When its dry season and no greenery is available, you can maintain the deer's well-being by giving them this ready-to-eat food.
However, as it's a bait food, some states prohibit its free use. To avoid any distress, you should consult your state's hunting laws and decide accordingly.
Features
The mixture of soybean mean and acorns
Ready-to-use powder food
28% protein, 17% fats
15 lbs. package
To be used when no forage is available
Mostly used as a bait
Pros & Cons
Pros
Mixture of acorns preferred by deer.
Rich in protein.
Fortifies deer antlers, muscles and bones.
Ready-to-use food.
Strong aroma.
Cons
Not allowed in all states.
Sale
Last update on 2023-12-01 - Images from Amazon Product Advertising API
---
3. Whitetail Institute Imperial Clover Food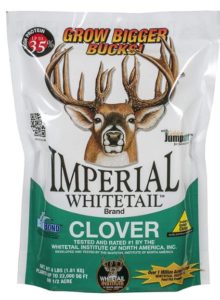 Clover is another vegetation that all ruminants (including deer) regularly consume. Most American states have significant amount of clover plant in the untouched land, which makes those areas a hideout for deer.
Whitetail institute always combines nature with science and bring forward the best solutions. This whitetail institute imperial clover food is made according to the bodily needs of deer, and provide them with essential nutrients which regular herbs/plants may lack.
You can get either a small 4 lbs bag or a larger 18 lbs bag as per your needs and budget.
You can plant these seeds in fall and spring and turn your barren food plot into a nutrition-rich hideout for precious deer. These seeds have 35% antler building protein which will eventually make the trophies glorious.
These weather-resistant seeds aren't a one-off solution. Instead, one plantation can last for five years without compromising on the plant's quality and deer's health.
Whitetail institute clover food releases a strong scent which the deer cannot resist and come marching towards this clover field.
Deer like sweet plants; their forage is mostly soft vegetables, fruits, and leaves. These clover plants are also sweet and aromatic; two positives together.
Unlike the powder deer attractants, this clover attractant doesn't require regular keep-up and stays excellent for up to 5 years.
Once the plants have germinated, you'll get a routine sight of deer foraging over these leaves.
Features
Clover seeds
4 lbs & 18 lbs packs
Developed specifically for deer after exhaustive research
Can be planted in fall and spring
Designed for moisture-ridden soils
Pros & Cons
Pros
Seeds keep regenerating for 5 years.
35% antler building protein.
Irresistible by deer.
Can resist both warm and cold kinds of weather.
Sweet tasting plants.
Deer like munching on this clover.
Ranked No. 1 by N. American Whitetail Institute.
Cons
Last update on 2023-12-01 - Images from Amazon Product Advertising API
---
4. Antler King Honey Hole Mix
---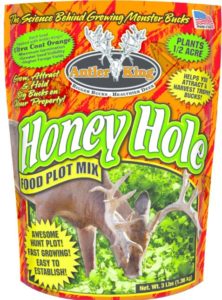 As bucks do not stick to one kind of food, you cannot always easily attract them to your food plot while having one plant in it. Therefore, the Antler king honey hole mix has five different varieties of rapeseed and turnips, which provide the deer with a different flavor every time.
Antler King has cautiously developed these seed varieties according to deer's food requirements, and the weather conditions in different states.
You can plant these turnips and rapeseed during spring and fall and provide a thorough food source to the bucks without bothering how warm or cold the weather is.
These seeds have an ultra-core orange coating, which has an infused fertilizer and also keeps the seed protected from continuous wear and tear of the ground.
Planting the deer food plots time and again becomes an additional burden which no one likes. To eradicate that problem, antler king has made this mix capable enough of remaining functional for 15 years.
You only have to buy and plant these seeds once, and after that, forget about attracting deer to your land as they'll come rushing in.
Features
Five varieties of turnips and rapeseed.
Planted during spring and fall.
Year-around green plants.
Specifically formulated for deer.
Pros & Cons
Pros
Coated with ultra-core orange.
Cold and frost resistant seeds.
Lush green growth.
Its freshness attracts deer.
Remains functional for 15 years.
Cons
Antler King Honey Hole Mix
Fast growing and easy to establish
For best results plant in late summer or early...
Comprised of 5 varieties of Rape and Turnips, 3...
Last update on 2023-12-01 - Images from Amazon Product Advertising API
---
5. Whitetail Institute Imperial Winter-Greens Food
---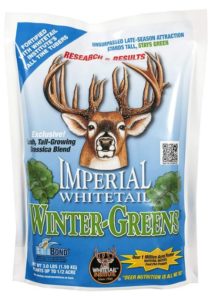 Brassica resembles rapeseed but has a distinct taste and scent that decoys the deer near brassica farms.
Whitetail imperial white-green food has brassica seeds which should be planted during end-summer and early-autumn.
These seeds germinate quickly and convert into lush green plants within weeks. Their vibrant green color and big leaves attract deer and make hunting easier.
During snowfalls, most green farms lose their charm, and the deer temporarily abandon them. However, with whitetail white-green food, your plot will never look dull.
These brassica plants will grow faster with strong stems and will keep the nearby deer well-nourished.
Although this is an expensive deer attractant, its results and enormous functional duration are worth it.
Features
Brassica seeds.
3 lbs and 12 lbs packages available.
Should be planted in end summer to early autumn.
Pros & Cons
Pros
Extremely weather resistant.
Fast-growing.
Better than all brassica grasses.
Favorite for aging veggies of deer.
Remains green and tall during snowfall.
Cons
Sale
Last update on 2023-12-01 - Images from Amazon Product Advertising API
---
6. Whitetail Institute 30-06 Mineral/Vitamin Deer Mineral Supplement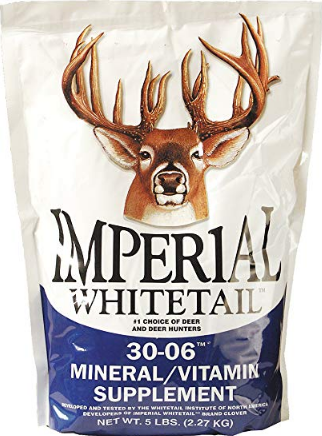 This professionally formulated supplement is both unique and effective. Packed with necessary minerals and vitamins in an optimal proportion the Whitetail Institute 30-06 Mineral/Vitamin Deer Mineral Supplement cuts no corners. Its flavor and strong scent have the ability to attract deer in 24 hours with minimal effort.
I was also able to use along with my food plot to encourage bucks to grow stronger and healthier, while it gave much-needed spring and summer nutrition to others. I found that with the Whitetail Institute 30-06 Mineral/Vitamin Deer Mineral Supplement deer returned to the attractant all year.
This supplement is extremely easy to use as the other offerings from Imperial White, you simply have to rake it into a 3 feet wide area to mix it with soil and you are done!
Features
Formulated by professionals to fulfill the needs of deer in spring and summer SPECIFICALLY
Contains necessary vitamins, and minerals in optimum ratios for antler growth, pregnancy, and lactation
Contains scent and flavor ATTRACTANTS AND ENHANCERS
EASY TO USE
Pros & Cons
Pros
Professional formulation
Encourages good health and growth
Attracts deer within 24 hours
Simple to use
Cons
Considered as bait in some states
Last update on 2023-12-01 - Images from Amazon Product Advertising API
---
Deer Attractant Buying Guide!
---
Since deer attractants are relatively new to the public, not everybody is aware of the positives and negatives of these simple feeds. Here, I have compiled a list of important aspects which you should consider before getting a deer attractant:
1. Nutritional value
Providing the deer with good food is the prime motive behind these attractants. You invest in their diet and later reap the rewards in the form of a large trophy and delicious deer meat. In either case, you must know what nutritional value an attractant is offering.
As buck antlers are comprised of 22% calcium, 11% phosphorous, some protein, trace minerals, and ash, your new deer attractant should also have these compounds. Following are the nutritional compounds a deer attractant must have:
Proteins help buck antlers to grow in size and strength, which eventually makes the trophy more beautiful. Since most of the above-listed deer attractants have proteins in them, you won't have to worry about it.
Deer eat green and dry plants in both seasons and do not get enough salt through their routine diet. That's why you should opt for mineral deer attractants and attentively nourish them.
Using salt blocks or crystals as an attractant is a common practice in all deer-inhabitant areas since they cannot resist their temptation to lick salt. So, it is advisable to go for salt-containing attractants.
Eating acorns, soybeans, turnips, brassica, and clover is routine for deer. They gobble down the most sweet-tasting grasses and cannot resist sweet fruits. If you aim to repetitively entice the deer towards your property, growing different vegetables, herbs, and wild fruits should also be on your to-do list.
2. Aroma
Deer have a remarkable sniffing capability. They can find their favorite food from a far-off place with the help of their keen smelling. Therefore, attractants with a strong smell surely help you indiscreetly baiting the bucks in your desired area.
3. Weather Resistance
If you plan to develop a year-round food plot for deer, think of weather-resistant seeds and plants as a solution. There are various resistant varieties of seeds that can germinate and survive in both weather extremes. Moreover, with weather-resistant attractants, you won't have to work hard on your field.
Final Words
---
Getting the best deer attractant for comfortable trophy hunts in the upcoming season is nothing but smart. With a good attractant, you can feed healthy plants/vegetables to the deer and keep a check on their growth patterns.
Moreover, if your attractant succeeds in luring the bucks in your property, you can quickly learn about their habitat, retreat patterns, and preferred spots.
Deer attractants work like magic in small land parcels with thickets. You only have to spread/grow a strong attractant in your food plot, and deer will start visiting your land regularly.
Best Deer Attractants Comparison
---
So, either you are a seasonal hunter or own hunting land, get one of the best deer attractants from our list, and bring a magnificent trophy home. Ta-Da!