Apart from the high-end activities, knives are convenient to use in our routine life too. Whether you need to break a glass window or are compelled to cut a tied rope, an EDC (everyday carry) knife will work as your go-to tool. When you get the best EDC knife, you are always prepared to take challenges, help others, and play tricks with your friends (sounds interesting, doesn't it?)
An EDC knife will also make you a happy-go-lucky wanderer who doesn't fear the unknown and is always ready to tackle unpleasant situations. For example, if you frequently visit a nearby thicket, the EDC knife will protect you from dense bushes, small animals, and help you cut juicy wild berries (if you are lucky enough to find them). From slicing giant pumpkins to opening tin cans, and from unlocking jammed toolboxes to cut the meat, everyday carry knives specialize in all aspects.
Henceforth, if you're looking for the best EDC knives available with an affordable price tag and incredible features, we are always here to help you. While the everyday carry items have changed tremendously over the years, a knife remains one of the oldest and most versatile tools even today. We at Boonieslife are big fans of carrying high quality, well made on a daily basis because we are confident that there are many instances in day-to-day life where a knife can be beneficial and sometimes even vital.
In this guide of pocket knives, I am going to discern the must-have features of the best EDC knife, the best available options on the market, and some essential bits of information. Stay tuned till the end; it's going to be a thrilling read.
Best EDC Knife – Our Top Picks
---
Last update on 2023-12-01 - Images from Amazon Product Advertising API
---
Best EDC Knives – Product Reviews
---
1. SOG Tanto EDC Knife
---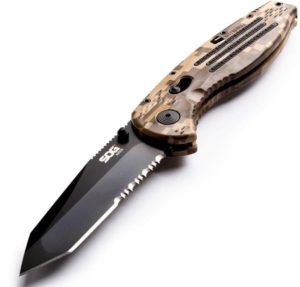 SOG is one of the best brands in terms of knife quality, durability, and ergonomics. With a SOG EDC knife, you'll always feel secure, ready, and up-beat.
Due to its classy tanto blade with Titanium-Nitride (TiNi) finish, SOG tanto becomes a deadly EDC blade. Regardless of the severity of your mission, its sharp clip point blade will keep you a step ahead of the challenge.
Also, due to its one-hand opening and ambidextrous design, everyone can use it. No matter you are a leftie or a righty, this tanto knife has a specialized design that caters everybody.
When closed, this knife is only 4.5" long; this indicates its compactness and portability. You can effortlessly tuck it inside your sleeve or place it in your trousers' pocket, its compact design wouldn't bother you.
Its sharp 3" long blade is manufactured from Aus-8 stainless steel, and when this high-quality steel is combined with TiNi coating, the final product looks deadly; test for yourself!
Furthermore, because of its Priston safety lock, SOG tanto doesn't open unless you want it to. By gently pushing this lock, you can secure the blade and prevent any potential injuries from this super-sharp blade.
The stylish pocket clip is another handy feature of the SOG tanto knife. It not only keeps the blade safe but also looks stylish. From the outside, it'd look like a pen's clip, but once you take it out, a champion EDC knife would appear with its enthralling shine.
SOG knows that pocket knives are used in all weather conditions and activities. That's the reason this everyday carry knife has a robust glass-reinforced handle that offers a secure grip and keeps your hands protected from scratches.
The 3.10 oz knife will never burden you. Instead, it will unburden you from various doubts of the outdoor environment.
With a SOG tanto pocket knife, acing challenging activities would always be easy for you; that's the reason this is the best EDC knife within an affordable budget!
Features
4.5" long-closed length.
3" long blade.
Weighs 3.1 oz.
Aus-8 Stainless steel manufacturing.
Straight edge blade.
Glass-reinforced nylon handle
Pros & Cons
Pros
Quick one-hand opening/closing
Super sharp knife
Pocket clip added.
Easy to sharpen
Solid build
Safety lock added.
Scratch and peel resistant
Durable
Hardened outer coating
Cons
Slightly lose pocket clip
Last update on 2023-12-01 - Images from Amazon Product Advertising API
---
2. Boker BOP586-BRK Plus Subcom Black Knife
---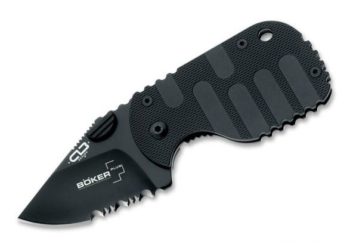 EDC knives are meant to be folded, small, and efficient. If yours is a dull-edged one, it doesn't deserve your money, period!
Fortunately enough, Boker has crafted this extremely sharp knife with incredible strength and resistance capacity.
Use/abuse it all you want, and your Boker black knife will stay shiny, sharp, and smart. Also, since its closed length is barely 2.6", you can hide/tuck it anywhere and roam around nonchalantly.
This Boker knife is made from resilient stainless steel, which is easy-to-sharp, corrosion-resistance, and outstanding in terms of performance.
As every day carry knives can be used for many purposes, Boker has specially incorporated a partially serrated blade in it. Because of these serrations, your knife's edge will bear rough usage and still do the job brilliantly.
Opening/closing this Boker knife is comfortable, secure, and quick. By slightly pressing its handle, you can uncover the blade. Similarly, while folding it, one push is enough. With your Boker black knife, you'll be sheltered from various threats.
Boker has enhanced this knife's practicality by adding the lanyard hole in it. Whether you pass the whistle through this lanyard or use it to tie the knife somewhere, this small hole proves to be a significant feature.
The shiny metallic clip allows you to be carefree from preserving this small-but-smart knife. Simply attach it with your pocket with that metallic clip, and forget about checking on it time and again; the clip will keep the knife in place unless you move it.
However, since its blade is small, you can't use it for hunting, skinning and deboning. For routine chore, on the other hand, this Boker black is the best of all.
Features
1.8" long blade
2.625" long when closed
2.4 oz weight
Partially serrated blade.
Fiberglass nylon handle
Quick opening/closing feature
Pros & Cons
Pros
Shiny stainless finish
Wear and tear resistant
Perfect for all terrains
Stout yet small
Portable
Non-slip grip
Lanyard hole available
Strong pocket clip
Cons
Might not be suitable for hunting/skinning
No products found.
---
3. Opinel No 7 Carbon Steel Folding Pocket Knife
---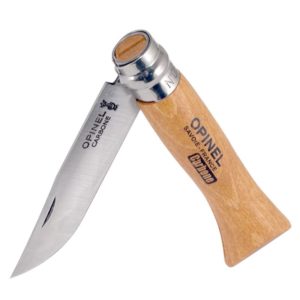 We all adore mod tools, but the feel that vintage tools emit is irreplaceable. That's the reason Opinel is still manufacturing its antique knife to date.
With the Opinel No7 knife, you'll love routine as well as unique adventures. Its handle is made from sophisticated beechwood that spreads rustic charm and looks enthralling in your hand.
Moreover, its 3.14" long sharp blade is made from carbon steel. Use it for years, and this EDC knife will stay spot-free and sharp; Opinel promises that!
As outdoor lovers are fond of durability, this opinel knife will suit them perfectly. With their trademark virobloc ring, Opinel is regarded as the pioneer in knives' safety since 1955.
This opinel no7 also has reliable, innovative and shinny virobloc ring that keeps the blade and your hand safe. When your knife is in action, this ring shelters your hands and prevents injuries. Similarly, when your opinel knife is closed, this sturdy ring keeps the blade securely tucked inside.
Another exclusive feature of this best folding knife is its toe-up blade shape. This amazingly thin blade tip helps you penetrate harder materials. And since it's made from hard carbon steel, the top would never get corroded.
Opinel no7 weighs only 1.44 oz. And albeit its weight, this knife gets 10/10 in terms of strength.
You can pry wood, break glass, cut thick bushes, and slice butter; the choice is always yours, opinel has packed it with all positive features.
The only down point in opinel 7 is the absence of sheath and lanyard. You'll have to buy a separate sheath to haul this knife around.
Features
Beechwood handle
Carbon steel handle
3.14 inches long sharp blade
1.44 oz weight
Pros & Cons
Pros
Classy vintage design
Sleek looking
Brilliantly sharp
Incredible virobloc safety ring
Perfect for both routine and adventurous activities
Cons
Last update on 2023-12-01 - Images from Amazon Product Advertising API
---
4. Kershaw Blur Black (1670BLK) Everyday Carry Pocketknife
---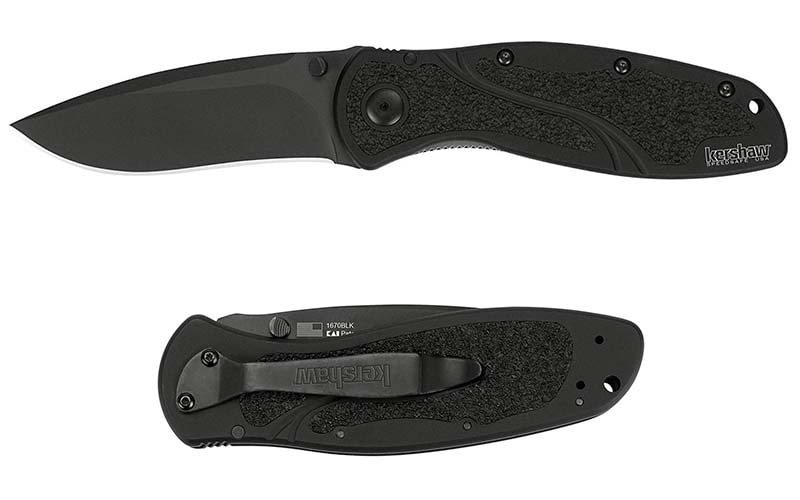 If having a forceful and best knife in your pocket is your dream, this Kershaw Blur Black is your holy grail. Having a solid 3.4" long blade made from Sandvik 14C28N steel, this knife is a master-class product.
Sandvik steel is incredibly durable, strengthened, and easy-to-manage. Your Kershaw knife will stay corrosion-free for a considerable time, allowing you to do your daily life activities with ease.
This exotic knife has a shiny diamond-like finish that enhances its beauty and adds a touch of sophistication to it; your passion for modish goods will also be fulfilled once you get Kershaw Blur knife.
Even though this is an expensive blade, its marvelous features justify the price tag. You'll get a sharp and easy-to-maintain drop point blade that doesn't shake during extreme ventures.
Moreover, since this knife has an ambidextrous design, anyone can use it comfortably and safely.
So, cut big loaves of meat or untangle some ropes, this knife, Kershaw Blur Black won't lose its sharpness and shine. And the cherry on top, its durable pocket clip allows you to port it quickly, without occupying any space in your outdoor luggage.
Kershaw knife has an outlandish design, please your eyes with this little-master!
Features
Made from Sandvik 14C28N steel.
7.19" in length.
3.5" long blade.
4.5" when closed.
3.9 oz weight.
Diamond-like carbon coating.
Pros & Cons
Pros
Exceptional durability
Robust pocket clip
Weather-resistant
Easy re-sharpening
Ambidextrous design
One-hand opening
Solid grip
Multi-tasking blade
Cons
Sale
Last update on 2023-12-01 - Images from Amazon Product Advertising API
---
5. Ontario Knife OKC Rat ii Sp-Black Folding Knife
---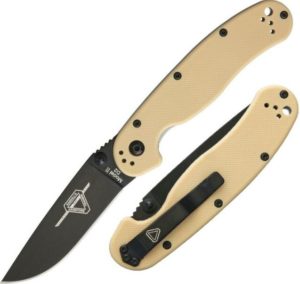 This sleek black & silver knife will assist you in routine life activities like a pro. Its 0.995" thick blade can penetrate large objects easily, and help you de-clutter the mess you are struggling with, i.e. stuck parachute or a thick bush.
This 3" long blade is crafted from premium-quality Aus-8 steel that works incredibly fast while you cut something.
Also, its textured black nylon handle offers you a firm grip, ensuring that you don't wobble from the target point and cut it smoothly.
Ontario is one of the best American brands that produce superior-quality blades for people from all fields. Regardless of your needs, your Ontario Rat Li will perform brilliantly and prove to be the best EDC knife.
This knife comes with a 4-way reversible pocket clip which makes its hiding/tucking safer. Whether you clip it inside your jeans or under your sleeve, this Ontario knife will maintain your stealth mode. Cleaning and re-sharpening Ontario Rat Li knife is also quick, you just have to wash it after every use, let the blade air-dry, and wipe it before storing it. This way you can avoid rust, corrosion, and keep the knife always on-the-go.
Its secure line lock enhances the safety feature and doesn't expose you to lose blade or a slightly open tip. Instead, this lock keeps the edge securely-closed unless you open it.
Along with other outstanding features, the Ontario Rat Li knife is notably inexpensive than others. So, if you're planning for a budget-buy, this Ontario blade is the everyday carry knife!
Features
3" long blade.
0.995" thick plain edged blade.
Nylon handle
4.1" closed length
2.8 oz weight.
Pros & Cons
Pros
Comfortable grip
Easy to clean and sharpen
4-way reversible pocket clip
Resilient AUS-8 steel manufacturing
Inexpensive
Shiny satin finish
Cons
Not suitable for cutting wood and ropes
Sale
Last update on 2023-12-01 - Images from Amazon Product Advertising API
---
6. Buck Knives 110 Folding Hunter Knife
---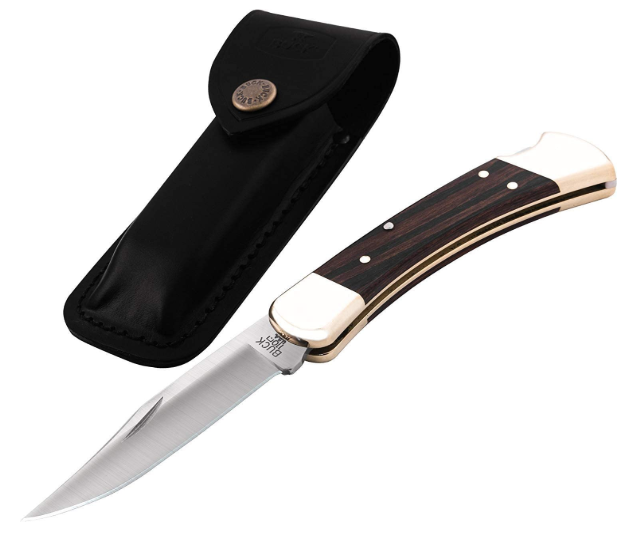 If you want to invest in a folding hunter knife that you could pass on to generations, then there is no better option than the Buck Knives 110 Folding Hunter Knife.
Back by five decades of experience, Buck Knives is one of the most trusted and highly recommended knife brands of the USA. The Buck Knives 110 Folding Hunter Knife comes with Buck's 4-Ever unconditional lifetime warranty so that you can buy your Buck Knives 110 without a second thought.
If you talk about the strength and quality of blade material, Buck Knives will never disappoint you! Similar to Buck's other pocket knives that are popularly recommended by professionals, the Buck Knives 110 is equipped with a 3-3/4420HC stainless steel clip point blade. 
The Buck Knives' 4420HC stainless steel blades are more durable and robust as compared to other stainless steel blades. Why? Because of Buck Knives' professional heat treat process that ensures that every Buck knife's edge offers the superior performance that is expected from every knife that is manufactured by Buck Knives. 
Buck Knives 110's clip point blade has a very sharp controllable point; therefore, this knife is excellent for detailed work, slicing, piercing. 
If we talk about the convenience to carry and store the knife, Buck Knives 110 folding hunting knife impresses us with its performance yet again. The Dymondwood handle material offers optimum grip, while the black leather sheath carrying system makes it convenient to carry the knife safely and securely.
Features
Blade material: 420HC stainless steel

Carrying system: Black leather sheath

Locking Mechanism: Lockback

Handle material: Dymondwood
Pros & Cons
Pros
Safe, secure, and convenient to carry

Highly durable

Unconditional lifetime warranty

Corrosion-resistant blade

420HC Stainless Steel Blade

Easy to sharpen
Cons
Not as strong as drop point knifes

More on the heavier side
Sale
Last update on 2023-12-01 - Images from Amazon Product Advertising API
---
7. Kershaw Cryo II Pocket Knife
---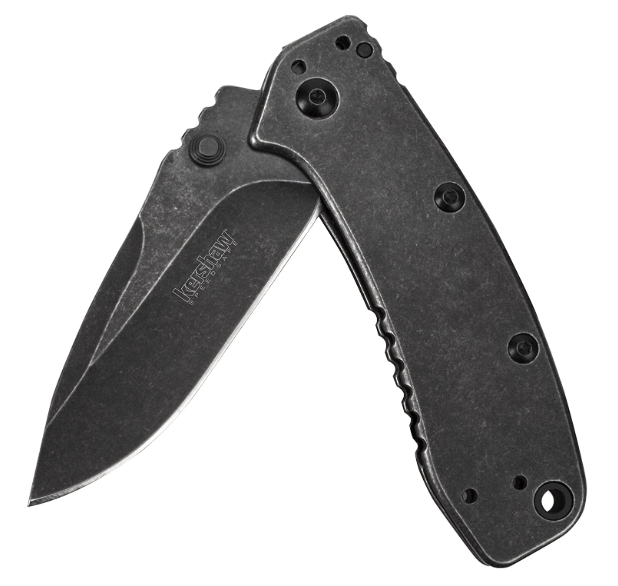 Kershaw is well known for its fantastic range of creates high-quality, high-performance, and affordable working tools and knives all over the world. Kershaw is trusted for its advanced technology and innovative knife designs that do not only perform exceptionally, but its users are also proud to carry Kershaw's knives. 
Kershaw Cryo II Pocket Knife is designed in collaboration with the worldwide known with knife designer/maker – Rick Hinderer, and recommended by hunting enthusiasts all over the world. Kershaw Cryo II Pocket Knife is not only aesthetically pleasing to the eye and comfortable to hold and work with, but it is also highly durable. 
The 3.25″ full-edged 8Cr13MoV Chinese produced steel blade has carbon and slightly less nickel for hardness and edge retention. Kershaw Cryo II Pocket Knife also has a solid 410 stainless steel handle that is equipped with Kershaw's revolutionary SpeedSafe Assisted Opening system and a Secure Locking System.
The SpeedSafe Assisted Opening system allows smooth, secure, fast one-handed blade deployment every time without a fail. 
Kershaw Cryo II Pocket Knife also has an impressive blade finish and coating. Kershaw's patented Blackwash finish gives this affordable pocket knife a unique yet expensive look and feel.
All-in-all there this Kershaw Cryo II Pocket Knife is a winner and an excellent hunting tool for every hunting enthusiast.
Features
Collaborative Design with Rick Hinderer

Deployment system: SpeedSafe Assisted Opening

Blade material: 3.25″ high-performance 8Cr13MoV stainless steel
Pros & Cons
Pros
Budget-friendly yet reliable Chinese produced steel blade. 

Attractive Blade Finish and Coating

Effective blade deployment and secure locking system. 

Lightweight yet strong and durable

Convenient to carry

Corrosion resistance

4-position pocket clip
Cons
User complaints about rust
Sale
Last update on 2023-12-01 - Images from Amazon Product Advertising API
---
8. SOG Twitch II Folding Knife
---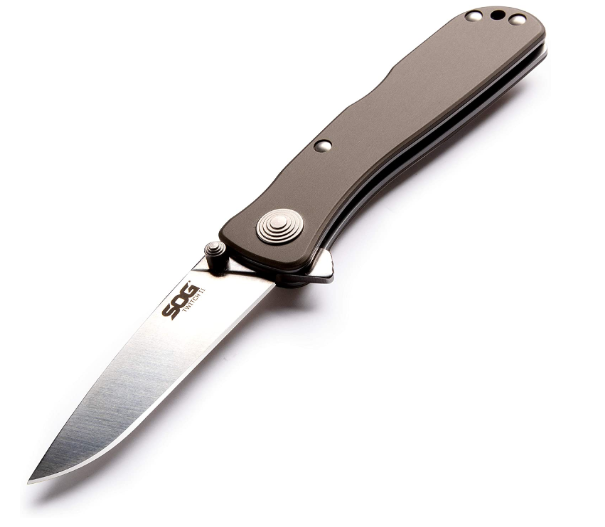 SOG Twitch II Folding Knife offers the perfect balance between versatility and practicality. This knife will be an excellent addition to your collection if you are looking for that perfect knife that is affordable but not cheap quality. 
SOG Twitch II assisted opening knife is crafted in satin-polished AUS-8 stainless steel, and powered by SOG Assisted Tech (SAT) The blade of this folding knife is excellently balanced, highly ergonomic, and extremely practical. SOG Twitch II speaks quality! There is no feeling of cheapness or flimsiness in the built, and it comes with a limited lifetime warranty.
If we had to define our user experience in a single sentence, it wouldn't be incorrect to say that "SOG Twitch II Folding Knife delivers more than it promises!" Although this knife does have its cons! But for the price, it stands out than most knives of a similar price range.
Features
Blade material: AUS-8 STAINLESS STEEL

Locking Mechanism: Single finger easy operation

Handle material: Anodized 6061-T6 Aluminum
Pros & Cons
Pros
A durable hard-anodized aluminum handle

Pocket-friendly option

Single finger easy operation 

One-Hand Open + Lockback

Solid and reliable built-quality

A limited lifetime warranty
Cons
Not recommended as a survival knife
Last update on 2023-12-01 - Images from Amazon Product Advertising API
---
9. Benchmade – Bugout 535 EDC Folding Knife
---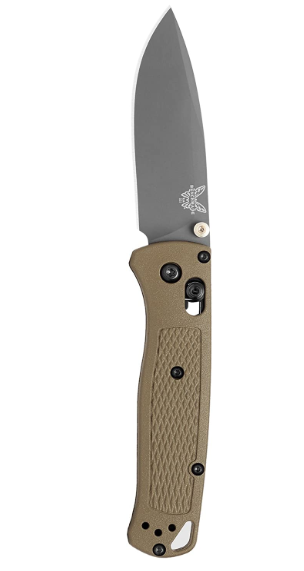 Benchmade is one of the most trusted American knife manufacturers from 1979 to date! It is also amongst the most popularly recommended hunting knives' brands because Benchmade has delivered uncompromised, superior quality knives that are manufactured by experts for hunting professionals and enthusiasts. 
Benchmade – Bugout 535 EDC Folding Knife is one of the lightest pocket knives on this list; however, the quality of performance of this knife is comparable to some of the higher end knives. Professional recommend this folding knife for its incredibly durable and robust CPM S30V Stainless Steel bland and its comfortable grip grivory handle that makes tasks easier and faster.
The only disadvantage of Benchmade – Bugout 535 EDC Folding Knife is that it is not the best survival pocket knife option. So, if you regularly go on adventures, the Benchmade pocket knife would most probably not be the best option for you. 
However, if you require an excellent quality, sharp pocket knife for regular use, the Benchmade – Bugout 535 EDC Folding Knife is an incredible option, and we highly recommend it. 
Features
Blade material: CPM S30V Stainless Steel

Locking Mechanism: AXIS lock

Handle material: Grivory

Misc: Reversible pocket clip
Pros & Cons
Pros
Extremely lightweight

AXIS Lock

Pocket-friendly option

Available in 2 colors

Sharp and solid blade

Corrosion-resistant

Easy to handle
Cons
Not the best Survival Knife option
Sale
Last update on 2023-12-01 - Images from Amazon Product Advertising API
---
10. Spyderco para Military 2 Signature Camo Folding Knife
---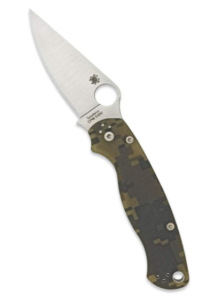 Founded in 1976 by Sal and Gail Glesser – Spyderco today stands in as one of the leading k cutlery industry manufacturers and distributors. Spyderco has a worldwide spread network of distributors that ensure that Spyderco professional pocket knives and other hunting tools reach hunting enthusiasts all over the globe. 
Similar to the superior quality of other Spyderco's pocket knives, the Spyderco para Military 2 Signature Folding Knife is excellent for daily use. This 8.24″ knife is one of the best quality folding knives that we have tested. From the quality of the blade to the grip of the handle, the Spyderco para Military 2 Signature Folding Knife ticks all the boxes and more. 
Spyderco para Military 2 Signature is an impressively designed pocket knife that has a durable, premium, and high-performance full flat-grind CPM S30V Stainless Steel blade. The Spyderco Para Military 2's has a thinner and more comfortable-to-hold handle than G-10. 
Hunting enthusiasts all over the globe highly recommend The Para Military 2 Signature Folding Knife for its extreme strength, reliability, and ease of use.
Features
Blade material: CPM S30V

Locking Mechanism: Compression Lock

Handle material: Textured G-10
Pros & Cons
Pros
Excellent grip and easy to use

One-Hand Open Lock Mechanism 

Uncompromised performance and user comfort

4-position pocket clip

An impressively user-friendly locking mechanism

Also available in different finishes, blade steels, and handle materials
Cons
Sale
Last update on 2023-12-01 - Images from Amazon Product Advertising API
---
11. CRKT Pilar EDC Folding Pocket Knife
---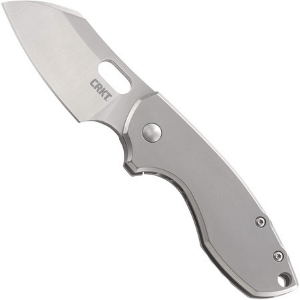 Columbia River Knife & Tool (or CRKT) are recognized within the knife making industry as the leader of manufacturing stunning, great quality knives that are affordable without any compromise on performance.
Before the latest model took the spotlight, the Jesper Voxnaes designed Pilar ( named after Erneset Hemingway's treasured fishing boat) was regarded as one of the best budget knives on the market.
Nonetheless, the newest models have been upgraded with better materials and larger sizes. They have moved away from the standard stainless handles and 8Cr13MoV steel, which has made a huge difference. This larger Pilar features a 2.62†blade with a flipper tab for deployment that uses the same Teflon washers as the standard model.
Thankfully most of the best features of the Pilar knife have been kept the same in the newer model including the 2.4†blade and 5.9†compact size, the full grip provided by the deep forward choil, and the eye-catching sheepfoot shape of the blade.
The change made is the use of carbon fiber/D2, which has made the knife an ounce lighter despite being larger. The new material used is more durable and holds its edge longer.
With the same charm as its predecessor, this knife is a great buy for under 50 bucks. Similarly, the G10/D2 versions are good value for money, especially considering they weigh less than 3 ounces and cost only $40. These knives are a popular item and sell out quickly, so get one as soon as they are in stock.
Features
5.90″ Overall Length
8Cr13MoV Sheepsfoot Blade
Stainless Steel Handle
Folding Knife with Frame Lock
Pros & Cons
Pros
Compact size
Comfortable grip
Large and ergonomic finger choil
Thumb Slot Open
Bead blast finish reduces reflection
Limited Lifetime Warranty
Cons
Struggles with one-hand operation
Last update on 2023-12-01 - Images from Amazon Product Advertising API
---
Best EDC Knives: Comparison
---
---
Read More: Best Fixed Blade Knives – Top Picks of 2020
Best EDC Knife Buying Guide
---
Before deciding which the best EDC knife is, you must be clear about your objective, environment, budget, and skills. If you are a newbie who has just started practicing with the blade, make sure your knife has safety features and is easy to control. However, this is just one crucial feature, to know more before buying a blade, keep reading:
Why do you need an EDC knife – this is the first factor to ponder over; whether you work in a motor garage and need a sharp blade to open boxes or you are a frequent traveler who needs a handy blade. Getting a hold over an EDC knife is different for every environment; travelers need serrated edges while meat-lovers need sharp blades.
In our list of best EDC knives, you'll get to pick one that exactly matches your needs. From small serrated blades to large thin ones, this list has all; you only need to specify your purpose and buy one of these exceptional knives!
Since EDC knives are meant to stay with you wherever you go, they must be light and compact. No one would bother hauling a heavy knife around it?
An EDC knife must be below 6 oz in weight and 10" in length. Since all pocket knives are foldable, you can quickly reduce their length in half and adjust them conveniently.
The EDC knives in the above list are all light, small, compact, and comfortable, they'd never become bothersome for you; that we assure!
Even in daily life knives aren't used for specialized missions, they should still be robust enough. We never know if you might get caught in a distasteful situation where cutting the seat belt or breaking the glass is your only option. Therefore, your EDC knife has to be resilient; no matter how much force you exert on it, the blade shouldn't shake. Period!
Pocket knives with additional helpful features always have the edge over competitors. A strong pocket clip will make you stress-free from the knife's safety, and a safety lock will avoid accidental injuries. These small-yet-important features make a knife more competent, secure, and able!
---
FAQs About Best EDC Knife
---
1. How does a knife lock work?
When you open the blade of an EDC knife, the knife's lock comes in working position. It hinges to the blade and doesn't let it move when you work with it. Similarly, when an EDC knife is in the folded position, this lock again puts pressure on the blade and ensure that the blade doesn't come out without you knowing. Since there are various kinds of knife locks, each of them looks different, but their purpose is the same.
2. How heavy should an EDC knife be?
As your EDC knife will be with you most of the time, it has to light enough to keep you comfortable. Any EDC knife below 6 oz weight is perfect for every activity. These light knives don't add to your luggage's weight and also keep you ready to face the unseen.
3. Why should I take an EDC knife?
Apart from the kitchen and hunting knives, there should be a separate discreet knife in your toolbox too. Because of their stealth construction and light designs, EDC knives serve immensely. Imagine you're traveling and are concerned about the surroundings; an EDC knife will give you the confidence to move around.
Also, EDC knives are sharper than regular kitchen knives which means you can use them for culinary purposes as well.
Takeaway
An exceptional EDC knife has multiple purposes; from slicing meat to chopping veggies and from breaking the glass to hamming nails, and EDC knife works in all fields of life.
If you are always on-the-go and need an excellent tool by your side, get the everyday carry knife and forget all worries.
With a pocket knife with you, you can take various challenges and help yourself in dangerous situations. When you are a wanderer, you have to be well-prepared; the best EDC knife will work as your third arm by cutting, breaking, and opening hard daily life objects with ease.
So, take the best folding knife home and dash some class in your toolbox!