The ongoing development of state of the art fish finder GPS units that establish way-points and incorporate fastidiously accurate fish-finding data continues to change the face of sport fishing as we know it.
Never before has it been so easy to find and pinpoint the exact location of productive fishing spots, and then save that valuable information for future use.
Add to that the ability to constantly monitor the water temperature, locate fish in high definition and also use mapping software showing detailed fishing information for virtually any given locale, and you have the ultimate tool for putting you on the fish in just about any situation.
Now that you have the finder with the best features to track the fish, it is up to you to actually catch and land them!
Every angler has their own preferences, but when it comes to the best fish finders under $500, my personal choice is Humminbird 410210-1 HELIX 5 fishfinder.
Humminbird Helix 5 offers a degree of sophistication that was previously only available in units that cost much more, including a 5-inch color display that is easy to read even in bright sunlight, dual-beam sonar for increased coverage, and frequency ranges from 75-225 kHz that can reach a max depth of 1500 feet.
Add in advanced mapping tools and GPS that allow you to track and record your favorite fishing spots, and you have a complete package in the best fish finder.
Our Top 7 Best Fish Finders Under $500 in 2021
---
Last update on 2023-10-04 - Images from Amazon Product Advertising API
---
The Best Fish Finders Brands To Consider
While you can certainly find a variety of fish finders on the market these days, there are presently only three major manufacturers that offer consistently reliable units that cost under $500.
They all possess a full range of features that run the gamut from providing basic depth and temperature data, to offering sophisticated side finding capability and detailed 3D images that are portrayed in vivid color.
They are:
Key Design Features of Fish Finders
Because of the nature of their design function, several similarities exist between these basic fish finders. They possess 12 channel parallel receivers, can determine, save and recall way-point information and can create routes.  A combo fishfinder GPS unit is much more affordable than purchasing the two units separately, and it gives you the same operating features and doubles the technology all rolled into one.
There are a few important features that you should consider when selecting a new fish finding unit.
#1 Resolution
LCD screens are made up of numerous pixels that combine to make a single image.  Thus, pixel saturation will determine the sharpness of your screen image.  A pixel count of 720p is considered High Definition and will provide you with optimum resolution and detail.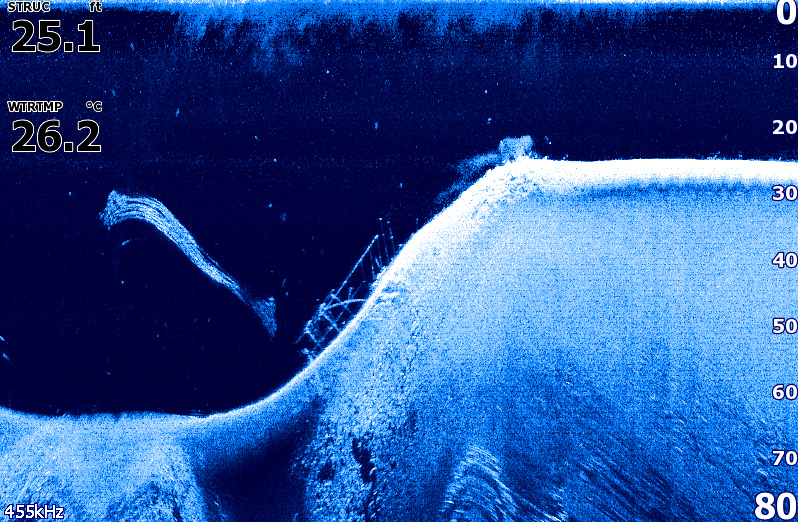 #2 Power
For saltwater applications, always look for at least 250W of RMS power and 3000W peak to peak, which will allow you to plot deeper water.  Another consideration is screen size.  While a handheld user may not have a lot of choices in this category, those buying standalone pieces for the console should look for a minimum screen size of 5†and work up from there, depending upon their budget.
The power is measured in wattage, which refers to the amount of power that is supplied to your fishfinder. When considering the wattage of your fish finder you want to make sure that a finder is powerful enough to reach the depths you will be fishing at.
Higher wattage in a Fish Finder will result in a finder that is capable of accurately mapping deeper depths, and provide a faster transmission and return of the sonar waves produced by the finder. If you are planning to fish in varying depths, you want to get a finder that can handle from shallow to deep.
#3 Transducer Frequency 
The frequency refers to the ability of your fishfinder to produce highly detailed images. Lower frequencies are able to penetrate deeper, but also produce lower resolution images. Higher frequencies can give you a much more detailed image, but don't reach deeper depths.
The best option for a fish finder is a finder that has multiple frequencies to give you the versatility to move from shallow to deep and have options for higher detail at shallower depths.
#4 Conical Search Area 
The conical search area is where the waves of the fish finder actually search. The cone shape is the most common type of search shape and expands the deeper it penetrates in the water column.
A wider cone is good for shallow water since it won't disperse as much, while a narrower cone is better for deep water to reduce the dispersion at depth. Best fish finders will have transponders capable of projecting wide and narrow cones.
For deeper depths or better coverage in general, look for a finder that has multiple beams. A finder with two beams means that there are two separate cones covering your desired search area, and let you spend less time looking and more time catching.
Reviews of Best Fish Finders Under $500
---
1. Humminbird 410230-1 HELIX 5–

IMPRESSIVE
Impressive 7-inch full color screen
---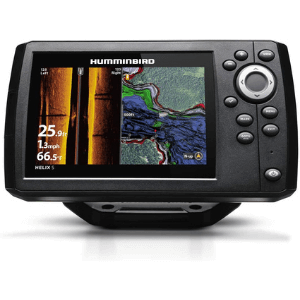 Humminbird 410230-1 HELIX 5
One of the standout features of this Humminbird Helix-5 is the large easy to read screen that performs well in every light condition. For under $500 this is the best fish finder on the market and for a good reason!
This fish finder has a dual GLONASS and GPS and satellite receiver, which ensures precise continuous single for accurate fish location. With the Hummingbird Helix-5, you receive additional data, including the location of large rock formations, water depth, and nearby ports.
Unfortunately, this fish finder has its weaknesses – there have been some user complaints of battery leakage, which can damage the device.
Pros & Cons
Pros
Easy to read large screen
Uses innovative Chirp technology
Accurate positioning and fish finding performance
Cons
Takes a long time to recharge
No products found.
---
2. Humminbird 410210-1 HELIX 5 –

Best Overall Pick
Superior fish finding capabilities
---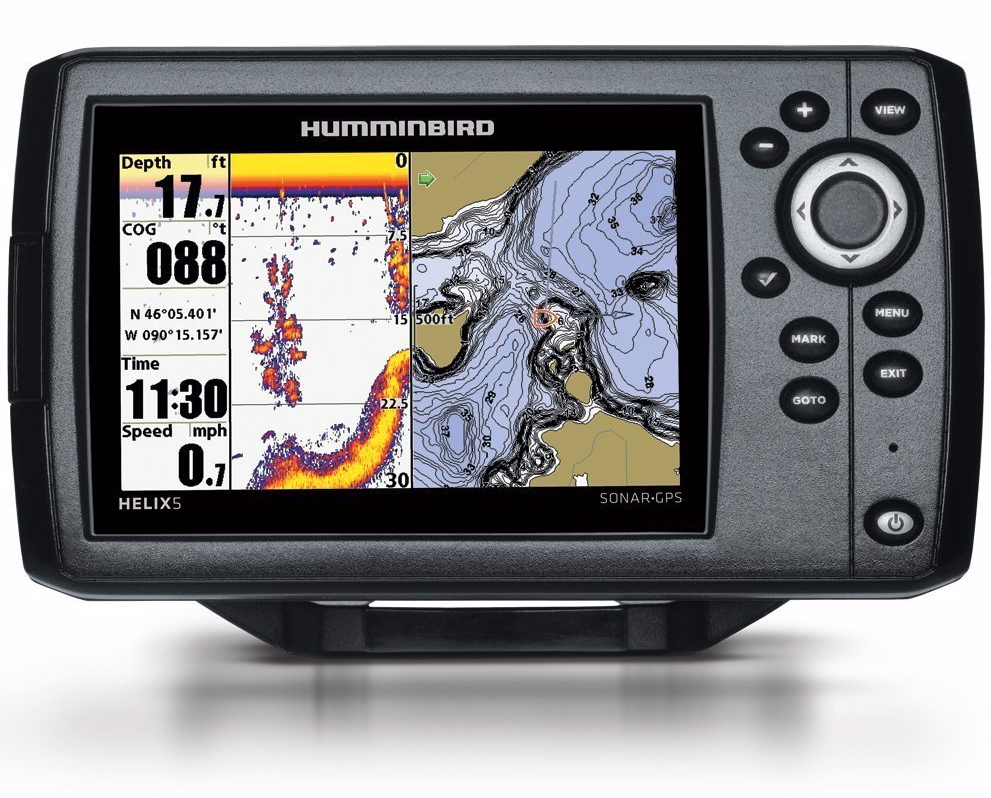 Humminbird HELIX 5 CHIRP GPS G2 Fish Finder- image credit humminbird.com
Just because you are on a budget doesn't mean that you have to sacrifice top of the line features. The HELIX 5 CHIRP GPS G2 model features Hummingbird's heralded CHIRP sonar system, which provides superior fish finding capabilities.
DualBeam PLUS sonar provides a larger coverage area for the transducer that has a variable frequency between 75 and 225 kHz.
The 5″ diagonal screen offers a pixel resolution of 800H x 480V, along with 16-bit color TFT and an LED backlight. This unit's 500 Watt (RMS) output allows you to cover depths up to 1500 feet and has a power input of 10-20 VDC.  It also features an onboard GPS and a UniMap chart software package to enhance your fishing experience.
A 4,000-watt peak power makes the Helix 5 capable of producing rapidly traveling sonar waves to give you quick and detailed images of the water column, and topography of your fishing spot. The Autochart Live feature actively maps your favorite fishing spots to help you get to the fish faster every time you hit the water.
When you're fishing in new waters, the Humminbird Basemap uses the built in GPS, and data from multiple sources, including NOAA and Lakemaster, to give you topographic, depth, and navigation data to help you make the most of your time out on a new lake.
Pros & Cons
Pros
DualBeam Plus sonar equipped with SwitchFire.
CHIRP sonar technology.
Powerful XNT 9 20 transducers complete with a transom mount.
Depth capability up to 1500 ft with an included transducer.
Multiple sonar function is available.
Sonar Screen Snapshot and recording functions.
UniMap chart software package included.
Cons
Last update on 2023-10-04 - Images from Amazon Product Advertising API
---
3. Garmin 010-01550-00 Striker 4 Built-in GPS –

BEST SELLER
Easiest user interface
---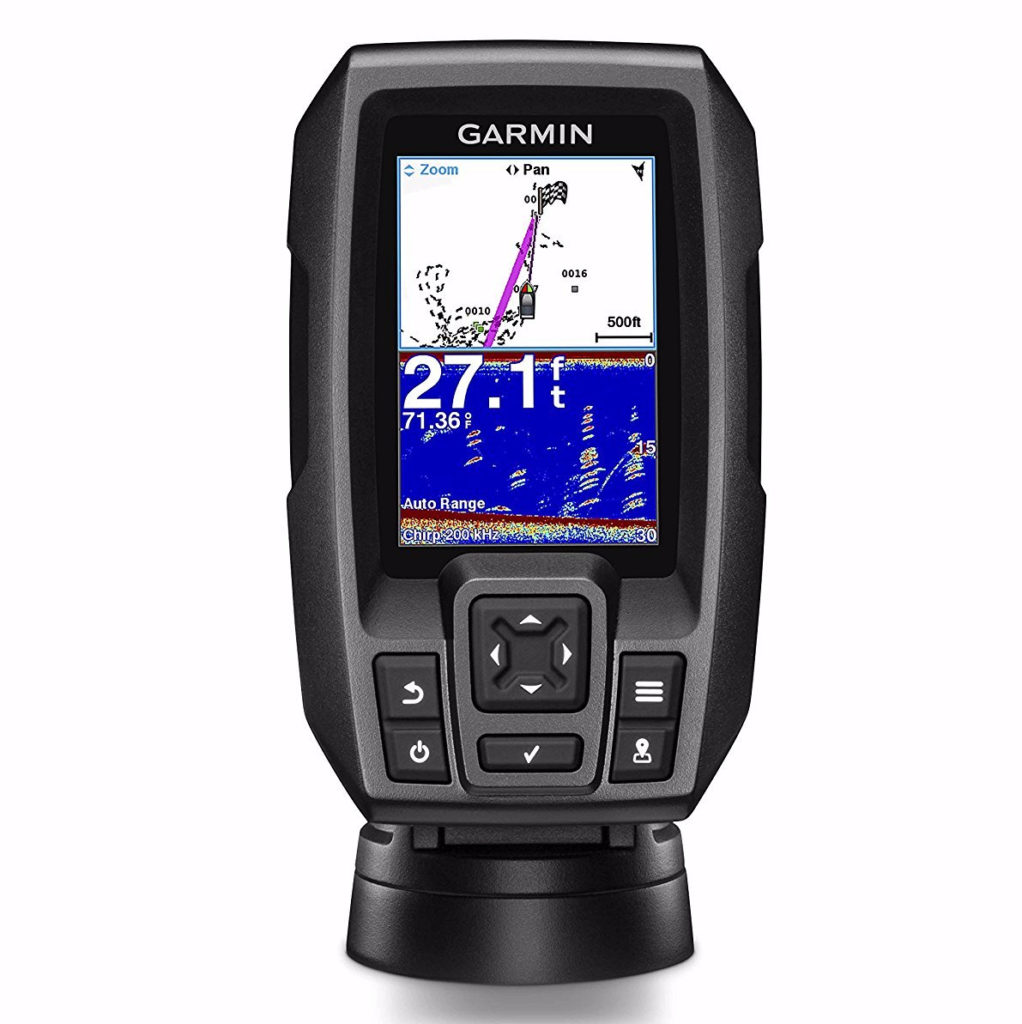 Garmin Striker 4 Built-in GPS Fish Finder – image credit garmin.com
The Garmin Striker 4 is the simple option designed to give you the easiest user interface possible in a fish finder. The keyed interface is has dedicated buttons to keep yo0u from fiddling around to figure out how to change settings.
The built-in GPS includes a waypoint map that allows you to mark your favorite areas, while also setting reminders of hazards common at your favorite fishin' holes like shallow spots, large rocks, and others. You can even mark the deep spots where you know the big fish like to hang out. All of this is easy to track on the full-color 3.5-inch screen.
The Striker 4 uses variable CHIRP sonar that continually scans the water at frequencies between 77 and 200 kHz. You can even upgrade to the GT8 or GT15 transducers to increase the coverage area, and produce crisper sonar images, to give you more of an edge for finding your prize catch.
A transducer power source provides 200 watts that let the sonar read up to 750 feet in saltwater, and 1,600 feet in freshwater.
Pros & Cons
Pros
High accuracy transducers.
Map markers make finding hot spots and docks easy.
Easy set-up.
Color screen.
Cons
Loses accuracy at higher speeds.
Transducers leads are a little short for large boats.
Sale
Last update on 2023-10-04 - Images from Amazon Product Advertising API
---
4. Deeper DP1H10S10 Portable Wireless Wifi Fish Finder
Companion for almost any kind of fishing
---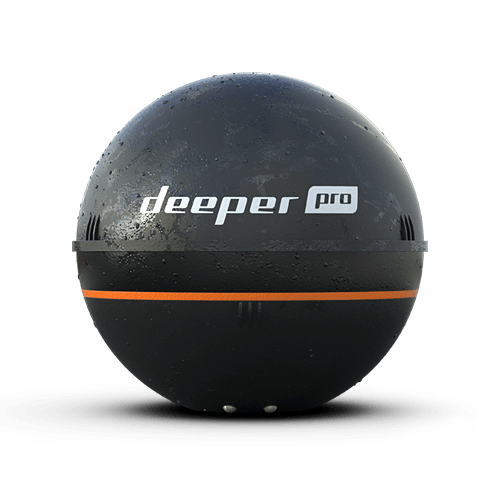 Deeper Portable Wireless Fish Finder – image credit deepersonar.com
Even though I set out to give you a strong list of the most common fishfinder brands that produce quality finders for under $500. However, I feel impressed that I should share Deeper portable, because of how popular it is, and it turns your iOS or Android smartphone into the screen for your fishfinder.
Using a WiFi radio, the Deeper fish finder transmits water data directly to your phone. The portability makes this fish finder a capable companion for almost any kind of fishing whether from the shore, on ice, or on a boat. The finder even has separate mapping modes for the different fishing conditions.
The flexibility of the deeper lets you cast the sonar device like you would your regular line, and has a connection range up to 330 feet. The depth penetration power is capable of creating a definition to within half an inch of object separation down to 260 feet in fresh and saltwater.
You are able to choose between a precise 15-degree narrow cone and wider coverage with a 55-degree cone. The power source is a rechargeable battery capable of 5.5 hours of continual use per charge.
Pros & Cons
Pros
GPS mapping feature in app.
Easy to use,
Produces crisp detail of the water column.
Cons
Wi-Fi connection is inconsistent in rough water.
If your phone dies, you lose your fish finder's capability.
Sale
Last update on 2023-10-04 - Images from Amazon Product Advertising API
---
5. Lowrance HOOK2 4X
Sophisticated CHIRP system
---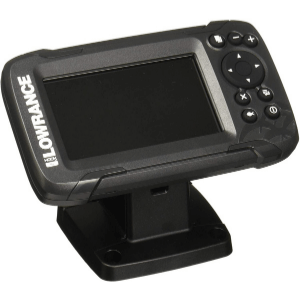 Lowrance HOOK2 4X
The HOOK2 4X comes with built-in mapping, which makes it a detailed fish finder worthy of multiple nominations of being the best GPS finder for less than $500.
The detailed maps featured in the device provide crucial information, including water depth changes, and the routes to ideal fishing spots. The depth measurement feature is especially helpful for identifying the best fishing location and finding the most rewarding areas to get the best catch.
Pros & Cons
Pros
Option to save trails and routes
Waypoint navigation supported
Displays changes in water depth
Cons
Only compatible with default mount
Last update on 2023-10-04 - Images from Amazon Product Advertising API
---
High resolution image
---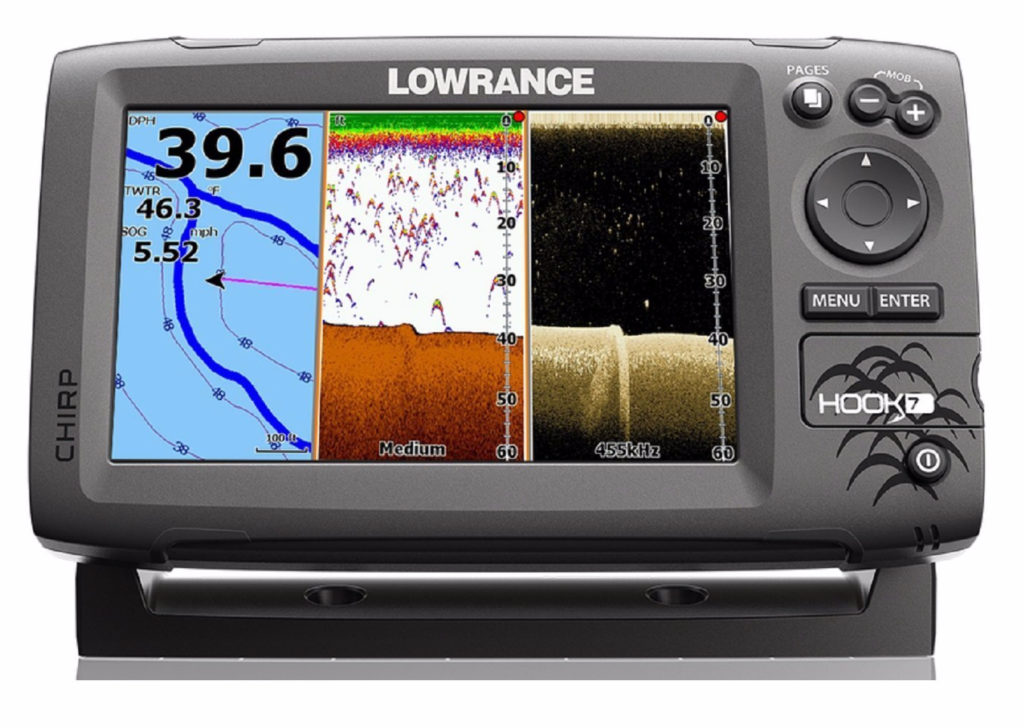 Lowrance Navico Hook Fish Finder – image credit lowrance.com
The Lowrance 000-12664-022 Navico Hook 7 offers numerous popular features like an exclusive 7-inch color screen that delivers a high-resolution image. It also offers powerful DownScan imaging and CHIRP sonar, which together provide you with exceptional monitoring capability directly beneath and around your boat.
In order to reduce the need for manual adjustment, the unit also offers an Advanced Signal Processing system, which quickly allows you to survey bottom detail, submerged structures and, most importantly …fish!  A mid-high down imaging transducer is also included.
Pros & Cons
Pros
Advanced 2D CHIRP sonar.
Crystal clear DownScan imaging system.
Monitor 3 Panels with split-screen.
Superior sonar recording function.
Automatic noise filtering.
Fish ID, A-Scope, Bottom Lock included.
Rapid GPS acquisition.
High-end charting software interfaces.
Cons
Take some time to master completely.
Unit cover not included.
Basic map charts offer insufficient detail.
Last update on 2023-10-04 - Images from Amazon Product Advertising API
---
7. Lowrance 000-12635-001 Hook-3X
Help you find what you want faster and easier
---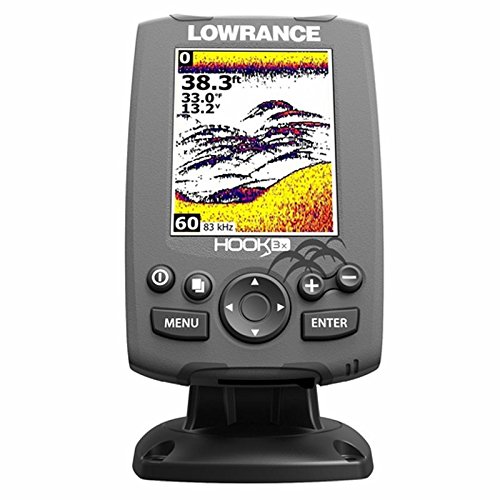 Lowrance Hook-3X Fish Finder – image credit lowrance.com
The Lowrance 000-12365-001 Hook features a 3-inch full-color screen that is LED back-lit to allow you to clearly view the images returned to you by the dual-frequency transponders running at 83 and 200 kHz. The 80 kHz mode creates a 60-degree cone that is a great option for finding the best fish over a wide area.
The transponders use broadband sounders that relay information back to the screen and give you a clear picture of bottom contour and hardness, water temperature changes, fish, and underwater structures.
Thanks to the advanced signal processing of the Hook, you spend less time making manual adjustments to improve image clarity.
The fish finder automatically adjusts to changes in the water column and conditions to help you find what you want faster and easier. Page buttons on the body make switching between the 83 and 200 kHz signals quick and simple.
Pros & Cons
Pros
Clear screen, even in sunlight.
Easy to install in the boat.
Good for finding depth, temperature, and contour.
Great for first-time users.
Cons
Loses accuracy at high speeds.
3-inch small screen.
Last update on 2023-10-04 - Images from Amazon Product Advertising API
---
 Final Note on Best Fish Finders
In the final analysis, no matter which brands you ultimately select or how much you may decide to spend for any given fish finding unit, there might be a few individuals who view this type of state of the art fishing technology as providing an unfair advantage to the anglers who use them.
Nonetheless, it must always be remembered that these units do not actually catch fish for you; they simply help you locate them.  It is indeed up to the individual angler to consistently exercise discretion when fishing, either with or without such electronic assistance, in order to help preserve this vital resource for future generations.
Related: Â Best Fish Finders For Shallow Water