Many fishermen are not convinced that a fishfinder will help them out all that much when they are out fishing in shallow water. I for one totally disagree with them. My experience with them is that they can at least point you in the right direction and give you a better chance to catch some fish on any given day. High frequency sonars in ranges like 200kHz, 455kHz or 800kHz don't cover a wide area but they do provide great fish and bottom structure detail.
Do they guarantee success when fishing in shallow water? The answer to that is No; but neither does the best boat, the best lure or the best rod and reel setup. That is just the way fishing goes and what makes it a fun challenge. One thing I do know for sure is that fish finders in the above-mentioned frequencies work very well in shallow water.
In my humble opinion, a fish finder can boost your chances of success by providing you valuable information about the location of fish. You can use the data from the fish finder, combine it with your skills, and experience to maybe getting some great catches. Reliable fish finders are designed for fishing in shallow waters.
So what is the best fishfinder for shallow water? I really like the Garmin Striker 7SV with a transducer. The large, 7-inch screen, on the Striker 7SV, is beautifully detailed to allow you to monitor multiple frequencies simultaneously.
The screen is so crisp and clear that you feel more like you are looking at a live feed of the water column, rather than trying to decipher blob looking shapes that could either be a fish or a boot. The screens provide a higher degree of accuracy thanks to the Garmin CHIRP ClearVü 260/455/800 kHz, and SideVü 260/455/800 kHz that are almost perfect for uncovering all the best hiding spots and fish populations in shallow water.
Best Fishfinder for Shallow Water in 2020 – Our Selection
---
Last update on 2020-09-30 - Images from Amazon Product Advertising API
Key Characteristics the Best Fishfinder for Shallow Water MUST Have
---
You will find many different features on fishfinders. Some of them really help in your quest to find fish and others are mostly just bells and whistles that are nice to have. That being said, there are three important features that best fishfinder for shallow water MUST have.
# High-Frequency Sonar
A fishfinder that will work well in shallow water should have a sonar frequency in the 200kHz or higher frequency range. The higher the frequency, the higher the resolution that fishfinder will show you. This frequency range will also better enable you to position your boat over the fish.
# Good Display Screen Resolution
We have already told you that sonar on your boat that works in the 200kHz or higher range will help give you better fish and bottom structure detail. You can take that one step further with a display on your fishfinder that has good resolution. The higher your resolution the more you can assume about the fish you find and the more accurately you can get right over them with your boat.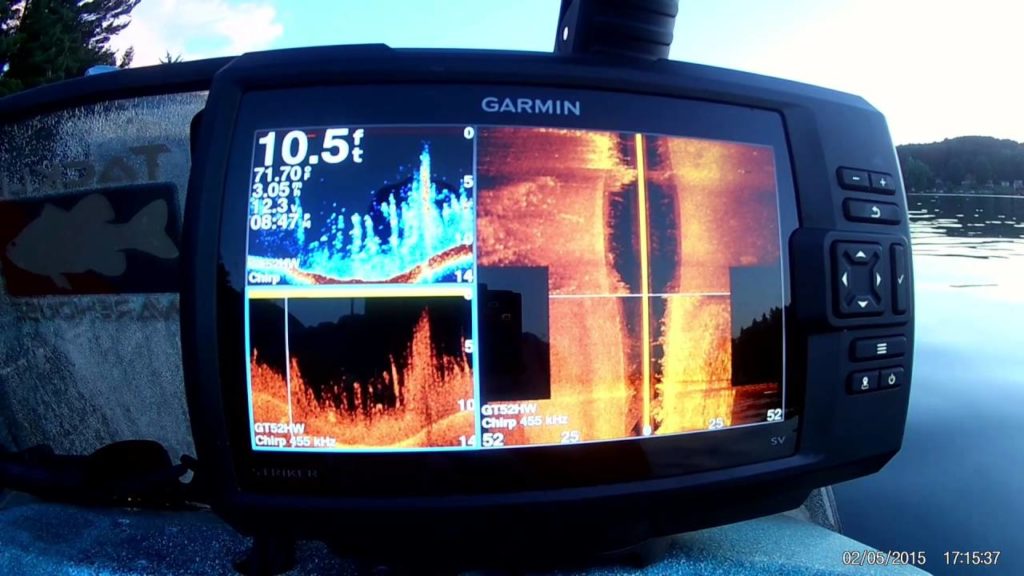 With a higher screen resolution on your display, you have a chance to do such things as distinguish the size of the fish you are over and in some cases, you can even take an educated guess as to what species those fish are most likely to be.
This is a huge advantage for you and your companions when fishing in shallow water. It will help keep you from wasting time going after a different species of fish than the ones you were hoping to catch.
# Side Imaging/Down Imaging Radar
These are some of the newest radar technologies for fishing in shallow water. They work with sonar frequencies that are found in the 455 or 800 kHz range.
How does side imaging sonar help you? We mentioned that one of the downfalls of higher resolution sonar like 200kHz, 455kHz or 800kHz is that they don't cover a lot of areas.
Side imaging sonar helps to compensate for this. Since it shoots at a sidewards angle along both sides of your boat it will cover more area than just standard down looking sonar does.
It will enable you to map the bottom of a body of water much faster. Side imaging radar also gives you more of a 3D view of an area so you can judge bottom structure locations better.
Down imaging radar has its advantages too. It will provide you with specific and more vivid details about an area of structure you are fishing.
You will be able to tell if that structure you are directly over is a rock outcropping, a fallen tree or a sunken ship. This can be really useful in determining exactly how you will fish the area you are casting in.
Any fishfinder that has these key characteristics will give you a better chance at finding where the right fish are in shallow water.
Best Fishfinders for Shallow Water – The Reviews
---
1. Garmin 010-01809-00 Striker 7SV Review – Best Overall Pick
Seamless picture to find the deep spots hidden in shallow waters
---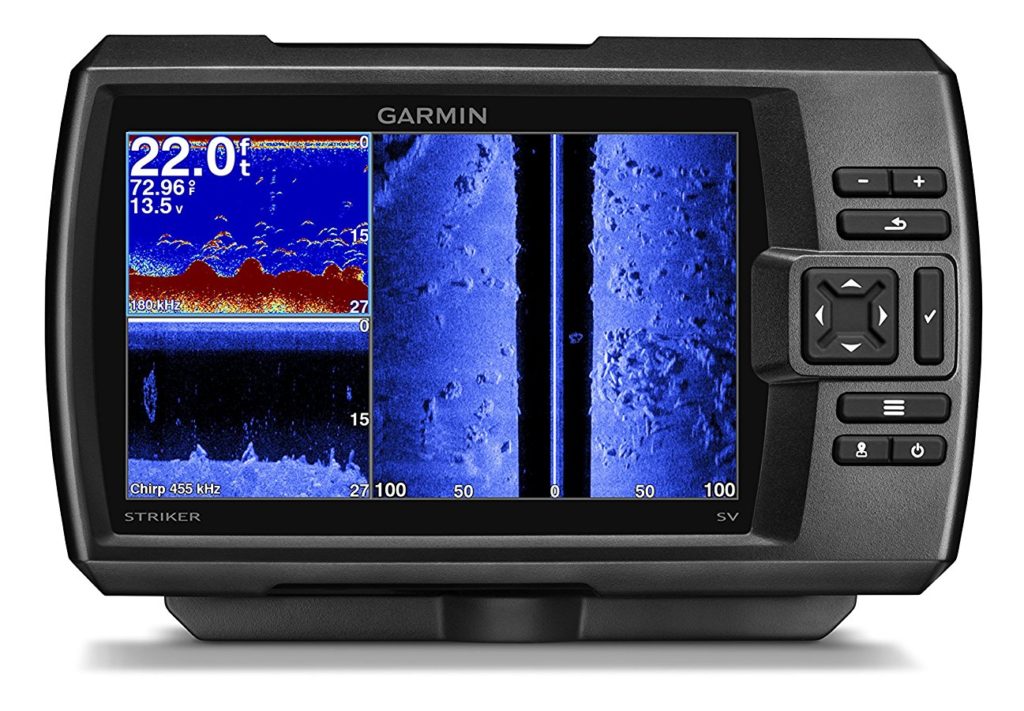 + Shallow Sonar Type: CHIRP ClearVü: 260/455/800 kHz SideVü: 260/455/800 kHz.
+ Display: WVGA color 7" diag.
+ Bonus Features: Waypoint map to track your favorite fishing locations.
The Garmin Striker 7SV features Garmin's exclusive CHIRP ClearVü™ and Garmin CHIRP SideVü™ technology in a large 7" diagonal screen to give you an incredibly clear view of the both underneath and around your boat as you cruise your favorite waterways in search of the catch of the day.
The impressive 260/455/800 kHz side and down scans give you such a clear picture of the water column that you will think that you're almost watching a video of the passing lake bottom.
The installed Smooth Scaling™ software easily transitions between depths to provide a seamless picture to find the deep spots hidden in shallow waters.
The GPS system of the Garmin Striker 7SV includes the ability to map and save your favorite fishing areas, that includes saving waypoints to mark hotspots, spawning areas, entry and exit points. Being able to easily update your custom waypoints helps save time so you can cast more and search less.
You can also use the sonor history rewind feature to review sonar images from your scanning to create a series of waypoints to return to as you set up your fishing day. This is a nice addition that removes the regret moment of overpassing a good area, as you search for the best area to fish.
The Garmin Striker 7SV GPS actively tracks your trolling speed to help you make sure you are trolling your lure at just the right speed to be able to attract active species without going so fast that you outrun them, or too slow that they lose interest.
As you troll the sonar sends you constant imagery to help you make sure that the fish are actually following, and you're not wasting your time, and bait.
Pros & Cons
Easy to use.
High-featured fishfinder.
Precision GPS locating.
Bright and clear display.
GPS maps aren't highly detailed.
Last update on 2020-09-30 - Images from Amazon Product Advertising API
2. Garmin 010-01550-00 Striker 4 Review – Best Value
Excellent CHIRP sonar system
---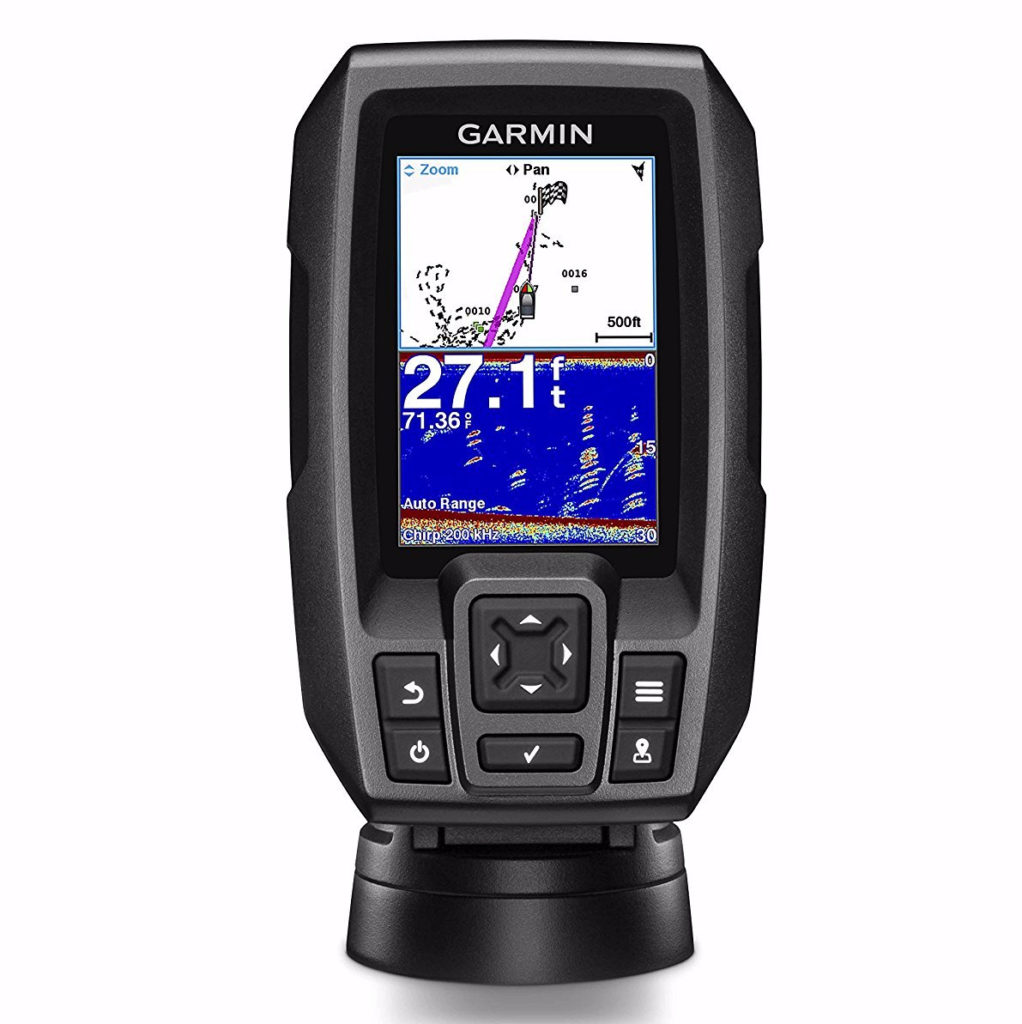 + Shallow Sonar Type: 200kHz CHIRP.
+ Display: 3.5″ InchColor 480 x 320.
+ Bonus Features: Added GPS Navigation.
There is a reason why Garmin is a leader when it comes to fish finding products. They are known for building products with many nice features and then selling them at a very fair price. The Garmin Striker 4 compact model fishfinder is an excellent example of that.
You don't often see fishfinders in its price range that have all the features this model has and a built-in GPS navigation system too.
It features an excellent CHIRP sonar system that operates at both 77kHz and 200kHz. This is the perfect combination to help you get to where the fish are and bring in a boat full of them. With this type sonar setup, there is no reason you should ever get shutout again on any fishing trip.
The display on this model fishfinder is not fancy but will still easily get the job done. Its 3.5-inch display will give you a good view of where the fish are and also help keep you safe by showing you the bottom terrain where you are.
The included GPS navigational system is an excellent bonus feature. It will help you safely navigate your way around unfamiliar shallow areas and you can also mark your favorite fishing spots with waypoints.
Pros & Cons
3.5 inch color display.
480 A – 320 pixels resolution.
Rugged Design.
CHIRP Sonar for a better fish target.
Water temperature Log and Graph.
Identify fish targets by fish symbol ID.
Unit cover not included.
No Latitude and Longitude Information.
No NMEA connectivity.
The display could be better.
Sale
Last update on 2020-09-30 - Images from Amazon Product Advertising API
3. Humminbird 410210-1 HELIX 5 G2 Review – Best Seller
Dual channel CHIRP sonar
---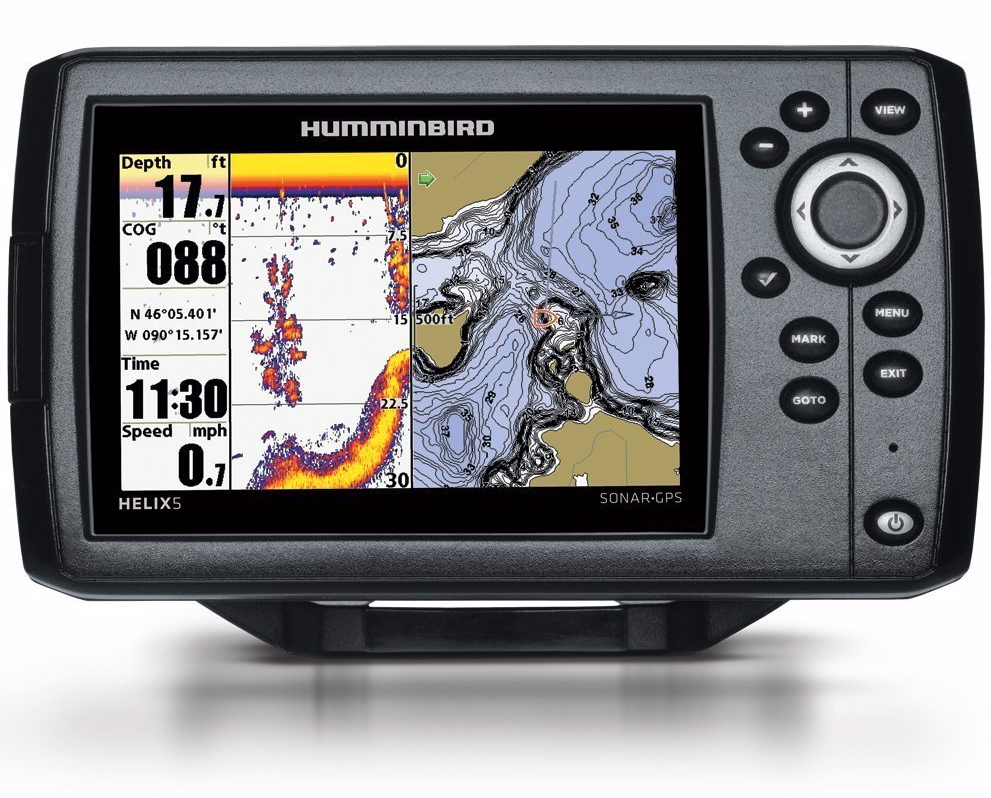 + Shallow Sonar Type: 200kHz CHIRP.
+ Display: 800H x 480V, 5″ 256 color.
+ Bonus Features: Added GPS Navigation.
You are already aware that I am a big fan of this excellent shallow-water fishfinder. That being said, my reviews are always based on the information and not emotional inclinations. This is one of Humminbird's best-selling fishfinders for a reason. That means many other people share the same opinion as me.
It all starts with the excellent sonar that this model has. Its dual-channel CHIRP sonar will easily help you locate large schools of fish and then position yourself directly over them.
One of the better features of this model fishfinder is the high-resolution display. Even the best sonar can do you no good unless you have a quality display to show the information it gives you. This display is also nicely backlit for easy daytime viewing.
The GPS navigational aid is a nice bonus with this unit also. It can help you safely navigate your boat around in unfamiliar areas and you can even waypoint where your favorite fishing spots are.
Pros & Cons
800H x 480V color display.
Dual channel 'CHIRP' sonar.
Builtin GPS navigation system.
Transducer cable is short.
The owner manual needs improvement.
Sale
Last update on 2020-09-30 - Images from Amazon Product Advertising API
4. Humminbird 409640-1 HELIX 5 SI Review
Full 180 degree image of the water column underneath your boat
---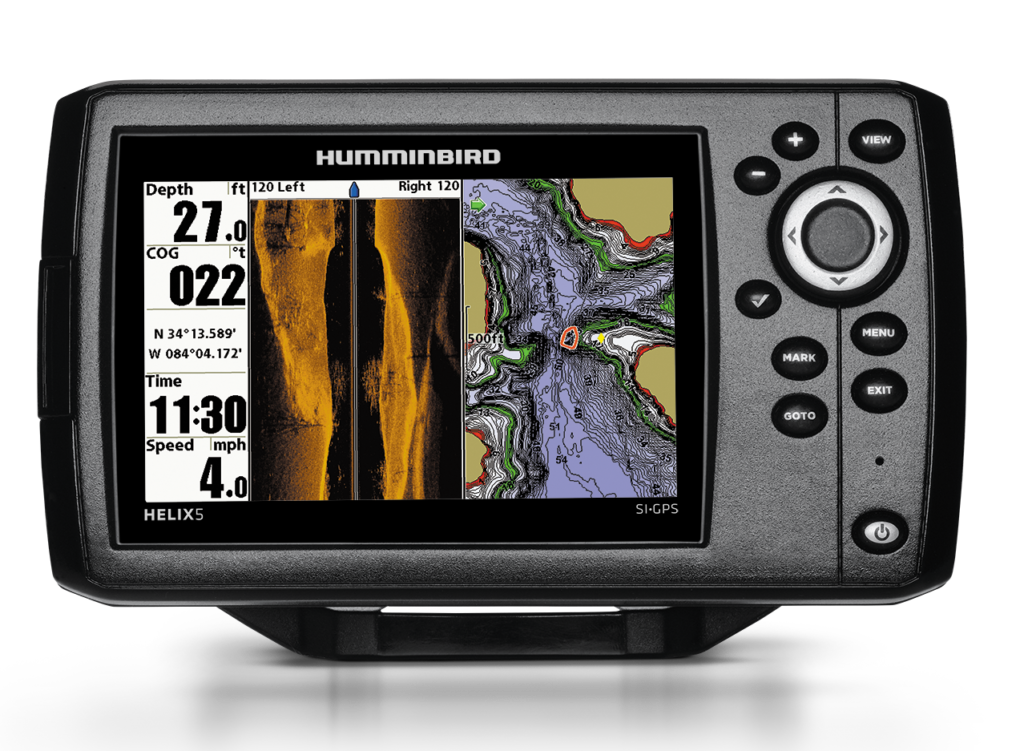 + Shallow Sonar Type: 200/455 kHz.
+ Display: 5″ 800H X 480V 256 Color TFT.
+ Bonus Features: Side and down imaging with DualBeam PLUS Sonar.
One of the first endearing features of the Humminbird Helix 5 SI is the micro SD card slot that gives you the option and flexibility to add additional maps to the built-in GPS to expand your fishing territory.
The micro SD also gives you the ability to save waypoints to better track and navigate to and from entry points, and remember the best areas to cast. The waypoint saving is just one part of the expansive chart plotting system enabled by the precision GPS that also plots your speed.
In the water, the Helix 5 has side imaging and down imaging sonar that has dual cone coverage at 20°, 60°, and 85° options. When combined, the sonar gives a full 180-degree image of the water column underneath your boat.
The power of the high-frequency transducers is able to acquire target separation down to 2.5 inches of distance, giving you a more accurate view of what is actually lying in the water column, and how many fish you have to target.
Pros & Cons
High Precision GPS.
Wide view range.
The Screen provides high detail.
Expandable memory to add more cups.
Transducer cable is short.
The base doesn't rotate right or let
Last update on 2020-09-30 - Images from Amazon Product Advertising API
5. Lowrance Hook-5 Coastal Nautic Review
Clea and, crisp image of the water column below your boat
---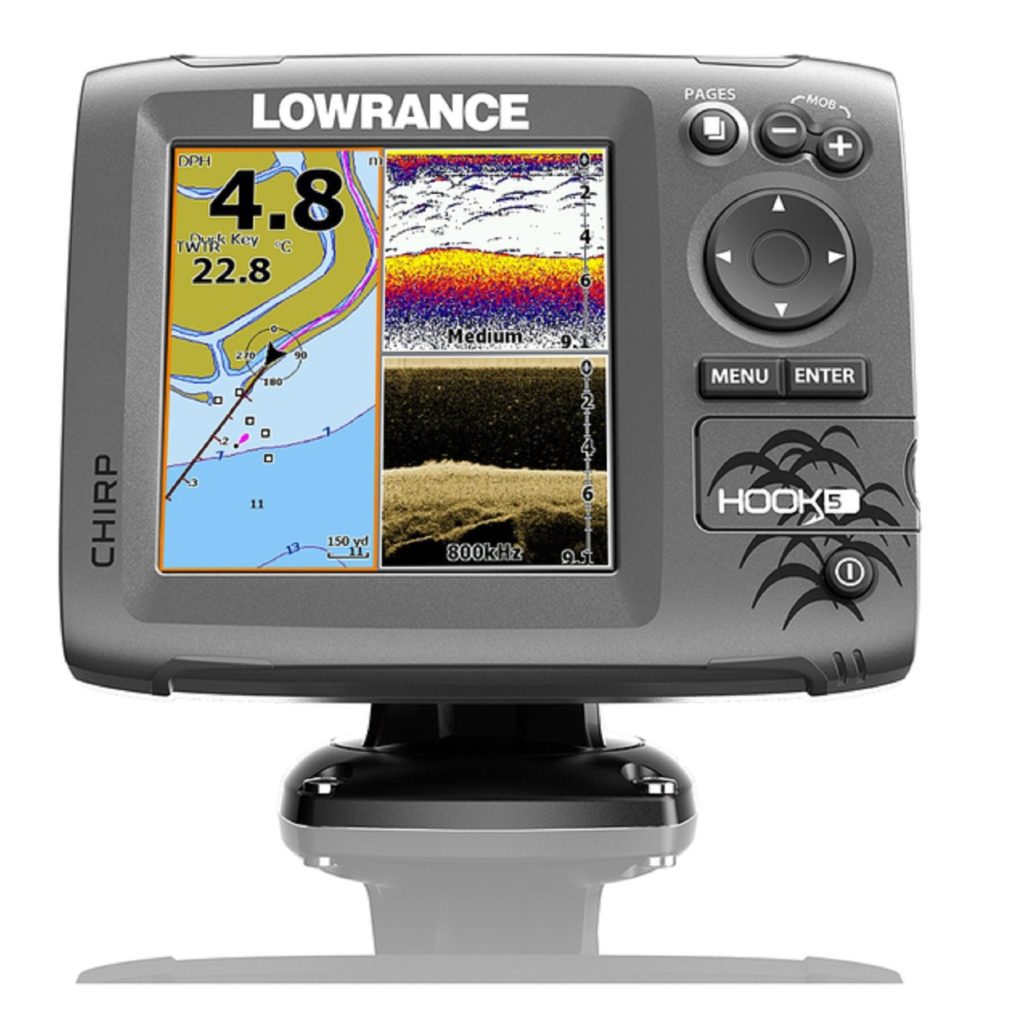 + Shallow Sonar Type: 200 kHz.
+ Display: 5-inch, high-resolution color display.
+ Bonus Features: GPS with U.S. map featuring more than 3,000 lakes and rivers.
The Lowrance Hook 5 uses a combination of high precision GPS and CHIRP sonar to create your new best fishing friend. The Hook 5 comes with maps covering over 3,000 U.S. waterways that are up-gradable to high definition quality. Plus you can make your own custom using the Genesis® mapping function, and save your favorite fishing spots, complete with routes.
The Hook 5 uses two CHIRP sonar ranges to create a clear, crisp image of the water column below your boat. The images are further enhanced thanks to the Hybrid Dual Imaging™ that combines Broadband Sounder™ PLUS and Lowrance Exclusive DownScan Imaging™ to create a highly accurate scan that has a super low target separation distance and reduces sonar noise.
The DownScan Overlay™ system overlays multiple sets of down scan data to make sure that you are seeing actual fish targets and not just a clump of vegetation.
Pros & Cons
Personalized maps.
GPS with large waterway data set.
Strikingly clear downscan imagery.
Screen is dim for bright days.
Last update on 2020-09-30 - Images from Amazon Product Advertising API
6. Garmin 010-01256-00 Echo 551dv with Transducer Review
Garmin ClearVü give impressive definition of fish and underwater structures
---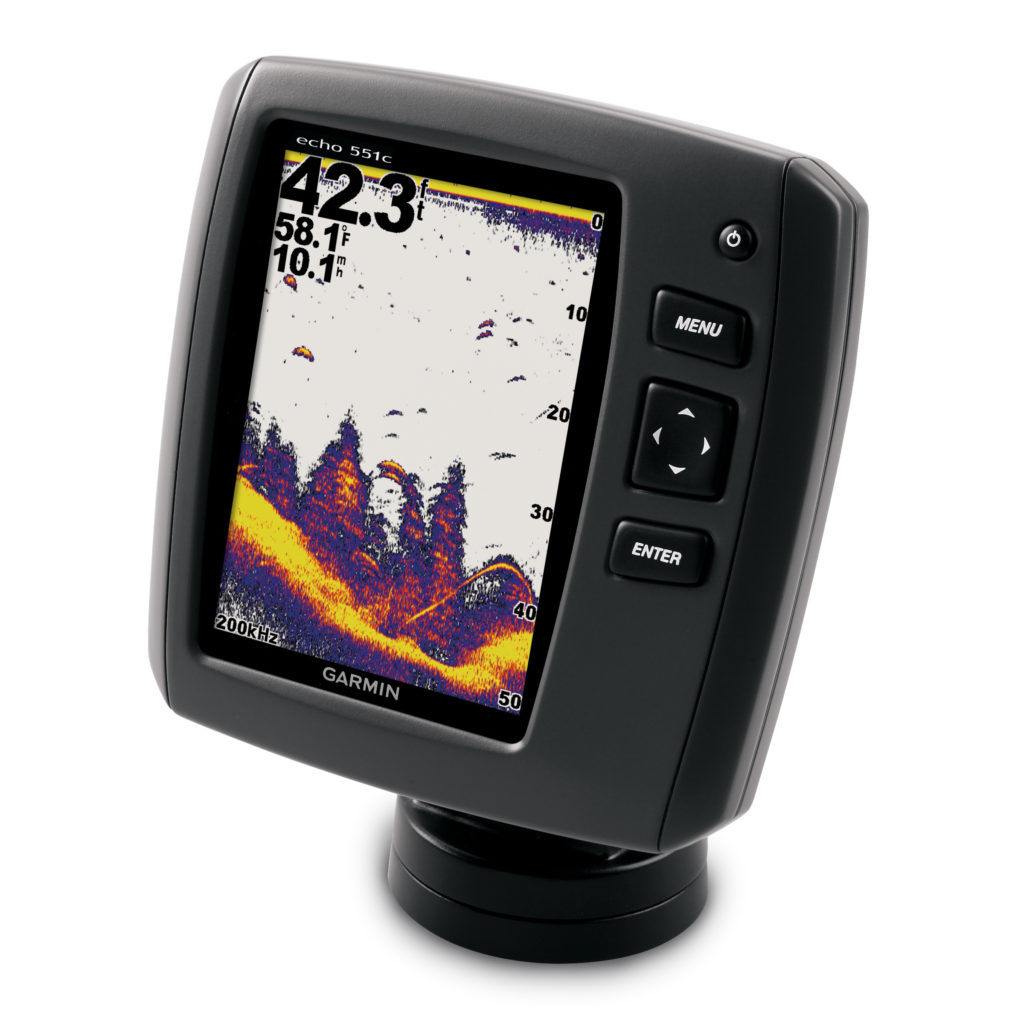 + Shallow Sonar Type: 200kHz ClearVü scanning sonar.
+ Display: 5-inch high-resolution VGA color display.
+ Bonus Features: Split-screen shows both high and low frequencies.
The Garmin Echo 551dv has a high-resolution screen that can be split either horizontally or vertically to take full advantage of the "all-in-one transducer" that simultaneously projects 77 kHz and 200 kHz sonar signals. For you as the fisher, this gives you the clearest and most accurate imagery of the underwater structure and the fish that are trying to hide from you.
The dual-frequency monitoring and high-resolution screen combine to use Garmin's Smooth Scaling™ technology to provide a seamless transition from deep to shallow water. This is perfect for finding those hidden deep spots in shallow water lakes where the big trophies like to hide out from us anglers.
The Echo 551dv further sweetens the pot with the variable cone angles that allow you to dial in the coverage area of the sonar signal. You can use a wider cone to find the most likely hiding places, and the narrower cone to focus in for greater detail on the fish.
Once you have found the best places you can use the sonar history rewind to review your favorite spots and dial in where you want to drop your lure without having to troll back and forth across the surface of the lake. You also have access to the Ultrascroll® and AutoGain features that give you clearer imagery with reduced clutter, even when traveling at higher speeds.
Pros & Cons
Easy setup and easy learning.
It comes with quick-release transom and trolling motor transducer mounts.
Depth indicator.
Shallow water warning indicator.
High detail color screen.
Short electric wiring (6 feet).
Few customization options.
Last update on 2020-09-30 - Images from Amazon Product Advertising API
7. Lowrance 000-12635-001 Hook-3X Review
Affordable price and easy to install
---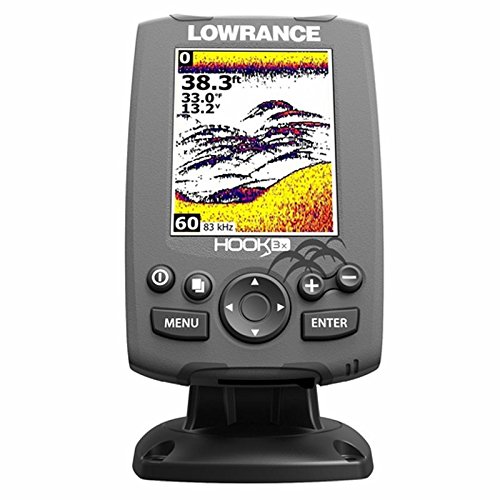 + Shallow Sonar Type: 200kHz XDCR.
+ Display: 3″ color 320 x 240.
+ Bonus Features: Mounting Hardware Kit.
Lawrance is a very popular name among fishermen because of the quality fishfinders they produce and this model is no exception. Don't make the mistake of thinking that it's not a quality fishfinder because you can buy it for an affordable price. It will do the trick nicely for you and this is an extremely small boat, friendly model.
It has sonar frequencies of 83kHz to help you find where the fish are and 200kHz to help place you over and identify those fish. It is a very simple but effective system to get you to a fishing spot that increases your chances for success.
Not only will this unit help you find your next fish dinner but it's very easy to install too. It even comes with all the mounting hardware you need to do that. You can literally have it set up and running in less than one hour. This is true even if you are not mechanical like me.
Pros & Cons
3 inch 320H x 240V display.
Dual frequency sonar.
Quick release bracket for safe storage.
Very generic display colors.
Daytime display is hard to read.
Last update on 2020-09-30 - Images from Amazon Product Advertising API
8. HawkEye Fishtrax 1C with HD Color Virtuview Display Review
Portable finder that helps you fish everywhere
---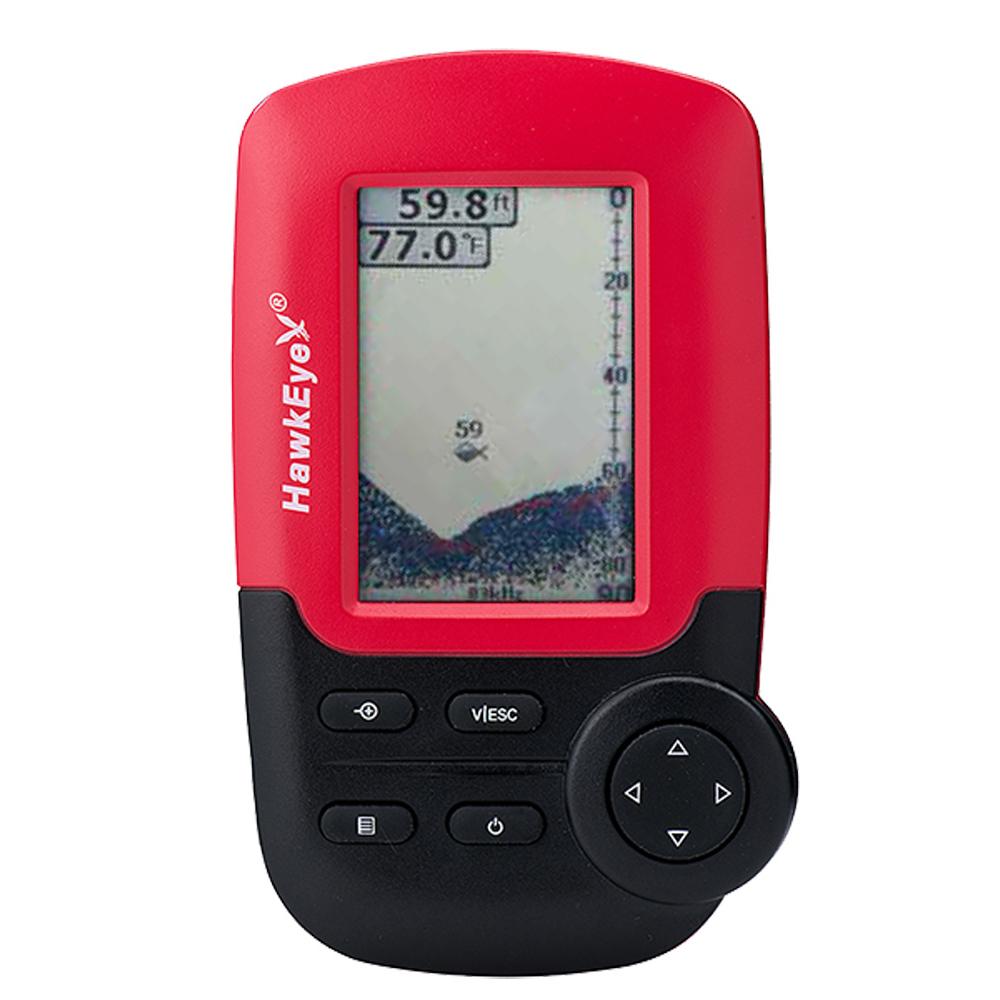 + Shallow Sonar Type: Auto Switching Dual-Beam 200/83 kHz.
+ Display: VirtuView™ HD Color.
+ Bonus Features: Powered by 4 AAA batteries for increased portability.
The Hawkeye Fishtrax is the fishfinder for the angler that loves to cast a lure in different types of water, and on different types of boats. The transducer has three different options for placement; a portable mode that lets you fish from the shore or a kayak, a shoot-through for smaller vessels, and a boat mount for larger boats.
You can quickly and easily change the position of the transducer to meet changing conditions and locations quickly and easily. The transducer can be used for trolling or floated to further increase the portability and flexibility of this finder.
The screen on the Hawkeye Fishtrax 1C is an HD color display that is glare-free and is White SoftGlow™ backlit to provide ultra-clear readability in cloudy or sunny conditions. The readout gives you a highly accurate reading of the dual beam sonar. Built-in adaptable software uses the data received to learn topography and fish forms to reduce the occurrence of false fish readings.
In addition to finding fish and displaying depth, the Hawkeye also measures and displays water temperature as it changes through the depth of the water column. This is handy, as fish tend to prefer to hang out in thermoclines, which are the areas where different water temperatures meet.
Pros & Cons
Track fish depth and location effectively.
The finder is housed in the waterproofed case.
Highly portable and adaptable.
Screen is small.
Battery life is low for extended fishing trips.
Last update on 2020-09-30 - Images from Amazon Product Advertising API
The Conclusion – Give Yourself A Better Chance For Success When Fishing In Shallow Water
I was one of those fishermen that were skeptical at first about spending the money on a fishfinder. Now, I will never leave my dock without one on board. Having a fishfinder is the only sure way of knowing that there are even fish in the area where your boat is.
All of these model fish finders reviewed here will do the trick nicely for you and are not considered expensive as far as fish finders go. Once you add a fishfinder to your boat, it will significantly add to your confidence that you will catch fish every time you are out on the water.