The only thing more relaxing than swimming is perhaps fishing. This sport requires a keen eye and a penchant for patience. After all, it could be hours before you find the right spot and hours more before you catch a bite. Fishing requires time and persistence.
Something else you should consider when considering fishing is your comfort. How long are you planning to sit on the water? And are you comfortable sitting by the edge of the water or would you prefer to keep moving with the current?
The other two critical questions to ask are how and where you intend to use the kayak because these questions will help you identify the type of kayak that will suit your needs. There are two main types of kayaks available in the market – sit-on-top (SOT) and the sit-inside, and both types have their advantages and disadvantages for fishing.
If you're looking for a nice, comfortable fishing kayak that is secure as well as stable as you've come to the right review. You should keep reading as we discuss our favorites of the best Fishing Kayak available in 2020.
Top 5 Best Fishing Kayak Picks
---
Last update on 2023-10-04 - Images from Amazon Product Advertising API
---
5 Best Fishing Kayak Reviews 2020
---
---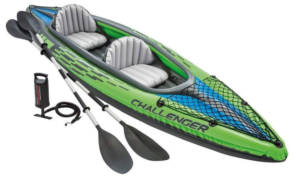 The K2 Challenger Kayak has a bright and vibrant design. This is one of the best fishing kayaks because of the tough build. The Challenger K2 has a streamlined shape that makes it easier to steer through rough currents and navigate with paddles.
The bright colors on this Kayak not only make it noticeable to other people but to you as well. You don't have to think twice about storing your Kayak close to the water's edge and marking the spot. The eye-catching colors will point you the way to your Kayak from afar! This will also help you spot your Kayak in case it's drifted off down the water.
The paddles on this durable Kayak are two solid 86-inch aluminum paddles with a powerful shape. These paddles are shaped to tear right through the water and propel your Kayak forward. These paddles also provide a firm grip on whether you try them two-handed or one-handed.
As a part of the package, you will also receive an Intex high-output pump for quick inflation. The pump itself has a simple but sturdy device. This pump is easy to store in case you need to keep it on hand. You can use this pump for fast inflation as well as an effortless deflation.
Finally, the entire kayak is made from special Intex vinyl that is designed to last. This vinyl is thick and punctures free. On top of which this vinyl is also resistant to damage and will thus last you a good many rides down the rapids.
This Kayak measures 30†x 15†x 138†and has a massive capacity of 400 pounds. As we mentioned before, you will receive two strong aluminum paddles, a convenient pump and of course a handy patch repair kit.
Pros & Cons
Pros
This Kayak comes with a patch repair kit
It has a capacity for 400 pounds
The vinyl used to make this Kayak is sturdy
The pump can inflate and deflate quickly
Cons
The area around the valve tends to leak after some time
The design of the skeg needs to be reinforced
Sale
Last update on 2023-10-04 - Images from Amazon Product Advertising API
---
---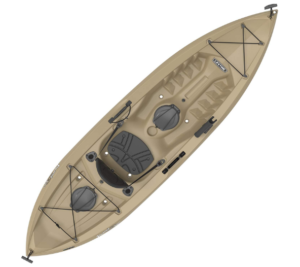 If you're looking for a Kayak that comfortably lets you sit on top while fishing, then this is the one. This Kayak is made from durable UV- protected, high-density polyethylene. This material is resistant to wear as well as being impact resistant. You don't have to worry about damaging the shape of your Kayak while swimming past another. This material is sturdy and will last you a long time.
This Kayak is about 122†x 32.7†x 13†and weighs about 54 pounds making it manageable to transport. The bottom of this Kayak is flat and stable to provide you with reliable footing. This Kayak features multiple feet holds for your convenience. You will also find stability chine rails along with deep hull tracking channels.
Sitting up and waiting for the fish to bite or even to make an appearance can get real tiring real quick. This is why this Kayak is prepared against such a problem. This Kayak features a padded back and seat for added comfort. You can easily lean back against this back and sit for hours without feeling tired. This Kayak also provides adequate safety for you at all times with the front and back shock cord straps.
This Kayak can easily accommodate 250 lbs. and carry you long trips without feeling any wear. The Lifetime fishing Kayak has three separate fishing poles holders built-in. Of these three fishing pole holders, two are flush while one is adjustable.
One of the best features of this Kayak is that it allows you plenty of storage space. This Kayak has two 6†storage compartments at the center and rear to hold your possessions. This kayak also has a sturdy paddle holder with shock cords as well as a set of front and rear T-handles for easy transport.
Pros & Cons
Pros
This Kayak has three different fishing rod holders
You will have two different 6†storage compartments
The seat and back are well padded
This Kayak features T-handles for easy transport
This Kayak comes with a 5-year limited warranty
Cons
The packaging needs to be reconsidered to save the final delivered product
It should come with an extra mounted rod holder
Last update on 2023-10-04 - Images from Amazon Product Advertising API
---
---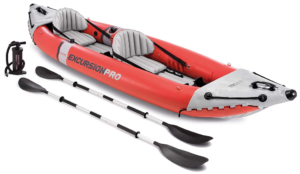 This Kayak from Intex in about 26†x 23.5†x 13.7†long once it is inflated. The large shape of this Kayak can comfortably accommodate you as you explore the waters. This is because this Kayak features adjustable foot holders to make your trip more contented. You will receive not only this Kayak but a number for other equipment as part of the package.
The body of this Kayak is made from 3-Ply high impact material that is resistant to abrasions and damages. This material is a lightweight but durable tough laminate PVC with polyester. The Intex Excursion Kayak is also protected against sun damage.
This Kayak features high-pressure inflation that provides extra stability and rigidity. On top of which this Kayak also has high-pressure spring-loaded valves that allow you to execute quick inflation. This feature also allows you to deflate the Kayak to put it away just as quickly.
The Intex Excursion Kayak comes with two different skegs for deep and shallow that are removable. You can decide whether you need either of the skegs while you plan your trip. You can also remove either based on your choice or needs.
This Kayak comes with two adjustable seats that are cushy to travel in as well as two fishing rod holders. The floor of this Kayak has a stable I-beam design that promotes rigidity.
You can use the removable and adjustable mounting brackets to hold your equipment. This bracket can fit your GPS, fish finder or swivel fishing rod holder.
This Kayak can easily support 400 lbs. and provides plenty of storage space. The bow and stern can be used to store your possessions. This Kayak also features stainless steel d-rings to tie down dry bags and gear.
Pros & Cons
Pros
This Kayak provide plenty of storage space
The mounting brackets allow room for your accessories
This Kayak has two different removable skegs for shallow and deep waters
You get two comfortable seats
The foot holders can be adjusted to suit you
Cons
This Kayak does not accept any other pump other than the one it comes with
The instructions for assembly should have been clearer
Sale
Last update on 2023-10-04 - Images from Amazon Product Advertising API
---
---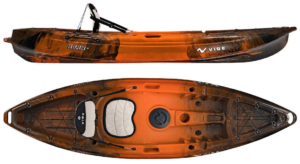 This Kayak from Vibe Kayaks is one of the best 1-person, sitting on top Kayak available. The Kayak is about 9†L x 32†W and weighs about 46 lbs. This Kayak is easy to assemble and easy to transport goods. The Vibe Kayaks Kayak is a one-piece, sturdy polyethylene that is resistant to damage.
The Vibe Kayaks Fishing Kayak comes equipped with a comfortable back and seat. You have at your disposal four easy to reach fishing rod holders as well as a sturdy cup holder. This Kayak is the ultimate recreational Kayak that fits easily into the back of your car. You will find 4 molded-in comfort grip handles that make it easy to lift and carry this Kayak.
The Vibe Kayaks Kayak also has foot braces for people of different heights. This Kayak can accommodate people of different sizes and hold about 300 lbs. worth of weight.
This Kayak features a convenient rectangular base to hold your different accessories. The paddles are secured through paddle parks and paddles rest. On top of which this Kayak even has a handy storage compartment in the center of the floor. This storage hatch is waterproof and designed to keep your belongings safe from damage. The front and rear of this Kayak can hold additional equipment safe with bungee Tie-Downs. This Kayak also features a convenient tackle toss tray for quick tackle changes. The polyethylene body of this Kayak is durable while the deck is completely slipped free.
Pros & Cons
Pros
Four molded grip handles for easy transport
A built-in cup holder
It provides plenty of space for storage
It comes with a slip-resistant deck
This Kayak comes with a rectangular base to mount accessories
Cons
The seat could be more comfortable
The hatch handle needs to be sturdier
Last update on 2023-10-04 - Images from Amazon Product Advertising API
---
---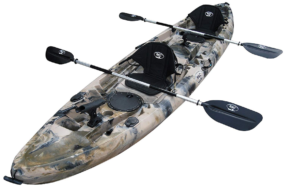 The BKC Kayak is about 148†x 32†x 12†and weighs 70 lbs. with comfortable gripping handles. Three people can sit on this sturdy Kayak, whereas, two adults can transport wherever you please.
This stand up kayak is made from a sturdy material that is resistant to wear. The shape of the Kayak and paddles make it perfect to test out the rapids. You don't have to worry about losing your paddles while you're reaching into your safety hatch for supplies. This is because this Kayak features paddle parks that involve thick bungee winding around them and keeping them safe.
The BKC Kayak also features a set of stable rod holders that are built-in to the sides. This Kayak has 4 flush-mount fishing rods as well as 2 adjustable rod holders. These multiple rod holders are good for several uses. You can use these rod holders to run several lines at the same time or you could use them to make sure not to mix your different lines.
This is the best fishing kayak under 1000 that features two handy dual watertight storage hatches. One hatch is located at the front of the Kayak and one at the back. You can use this waterproof compartment to store your important equipment. These storage hatches can also keep small items such as your keys and wallet safe.
Pros & Cons
Pros
The Kayak comes with two different storage hatches
You have multiple rod holders on this Kayak
This Kayak features sturdy handles that make it easy to transport
It has reliable paddle parks
Cons
The tracking on this Kayak needs to be reconsidered
The seat in the back causes the Kayak to ride very low
Sale
Last update on 2023-10-04 - Images from Amazon Product Advertising API
---
Buyer's Guide for Getting Best Fishing Kayak
---
If you're looking to get into Best Fishing Kayaks then you've come to the right review. This is especially true for people who aren't exactly sure what they're looking for. If you're looking for a Kayak to start you off then here are some of the features you should look out for:
Stability
Of course, the first thing you need to check is the stability of the Kayak. Ideally, we would recommend floating the Kayak across a body of water before you decide to purchase it. This is because you need to know how well the Kayak manages under your weight while traveling across the water. Does the Kayak remain stable? Does it distribute the weight evenly all across or does it tip dangerously from side to side unexpectedly? You need to check just how stable the bottom of the Kayak is.
Design
Kayaks come in different designs to suit different needs. This is why we recommend you confirm the ideal shape of your Kayak before you buy one. The design of a Kayak determines how it will perform in the water against waves and stillness.
Comfort
If you're going to spend long hours in a Kayak while using most of your strength pedaling you want to be as comfortable as possible. You need to check whether the seat of a Kayak is comfortable or not and whether it is padded? Does the seat come with a padded back as well?
You also need to check whether the Kayak allows multiple feet rests to accommodate you comfortably.
Storage
A Kayak can provide storage spaces in several ways. Some Kayaks come with d-rings you can use to fasten your bags with your belongings. At the same time, other Kayaks allow you to secure your belonging to the stern with thick bungee cords.
Further, some Kayaks offer deep, waterproof compartments to store your various possessions. When buying a Kayak decide on the kind of storage you need.
Propulsion: Paddle v/s Peddle
Propulsion means the speed with which you want your Kayak to move. There are two different ways to create movement in a Kayak and that is either through rowing with paddles or using peddles. Some Kayaks have peddles built into the front that allows you to propel the Kayak forward.
Portability, Weight, Encumbrance
When you're deciding on a Kayak you need to check out how convenient it is to transport. If you're going to be fishing by yourself then you should consider a small Kayak with lots of built-in handles that will help you lift it. You need to consider how much weight and bulk you would be happy loading into your car.
Conclusion
This marks the end of our review of the best Fishing Kayak to buy in 2020. We have discussed many different options that each have their special features. Needless to say, any one of these Kayaks would be a worthwhile purchase. We hope you find these best fishing kayak reviews helpful when you're considering your next – or first – fishing Kayak. Best of luck!