Whether you're exploring the countryside, mountains or lakes, having a proper navigation tool is a must. Although handheld GPS won't replace a map or compass, it allows you to record the track, find routes and work as a long-lasting navigator. This post covers the best handheld GPS reviews of 2020! As there are different types of handheld GPSs available on the market, choosing the right one that meets all your needs and requirements can be a bit daunting task.
For this reason, we have gathered five of the best handheld GPS devices that you can use for a variety of purposes. So without any further ado let's begin with the reviews!
---
Our Picks of Best Handheld GPS in 2020
---
Last update on 2023-10-04 - Images from Amazon Product Advertising API
---
Reviews of The 5 Best Handheld GPS
---
---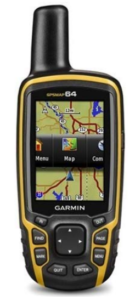 Garmin manufactured the best portable GPS that is the combination of GLONASS and GPS. This rugged, sleek, and high-performance device has a 2.6-inch color screen, which has sunlight readability features. Additionally, it supports both custom maps by Garmin and BirdsEye satellite imagery.
GPSMAP 64 by Garmin uses an antenna known as a quad-helix for superior reception. In addition, it comes with a worldwide built-in base-map along with shaded relief. Therefore, you are able to navigate or explore the terrain with ease. It displays and stores key information such as terrain, location, hints, difficulty, and descriptions.
You'll get many geotagged pictures by using photo navigation options from the internet. Furthermore, you can use a dual battery system along with traditional two AA batteries. You can also recharge these NiMH batteries while inside the device.
On the other hand, you can locate your position precisely or quickly and maintain the location in deep canyons and heavy cover. The device has 4GB internal memory that allows you to add more maps according to your requirements. Therefore, you can say that this is your perfect companion for outdoor pursuits.
Pros & Cons
Pros
This base model offers 4GB internal memory so you can download geotagged pictures by using the internet.
It offers a dual battery system, which uses two traditional batteries and the device weighs 230g with batteries.
The optional ANT monitors heart rate, temperature, cadence, and speed.
Built-in worldwide 250000 Geocaches with descriptions and hints, which improves efficiency.
The BaseCamp shows you topographic 2D or 3D map data on the 2.6-inch screen.
Cons
For the utilization of the BirdsEye satellite imagery feature, you need to subscribe to it separately.
You can only insert some specific microSD cards others are not supported.
Last update on 2023-10-04 - Images from Amazon Product Advertising API
---
---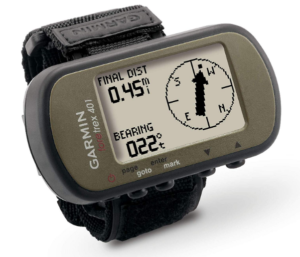 If you are looking for the best hiking GPS then Foretrex 401 by Garmin should be your choice. This wrist-mounted slim and lightweight GPS navigator is ideal for those outdoor activities where both hands are needed. You can easily share your data by creating a connection of Foretrex to the computer by using a USB or wirelessly.
Additionally, it is perfect for skiers, campers, and hikers because it featured with waterproof and more sensitive GPS receiver, barometric altimeter, and an electronic compass. If you want to retrace your steps, you can turn on the TracBack option. Moreover, you can store location in device memory as a waypoint.
The best thing about Foretrex 401 is that you can store the routes of your favorite places. In addition, it gives you other useful information such as a trip computer, hunting information, sunrise or sunset-time, and fishing information. You can also connect it with other wireless accessories like a cadence sensor, heart rate monitor, and more.
This wrist-mount tracker has LCD with 100 x 64 pixels that increase the readability level. It has built-in 10000 tracks log from where you can get helpful information during activities. This receiver comes with HotFix that enhances its performance and supports dual-position readout that ensures maximum accuracy.
Pros & Cons
Pros
The high sensitive GPS receiver comes with HotFix that enhances performance.
This smart GPS navigator has mounted on your wrist, which makes it wonderful for outdoor activities.
TracBack feature permits you to retrace your position back from where you started your journey.
A waterproof and lightweight GPS receiver is ideal for hikers, campers, and skiers in which you can store and create routes of your favorite place, plus gives helpful information like sunset or sunrise time, fishing, or hunting information and more.
Cons
You can purchase a heart rate monitor separately for measuring heart rate.
The memory space is in MB's, which is not enough to store more customized information and descriptions.
Last update on 2023-10-04 - Images from Amazon Product Advertising API
---
---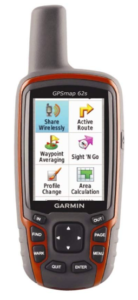 Garmin presented advance GPSMAP 62s that offers plenty of useful features to you. These features include photo navigation, support custom maps, a barometric altimeter, and a 3-axis tilt-compensated compass. Additionally, if you want to transfer unlimited aerial and satellite images, you can separately purchase BirdsEye satellite imagery.
For unparalleled reception, this handheld waterproof and rugged navigator utilizes a quad-helix antenna. The sleek design tracker comes with a speedy USB connection where you can connect it with compatible Garmin devices wirelessly. The best thing about GPSMAP 62S is that it comes with 1.7GB compass and altimeter.
On the other hand, you can insert a microSD card into a slot for an additional wide array of marine, road maps, and topographic. It equipped with a sunlight-readable 2.6-inch TFT display having a great resolution of about 160 x 240 pixels.
Pros & Cons
Pros
Garmin presents a rugged handheld device that has a 2.6-inch TFT sunlight-readable display to enhance efficiency.
It has a worldwide built-in base-map along with shaded relief. For that reason, you can download multiple photos for picture navigation.
You can share routes, tracks, waypoints, and Geocaches with other Garmin compatible devices wirelessly.
It featured with 1.7GB compass & altimeter, which provides multiple helpful information accurately and quickly.
This navigator is the best backpacking GPS and comes with an excellent battery that works 20 hours.
It uses a quad-helix antenna that enhances performance.
Cons
Does not have Bluetooth connectivity.
You can only connect it with Garmin devices.
It is a much expensive tracker for outdoor adventures.
---
---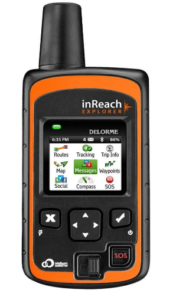 Garmin manufactured the world's first and the best satellite communicator that featured with built-in navigation. Therefore, you can create waypoints, navigate, search your way back, and log your trip. The best thing about the device is that you are able to send as well as receive text messages. Additionally, you can track, plan, and share your journey.
Furthermore, it features global SOS that helps you in case of emergency in traveling, hunting, fishing, camping and more. When SOS triggered, you can start your conversation with GEOS in dual ways, also search 24/7, and communicate with the rescue monitor center. The GEOS gives the proper responses of each call because they work with local authorities.
You can send 160 character text messages to any email address and cell number with GPS coordinates worldwide. Additionally, you may update a post on social media so you can say that this dice delivers fully global exposure through Iridium. This best handheld GPS navigator has a digital compass, accelerometer, and barometric altimeter. You can view multiple route details like distance by using the best satellite communicator.
Pros & Cons
Pros
You can create and view a drop waypoint, route, track, and navigate with map view on the screen. Additionally, it displays multiple other route details and descriptions.
Trigger an SOS, you are able to send and receive 160 character text messages to any email address or cell numbers and post it on social media.
It featured with an accelerometer, barometric altimeter, and a digital compass that provide precious information.
This is the best affordable satellite communicator that is perfect for outdoor adventures and travels.
If you are an inReach user than you can get Earthmate app free for pairing with a tablet and smartphone. Therefore, you can access unlimited topographic maps, download charts for your convenience.
Cons
The 2-inch screen is too small to view the map.
It does not support Bluetooth.
Last update on 2023-10-04 - Images from Amazon Product Advertising API
---
---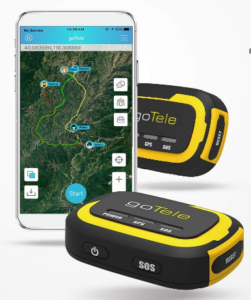 If you are looking at the best hunting GPS than goTele, GPS tracker is for you. This handheld device is the ideal tracker that you can use for hiking, fishing, camping, and boating. You can also monitor your kids or pets to keep them safe.
Additionally, no monthly fee and networking is required for its working because it is a mini portable real-time off-grid GPS tracker. The best thing about the goTele device is that it is a waterproof, dustproof, shockproof, and anti-fall GPS tracker.
This is the reason; you can use it for a longer time for real-time tracking, geo-fence, SOS, and messages. In case of emergency, multiple assistants help you to guide in a proper way. Furthermore, it is highly compatible with android and iOS devices. However, it requires two devices for operation.
Pros & Cons
Pros
goTele GPS tracker is best for outdoor adventures because you can communicate directly without Wi-Fi or cell services from goTele to goTele.
The waterproof, anti-fall, shockproof, and dust-proof enhances its reliability and durability.
It offers the best GPS tracker features such as SOS, off-line map, real-time tracking, messages, and geo-Fence. These features enhance the performances and functionality of the device.
You can say that the goTele tracker is ideal for hunting, fishing, boating, camping, exploration, wading, hiking, and more.
Cons
It does not perform well in bad weather, mountain terrain, and forest.
GoTele tracker works with two devices.
Last update on 2023-10-04 - Images from Amazon Product Advertising API
---
Buying Guide for Getting Best Handheld GPS
---
There are various points that you need to keep in mind before buying a handheld GPS. We have listed them down for your guidance. Let's have a brief look at each of them,
Battery life
One of the performance indicators of these handheld units is battery life. Most of these units come with lithium-ion batteries and they perform well. Make sure that you go for units that have replaceable batteries. The reason is that on the field you won't have a place to charge your device and needs to have another set of batteries to replace them. In most cases, AA batteries are used in handheld GPS models.
Screen type
Another important factor to consider is the screen type. You can either go for the traditional screen type or the touch screens. The touch screens are not very convenient to use in the winter or during rainy weather. Apart from that, the size of the screen can also directly influence the battery life because a large-sized device will consume more battery. Additionally, large screens contribute significantly to the overall weight of the device.
Maps
Most of the devices come with very simple and in most cases very low-quality maps. But the good thing is that more and more brands are introducing high-quality mapping topography. There is a huge difference between topography maps, marine maps, and street maps. A good quality handheld GPS will feature all these maps so you need to check which kind of mapping are you looking for. Otherwise, you will have to go for third-party maps and install them all by yourself via subscription.
Compass
The handheld GPS units use location to see where you are and what your destination is. If you are standing static on one point then the unit is not aware of how the world around you is oriented to you. This is where an electronic compass comes in to play its role. With this compass feature, the device is able to generate a heading and calculate different readings and information.
Wireless Capabilities
Most of the new models of handheld GPS devices feature Wi-Fi or other kinds of wireless communication technology. It means that you can share your location and other data with another compatible wireless device. This is a good option for you to consider when traveling with your partner.
Radio capabilities
Some of the recent models of handheld GPS feature a 2-way radio communication facility. With this feature, you can get in touch with another compatible device for various emergency situations. In some devices, NOAA compatibility is also available for broadcasts.
GPS vs. GLONASS
There are numerous satellites that are present around our Earth. There are various technologies that utilize these satellites to tell us about our location and various other details. GPS is the American version while GLONASS is the Russian version of the same technology with similar purposes. Most of the devices use both these technologies to track and trace the maps.
Conclusion
You can easily find hundreds of handheld GPS devices in the market today, so choosing the best one can be a challenge. Also, make sure that you read our complete buying guide, and do your research and homework before you make the final selection.
If you ask us to select a single handheld GPS, we would always choose the Garmin's GPSMAP-64! It is the best device to have alongside when you are on the field. The compact design and construction of this device are exceptional and you can easily use it with one of your hands. It uses both GLONASS and GPS technologies for tracking purposes.
You can either buy it with ANT & Bluetooth as well as Camera features. The device also comes with pre-installed maps of Canada and the US in different models. The color display of this device is sunlight readable and you can expand the internal memory up to 4GB. There is so much that this device has to offer and it comes at a very decent price as well.
So which of these devices have you used? Do you think we have missed out on something? Tell us what you have to say by leaving a comment below!