Owning the best hunting knives is every hunter's dream; it lets them cut, skin, and debone the game with ease. They scroll through enormous lists of options until they tap on the best hunting knife which suits their budget and needs alike.
A hunting knife can prove to be one of the most important tools on your hunting trips. I cannot count the times I have used by trusted hunting knife to gut, butcher, skin, possibly butcher, and even cape my hunted animals and the fishes I have caught. However, that is not all, because a good hunting knife can do a variety of different odd jobs including whittling sticks and branches, and general work around the camp.
This comprehensive buying guide will cover every nitty-gritty detail of hunting knives, so you don't have to struggle while searching for your dream knife. So, without any further ado, let's delves right in and pick the best hunting knife for you.
Why is a Hunting Knife so Important?
Hunting knives have been in the picture since the Paleolithic era. The cavemen used to sharpen the stones and skin/cut their prey with them. With time, however, there has been immense development and change in the style, weight, and use of the hunting knives.
Today, the hunters need sharp, stout, and ergonomic knives, which can make their hunts comfortable. When hunters wander in a jungle, they don't know what's awaiting them at the next step (woods are always fickle, you better be ready). In such circumstances, their ultimate survival tool is their knife.
A knife that not only lets a hunter feast-on-the-meat but also works as a self-protection tool that can be easily regarded as a life-saving tool. Imagine you are out there in a dense forest, and suddenly, a boar appears out of the blue. And adding to your bad luck, your gun isn't loaded. What would you do then? Na! Running is not an option; you have to confront that hog.
That's when your sharp hunting knife would rescue you. A good hunting knife is easy-to-access, sharp-edged, and, most importantly, able-to-do-the-job.
However, since the gear market is loaded with innumerable options, it's always hard to select the best one. But, worry no more. Because this list of best skinning knives is compiled after in-depth research and comparisons, whichever knife you buy from this list, it will be a worthwhile investment; that's a promise!
Best Hunting Knives – Our Picks
---
Last update on 2023-10-04 - Images from Amazon Product Advertising API
---
Best Hunting Knives – Product Reviews
---
1. Gerber Bear Grylls Ultimate Knife
---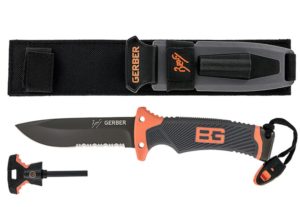 Gerber is manufacturing hunting gear and knives for the past 70 years. Their specialty is carving ergonomic-yet-effective knives that work as survival and hunting tools alike.
This Gerber knife is manufactured in collaboration with Bear Grylls, the ultimate survivor of all environments.
Bear's insight about wild-life and hunting is deep-rooted and well-versed. Therefore, this hunting knife speaks for its quality.
Its 4.7 inches razor-sharp blade will let you skin and cut your game quickly without requiring any effort.
As the wild environment is always unpredictable, the Gerber Bear Grylls knife has a built-in fire starter Ferrocerium rod in it.
Its casing is explicitly designed to facilitate you; there is a knife sharpener, and a fire started fixed in it.
Moreover, its butt has a lanyard and whistle, which will let you inform your friends about your whereabouts (if you accidentally get separated from them).
Features
7 inches long blade
1/2 serrated
Weighs 14.72 ounces
Manufactured from hard stainless steel
Full tang
Drop point blade
Ferrocerium rod locks added
Stainless steel pommel
Fixed blade
Built-in sharpener
Last update on 2023-10-04 - Images from Amazon Product Advertising API
---
2. Buck Knives 119 Special Fixed Blade Knife
---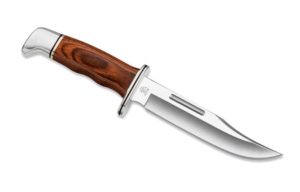 Buck knives 119 special knife has a full tang fixed blade crafted from high carbon steel. No matter how much pressure you put while cutting/butchering your game, this robust knife will always support you.
This is a corrosion-resistant clip point knife that works impeccably in the woods. Regardless of the size/weight of your trophy, your 119 special knives will get through it effortlessly.
This knife has 6 inches long blade with a full tang so that it never breaks during tough hunts.
The aluminum pommel will help you during emergencies by working as a reliable hamming tool. Whether you need to break a glass or set your camp, this knife is an all-in-one package.
The genuine leather sheath keeps the knife safe and repels corrosion and rust. Additionally, the compact sheath makes this knife easy-to-pack and safe for traveling.
Features                    
6 inches long blade
Clip point blade
High carbon steel manufacturing
5oz weight
Full tang
Fixed blade
Aluminum pommel
Last update on 2023-10-04 - Images from Amazon Product Advertising API
---
3. Outdoor Edge RazorPro Hunting Knife
---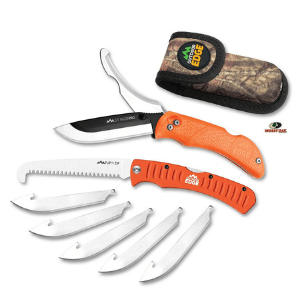 Outdoor Edge RazorPro is an all-time famous hunting knife that comes with not only one but two blades. This hunting knife is designed for professional hunters and huntsmen that are looking for a hunting tool that will last them decades to come.
With a 3.5″ replaceable razor-safe blade and a 3.1″ gutting blade, Outdoor Edge RazorPro is similar to an EDC Knife. With Outdoor Edge RazorPro, you don't have to continually worry about the blade getting dull with use because it comes with six replacement blades. You don't have to compromise on your comfort and practicality because RazorPro features a non-slip rubberized grip.
Pro hunters widely recommend outdoor Edge RazorPro for its overall design, excellent features, and reasonable price. Its built quality is worth praising because even with years of use, it can withstand a lot of abuse and keep ongoing
Features
Japanese 420J2 Stainless Blades
4.4-Inch Aluminum Handle Folding Saw
Compound Bevel Blade Edge
Rubberized TPR Handle
Last update on 2023-10-04 - Images from Amazon Product Advertising API
---
4. Havalon Piranta – Edge Blaze Orange Handle
---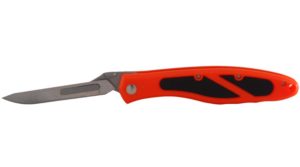 Foldable knives are often confused as low-power ones. However, Havalon has entirely changed that concept with its Piranta-edge knife.
This beauty is a slim and thin knife to make the skinning and butchering process effortless.
As it's foldable, you can keep it in your pocket and wander around with free hands.
Havalon has included 12 additional blades in this package, which will let you avoid the hassle of sharpening the blade now and then.
This is a high-end knife adored by hunters from all across the globe. Its handle is rubberized, which ensures your hand doesn't slip during wet conditions.
The butt will let you hang this knife with your leg/waist and dive in the water (as you never know what's awaiting you in the wild).
Features
Foldable blade
Clip point
6oz weight
2 -3/4 inches long blade
Orange color
Nylon sheath
Last update on 2023-10-04 - Images from Amazon Product Advertising API
---
5. KA-BAR Becker BK2 Companion Fixed Blade Knife
---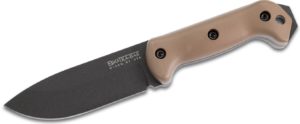 Boars, deer, or grizzly bear; whichever game you're hunting, the KA-BAR Becker knife can cut them all in tiny pieces.
Butchering big games is always exhausting and takes a lot of time. In such circumstances, a reliable knife is unavoidable.
Fortunately, once you tap on this KA-BAR Becker knife, you won't have to look any further.
It's sharp, robust, proficient for all hunts, and ergonomic. The cro-van steel blade is 5.5 inches long and thick enough to withstand your full-body force when you butcher a prey.
The blade is full tang, which further adds to its power and makes it the ultimate choice for survivors and hunters.
This knife is a bit on the heavier side. However, its hard shell nylon sheath and butt will always make its carrying comfortable.
Features
1095 cro-van steel crafting
Fixed blade
1lb weight
5 ½ inches long blade
Drop point blade
Full tang
Hardshell nylon sheath
Last update on 2023-10-04 - Images from Amazon Product Advertising API
---
6. ESEE Knives LSP Laser Strike
---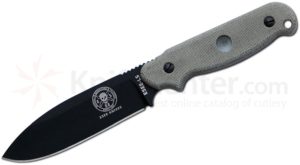 ESEE is a world renowned name when it comes to quality knife manufacturing and models like this one are the reason why. It is the perfect knife to take with you when you are hunting, camping or enjoying any other outdoor activity.
It's a blade that has no problem holding its edge once it has been sharpened. That is due to its high-quality carbon steel blade. This ten-inch blade is both durable and stays sharp even when used for tough cutting tasks.
This knife is very easy to hold thanks to its superior handle construction. It features a Micarta canvas composite handle that gives you the perfect combination of sturdiness and grip. The grip gets dirty rather quickly under outdoor conditions but just a damp cloth will clean it fairly easily.
Even the sheath on this hunting knife is made to high-quality standards. It is made out of the top of the line Kydex material. That is a material that even the sharpest knife blade won't cut through and it does a great job protecting the knife from even the wettest elements.
If you like carrying smaller items like your folding knife with you, the ESEE Accessory Pouch is perfect and it matches your knife handle as well. It is small and you will fit in the basics with ease.
Features
Strong Kydex sheath.
High carbon steel blade
Easy to grip canvas Micarta handle.
World-renowned knife manufacture.
Full tang construction.
Last update on 2023-10-04 - Images from Amazon Product Advertising API
---
7. Ka-Bar BKR7-BRK COMBAT Utility Knife
---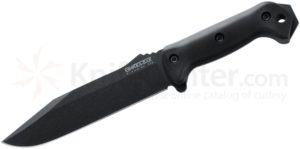 Here is a high-quality tactical survival knife that can easily cross over and be used as a perfect hunting knife. Its sturdy 12-inch blade makes this knife very versatile so it can handle a variety of different cutting and prying tasks when you are in the great outdoors hunting.
The blade portion of this knife is a very nice 7 inches long which makes it very useful. Ka-Bar has chosen to make the blade for this model knife out of very high-quality Cro-Van carbon steel. It resists rusting better than other types of carbon steel but you still need to oil the blade on occasion.
The handle on this knife is very durable and functional too even though some may not like its smooth grip. It is made using a glass-fiber-filled nylon design that is fairly impervious to anything you can throw at it while out hunting.
This knife comes with a medium quality sheath that is made out of ballistic nylon. It more than adequately does the job for a knife that is sold at this affordable price point. Those users that don't like the sheath can easily find other budget-priced sheaths available in the hunting and camping marketplace.
Features
Versatile 12 inches fixed blade knife·
Cro-Van carbon steel blade·
Lightweight glass-fiber-filled nylon handle design·
Ballistic nylon sheath·
Fixed blade style Knife.
Last update on 2023-10-04 - Images from Amazon Product Advertising API
---
8. Helle GT Knife
---

Here is another world-renowned knife manufacturer that does not believe in long fancy names and just goes about the business of making high-quality hunting knives such as this one. Helle has come up with a well-designed and very functional hunting knife model here.
The quality of this knife starts with its sturdy and compact blade design. It's only 4 inches long but it's made out of very strong triple laminated stainless steel. That means this is one of the few knife blades that you do not have to oil regularly.
It also features a very unique handle design. The handle is mainly made of curly birch wood and also has leather inlays and an aluminum handle guard. That combination makes for one tough knife handle that is easy to grip.
This whole knife package is topped off by the top of the line sheath that comes with it. It is a custom fit full leather sheath. Not only does it protect the knife well when you are out hunting but it looks great when you are wearing it too.
Features
Compact and sturdy 4.5 inches blade·
Curly Birch, leather, and aluminum trimmed handle design·
Lightweight 5.5 ounces·
Custom designed full leather sheath·
Triple laminated stainless steel blade.
Last update on 2023-10-04 - Images from Amazon Product Advertising API
---
9. Gerber StrongArm Fixed Blade Knife
---

Gerber is a trusted name when it comes to knife manufacturing and this fine hunting knife model is a great example of why that is true. This really is a very well-designed hunting knife product.
You don't have to worry about the blade rusting as you do on most high carbon steel knives. That is because this one is nicely ceramic coated. That means you never have to oil this blade and all you have to do is wipe it clean after using it. The blade on this knife is made using full tang construction which makes this knife very sturdy when using it too.
This knife has an interesting handle design that takes a little getting used to but it gives the user a great grip when using it. That is because it is a glass-filled nylon with an easy to grip rubber overmold.
The modular sheath is not premium quality but it does protect the knife well and give you many carrying options. You can wear it vertically on your belt, horizontally on your belt or mount it on your vest.
Having something smaller to use at your campsite is imperative. It enables you to everything that needs to be done and the Gerber Paraframe I Knife is foldable and easy to store in your pocket.
Features
Ceramic coated anti-rust blade
Superior grip rubberized handle design
Full tang blade
Modular sheath
420 high carbon stainless steel blade
Last update on 2023-10-04 - Images from Amazon Product Advertising API
---
10. CRKT K270GKP Homefront Tactical Knife
---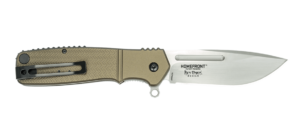 CRTK is known for some of the top tactical tools on the market today, but did you know they can also be used for hunting. If you are tired of carrying heavy knives, this lightweight and the compact folding option is just the tool for you.
The blade is only 3.5-inches and it is only 8.3-inches when it is opened. The handle is constructed from premium aircraft-grade aluminum and Field Strip Technology enables you to take it apart in the field for cleaning purposes.
The inclusion of a lifetime warranty ensures peace of mind and while this might not look like your standard hunting knife, it does the job perfectly. Since no sheath is required, this knife can be carried along all day and this gives it the versatility needed to ensure you get the best possible value for your money.
Features
Field strip innovation for easy cleaning
Foldable for easy storage
6061 durable aluminum handle
AUS 8 steel point drop blade
Lightweight and compact
Last update on 2023-10-04 - Images from Amazon Product Advertising API
---
11. Buck Knives 110 Folding Hunter Knife
---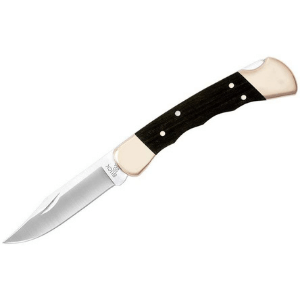 There is a reason why Buck Knives 110 Folding Hunter Knife is amongst America's bestselling knives. Its main reasons are its exceptional built-quality with a 3.75-inch high carbon stainless steel blade and a brass and wood handle.
For easy use, the knife has a nail notch on the blade that allows you to open the blade quickly, and the unique mechanism keeps the blade open while working with the knife. The clip blade is excellent for piercing and slicing because it has an extremely sharp controllable point that makes detailed work easy and quick.
Buck 110 also comes with a top-notch quality, genuine leather protective sheath. The leather sheath is well-made, and it snaps on to keep the knife extra secure. Bulk 110 speaks quality! If you want the best hunting knife that lasts long and is super easy to use, then the Bulk 110 knife will be an excellent option for you.
Features
High Carbon Stainless Steel Blade
Brass and wood handle
Edge 2X Blade Edge
A lifetime warranty
Last update on 2023-10-04 - Images from Amazon Product Advertising API
---
12. Gerber 22-01400 LMF II Survival Knife
---

Once again, we find ourselves with one of the top brands and that is what Gerber is. Gerber is one of the best brands when it comes to top-quality knives and the Gerber 22-01400 LMF II is no different. The blade is a drop point style and constructed from durable 420HC stainless steel.
The glass-filled nylon handle includes small riffs, ensuring that the blade does not slip out of your hands and the handguard keeps your hands out of harm's way. The blade length is around 10.59-inches long enough to help you tackle larger deer and the lightweight should keep you from having too much excess weight.
Ballistic nylon is used for the sheath, ensuring that your blade is protected. It is also covered with a fire retardant coating, adding to the durability. While the blade is really affordable, it still comes with a limited lifetime warranty to give you some added peace of mind.
As we have mentioned, the serrated edge can be a real lifesaver. Especially when you need to gut the animal or cut through tough parts. The Gerber Prodigy Tanto Survival Knife makes this a little easier and it is made from the same quality materials.
Features
Drop Point blade style
420HC stainless steel
Glass-filled nylon overmold
Ballistic nylon sheath
Limited lifetime warranty
Last update on 2023-10-04 - Images from Amazon Product Advertising API
---
13. Fallkniven S1 Fine Edge Fixed Blade Knife
---

Last but certainly not least, we have the Fallkniven S1 hunting knife and this knife is not only good for hunting but ideal for all your outdoor endeavors. The knife is just over 11-inches in length and the added blade thickness adds a lot to the overall durability that is on display.
The blade design is convex and this makes it perfect for cutting and chopping, while the Thermorun handle does not conduct any coldness. This means that the blade will be easy to handle in both cold and hot conditions. The added riffs ensure that it does not slip out of your hands.
The Zytel sheath is not something that everyone likes, but it is lighter than a Kydex sheath. If they could have improved one thing, it will be the sheath that should have been nylon. Overall, this blade does the job outdoors and should be perfect for the avid outdoorsman.
Having a decent sharpener is always really important and the Dianova FNDC4 Combination Whetstone Knife Sharpener is perfect for all your knives. Yes, it is a little pricey, but you will use it forever.
Features
Thermorun handle design
Lightweight Zytel Sheath
Convex blade design
Thick 0.2-inch blade
Lightweight
Last update on 2023-10-04 - Images from Amazon Product Advertising API
---
14. ESEE 5P Black Tactical Survival Knife
---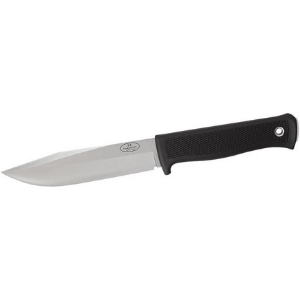 ESEE 5P has to be one of the most sturdy and durable hunting knives on this list! Military SERE Instructors design it to handle abuse quite well without showing signs of damage for years and decades.
Apart from its top-class 5.25″ black finish high-carbon steel blade, the ESEE 5P hunting knife also features a durable micarta handle and a reliable Kydex sheath. ESEE 5P is excellent for tactical, field, and survival operations. ESEE 5P has a full tang blade making it extremely powerful and durable, so it is the best choice for hunters and survivors.
Although ESEE 5P is a heavy-duty knife; however, it is lightweight, making it easy to travel. ESEE 5P looks and feels like a military knife, and it is excellent for several hunting applications; thus, it is the best all-purpose knife.
Features
High-Carbon Steel Blade
Polymer molded sheath with removable clip
Tan Micarta canvas handle
5.25″ blade and 11″ overall length
Last update on 2023-10-04 - Images from Amazon Product Advertising API
---
Read More: 50+ Best Gifts For Hunters 2021 – Hunting Gift Ideas
Best Hunting Knives – Buyer's Guide
---
Although it's a common notion that all knives are similar and the only difference is their size, that's not true. Hunting knives have various features depending upon their shape, manufacturing material, and size.
However, new buyers often confuse these aspects and end up buying a not-so-good knife. If you want to invest wisely, follow the points I've described below and got a fantastic knife for your next hunt:
Blade shape
As the blade is the central part of a hunting knife, it should be up-to-the-par. A substandard blade with the faulty design would surely ruin your delight of feasting at your trophy.
There are mainly two types of blades in hunting knives:
A drop point is manufactured like a regular house-hold knife and doesn't have any exclusive edge or cut. The knives with this blade are thicker and more durable when tested in the wild. Hunters need their knives for various purposes in the wild ranging from untangling the ropes to dig the holes for the camp setting. In that perspective, a knife with a drop point blade is the perfect fit.
A clip point blade is sleeker and sharper than the drop point one. The front end of this blade would be smoother and thinner (almost like a clipped metal part). This sleek shape makes clip point blades more effective at penetrating and deboning the game. If you are going for a big game hunt, a clip point blade should be your ultimate choice.
Manufacturing Material
How effective and robust a knife is dependent upon its material. If you get a blade made from cheap metals, it will break during the hunts (might even leave you injured). Fortunately, most good knives are either manufactured from stainless steel or high carbon steel.
These two types of steel are durable and resilient in the rough-tough conditions. However, when we talk about the maintenance and ease-of-use, the high carbon knives have the edge over stainless steel.
On the other hand, stainless steel knives are sturdier and work precisely during the skinning process.
Tang
Is this term new for you? Worry not! I'll explain it.
Have you observed that the blade portion of some knives go all the way inside its handle while others' blade stops midway? That's what a tang is. If the blade is extended till the end, it's called a full tang knife.
Similarly, if a blade stops where the handle starts, it's known as a half-tang knife.
The reason behind full-tang knives is to enhance the knife's power and make it more robust. As hunting is a force-demanding sport, half-tang blades can easily fall-off from the handle when you exert force on them.
Therefore, you must prefer full-tang hunting knives even if you're starting regular hunting excursions. Remember this golden rule, "the longer the blade is, the stronger the knife would be."
Handle
When you are prying a massive animal, and your hands are soaked with its blood, a non-slip knife handle would feel like a blessing. Some cheap knives have plastic or weary nylon handles, which not only look pathetic but also cause troubles for the hunters.
Your hunting knife should have a non-slip, comfortable, and ergonomic handle, which doesn't make your grip lose when you do your job.
Casing
Cover of a knife might look unimportant to you, but it proves to be extremely helpful in the forests. No one can afford getting injured from their knife, nor do they want to keep it tucked deep in their bag (to avoid accidents). A sheath/casing comes in handy to keep your knife protected and easily accessible.
Sheaths made from leather, durable nylon, and rubber are best for hunters. They last for a long time and do not wear off after continuous use. Moreover, the sheath gives a professional look to the knife (have you seen how Bear Grylls pull his knife out of a casing to use it?).
Butt
There is a small hole at the end of knives (have you noticed that?). That hole is called a knife butt (funny, right?).
A butt is used to tie the knife around your wrist, leg, waist, or bag. When you are running around and cannot take care of the knife, pass a lanyard (or rope) through its butt, tie it, and RUN!
This butt increases ergonomics of a knife and makes it genuinely wild-worthy.
Pommel
Again a new term, huh? Let me explain it then:
The end of a hunting knife has a built-in hamming part, which is termed as a pommel. Most survival and hunting knives have a pommel as it is beneficial in the wild. When you have to fix/detach something, and there is no hammer available, a pommel will let you complete that errand.
They are made from sturdy metals and meant to bear your body force; a good knife would always have a sturdy pommel!
Now that you are thoroughly aware of the importance and essential aspects of best-hunting knives, let's review some top-rated knives to make the decision easier.
Takeaway
Whether you have plans to chase grizzly bears or turkeys in the next season, having the best hunting knife is of prime importance. Without a good-to-go knife, you cannot enjoy your hard-earned prey. Feasting on the freshly hunted game in the woods is something every hunter adores and craves for.
If you'll spend your next vacation chasing prey, select any of the above-listed skinning knives and enjoy the hunt in its true essence. So, set a camp, butcher your trophy, chop onions, cook the food, and ENJOY!