If you are going after big game on your next hunt then you will need a hunting backpack that is designed specifically for packing out meat. A good backpack for a hunt has features that will make you hunting experience easier as well as allow you to safely bring your hunt back without weighing you down.
The fact is that not all hunting packs are equal and It is imperative that you find the right on for your specific needs.
If you are pressed for time and want to find one go-to pack for hauling meat, then we suggest looking at the ALPS OutdoorZ Commander + Pack Bag.
The Commander's frame and pack bag provide quality, versatility, and huge load capacity at an affordable price point under $200. If you get your hands on this guy, you definitely will be using it for years to come.
---
Best Hunting Packs For Hauling and Packing Out Meat in 2021 – Our Selection
---
Last update on 2023-10-04 - Images from Amazon Product Advertising API
---
What To Look At When Buying the best Hunting Packs For Hauling and Packing Out Your Meat – The Research
---
Which is the Right Pack For Me? 
Every buyer goes through a journey when purchasing something new. This "buyer's journey†consists of a few stages—awareness, consideration, and decision.
These days, we, the buyers, travel more and more of that journey alone before making the final purchase in a store or from an online retailer.
To make better purchasing decisions, we should be aware of what we want out of a product and why we need it. Backpacks are important for many outdoor pursuits, and a good backpack can make the difference between enjoying a weekend immersed in nature or having a miserable time and coming home with aching shoulders, an aching back, and sore feet.
When hunting, the pack plays a crucial role once you have dropped the big buck and need to haul out the meat, antlers, and anything else you want on foot.
So, what questions can we ask about the products to make sure we get the proper pack for this task? Let's take a look at some questions that address the key buying criteria of best hunting pack for hauling meat:
What Size Hunting Backpack Do I Really Need?
There is a vast difference in carrying capacity needs between a hunter who prefers going after big bucks and a hunter who only goes quail and turkey hunting.
Packs come in all shapes and sizes. Even on our top five list, the carrying capacity ranges from 36.9 liters to 86 liters—or even more if you consider the unlimited size of the Eberlestock F1 Mainframe.
After considering the game you usually hunt, you should consider your physical condition and the terrain you will be hunting in.
A big buck might yield a lot of meat, but are you ready to haul out an extra 70lbs through ravines and over steep hills?
If you usually hunt big game and are able to carry the weight, then the larger external frame packs may be a good fit for you.
Is This Pack Durable Enough For My Hunts?
Once you find the right size for your hunts and your physical condition, then you must decide on quality.
Quality often translates into price: A 75-liter pack that costs $50 probably won't be as durable as one that costs $150. The $50 version might have thinner material and weaker stitching that means a lower weight threshold.
Do your hunts take you through thickets, across streams, and over jagged rocks? If so, you want a pack that can hold up to beating after beating Skipping on quality here can lead to a ripped pack or torn shoulder strap seam when you are hiking through thick brush loaded down with fresh meat.
Can I Use This Pack For All of My Hunting Needs?
Versatility is important. It is the difference between one pack being your go-to choice for all of your hunts and needing a different pack for every different kind of hunt.
As a rule, a larger pack is more versatile, because you can always leave empty space in a pack but you cannot make more space inside a small pack.
Another thing that adds to a pack's versatility is its ability to be customized. The organization can be considered here too, and that often comes down to the number of compartments or pockets that the pack has.
Of course, there is a fine line here: one large, stuff-sack style compartment might be idea for creating custom loads of varying sizes, but it will be difficult to organize your gear and the meat you need to haul after a kill; on the other hand a pack with 10+ pockets isn't very versatile, because you cannot create many custom loads when pocket 1 is specially made for a monocular, pocket 2 is specially made for rifle clips, and so on.
My hunts take me to the lake for ducks, to the backwoods for small game, and into rugged hills for whitetail, so I need a versatile pack that will work for all these conditions. How much versatility do you need? 
How Much Weight Can I carry?
This ties into the first question about how much load capacity you need in a pack and honestly assessing your physical condition. (For example, if I can only shoulder 45 pounds, then I know that an 85 liter pack will be too big.).
Once you have assessed your physical condition and decided how much weight you can carry, be sure to subtract the pack's weight from this number. Some packs weigh over five pounds which can eat into your load weight more than you think.
All in all, load capacity, durability, and versatility are more critical factors to the buying decision.
Pack weight is an important spec to consider, but don't let it turn you away from a quality pack that checks off all of your other important needs.
---
Best Hunting Backpacks for Hauling and Packing Out Meat -Â The Reviews
---
These five meat hauler backpacks were carefully chosen after reviewing key specs for many of the backcountry best hunting packs. With the described buying criteria in mind—internal capacity, number of pockets, weight, etc.—I compared many products against each other and alongside their customer reviews.
Testimonials from verified buyers helped select our final five backpacks. There are many good hunting packs out there, but when buying online trustworthy customer reviews can give us, the buyers, peace of mind and confidence in purchasing the best hunting packs.
All five of these packs have great specs that hold up to the questions we should ask, and they all have stellar recommendations from many buyers. So let's get to it—here are our reviews of the best hunting packs for packing out meat.
---
1. ALPS OutdoorZ Commander – Best Hunting Pack For Hauling Meat
Best for versatility
---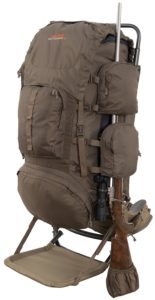 ALPS OutdoorZ Commander + Pack Bag – image credit alpsoutdoorz.com
After squeezing the trigger on the biggest buck of your life, you shouldn't have to worry about whether or not your ten-year-old pack is big enough for all of that meat or if its frayed seams will rip under that much weight. Best backcountry hunting backpack, the ALPS OutdoorZ Commander, provides a lot of space on a sturdy external frame.
The bag gives you multiple pockets to organize your gear and still have space for meat. Or remove the bag entirely when you have a massive amount of meat to strap to the frame.
ALPS OutdoorZ has created a masterful balance of high-quality functionality and affordability.
With this hunting backpack, you get the time-tested benefits of an external base frame with a large detachable bag. This is basically a modular frame with its biggest and best add-on included, which is a very nice bonus considering the quality of the bag.
Perhaps the biggest downside to this pack is a height requirement. The external frame is made for taller people, and many buyers suggest using this pack if you are 6' or taller.
— Why do we recommend this?
We gave this pack the tagline "Best for versatility,†but maybe it should be "Best all around.†When you don't want to constantly change packs between turkey hunts and deer hunts and duck hunts, this is what you need. The ALPS OutdoorZ Commander has go-to versatility, large load capacity, and a detachable bag all at an affordable price.
No products found.
---
2. Eberlestock Mainframe Pack Review
Best for modular add-ons
---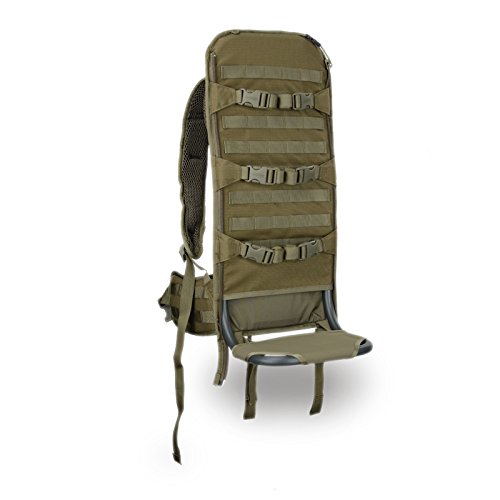 Eberlestock Mainframe Pack – image credit eberlestock.com
Eberlestock is not afraid to take on the internal frame style of packs. With the Eberlestock F1 Mainframe Pack, champions of the external frame get an amazingly versatile piece of equipment.
There are many compatible bag and pouch products that fit on this frame, which allows you to customize to your heart's content.
If you are truly a gear head, then you need this pack: Buy different pouches, build your collection of add-ons, and create sweet pack rigs for all your hunts from squirrel to turkey to sheep to elk.
The biggest downside to this Eberlestock frame Pack is that it costs around two hundred dollars, and that purchase only gets you the Mainframe—no bags included. But if you want complete control of your pack setup, then you have got to get this frame.
— Why do we recommend this?
A dependable external frame that will see you through hunt after hunt for years to come. The Eberlestock F1 Mainframe pack doesn't come with any bags, but it is compatible with many Eberlestock products, which makes it our top choice for modular packs.
Check out the Eberlestock J-Type Dry Bag, Large as an add-on with the purchase of the F1 Mainframe Pack. Many Eberlestock products work with the F1 Mainframe, but a waterproof, stuff-sack style dry bag is a simple, no-nonsense way to add pack space to this modular frame.
Last update on 2023-10-04 - Images from Amazon Product Advertising API
---
3. ALPS OutdoorZ Pathfinder Hunting Pack Review
Best for compound bow hunts
---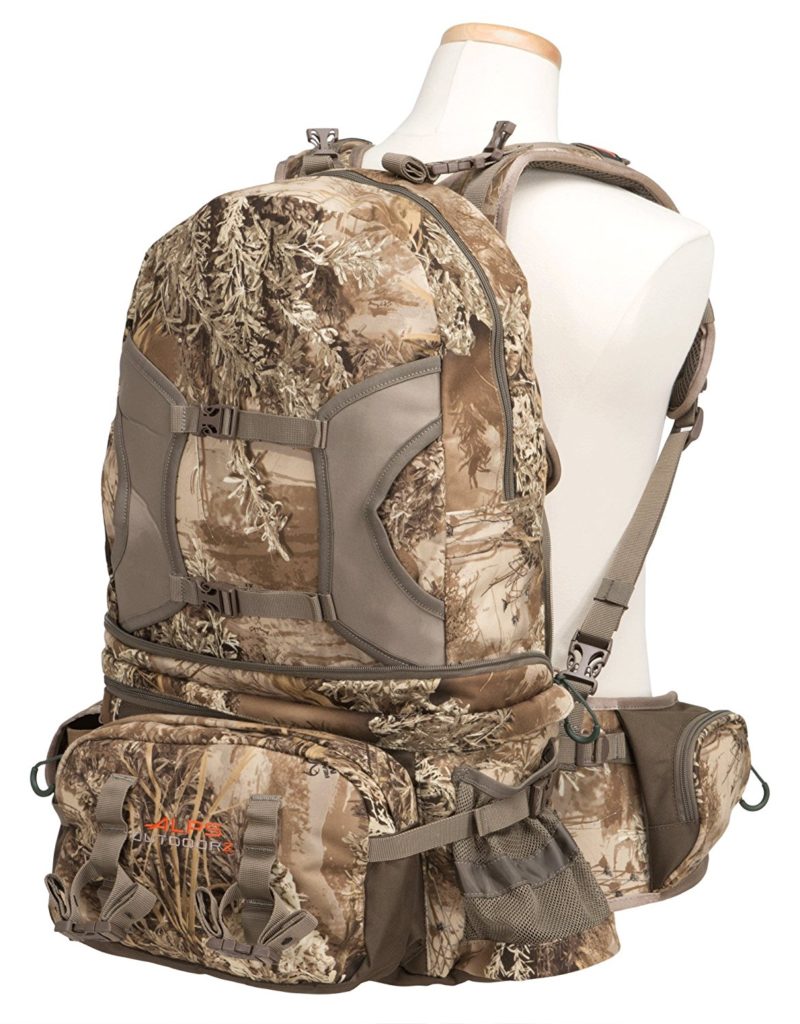 ALPS OutdoorZ Pathfinder Hunting Pack – image credit alpsoutdoorz.com
When you bow hunt, it can be difficult to draw and shoot with a bulky pack on your back. With the ALPS OutdoorZ Pathfinder, you can pack your essentials in the bottom and stay in fanny pack mode while you stalk your game.
That way if you don't have time to remove your pack for a shot you still have the full range of motion. After the kill, expand the pack, fill it with meat, strap your bow (or rifle) into its place along the outside, and you are ready to haul your meat back to camp.
A cool thing about this pack is its minimal weight. At 3 lbs 5 oz, the Pathfinder is the lightest meat hauling pack on our list. If you pack light, you really won't feel this guy on your shoulders when you raise your bow or rifle. If you need a lightweight pack for day hunts, the Pathfinder provides flexible use at a good price.
The biggest con for this pack might be its weight limitations. Some owners complain about weak buckles and carrying discomfort. While the majority of owners enjoy their Pathfinder in both its configurations, it is worth noting that a 44 liter pack that weighs only 3lbs 5oz shouldn't be over-packed.
— Why do we recommend this?
The removable top really gives you two completely different bags. Let your back breathe by keeping the Pathfinder in fanny pack configuration until you need to expand it for hauling meat and holding your bow (or rifle) on the trek back to camp.
Last update on 2023-10-04 - Images from Amazon Product Advertising API
---
4. Mardingtop 65+10L Internal Frame Backpack Review
Best for stuff-sack style loads
---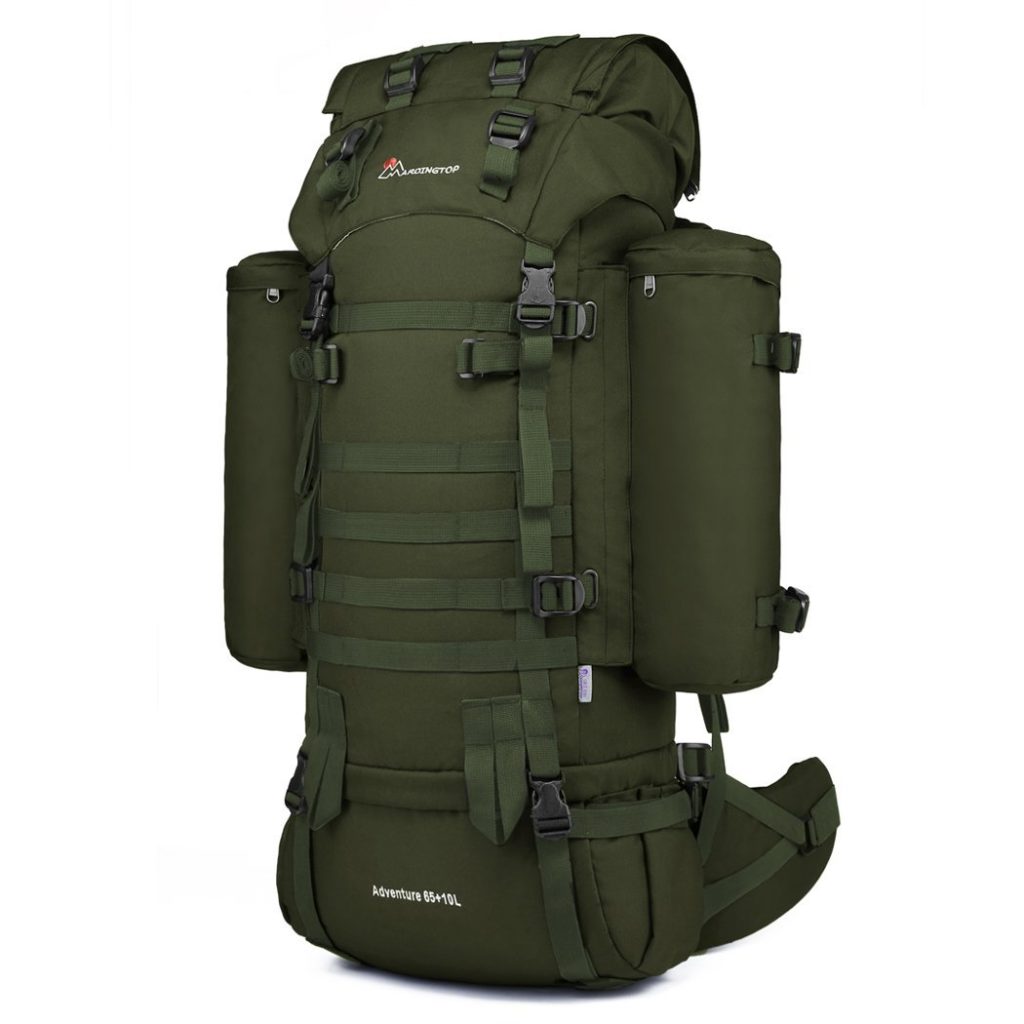 Mardingtop 65+10L Internal Frame Backpack – image credit mardingtop.com
Do you want functionality over frills on your big-game hunts?  Do you prefer internal frame hunting backpacks? Are you on a budget? If you answered yes to these questions, then the Mardingtop 65L + 10L may be the best hunting pack for you.
You don't need to keep using your ragged old pack just because you cannot afford a two or three hundred dollar new one. This Mardingtop is big, rugged, and affordable.
Thick straps provide more comfort than you would expect out of a 75-liter pack in its price range, and the huge single compartment allows you to pack your gear any way you see fit.
Use the two 5L side pockets on the MOLLE webbing for easy access to specific gear, and add even more pouches if you need it. This is a utilitarian pack designed to get the job done, hunt after hunt.
You noticed I just said "utilitarian,†right? So don't be surprised when the biggest complaints are about comfort and bag weight. The bag is on the heavy side because it is durable and affordable.
The straps are padded, but we are not talking custom-molded hip belts here. Be warned.
— Why do we recommend this?
Mardingtop provides an excellent modular-style internal frame pack for hunters on a budget. You get two side pockets with the purchase, and you can add (or remove and change) other MOLLE webbing pouches as needed. With this hunting backpack, the only limit to configurations is your imagination.
Don't forget some game bags! Check out these Alaska Game Deer, Antelope and Sheep Bags, 48-inch to help you pack your meat in a safe and sanitary fashion. If you strap some to the outside of your pack, these bags will help protect against any adverse weather you encounter on the hike back to camp.
Last update on 2023-10-04 - Images from Amazon Product Advertising API
---
5. Badlands 2200 Camouflage Hunting Pack and Meat Hauler Review
Best for small game and short distances
---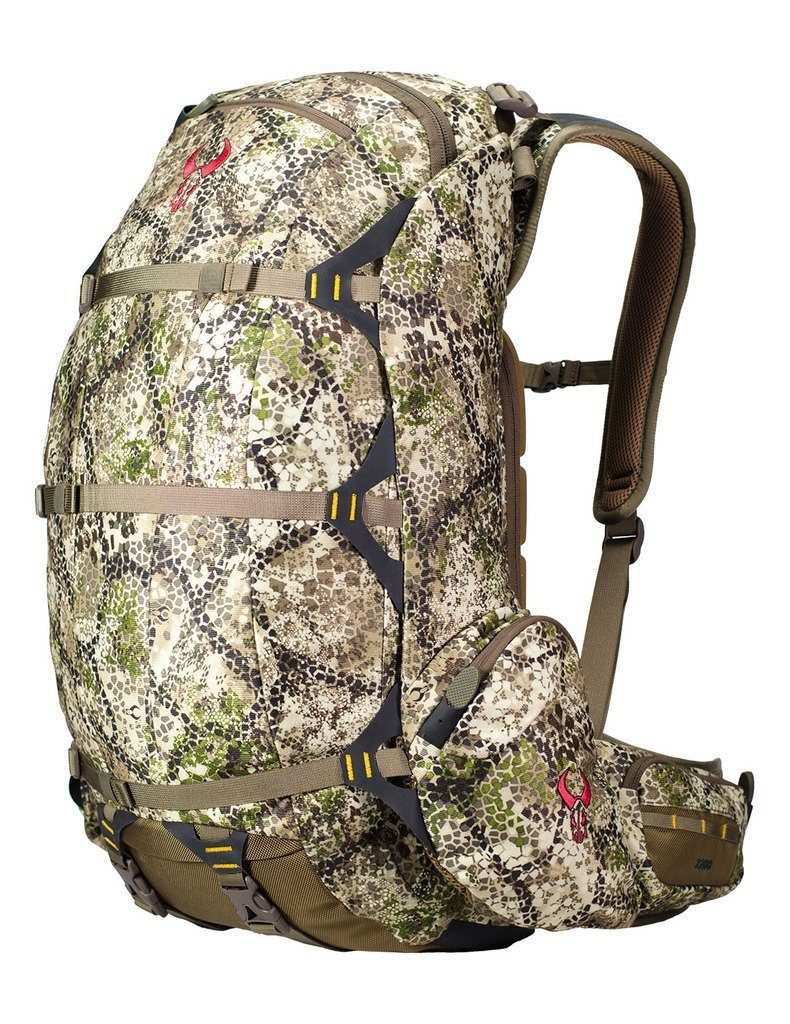 Badlands 2200 Camouflage Hunting Pack and Meat Hauler – image credit badlandspacks.com
When you are stalking game through the woods, you have a lot on your mind—Are those antlers within regulations? Did the wind shift? Was that footfall too loud?—and the last thing you need to worry about is whether or not your pack just ripped against that thicket or if it smells from the last time you hauled meat in it.
When you need high-quality, durable materials, Badlands delivers—and they do so again with the 2200 Hunting Pack.
The Badlands 2200 Hunting Pack with a meat shelf is the priciest pack on our list. At over $200, this meat hauling day pack may seem expensive considering its low 36.9 liter capacity.
It's definitely not the pack to take on an elk hunt if you are packing out on foot, but if you consistently hunt small game then don't let the price point deter you from considering the Badlands 2200.
One of the most impressive things that comes with the Badlands' name is an unconditional warranty. Whether you bought the pack from an authorized dealer a month ago or picked it up at a garage sale three years ago, Badlands promises to fix any problem you have. Now, that's a deal hard to beat!
— Why do we recommend this?
This is an excellent meat hauler daypack. Its smaller size ensures a comfortable fit that won't be bulky as you stalk your game through thick brush. The odor and stain-resistant materials will help keep your pack in good condition even when you utilize the internal meat shelf for your small game.
Last update on 2023-10-04 - Images from Amazon Product Advertising API
---
The Best – of the Best
---
For quality—customer-tested, and customer-approved—we best like the ALPS OutdoorZ Commander + Pack Bag for an all-purpose best hunting pack for hauling meat. The pack bag has a huge load capacity, and it is detachable so you can use just the frame if need be.
This versatile pack can hold all the creature comforts you could want for an overnight hunt on your property, or it can be stripped down to the frame for you to tie on all the meat from the huge elk you brought down miles from your base camp or vehicle.
My hunting needs vary depending on the game I am after, the terrain I'll be hiking in, the forecasted weather conditions, and whether or not I will be alone or with someone else.
That's a lot of variables that can create the need for drastically different pack loads. The ALPS Commander will let a hunter pack for all of those.
The balance of a large compartment with side pockets gives hunters the right amount of versatility and organization. The ALPS OutdoorZ Commander + Pack Bag is a best seller for a good reason. This pack will be your go-to bag for all of your hunting needs.