The love for the outdoors and especially ice fishing was handed down to me by my dad. We used to love experiencing the great outdoors in every weather, and we looked forward to fishing in the winters in particular. Ice fishing is a fantastic hobby, but if you aren't equipped with the right tools, garments, and accessories – including the ice fishing gloves.
Ice fishing gloves are an essential part of your outwear that will protect against the elements including rain, snow and cold wind without limiting your movements and affecting your maneuverability.
Along with my father, I have been ice fishing for many years, and over time, I have used many of these gloves that offered everything you needed from insulated gloves. Today I will be reviewing some of the best I have used.
However, before we begin, I am sharing with you my buying guide that will help you find the best ice fishing gloves for your needs for many years to come:
Ice Fishing Gloves – Best Picks 2020
---
No products found.
---
Best Ice Fishing Gloves Buying Guide
---
If you are buying your first pair of ice fishing gloves or merely replacing the old worn-out pair that you purchased a long time ago, a buying guide will come in handy by steering you towards the correct options for your needs. Here are a few crucial factors to keep in mind when you are searching for ice gloves:
Waterproofing
Nowadays, these gloves are available that have been waterproofed in different ways. Waterproofing is an essential factor that will protect your hands from cold, wet conditions. Generally, ice-fishing gloves are waterproofed through an exterior coating, a waterproof insert or by using a waterproof material such as neoprene.
Each way of waterproofing has its pros and cons. Exterior waterproof coatings are cheaper but less durable, and neoprene provides heavy-duty protection; however, it can lead to sweating and cold hands as a consequence. Most experts prefer waterproof inserts that provide the right combination of protection and durability.
Fitting
For gloves to be comfortable to wear and to ice-fish in, the fitting of the glove is one of the most critical factors. Through my experience, ill-fitting gloves can decrease the effectiveness of ice gloves. If your gloves are too small then besides being uncomfortable, they won't be as warm either.
Pay attention to the quality of the stitching and manufacturing to ensure that they provide comfort, fit, protection and durability.
Design
Good quality, well-designed gloves incorporate various design features that add comfort and functionality to the gloves. As ice anglers, our hands go through repeated exposure to extreme cold and wet conditions and our ice-fishing gloves are one of the most important tools that ensure that our hands are well protected.
Look into the various design features and study them carefully. In my perspective, a well-designed glove has pre-curved fingers and the right amount of insulation throughout the glove.
Style
Also, consider should you go with ice gloves or mittens and which are right for your needs. Both mittens and gloves have different functionality. However, if you had to pick one, my vote goes to a well-designed, well-made ice glove because they are versatile and they allow you to carry out delicate tasks, whereas mittens have their limitations especially when fishing.
Price
As with most things, expect to pay a higher price for quality, strength, and comfort. This doesn't mean that you should buy the most expensive ice glove you can afford. A high-quality pair of ice fishing gloves are an investment that should last for years.
It is best to go for a reputable brand that specialized in creating outwear and outdoor accessories, focus on build quality, comfort, strength and durability to get the most out of your money.
---
9 Best Ice Fishing Gloves Reviews 2020
---
1. Palmyth Ice Fishing Gloves Convertible Mittens Flip Fingerless Mitt with Thinsulate 3M

A top seller and an expert favorite, the Palmyth Ice Fishing Gloves Convertible Mittens Flip Fingerless Mitt with Thinsulate 3M are versatile and durable thanks to its excellent design and amazing features. Suitable for multiple types of activities, especially ice fishing. Made from 3M Thinsulate and orange fleece inserts, four-way stretch fabric, faux leather and silicon for high functionality and grip, and a windproof TPU membrane insert for waterproofing.
I find the convenience of the easy conversion from mittens to fingerless gloves with the help of magnets which is one of the most significant features of the gloves. However, these gloves are suitable for temperatures of 25 degrees and above, although the pocket that sits at the wrist adds warmth, the gloves cannot withstand extreme snow or cold. The reflective strips are an uncommon safety feature that I appreciate in Palmyth Ice Fishing Gloves Convertible Mittens.
Pros & Cons
Pros
Convertible from mittens to fingerless gloves
Double insulation with 3M Thinsulate and orange plush fleece
Waterproofing through windproof TPU membrane insert
Wrist pocket offers optimal warmth
Combination of faux leather and silicone provides improved grip
Reflective strips for security
Cons
Not suitable for extreme cold or snowfall.
Check Price
No products found.
2. Palmyth Flexible Fishing Gloves Warm for Men and Women Cold Weather Insulated Water Repellent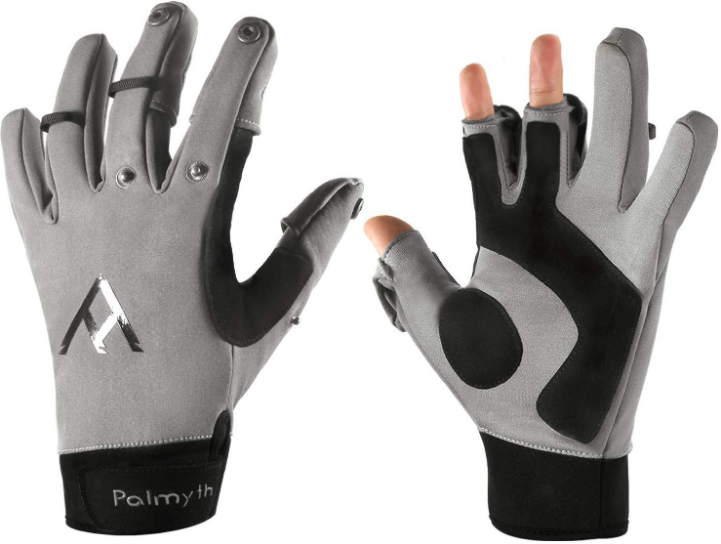 Palmyth Flexible Fishing Gloves feature a plush fleece lining that leads to the softness and warmth provided by the glove. However, if you are expecting these to have high-level insulation which is comparable to ski gloves, then you would be disappointed because the plush fleece layer focuses on providing warmth, protection, and flexibility.
As far as waterproofing is concerned, the shell fabric is water-repellent, which in my experience worked fine in light rain or light snow. However, these Palmyth Flexible Fishing Gloves are not suitable for dipping gloves into the water, exposure to heavy rain and heavy snow because it does not feature enough protection. Palmyth clearly states that these gloves are not recommended for temperatures below 36F, and you should pay heed.
The three removable fingertips make it easier to carry agile tasks quickly while fishing, so you don't have to remove the gloves entirely. I suggest you take the time to measure your palm and follow the sizing chart to get your right fit. The velcro adjustable wrist strap ensures that the glove is adequately secured on the wrist of any size, along with the snug-fitting elastic neoprene cuffs prevent the cold air from entering the glove.
Pros & Cons
Pros
Comfortable and flexible plush fleece lining
Water-repellent shell fabric
Three removable fingertips for dexterity
Cons
Doesn't protect against temperatures below 36 degrees, heavy rain and snow.
Check Price
No products found.
Related Article: How To Put Fishing Line on a Baitcasting Reel

3. Glacier Glove ICE BAY Fishing Glove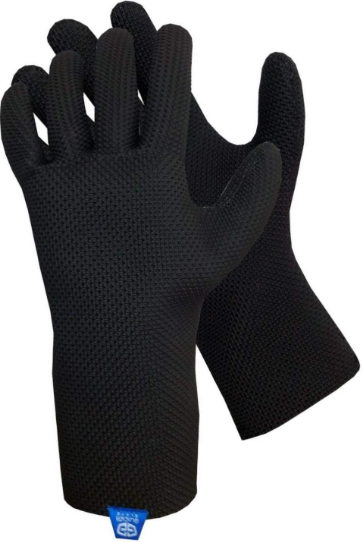 The Glacier Glove ICE BAY Fishing Gloves are another popular choice which I believe has rightfully earned its reputation due to its excellent performance and outstanding durability. These neoprene gloves with a 2mm fleece lining provide warmth, flexibility, comfort and most importantly, excellent waterproofing.
The neoprene material makes these gloves wind and waterproof. The seamless palm design with a textured pattern was comfortable and provided an excellent grip for dexterity. The blind stitched and glued build adds durability. The fitting is comfortable, and if you select the correct size, the gloves will fit snuggly and comfortably keeping your hands warm.
Pros & Cons
Pros
Neoprene and 2mm plush fleece lining for warmth, wind and waterproofing fleece
The textured pattern for excellent grip
Durable and comfortable
Cons
Poor breathability due to the use of neoprene
Check Price
No products found.
4. MCTi Waterproof Mens Ski Gloves Winter Warm 3M Thinsulate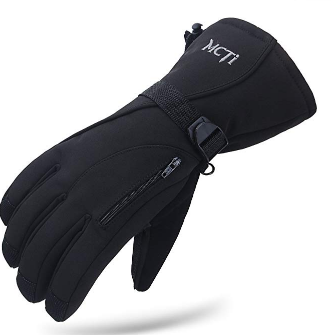 Don't be misled by the name of the MCTi Waterproof Men's Ski Gloves. The gloves offer great features for ice fishing according to my personal experience. The use of 40 grams of 3m Thinsulate and 140 grams of warm cotton provide high insulation against the cold. The design features a softshell of three composite layers softshell prevent cold wind and snow from reaching your hands.
The gloves have a waterproof TPU membrane insert that provides ample protection against cold rain and snow. Additionally, the soft and fully covered Nuback palm with reinforced rubber fingers lends to an excellent grip for activities like riding and ice fishing.
Finally, the gloves fit snuggly compounded with the adjustable wrist strap. The lining fabric of the MCTi Waterproof Men's Ski Gloves is soft, and a zipper pocket has been added to the back of the glove.
Pros & Cons
Pros
Great fit
Waterproof and windproof
High durability
Cons
Check Price
No products found.
5. Berkley Fishing Gloves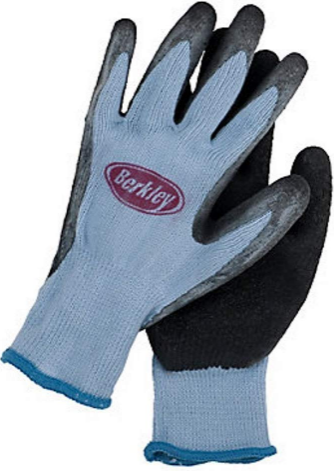 No matter how well it is designed, an affordable ice fishing glove usually feels bulky on the hand and does limit your functionality. So, there are days when I don't feel like wearing thick ice fishing gloves. For those days, Berkley Fishing Gloves are always my top pick. These gloves have a slim design, but they still offer enough warmth and protection that is perfect for long hours of ice finishing.
Another feature I adore about these cold-weather fishing gloves is the secure Velcro wrist closures that ensure a secure yet comfortable fit. The non-slip grip construction allows you to have maximum control when moving and holding those slippery fishes.
The one thing that I do not like about these budget-friendly best fishing gloves is the fact that these gloves get wet if you dunk them in the water. So, I would give these gloves 10/10 for functionality only if you are not dunking your hands in the water.
Pros & Cons
Pros
Affordable option
Slim design
No-slip grip design
Secure Velcro wrist grip
Cons
Not suitable for extremely cold conditions
Check Price
No products found.
6. Stormr Typhoon Fishing Gloves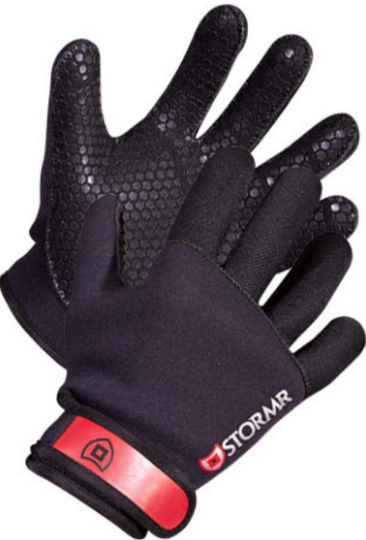 Stormr Typhoon Fishing Gloves is my absolute favorite because these gloves fit like your second skin. Most people prefer a wrist strap for extra security, and in all honesty, I also prefer ice fishing gloves with a wrist strap. However, whenever I have worn my Stromr Typhoon, I have never had any complaints about it slipping.
Would I say that these gloves are completely waterproof? Well, not really! However, they are incredibly water-resistant, and they will protect your hands from getting wet all day long. Additionally, even if this best ice fishing glove does get wet, it will still provide you with enough grip.
Stormr Typhoon fishing gloves are made with sturdy materials, so in my opinion, they outperform many of expensive best ice gloves when it comes to protecting my hands from cuts and other injuries.
Pros & Cons
Pros
Excellent second-skin-like fit
Incredible non-slip grip
Impressive water resistance
Made with really tough materials
Cons
No wrist strap
Not warm enough
Check Price
No products found.
Read More: 8 Best Spinning Rods for Trout Fishing

7. Rapala Marine Fisherman Glove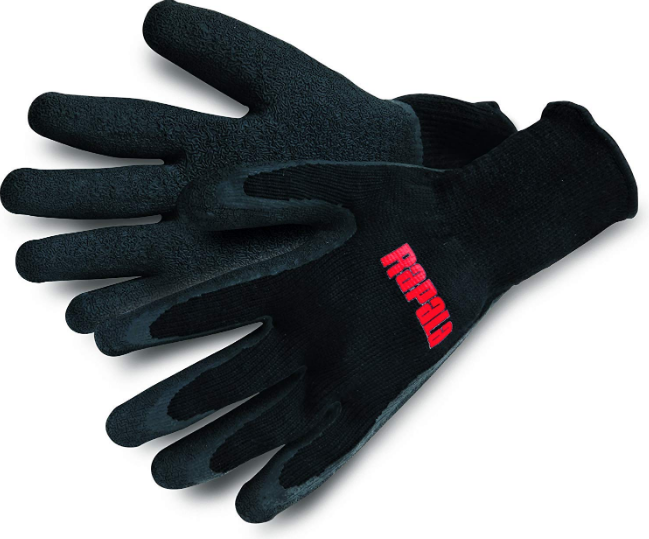 Rapala Marine Fisherman gloves are excellent for fishers who are looking for incredible protection against any hazards that may occur during ice fishing. Its durable latex coating makes these best ice fishing mittens long-lasting and exceptionally sturdy.
The full-finger design allows you to keep your hands warm for long hours while providing maximum functionality as well. When it comes to grip, the Rapala Marine Fisherman gloves have a reliable performance.
The only complaint that I have with these gloves is that the available sizes of these ice fishing gloves might not fit everyone. I was lucky enough to find a pair that fits me perfectly.
Pros & Cons
Pros
Impressively warm and comfortable to wear
Excellent grip
Impressive water resistance
Durable latex coated
Machine washable
Cons
No wrist strap
Average water resistance.
Check Price
No products found.
8. WindRider Rugged Waterproof Winter Gloves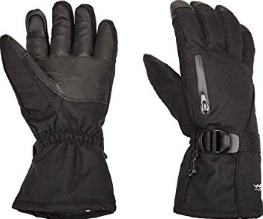 WindRider Rugged Waterproof Winter Gloves has to be in my top favorite neoprene ice fishing gloves because of its incredible water-resisting performance. These gloves made with 2MM Fleece Lined Neoprene, so not only are they impressively waterproof, but they are also windproof.
My dad and I love to wear these insulated fishing gloves for our long ice fishing trips, and I must say that they have never let me down. I would give these gloves 10/10 for functionality and protection.
The only minor issue that I have with these gloves is that they only have grip pads on one finger. Thus don't expect an incredible grip with this ice fishing glove when performing some tasks, but overall the thin construction does allow a firm grip.
Pros & Cons
Pros
Slim insulated construction
Waterproof and windproof
Secure Velcro wrist straps
Cons
Check Price
No products found.
9. Glacier Glove Pro Angler Ice Fishing Gloves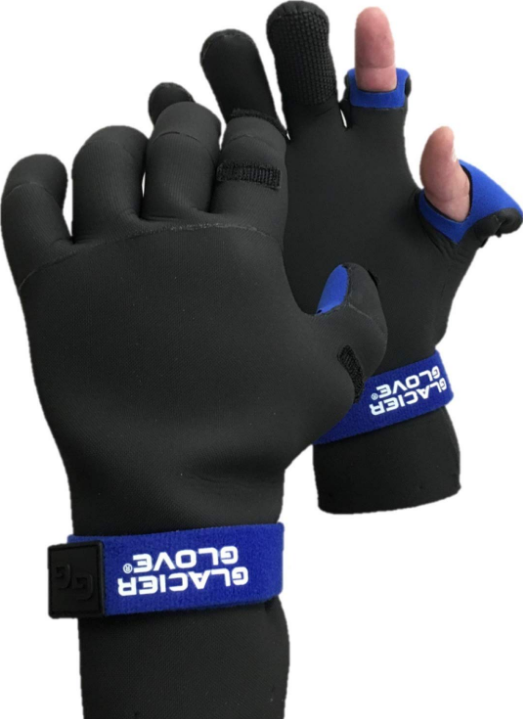 Check Product on Amazon
I call the Glacier Glove Pro Angler Ice Fishing Gloves the next-gen gloves because they have touchscreen-friendly fingertips, so you do not have to remove your glove every time you have to check your phone. I love photography, so it becomes a hassle for me to take pictures from my phone, but with these best ice fishing gloves, I can take photos of my great finds without taking my glove off.
These waterproof gloves are also comfortable to wear, the wrist straps secure the gloves into place and protect you from cold water and wind.
The insulated Cordura shell provides rugged construction, so you can even dunk your hand in the water for long without getting your hands wet or cold.
Pros & Cons
Pros
Insulation provides exceptional warmth
Touchscreen-friendly fingertips
Windproof and waterproof
Multipurpose design
Cons
Can feel bulky
Pricy option
Check Price
No products found.
Verdict
I have listed some of my most trusted best ice fishing gloves. Hopefully, this list will help you find your favorite ice fishing glove. No matter which ice fishing glove you decide to buy, make sure that you know your requirements and know your exact size for a perfect fit. Good luck and enjoy ice fishing!
Related Article: Best Fishing Kayak To Buy in 2019
---
Frequently Asked Questions
---
1. Why do I need ice fishing gloves?
Ice fishing shouldn't be taken as a joke because you are dealing with icy conditions that can result in serious medical complications. Your hands are at severe risk of suffering from frostbite, freezing or losing their functionality. Therefore, in no circumstances should you experiment with ice fishing if you are not adequately prepared.
2. Should ice fishing gloves be Water Resistant vs. Waterproof?
Firstly, you need to understand the difference between waterproof and water-resistant because it will help you decide the best option according to your needs.
With waterproof gloves, you can enjoy long hours of ice fishing without worrying about water penetrating your gloves with time, whereas water-resistant gloves can only resist water penetration. So, you have to be wary of the fact that they will absorb water if they are submerged in the water for any length of time.
3. Why can't you use your regular gloves for ice fishing?
Gloves that are designed for daily wear are usually not waterproof or even water-resistant. Hence, you will not get minimal to no protection from water while ice water fishing. Therefore, regular gloves are not a good option for ice fishing, and I would never recommend them.
4. What are the essential care tips?
If you want your ice fishing gloves to last, you would have to wash your gloves with care. My father always directed me to clean my fishing gloves with warm detergent water after frequent use. You should never throw your fishing gloves in the washing machine and only wash them gently by hand.
5. How should you dry your ice fishing gloves?
I always hang the gloves to dry them properly after every use and washing them. Make sure that you dry your gloves properly as it can moisture can damage your ice fishing gloves.
6. How durable are ice fishing gloves?
Although, most of these gloves will last you up to a year, even with frequent use. However, it wholly depends on how you maintain your cold-weather fishing gloves. If you want them to last long, you have to clean, dry, and store them properly.
7. Can you wear your ice fishing gloves for other activities?
Of course! these gloves have a strong structure, and they keep your hands warm and protected from harsh conditions.
Read More: The Best Fishing Reels – Detailed Reviews & Guide