Are you tired of having to run up and check a target as you are trying to sight in your rifle? Maybe your eyes get fatigued when you are or out hunting and searching for a game at long distances through your rifle scope? Any of these scenarios would be made much easier simply by owning a good quality spotting scope.
These handy long distance spotting devices offer many advantages to those that use them. They usually have magnification that is much more powerful than any rifle scope and they are also easy on the eyes when looking through them. These are spotting devices that are easy to use and offer a wider field of view than most magnified looking devices too.
If you are looking for a spotting device that will help you to identify game or assess your target shooting prowess, then having the best long range spotting scope for 1000 yards is an absolute must for you. That is why we have taken the time to review a few top model spotting scopes and tell you a little bit more about what to focus on when shopping for one of these handy long distance spotting tools.
Best Long Range Spotting Scope for 1000 Yards in 2020
---
Last update on 2023-10-04 - Images from Amazon Product Advertising API
Spotting Scope Buying Guide
---
Here are the three key features that you need to focus on when you are shopping for a new spotting scope:
#1 Magnification
By far the biggest factor in choosing a spotting scope to purchase is its magnification. If you want to spot targets or look at birds clearly that are 1000 yards away you will need a spotting scope that can zoom in on objects at 30x power or better.
So for instance, If you are looking at a spotting scope that is listed at 20x-60x magnification it will be fine looking at objects in the 1000 yard range.
Here is an example of all the different things you can do with a spotting scope that has good magnification:
#2 Field of View
The field of view is how wide of a distance you can see when using your spotting scope. It is not very important if you are just using your spotting scope to check your grouping during target practice or when sighting in your guns.
The exact opposite is true if you are going to be using your spotting scope to do such things as spotting game or bird watching; you will want a wider field of view when doing these spotting tasks.
At 1000 yards a 130 – 170 feet field of view is ideal for spotting game and moving birds.
#3 Weight
depending on what your intended use for your spotting scope is weight can be a very big deal. If you are predominantly being stationary then it's no problem to have a spotting scope that is heavier and more powerful. If you just use your scope to do something like sight in your guns on a range then the weight is not a big factor.
On the other hand, weight becomes a huge factor if you are hauling your spotting scope deep in the woods with you to help spot the game or you are bird watching in a remote area. In situations like these, you would want a spotting scope that is to the lighter side.
Reviews of Best Long Range Spotting Scopes For Seeing Objects at 1000 Yards 
Here are some excellent model spotting scopes that will make a great purchase if you are trying to zoom in on distant objects that are 1000 yards away from you:Â 
---
1. Gosky 20-60X 80 Porro Prism Spotting Scope Review –

Best Overall Pick
Waterproof Scope for Bird watching and Target Shooting
---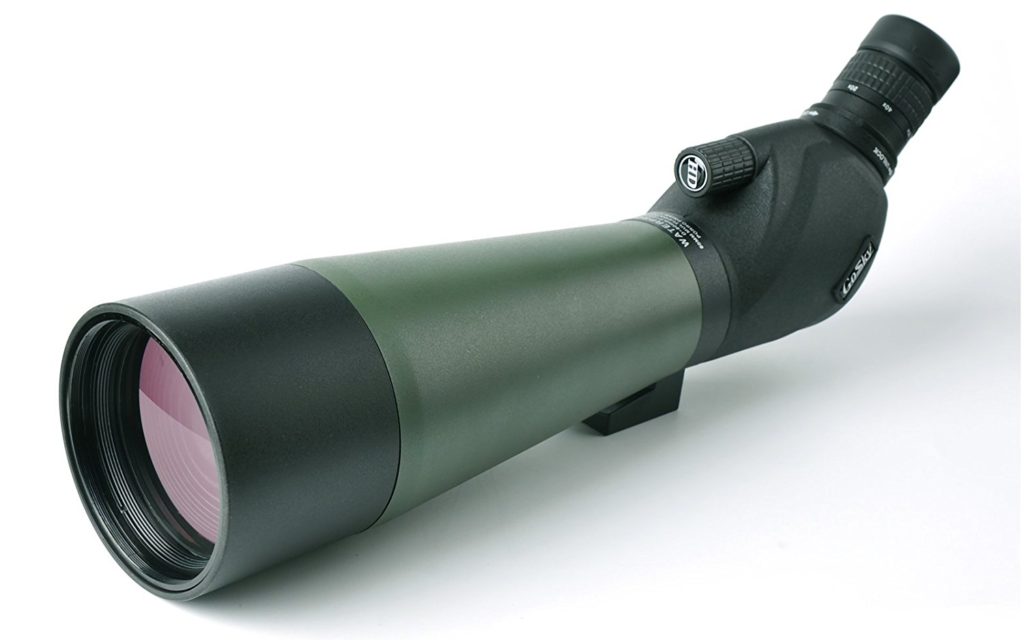 Gosky 20-60X 80 Porro Prism Spotting Scope – image credit gosky-optics.com
Nothing's worse than setting up a scope, only to be met with blurry images and dark colors. When you're spending a day out shooting to either practice or fine-tune your sights, you need to have a scope that can give you a clear view of where you are aiming. This is where the Gosky 20-60X 80 Porro Prism Spotting Scope arrives to answer your call.
Whether you are at the range, out on the hunt, or taking in the sights the Gosky Porro Prism has a set of features to give you the best view of your shooting lane.
The lens system of the Gosky is designed as a dynamic system to improve the focus of your view. The magnification range starts at 20x and ranges all the way up to 60x, and encompasses a range from 6 yards to over 1000.
The high magnification gives clear views of wildlife up to and beyond 1000 yards. With an 80mm lens with an internal high-quality prism, the Gosky maintains a clear and detailed picture out at the farther distances, so you can clearly discern between antlers and branches.
The 80mm lens maintains a larger field of view and truer color than smaller lenses. The dynamic lens focusing creates a continuously smooth image as you zoom in on your desired spot. The included tripod keeps the scope from shifting position as you zero in on the gorgeous flock of birds across the marsh.
The Gosky Porro has a 94 feet field of view out at 1000 yards. A little low for the standard we established, but higher than competitors in its class. At 60x magnification, this field of view is reduced a little further, but you will still be able to have a beautiful image.
Using the included cell phone digiscoping adapter, you can use your phone as a viewport. If you are a wildlife enthusiast, this is a great way to capture one of a kind pictures of animals that you could never get up close to in the wild.
You can also capture HD videos (depending on your phone's capability) of exotic and rare species that roam the wilds. If you are target shooting you can use the video to record where your shots are hitting the target to help you improve your spotting and aim.
The Gosky 20-60X Porro Prism Spotting Scope weighs about 2.7 pounds. While not the lightest spotting scope on the market, this scope's weight is comprised of an aluminum and magnesium (Magnalium) alloy body for enhanced durability.
The body is wrapped in a rubber armor that further protects the body and makes the scope able to withstand the toughest weather you will encounter while out on an adventure.
The entire scope is sealed and waterproof, so you don't have to worry about it dropping in a stream, or spilling your canteen all over its lenses and body.
Pros:
Easy to manipulate controls.
Very tough and durable.
60x magnification is clear and bright, even at 1000+ yards.
Great clarity on the range, or for viewing wildlife.
Cons:
Recommend upgrading to a more robust tripod.
The phone adapter is good but has a steep learning curve.
Sale
Last update on 2023-10-04 - Images from Amazon Product Advertising API
---
2. Authentic ROXANT Blackbird Review
High Definition Spotting Scope With ZOOM
---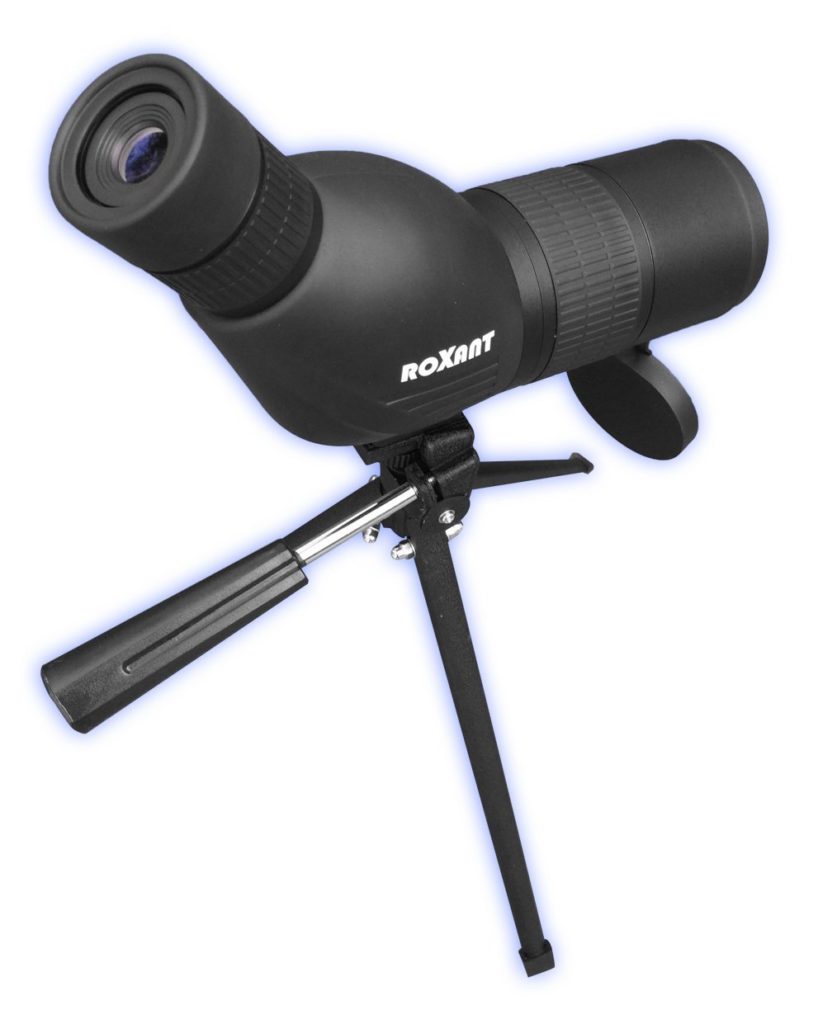 Authentic ROXANT Blackbird – image credit roxant.com
Here is a very good spotting scope that is so lightweight it's perfect to take with you when hiking in remote areas, bird-watching off the beaten path, or when going deep into the woods to hunt. Not only is the model lightweight but it's built very sturdily too so it can handle those small as you move about when using it.
This Roxant spotting scope sacrifices a little bit of power to keep its weight down but it's still plenty powerful enough to look at objects in the 1000 yard range. You will also be able to see those objects very clearly thanks to its nice size 50 mm objective lens.
All of the lenses on this spotting scope are high-quality military-grade lenses that let in just the right amount of light so you can see your images clearly. Look through it at animals or other moving objects are not a problem with it either thanks to its generous 150-foot field of view.
We really liked just about everything with this best long range spotting scope that is easy to take anywhere with you. This model spotting scope even comes with a very comprehensive 1-year warranty.
Pros:
Military grade optical glass.
12x-36x magnification.
Compact and lightweight.
The generous field of view.
Clear detailed images produced by the 50 mm objective lens.
Cons:
The tripod that comes with it is only slightly adjustable.
Zoom could be a little more powerful.
Last update on 2023-10-04 - Images from Amazon Product Advertising API
---
3. Pentax PF-80ED Spotting Scope Review –

Best Value
High potential maximum power scope
---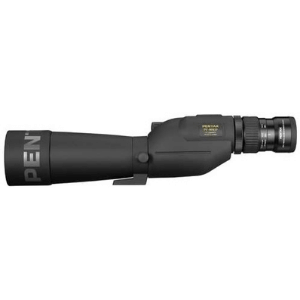 Pentax PF-80ED Spotting Scope
With the Pentax PF-80ED 70930, you can expect to receive a combination of many useful features but this spotting scope has its fair share of minor issues. The stand out feature of the scope is its 80-millimeter lens that is larger than the average and provides detailed bright images even at high magnification. The performance of the large lens is truly impressive.
1¼-inch eyepieces are compatible with the scope, so if you already own other popular models chances are that you can use eyepieces interchangeably with this Pentax.
Another strength of this spotting scope is the "Extra-low Diffraction" or ED glass that reduces chromatic aberration by aligning the various colors of the light spectrum before they hit the eye. Despite the use of this type of glass, unfortunately, the scope does have some chromatic aberration and minor blur around the view's edges.
However, the few small issues this model of spotting scope from Pentax has, it is still a decent purchase and provides good value for money so it is worth checking out.
Pros:
Large diameter lens
ED glass
1¼ inch eyepieces compatible
Cons:
Minor chromatic aberration issues
Some blurring issues
Last update on 2023-10-04 - Images from Amazon Product Advertising API
---
4. Orion 52205 Grandview 16-48x65mm Review
Waterproof Zoom Spotting Scope
---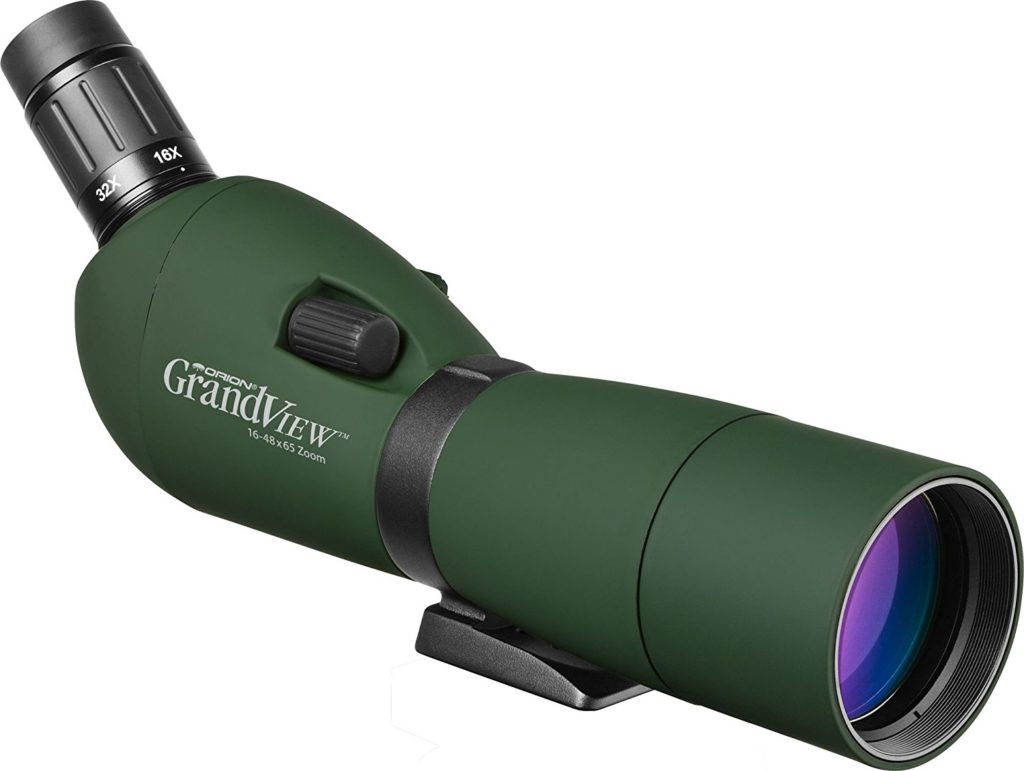 Orion 52205 Grandview 16-48x65mm – image credit telescope.com
Orion has done a very nice job designing this very versatile spotting scope.
With its generous size 65 mm objective lens it will give you some of the clearest images you will ever see through a magnified looking device. It does that while cutting down nicely on outside glare too thanks to its multi-coated optics.
This scope is as durable as they come too. It is completely waterproof and can handle many different types of weather conditions. There are few spotting scopes made that are as well-constructed as this model.
Although it is slightly heavy you can still take it anywhere with you easily thanks to its soft case with adjustable shoulder strap. This spotting scope even comes in a good looking darkish green color.
Pros:
Waterproof all-weather scope.
Bright, clear views with contrast.
16x – 48x zoom feature.
Multi-coated optics.
Soft carrying case w/shoulder strap.
Cons:
At almost 3 pounds will be heavy for some.
On high power, the eye relief makes it tough for glasses wearers to use.
Last update on 2023-10-04 - Images from Amazon Product Advertising API
---
5. Athlon Optics Ares Spotting Scope Review
Cool design, good performance and value for money
---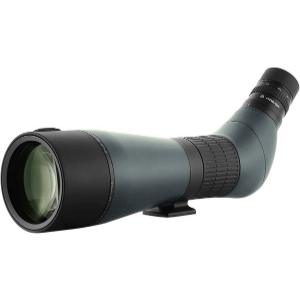 Authentic ROXANT Blackbird – image credit roxant.com
There is true potential in the Athlon Optics 20-60×85 ED 312001 spotting scope with some potential, but this type of scope lacks versatility, which holds it back from being the perfect scope. Nonetheless, this model offers good power and an eyepiece adjustable between 20x and 60x magnification.
The power of the scope is thanks to the exceptionally large 85-millimeter lens that is ED glass, which provides decent contrast, brightness and sharpness, and vivid colors in lower powers in particular.
The biggest drawback of the scope is its bulky size and the lack of a hard case that makes carrying the scope on your travels very risky which limits its usability.
However, if you need a scope for stargazing or stationary bird watching then Athlon Optics 20-60×85 ED 312001 is a decent option. If you need a spotting scope, you can carry it around then look elsewhere.
Pros:
Good power
Large lens
ED glass
Cons:
Last update on 2023-10-04 - Images from Amazon Product Advertising API
---
Best Spotting Scope For 1000 Yards Model That Stood Out To Us
It is very hard to pick the best model out of these spotting scopes for 1000 yards that we reviewed. Anyone of them would make a solid purchase for sighting in your guns, spotting game or observing things in nature. If we have to pick one that we thought was the best it would be the Gosky Porro Prism Spotting Scope.
On the range, you will be able to quickly and accurately find the location of your hits. The crystal clear display will help you lock in your sights faster, and help you improve your shooting.
Pack this scope with you out in the hunt to find the clearest lines for your shots. The two pounds will definitely be worth the haul when you find yourself with a direct view of your unknowing prey. Hunting can be rigorous, and tough on your equipment, and the durable construction of the Gorsky scope will thrive and survive in any blind.
For those that are out to observe all the beauty that nature has to offer, you will not find a finer companion. From backyard porches to the highest highs of mountain tops, the Gorsky spotting scope will open your eyes to vistas that you have only imagined in your most fantastic dreams.
Taking the time to learn to use the digiscoping phone adapter will take your adventure to new heights, as you become able to record flocks of birds taking flight from across a lagoon. The 1000 yeard range will make sure that the majestic animals will never know you are there, giving you a perfect advantage to capture breathtaking shots.
The waterproof body will allow you to capture and observe in any conditions that you can imagine. In fact, this scope is so durable you will probably give up and go home before it will. For those skeptics out there, this scope comes with a one year warranty to ease your troubled mind.
Conclusion
There you have it! We have shared with you our top picks for the very best five long-range spotting scope for 1000 yards. We have also included the pros and cons of each product that has been reviewed in this article. Our main objective is to give you a quick view of what to expect from each scope. We hope you found this post helpful.
More Readings:Â How to Choose a Spotting Scope for Target Shooting?