Preparing your own meals during camping is a daunting task. Only outdoor enthusiasts can enjoy preparing a meal in the wild. Whether you are an outdoors savant, and RVer, or a thru-hiker, food prep containers make your life on the go easier. Of course, you don't want your salmon sandwich slipping its way out of that half sealed container when you are trekking.
When you're camping with your family, you want to spend quality time with them instead of indulging yourself to set up a platform for meal preparations. Taking a meal with you on such trips is sensible, and it is gaining popularity.
Therefore, we have compiled the best meal prep container reviews. We'll also explain to you all you need to know about the best meal prep containers before you buy one.
---
Best Meal Prep Containers – Product Reviews
---
1. Fitpacker Food Prep Container
---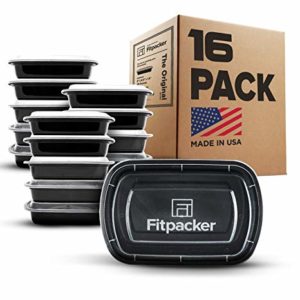 The package includes 16 containers and each of them has a capacity of 28 ounces. These meal prep boxes are best for portion control. Many of these meal prep containers resemble each other but no container matches the quality that Fitpacker offers.
These are made in the US and hence, they are FDA approved. Fitpacker has used BPA-free plastic in the construction of these containers. They are free from any toxins or phthalates.
The part is … all these containers are reusable. They are dishwasher safe and are safe to use in a microwave as well as a freezer.
Fitpacker makes you focus on what you enjoy the most and that is our food nothing else. You can focus on managing your health and staying fit. Each container features Fitpacker's patented sealing system, SureLock. This locking mechanism prevents any leakages. You can conveniently place these containers in a bag or stack them up for the space-saving purpose.
Pros & Cons
Pros
Use BPA, BPS free materials
FDA approved
The package includes 28-ounce 16 containers
Dishwasher safe
Can be placed in freezer or microwave easily
"SureLock" keeps the food sealed and fresh
Cons
Last update on 2023-12-01 - Images from Amazon Product Advertising API
---
2. Freshware

Meal Prep Containers
---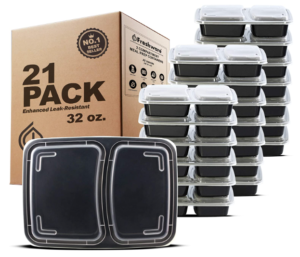 Freshware brings you its meal prep box that features three compartments. You can conveniently place your entire meal in one box and control your portions effectively. You can easily use them to place your main course along with salad and dessert.
Just enjoy your full meal wherever you are. Each of these containers can store up to 32-ounce of food. This is the perfect amount of food to stay full if you are looking to control your portions. These are best for you if you are on a strict diet plan. Additionally, these containers are also safe to use in the freezer as well as a microwave.
They are dishwasher safe so you can refuse them as much as you like. Freshwater has used FBA-free plastic in the construction of these containers and they have done a fine job. These containers are FDA approved as they don't contain PVC, polyurethane, and phthalate.
Pros & Cons
Pros
32-ounce capacity
BPA-free and FDA approved
Containers have separate compartments
Reusable containers
Cons
Lid show water drops after a while
No products found.
---
3.

Enther Meal Prep Containers
---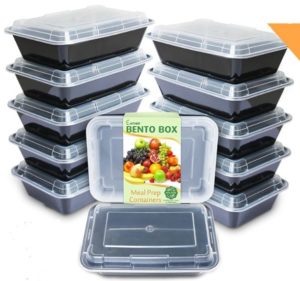 It's all about swiftness and ease of use when we talk about Enther. Just like the previous two, you can also use these containers in freezers as well as microwaves. They are not only reusable and dishwasher safe but are also sturdy.
Enther doesn't use any harmful or hazardous chemicals in the construction of their products and similar is the case with these containers.
The snap-on locking system of these containers is pretty tight. This means that your food is not going to go anywhere even if you tilt the box. This is one of the best meal prep containers that you can use on the go because it protects your food from spilling even if you move the container a lot.
Each of these containers is 28-ounce in capacity and your purchase will include 20 containers. One of the best features of these containers is that they are fully resistant to odor and stains. So your boxes will stay clean looking for a long time.
Pros & Cons
Pros
Smell and stain-resistant boxes
Leakage proof due to tight lids
High-quality BPA-free plastic
Boxes can be easily placed in freezer and oven
Cons
The lids are not microwaveable
Last update on 2023-12-01 - Images from Amazon Product Advertising API
---
4. Prep Naturals

Glass Meal Prep Containers
---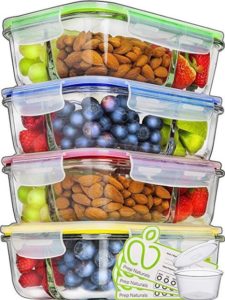 These containers from Prep Naturals have a 34 – ounce capacity and your purchase will include five different containers. These are made of glass so you need to be a lot more careful in using them. However, these are the best glass meal prep containers.
The locking lid of these containers features the Smarteslock feature. This means that this snap-on mechanism will not allow any leakage to occur.
In fact, this is one of the best meal prep containers when we talk about the locking system. The lid opens and closes like a breeze and you don't have to do much when you are in a hurry and looking to have a nibble.
There are three different compartments in each of these containers. This allows you to place your main course as well as the desert and some salad in your box. You don't have to stress about what you'll be cooking for your dinner or what you should eat right after you are done with your workout.
Pros & Cons
Pros
Glass container
Doesn't involve BPA or BPS material
Lid is airtight
Keeps the food fresh
No-spill and food safety
Three compartments for meals placing
Large container with 34-ounce capacity
Cons
Made of glass so quite delicate
Sale
Last update on 2023-12-01 - Images from Amazon Product Advertising API
---
5. EZ Prepa

Meal Prep Containers with Lids
---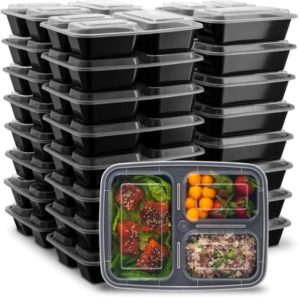 The EZ Prepa is another great option if you are looking for large-sized food prep containers with three compartments. These 32-ounce containers are good enough for you to place your entire meal for one time.
These meal prep boxes are suitable when it comes to portion control and when you are on a strict diet routine. EZ prepa has used high-quality dishwasher safe, BPA free plastic and for this reason, they are perfectly safe to place your food and reuse.
The lids are transparent and they won't form any water drops either that make your container look dirty. You also get the convenience of microwaving your food and freezing it. The EZ Prepa has used safe plastic free from any toxins or allergens.
Pros & Cons
Pros
Plastic is microwavable
Plastic can be used in freezers.
Three storage compartments
Containers are reusable
Each box has a 32-oz size
Carrying meals is very easy.
Cons
The lid is not tight enough
Don't add any spillable food
Last update on 2023-12-01 - Images from Amazon Product Advertising API
---
Best Meal Prep Containers – Comparison
---
---
Read Also: The 5 Best Camping Tents – Best Choices for Backpackers
Best Meal Prep Containers – Buying Guide
---
You need to keep some important things in mind before looking for the best meal prep containers. We have listed all these important features below:
You must keep in mind that the materials of meal prep containers need to be strong enough to withstand extremely hot or cold temperatures. They must be durable too because they shouldn't be prone to any cracks if accidentally you have dropped them. In most cases, you will see plastic containers but there are glass boxes also available.
The containers should be made of food-grade materials especially in case of plastic. The boxes need to be free from BPA as well as BPS. They shouldn't contain any silicone or various other harmful chemicals.
For a good budget-friendly option you need to go for plastic. Plastic is cheaper than glass but make sure that it is BPA-free under all circumstances.
This entirely depends on your dieting requirements and how much of a portion do you want to consume. Make sure that the container is big enough to accommodate reasonable amounts of food. It would be a lot better if you have a container that has compartments.
Between these two, glass is always the better choice when safety is at your highest priority. Glass can also take on extreme temperatures as you can place your container conveniently in a freezer or microwave.
It is dishwasher safe, but there is a catch…glass is more susceptible to breaking than plastic. Therefore, the best option for you to consider is the containers made of BPA free plastic because they are strong and are freezable/microwaveable. They are not a risk to your health. But it boils down to which materials you should prefer for yourself.
For reusability, these meal prep containers should come dishwasher-safe. Just wash them and start using them again. There is nothing that gets better than this. Reuse your containers as many times as you like and they will continue to perform just like Day 1.
---
Best Meal Prep Containers – FAQs
---
1. What should be the number of containers I meal prep?
This is entirely up to you and how much food you have prepared for yourself. If the food is in small portions then you don't need more than one container for it.
A large meal definitely needs more than two even three containers. You can even prepare food that is enough to fill five of your containers if you want and refrigerate it. It is your choice how many containers you fill according to your needs.
2. Is there any issue associated with the re-usability of a meal prep container?
The only issue associated with this is whether or not you are using a BPA free container or not. If it is made of plastic then it should be BPA free and must not contain any harmful substances. In such a case it will be dishwasher safe and you can wash it as much as you like and reuse it.
The packing will mention whether a container is free of BPA or not. Glass is a better choice in such a situation because the construction process of glass doesn't involve any harmful chemicals whatsoever. But most of the good quality plastic containers are BPA-free and you won't have any issue finding them.
Final Thoughts
With a hectic routine, meal prepping is indeed a lifesaver! Meal planning is not only convenient, but it is also an efficient way of saving time and money. However, if you want to store the fruits of your hours of labor, you would need reliable meal prep containers that would keep your prepped meals fresh for longer.
We have shared five highly-rated meal prep containers to help you choose the ones that will best fit your requirements. All in all, the best meal prep containers come from the Fitpacker. These 28-oz containers are enough for you to place a one time meal. They come with a patented locking mechanism called SureLock. This lock ensures that the lid doesn't open accidentally and causes any spills. Made of BPA free plastic, these meal prep containers are best suited for consumption on the go.
So which one of these meal prep containers have you used for your fitness regime? Do you think we have missed out on your favorite meal prep boxes? Let us know by leaving a comment below.