Scouting for turkeys in a quiet place or running endlessly behind an elk to hunt it down, neither is easy. You might face backlash from your game, or it might run out of your sight in a matter of seconds. Either way, hunting is always tough (honestly, that's the real fun of it). When you exhaust yourself for a trophy and later get "that perfect shot," the feeling is unmatchable.
And the gizmo which would save you from some crazy wild beings (they all are), and lets you bang down your prey in one attempt is none other than your hunting weapon. When you are out in the wild chasing your game, having reliable hunting gear is unavoidable. A good pistol, crossbow or pistol crossbow; whichever weapon you prefer should be light, easy-to-operate, and above all, capable.
However, there arises a question; which weapon? Some people are fond of pistols and rifles, and they don't want to try anything else. Crossbows, on the other hand, are a lot more fun, require your full body force, and are great skill-testing devices.
We have dug deep to find you the best of the best pistol crossbows with the highest customer ratings. So, this review will not only help you select the best pistol crossbow. But, we have also shared our simple guide to buying the perfect pistol crossbow to help you find a pistol crossbow that would best suit your requirements and preferences.
So, if you are planning to buy a pistol crossbow, please continue reading!
Why Should You Use Pistol Crossbow?
Apart from the fun of having archery and shooting through the same weapon, pistol crossbows are easy to operate, effective, safe, and inexpensive.
Unlike rifles and contemporary bows, pistol crossbows go easy on your budget and make hunts and shooting sessions delightful.
Cocking a pistol crossbow is easier than cocking a regular bow, and their bolts shoot with power ensuring you never miss your target.
---
Best Pistol Crossbows – Our Picks
---
Last update on 2023-12-01 - Images from Amazon Product Advertising API
Confused which crossbow to buy for your next hunting session? Well, I have compiled a list of the best pistol crossbows for you and have shed light on their pros and cons to help you make a wise decision. Read on to find out more:
---
The 5 Best Pistol Crossbow Reviews
---
1. Prophecy 80 Pound Self-cocking Pistol Crossbow
---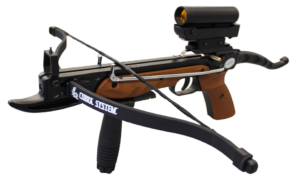 If you are someone who doesn't want to hassle while cocking the crossbow over and over again, this prophecy self-cocking crossbow is your holy grail.
The prophecy crossbow shoots sharp aluminum bolts at 165 FPS with a draw weight of 80lbs.
For short-range hunts and target practices, this mini crossbow is nothing less than a bonanza.
You'd get a precise red dot scope with the bow which will surely make hunting and scouting easier for you.
As this crossbow is self-cocking, even kids can use it. Only a minor amount of force is required to cock prophecy crossbow, and you can keep firing the arrows without any interruption.
Prophecy offers a durable bag that makes porting this crossbow effortlessly and lets you keep your traveling luggage tidy.
Features
Shoots at 165 FPS
Red dot scope included
Cobra limb system
80lbs draw weight
6-4/5†power stroke
Aluminum body
3 aluminum bolts
Pros & Cons
Pros
Easy to cock
Light and ergonomic design
Accurate focus
No force required
Powerful shots
Brilliant for short hunts
Comes in a durable bag
Cons
No products found.
---
2. CenterPoint Sniper 370- Crossbow Package
---

CenterPoint has primarily designed this crossbow for recreational shooters and hunters who are always on the lookout for handy and effective weapons.
If you have plans to go for turkey hunting this season, get this CenterPoint pistol crossbow and take the perfect shot at your favorite gobbler.
A 4×32 scope will come in the box which makes spotting at the target more comfortable; and once you get a hold over this scope, you'd never miss a shot (that'd be a great treat, believe me).
An effective rope cocker will make cocking effortless, and you won't have to struggle while cocking your crossbow at the sight of your prey. It will quickly cock and fire aluminum bolts at 370 FPS.
Draw weight is 185lbs in this CenterPoint crossbow which won't let you miss your target, and you'll quickly hunt your game down no matter how fast it is.
The anti-dry fire mechanism will keep your hands protected as chances of accidental injuries are rampant in archery.
CenterPoint always prioritizes your budget preferences and brings forward the most affordable and effective weapons; this crossbow is no exception. You won't have to think before buying it as it's the best budget buy from my list.
Features
Rope Cocker
4×32 scope included
Aluminum made
185lbs draw weight
Three bolts of 20."
370 FPS speed
Pros & Cons
Pros
Easy to cock
Power strokes at 370 FPS
Adjustable stock
The anti-dry fire safety mechanism
Inexpensive
Auto-safety mechanism
Cons
Last update on 2023-12-01 - Images from Amazon Product Advertising API
---
3. Barnett Whitetail Hunter II Crossbow
---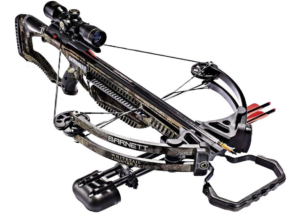 Going for whitetail deer and elk hunting is one of the most awaited times for hunters. They cannot wait for the season to come so that they can scoot out and bring home some marvelous trophies.
To make your whitetail hunting delightful, Barnett has introduced this easy-to-use crossbow which is lightweight and portable.
A rope cocking device that comes with the bow will give you a mechanical advantage and make cocking stress-free and quicker. This is a durable cocking device that lets you put in your body's force and pull it upward.
Its stock is fully adjustable and manufactured for hunters from every age group.  Its comfortable fore-grip doesn't let the bow slip from your hands when you are in a hot and humid region for extended hours.
Its excellent speed of 350 FPS will never spare your target and will enable you to feel the thrill of bowhunting.
Features
350 FPS
6.4lbs weight
Includes 4×32 scope, rope cocking device
Comes with a light quiver
Two 20 inches long arrows
Draw weight 150lbs
Pros & Cons
Pros
Comfortable to carry around
Intelligible instructions included
Scope works brilliantly
Power hitting for larger animals
Easy cocking
No more muscle strains
Cons
Last update on 2023-12-01 - Images from Amazon Product Advertising API
---
4. Snake Eye Tactical Pistol Crossbow 80lbs Cobra
---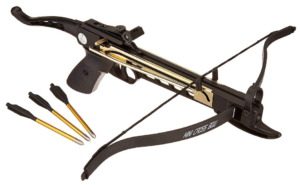 If you are low on budget and do not want to waste your precious bucks, the snake eye pistol crossbow is the best you can get. It is not only inexpensive but looks pleasant as well. Its gold metal outer body shines beautifully and gives your outdoor gear a sophisticated look.
This handy pistol crossbow comes with a self-cocking method which works incredibly in the woods when you don't have time to waste. The 15 aluminum bolts with metallic tips shoot brilliantly and let you aim at your target precisely.
Although this snake eye pistol crossbow is not much effective for long-distance hunts and shootings, you can still use it to practice your archery skills and chase slow-moving animals and birds.
This eye-catching crossbow is lightweight and portable so that you can lug it around in the woods and complete your venture comfortably.
Features
Gold metal body
Self-cocking mechanism
80lbs draw weight
15 aluminum arrows with metal tips
Alterable tactical sight
Pros & Cons
Pros
Sophisticated design
Easy and safe to use
Excellent for short distance hunts
Inexpensive
Speedy cocking mechanism
Cons
No scope included
Not sturdy
Snake Eye Tactical Cobra-System...
Snake Eye Tactical Cobra System Self Cocking...
80-Pound 225+ FPS Ideal for turkey/small game...
The Crossbow features an 80 lb. draw weight and...
Last update on 2023-12-01 - Images from Amazon Product Advertising API
---
5. KingsArchery Crossbow Pistol
---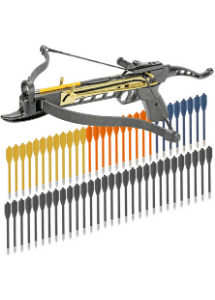 This is a decently powered crossbow pistol capable of firing arrows up to 165 feet/second, which is perfect if you will use it for small game hunting or target shooting. The easy to use self-cocking mechanism makes reloading quick and easy. It also comes with a locking safety mechanism.
The robust plastic body of the crossbow with brass plates gives it the strength necessary for hunting use.
We appreciate the 60 darts that come with this KingsArchery bow, which means that you may not need to purchase bows initially, but included bows are made of plastic and won't last too long.
However, you won't get a Picatinny rail on this, but the amount of darts you get makes up for it.
Features
80lb draw weight
Self-cocking mechanism
60 aluminum and PVC arrow bolts included
Durable molded fiberglass body
Easy and fast reload
Adjustable sights included
Pros & Cons
Pros
Comes with extras
Includes decent quality scope
Pleasant design
Cons
Quality of supplied bolts is subpar
Last update on 2023-12-01 - Images from Amazon Product Advertising API
What Must Be In a Pistol Crossbow?
As pistol bows are relatively new in the market, most people aren't aware of its technicalities and must-have features. If you are new to pistol crossbows, fret not. Follow these points and bring home the best pistol crossbow right away!
Arrows Distance Per Second
This is a rule of thumb; the speedier a bolt is, the more impact it leaves on the target. Before getting a pistol crossbow, you must ensure with what speed its bolts would travel. This speed is mostly mentioned in the manuals as FPS (feet per second). The pistol crossbows with 150 and more FPS work brilliantly in hunting fields and shooting ranges.
Weight
This is the primary factor in all gears. If your weapon is heavy and you feel exhausted only by carrying it around, it'd always be a pain. Pistol crossbows are manufactured to make you feel comfortable and enthused by the feel of shooting arrows continuously.
The bows with 8lbs and lesser weight are extraordinarily portable and effortless to haul around. You can keep these light pistol crossbows in your backpack and roam around in the jungle while searching for a good hunting spot.
Size
Pistol crossbows are handy so that you never have to bother their size. Generally, pistol crossbows are 20-30 inches in length and come with a carry bag which indicates they'd never make you frustrated while packing it after a long hunting session.
Draw Weight
The force with which you pull an arrow before shooting is called draw weight. In older crossbows, the user had to put in power while pulling the bow backward. However, in pistol crossbows, the cocking rope does this for you, and you don't have to pull the string. The more you draw a bolt, the swifter it travels.
If your pistol crossbow has a draw weight of 70lbs and more, it will work incredibly well in the field.
Cocking type
To pull the fever string of the pistol crossbow and bring it in a shooting position is called a cocking mechanism (just like we load bullets in a regular pistol). The cocking process is a bit difficult as you have to put in force to cock a pistol crossbow.
However, there are two types of cocking mechanisms to choose from:
The self-cocking method is relatively more comfortable and less force-consuming. You have to bend the handle and barrel (middle part) of your crossbow unless the string is set in place.
The machine cocking, on the other hand, requires the involvement of your foot and hands. The bows with pulley-like cocking procedure have foot stirrups at the base where you insert your foot and pull the fever string upwards with force.
If you are confused about the two cocking types, watch these quick tutorials and learn the difference in a better way:
Self-Cocking:
Machine Cocking:
Factually speaking, self-cocking is easier and faster while machine cocking takes more time and effort. However, if your crossbow pistol is big, a cocking device will immensely help you.
Bolts Type
The small arrows you shoot at your target are called bolts. Mostly they are made from metal, aluminum, and plastic. The plastic bolts are sturdy but aren't much appreciated by staid hunters. Similarly, metallic bolts are much more effective and sharper than plastic ones.
So, it is advisable to get a hand crossbow with metallic arrows. You can easily replace these bolts as continuous use can make them weary.
Try Crossbows This Year And Polish Your Archery Skills
If you've taken some archery lessons in school, you must be aware of how tough it is. If your bow isn't up-to-the-par, you are gone. So, when you go for Western hunting this year, use a pistol crossbow instead of a regular bow and add to the delight of hunting.
You cannot rely on some crummy weapon and think that it'd make your next hunting excursion fun. Taking substandard and ineffective weapons with you in the wild is like inviting wild animals to come and kill you. To save yourself and ensure that your mission is a success, take along the best pistol crossbow.
One of the most famous weapons from medieval times, crossbows are excellent for target shooting and hunting. Though in this modern era, we have many other options like guns but shooting arrows through a crossbow has its own essence. So, what's better than amalgamating traditional weapons with modern ones? Pistol crossbows are an infusion of a pistol and a bow; where you shoot arrows from a gun. Sounds interesting, right?
The Final Word
Technology and inventions have brought a great deal of change in our lives. Those days are long gone when you had to use a heavy and tough crossbow in recreational shootings. The pistol crossbows have altogether changed the concept of archery because of their ease-of-use, and compactness. You won't have to worry about the sensitive fever string of your bow or injure your fingers while cocking it anymore; pistol crossbows eliminate these challenges and ensure that archery is always fun and memorable for you.
Furthermore, pistol crossbows are inexpensive and safer when compared to larger crossbows and guns. So, during your next vacation, take along a handy pistol crossbow in the wild and shoot your games precisely while sitting in your comfortable tree shelter. Ta-da!
Product comparison table