There is nothing more important than patience when you are out in the field hunting. After all, it can take hours and even days for you to get the chance at a shot at your intended game.
That is why when that shooting opportunity presents itself you don't want to waste it by getting off a poorly aimed long-distance shot. In a situation like that, the best rangefinder for long range shooting can certainly be handy to have with you.
That is why we have chosen to write this article. In it, we will review some of the top laser rangefinder models and also discuss some of the key characteristics of rangefinders that you should focus on when shopping for one.
By the time you are done the reading, you will know exactly what it takes to find the perfect rangefinder to help you zero in any long-distance shots you need to take.
Also, as you are reading this article pay particular attention to the Vortex Optics Ranger 1000 with Horizontal Component Distance Rangefinder.
It is the laser rangefinder that we like best out of all of those we reviewed because it's one of two models that work out to 1000 yards and it's a waterproof and fog proof all-weather rangefinder.
8 Best Rangefinder For Long Range Shooting in 2021
Last update on 2023-10-04 - Images from Amazon Product Advertising API
 
---
Best Rangefinder For Long Range Shooting Buying Guide
Here is a quick look at some of the key specs on the excellent rangefinder products we will take a closer look at a little later in this article.
#1 Size
You want any rangefinder that you buy to be small in size. That way it can easily fit in a pocket, a backpack or any other easy to carry and get to the storage place. Most quality rangefinder models will almost fit in the palm of your hand.
#2 Weight
If you are hunting you don't need any extra weight to slow you down. So make sure you get a rangefinder that is not only compact but light in weight too. You should easily be able to find a rangefinder model that is less than 2 pounds and that will make it very easy to carry around and use.
#3 Maximum Range
Make sure you know the maximum range that any rangefinder you are looking at buying will work too. You certainly do not want to buy a rangefinder model that only works to 500 yards if you will be using it to hunt game at 600 yards. Sure this is common sense but you would be surprised how many people overlook this when making a rangefinder buying decision.
#4 Ease of Use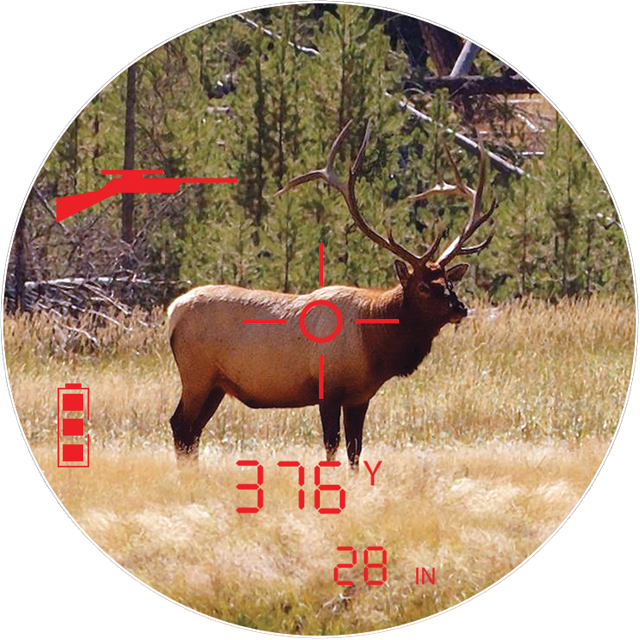 You want your new rangefinder to be easy to use especially when you are using it for hunting or golfing. You don't have time to mess around before you take a shot. That is why clear optics and an ergonomic design with easy to reach buttons is highly desirable on any rangefinder model that you purchase.
It should also display the range-finding the information it gives you in an easy to read and useful way. The importance of your range finding device to be simple to use cannot be emphasized enough.
#5 Durability
Chances are when you are out hunting and shooting your rifle long range you will experience all different kinds of weather conditions. That means you will need a rangefinder that can hold up well in all different kinds of conditions that the environment can throw at you. Look for a model that is waterproof, fog-proof and whose delicate electronic parts are well sealed up to protect them from the elements.
In a perfect world, you will never drop or bump your rangefinder against anything but that is not the world we live in. There will be times when you accidentally subject your rangefinder to some abuse. That is why it is a nice bonus if your rangefinder is made out of such things as durable polymer plastics and also has rubber outside coatings to help protect it and ensure its long useful life.
#6 Multiple Range Finding Modes
Some rangefinders have different mode settings for using them in such conditions as a light rain or fog. Different mode settings will make your rangefinder much more versatile and accurate under all different types of conditions and for different uses such as bow hunting or rifle hunting.
#7 Long Battery Life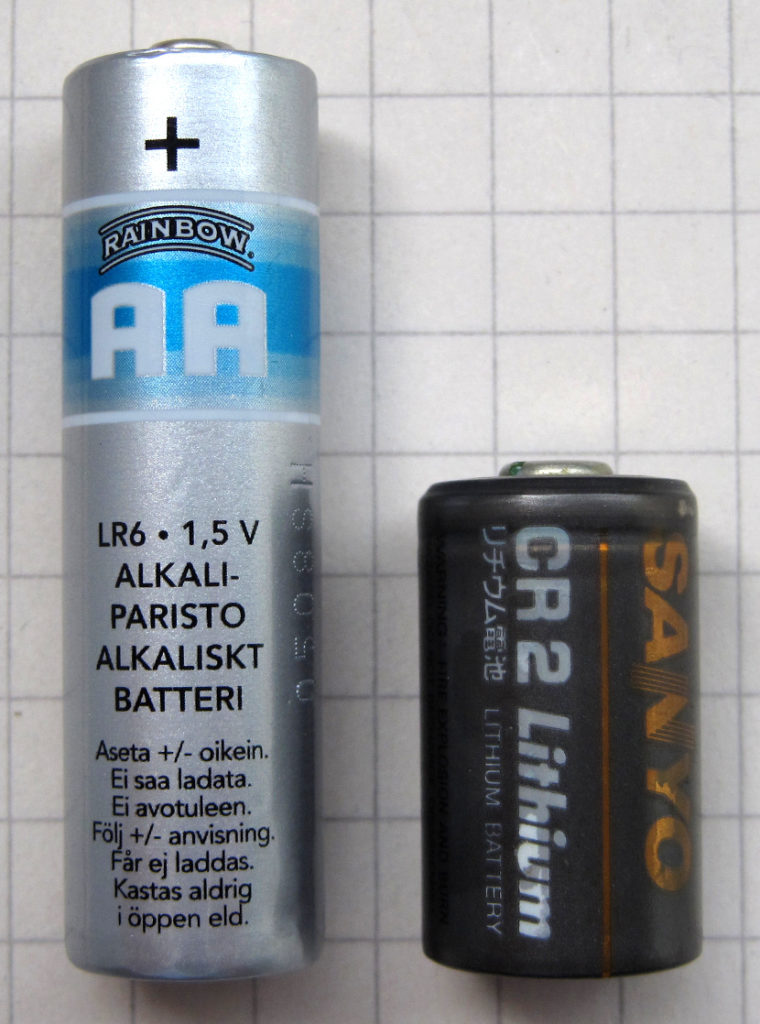 You don't want to have to worry about changing batteries all the time when using your rangefinder either. That is why you want a model rangefinder that has very good battery life. Look for a rangefinder that has such things as an automatic shutoff when not operated after a few minutes and uses long-lasting CR2 lithium batteries.
These batteries last much longer and are smaller than conventional batteries too. Take a look at the photo below to see how long-lasting CR2 batteries differ from regular batteries:
#7 Other Uses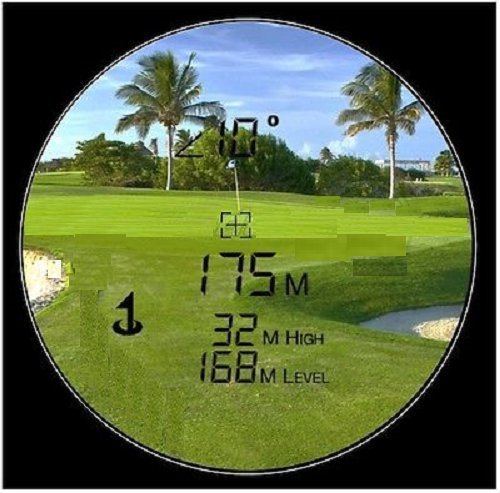 A good rangefinder will have other uses besides just assisting you with your shooting also. They are great for use when you are playing a round of golf or when watching motorsports and you want to know the distance between two competing cars.
Rangefinders can even before used for surveying when rough measurements are all you need. If you have other uses for your rangefinder besides just assisting your shooting then you can justify spending more money on one.
Reviews of The 8 Best Rangefinders for Long Range Shooting
Here are we what feel are the best rangefinders you can buy to assist you with your hunting, golfing and other long-range shooting needs:
---
1

. Upland Optics Perception 1000 Laser Rangefinder–

Best Overall

Pick
Durable product with high-quality image
---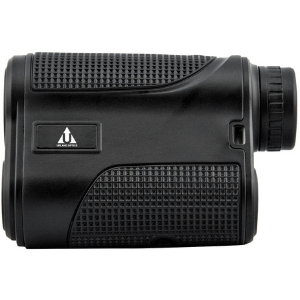 Upland Optics Perception 1000 Laser Rangefinder
Tested for durability and performance
For long-range shooting of upto 1000 yards this Upland Optics rangefinder is a fantastic choice. It was created by hunters, especially for hunting with an effective combination of features including a tough build and water resistance.  
The Upland optics rangefinder is purposefully built to withstand use in different weather conditions with weather-resistant quality, so you use it without worries about damage or lag in various shooting situations.  It is resistant to both water and the weather. Overall this rangefinder is sturdy and versatile when shooting at about 1000 yards.
The rangefinder features a 17mm objective lens and 7x magnification zoom range, which is excellent considering the price. Another strong point of the Upland Optics is its lightweight despite being sturdy; thankfully, it will not add extra weight on your gun.
 The device also features a second priority reading mode that enables you to get an accurate vision in diverse terrain. It's features make it extremely reliable and great value to money if you are a serious hunter. 
You can be assured of the durability of the Upland optics rangefinder because the company brand tests the strength of all their products in the Rocky Mountains of Idaho, which goes to show the brand's commitment towards quality.
Accurate results for an affordable price
Additionally, for under $300, the rangefinder provides accurate results that will allow you to improve your long-range shooting game without breaking the bank. In fact, the brand is known for its high-quality rangefinders for affordable prices proving that quality doesn't always mean paying exorbitant prices.
Pros & Cons
Pros
Affordable
Superior performance for 1000 yard shooting distance
Suitable harsh conditions
Reading mode second priority 
Beginner friendly
Cons
no angle compensation
Maximum range subpar
Last update on 2023-10-04 - Images from Amazon Product Advertising API
---
2

. TecTecTec VPRO500 Golf Rangefinder Review
Multi-layered optics
---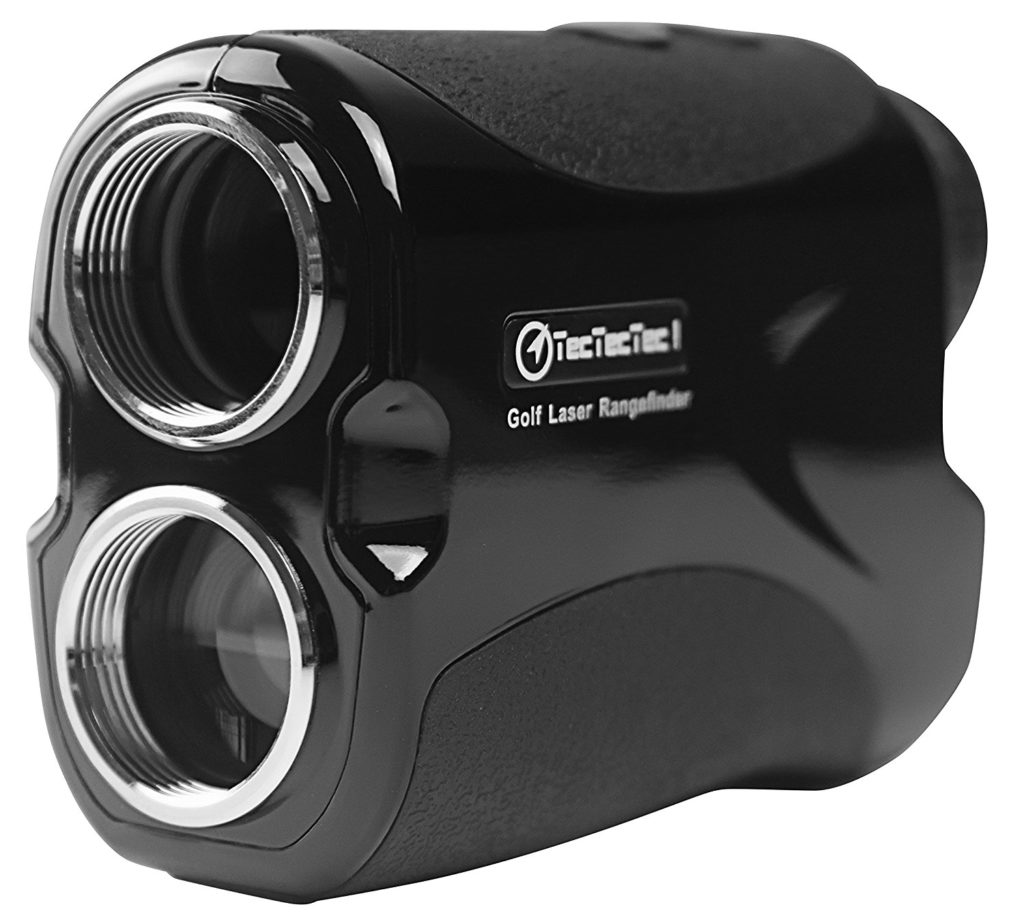 TecTecTec VPRO500 Golf Rangefinder –Â image credit tectectec.com
Here is a rangefinder that many people use for golf that can easily be used for hunting and shooting range finding too. The 500+ yard range it has makes it a great multi-use rangefinder.
We like the way you can easily acquire the targets you point it at and then have it quickly return an accurate distance measurement to you.
It features multi-layered optics that provides you with a glare free and crystal clear view. This rangefinder is nicely lightweight and compact too and it will just about fit in the palm of your hand. It is a durable and water-resistant product to so it should last you a long time.
The kit that comes with includes both the battery and a very nice carrying case. Not only is this product backed by a very decent 2-year warranty but this device also comes with free lifetime customer support should you need it.
Carry your Rangefinder in any weather-
The TecTecTec Silicone case is here to save your TecTecTec VPRO500 Golf Rangefinder from any harsh environments. The silicone case makes it anti-slip and durable. There's no way to get one without the other.
Pros & Cons
Pros
Accurate to within 1 yard.
Clear multi-layered optics.
Lightweight and portable design.
Up to 540-yard range.
Durable water-resistant body.
2-year warranty/lifetime customer support.
Cons
The battery is not rechargeable.
Construction is almost all plastic.
Sale
Last update on 2023-10-04 - Images from Amazon Product Advertising API
---
3

. Nikon 8397 ACULON AL11 Laser Rangefinder Review –

Best Seller
Rain proof, water resistant 
---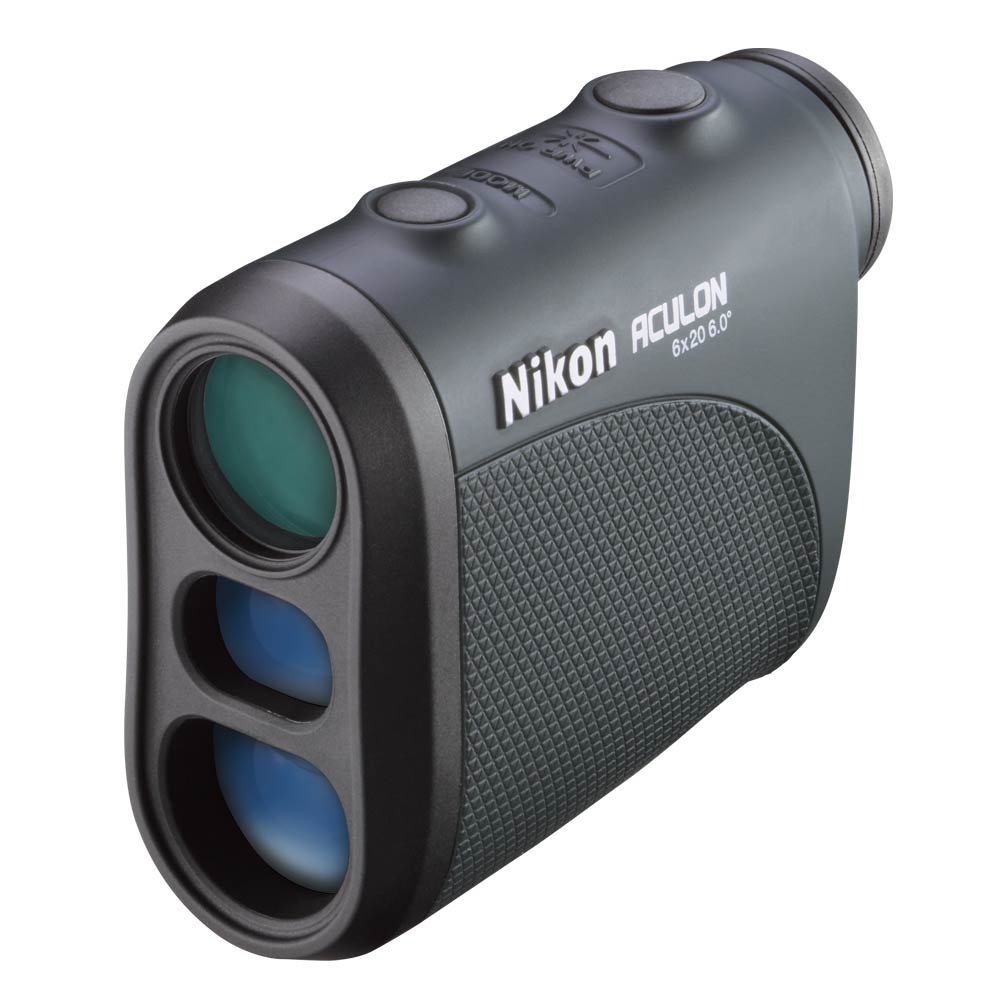 Nikon 8397 ACULON AL11 Laser Range Finder –Â image credit nikon.com
You don't get much bigger names than Nikon when it comes to products that use advanced optics and this rangefinder from them only confirms why their reputation is so good.
We really like the way this model rangefinder is lightweight, easy to use and designed to be used in a variety of different weather conditions.
With this rangefinder, you can see the benefits of all of Nikon's years making optical based products. We also liked its clear 6x magnification and its multilayered lenses allow the perfect amount of light in while keeping out the glare.
This rangefinder operates nicely with just the single push of a button also. It will display the range to an object with accuracy that is within one meter. You can accurately assess the range of targets for shooting out to 550 yards with it.
It features a compact and a lightweight 4.4 ounces so it's easy to take hunting, golfing or any other place you choose to use it. This product is also rainproof, water-resistant and is backed up by a 1-year warranty.
— Add comfort to your hunting sessions.
The USA Gear Rangefinder Holster Case Bag will offer you with the comfort you need for your every hunting sessions. It comes with shoulder strap and belt loop to make sure you can carry it safely and easily. Also, the Magnetic Laser Golf Rangefinder Strap is just flawless for all your golf sessions.
Pros & Cons
Pros
Displays in 1-yard increments.
Slightly larger than a smartphone.
Weighs only 4.4 ounces.
Nikon's quality optics w/ 6x magnification.
6 – 550 yards display range.
Water resistant/Rainproof.
Cons
The small size makes it hard to hold steady sometimes.
Owner's manual could include more detailed instructions on its use.
Last update on 2023-10-04 - Images from Amazon Product Advertising API
---
4

. LaserWorks LW1000SPI Laser Rangefinder Review
Extremely long range shots
---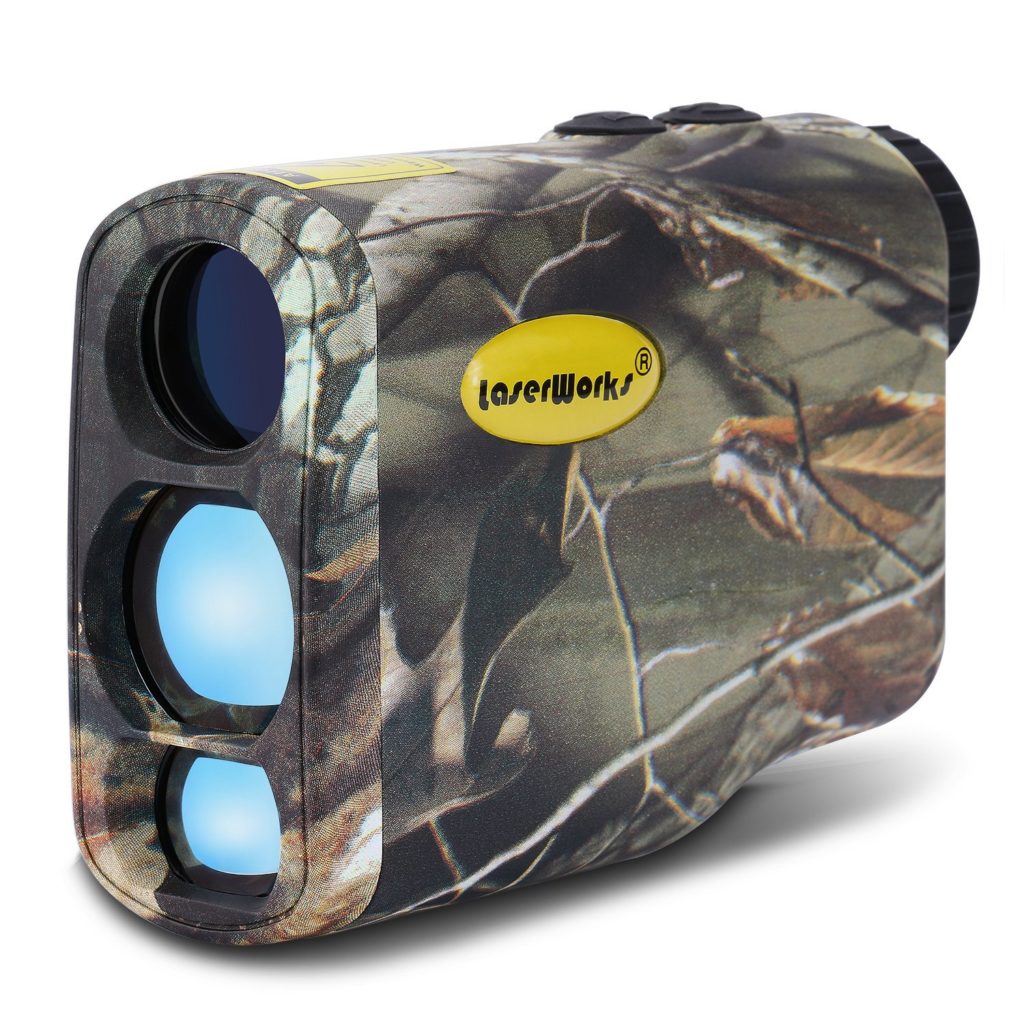 LaserWorks LW1000SPI Laser Rangefinder –Â image credit Amazon.com
We feel LaserWorks has come up with a really nicely designed rangefinder here. It is perfect to help assist you if you like to take extremely long range shots. This is one of the few range finding products that will work out to 1000 yards accurately.
It features a great optics package that includes the ability to magnify an object up to 6 times what you can see with the naked eye. It has several different modes you can use it in including one that will allow you to use it even under foggy conditions.
The long life CR2 battery it has should last you for many months or years too, thanks to this range finding products 15-second non-use auto off switch.
It is a rangefinder that is compact (not much bigger than a candy bar) and lightweight (152 grams) so it's easy to take anywhere you want to go with it.
— Never run out of juice.
Using Viridian CR2 3v Lithium Battery, you'll be able to use this awesome rangefinder for a longer period of time. The advanced technology gives an excellent output every time you need it.
Pros & Cons
Pros
Works accurately out to 1000 yards.
Powerful 6x magnification.
Water and dust resistant.
15-second auto power off feature.
The size of a candy bar.
Camouflage body design.
Soft feel exterior.
Cons
Takes a second to focus when zooming.
Owner's manual needs improvement.
Last update on 2023-10-04 - Images from Amazon Product Advertising API
---
5

. ATN Laser Ballistics 1500 Smart Laser Rangefinder
Rechargeable battery
---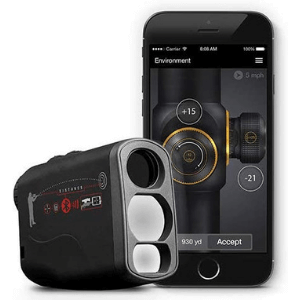 Smart integration for next level accuracy
A modern smart range finder that connects to your phone, ATN Laser Ballistics Laser Rangefinder connects via Bluetooth and has an exclusive app for viewing calculations. The downloadable smartphone app gives you better flexibility and control when measuring the precise distance between you and your target. This is all possible thanks to various impressive features of the rangefinder and the app, which also makes things easier. 
Smartphone connectivity gives you a better chance of getting the most accurate results; every time, the consistent results impressed us a lot.  This rangefinder provides the distance by calculating the time it takes the beam to reach the target within +/- 1 yard. This feature improves the accuracy of the shot at about 1600 yards regardless of the angle of the shot. 
Precision and Innovation
Additionally, the impressive ballistic calculator of the rangefinder can compute complicated calculation with ease to give accurate distance results. Best of all, the results, as well as the calculations, are easy to understand for novice users, so it's suitable for all skill level shooters. To further improve the experience, the rangefinder can be paired with other devices likes smart HD to get the exact point of impact adjustments.
To top it all off, the rangefinder comes with a two-year warranty for high-level performance.
Pros & Cons
Pros
Amazing performance for around 1500 yards
Smartphone sync
Innovative wireless technology
Ballistic calculator provides accurate results
Two-year warranty
Cons
It is not compatible with 4k scopes
This rangefinder does not pair with new phones
Last update on 2023-10-04 - Images from Amazon Product Advertising API
---
6

. Laserworks Rangefinder 1200 Yard
Organic Light Emitting Diode display
---
Versatility And Reliability
Designed specifically for tough hunting conditions, the LaserWorks Hunting Rangefinder combines weather-resistant features to make long-range shooting easier even in the most extreme conditions. Accurate up to 1,200 yards out, this rangefinder features an ergonomic non-slip build that is both comfortable and strong. 
The S7 Laser Rangefinder provides much-needed reliability in different hunting environments that is suitable for every hunter out there.
The quick response mechanism of this rangefinder is accurate from 5 to 1200 yards, with +/- 0.1-yard accuracy. It features an angle compensated horizontal distance mode, continuous scan quick readings on different objects, the ability to track a moving target and line of sight mode.
Made to be tough
The accurate and quick results have earned it a positive reputation among users because it delivers a winning combination of features.  The display is clear and easy to read, thanks to the multi-coated optics. The quality of the continuous mode is truly impressive. 
The non-slip grip and design ensure you will have a steady hold. Unfortunately, the performance is compromised in low light, and it is not great for use in late evenings and at nighttime.
Pros & Cons
Pros
Multiple versatile modes
Reliable Non-slip exterior
Superior weather-resistance
Cons
Subpar performance in low light
Last update on 2023-10-04 - Images from Amazon Product Advertising API
---
7

. Bushnell Hunting Series Elite 1 Mile Con-X Laser Rangefinder Review
Blue Tooth Wireless connection
---
Last update on 2023-10-04 - Images from Amazon Product Advertising API
Do you want a rangefinder for long range shooting that connects with your phone? If the answers yes, then you should definitely give Bushnell Hunting Series Elite 1 Mile Con-X Laser Rangefinder a try.
Elite 1 Laser Rangefinder is equipped with modern facilities to make sure you get the best of both worlds. You'll connect your smartphone using Con-X and after that, you can fix the rangefinder from the settings. It's a feature that you should definitely have on your rangefinder.
You'll also be able to see the display from your smartphone and ever change the reticles to MOA or mils. This allows you to control this awesome tool without even touching it.
It covers 1760 yards with ease, giving you crystal clear view all the way. The Rangefinder also offers three modes, which includes: Scan, Brush, and Bullseye. The build comes with a waterproof coating that makes it durable even in the rain.
— Add up extra perfection.
The Kestrel 5700AB Elite Weather Meter and Kestrel 5000 Series Rotating Vane Mount and Carry Case is here to save your day. With the weather meter, measure up all the environmental factors with ease. The mount goes perfectly with your weather meter and provides the support it needs.
Pros & Cons
Pros
Comes with a tripod mount.

Offers Vivid Display Technology.

E.S.P. system is 2nd generation.

Covers a wide range of distance; up to 1760 yards.
Cons
The output is adequate, not as extraordinary as it claims.

Sometimes it doesn't pair with the phone.
Last update on 2023-10-04 - Images from Amazon Product Advertising API
---
8

. Sig Sauer KILO2200MR Laser Rangefinder Review
Ultra-fast refresh time
---
Sig Sauer KILO2200MR...
Superior light transmission and optical clarity
The kilo rangefinder is engineered for extreme...
Manufactured in United States.
Last update on 2023-10-04 - Images from Amazon Product Advertising API
Sig Sauer KILO2200MR Laser Rangefinder is another premium level optical introduced by Sig Sauer. With an extraordinary range of 2200+ yards, this can easily be one of the best rangefinders for long range shooting. Offering a magnification of 7x, this rangefinder has a wide field of view.
This will enable you to cover big grounds and hit your target without any difficulty, or whatsoever. Using different modes is really simple. All you have to do is push a button and it'll scan the distance or speed within only 0.25 seconds.
It also supports four types of measurements every second, giving you a higher level of accuracy than any other rangefinder on the market. The OLED display makes sure you have an uncluttered view.
Additional features offer a higher level of durability with its extra strong build. It's made of magnesium alloy and it's covered by a black rubber armor. So, there's no chance of slipping it out of your hands.
— Make your Rangefinder durable.
With Navitech Pro Eva Hard Case. It's the perfect case for your Sig Sauer KILO2200MR Laser Rangefinder, providing the necessary support you need. Also, using the Mildot Master you'll be able to calculate the distance at ease.
Pros & Cons
Pros
Comes with a CR2 battery, which lasts up to a year.

Anti-reflection lens coating gives a flawless crisp view.

Lightwave DSP Engine refreshes the measurements faster.

Extremely lightweight.
Cons
Not best suited for eyeglass users.

The reticle has some alignment issues.
Sig Sauer KILO2200MR...
Superior light transmission and optical clarity
The kilo rangefinder is engineered for extreme...
Manufactured in United States.
Last update on 2023-10-04 - Images from Amazon Product Advertising API
---
Summing Up Our Thoughts on Rangefinders for Use with Long Range Shooting
Rangefinders are truly great pieces of equipment to own if you like to shoot your weapons over a distance. If you talk about the best of the very best Rangefinder for Long Range Shooting, we have shared our top 8 list to help you to pick the perfect option that ticks all of your requirements, and offer you the excellent long-range shooting performance that you have always strived to achieve.
We really like all of the models we reviewed here. We feel any one of them would be a great purchase that will enable you to accurately learn the distances to the targets you want to shoot.
Remember the keys to finding the best rangefinder for long range shooting is:
Making sure it covers the distance away from you that you want to shoot at.
Make sure it is easy to use.
It should be a compact and lightweight design.
You want anti-glare optics that present a clear image.
It should be durable and weather-resistant.
If you keep all of these things in mind when shopping you will have no problem making a sound rangefinder purchase.