Tapping on the best recurve bow to ace your hunts and target practice sessions is never fool-proof. The gear market has countless options depending upon the buyers' aims, budget, and expertise. Needless to say, there are enough chances of you ending up with a below-standard bow. Fortunately, if you are a beginner level archer/hunter and looking for the best recurve bow, you've landed at the right place.
I am going to walk you through the best take-down recurve bows, explain crucial aspects of a bow, and shed light on the dos and don'ts of bow shopping. So, let's start right away!
Why Should a Recurve Bow be Your Ultimate Choice?
Well, some people might argue that why would anyone go for an old-school hunting weapon in this technologically advanced era; you should look at the broader picture.
Did you know Howard Hill, the all-time best archer from America, won 196 archery tournaments in a row with a simple bow? No fancy pulleys, no automatic gadgets, and no easy-breezy handguns; just one bow and numerous arrows to ace the hunting world. Yes, that's what Howard Hill had achieved from 1930-1950!
However, since Howard had developed enough muscles and practice to pull heavy bows, he used to favor longbows (those that require up to 100 lbs draw weight). For beginner hunters, on the other hand, working with longbows is quite problematic and stressful.
But, no need to abandon your archery passion because of this weight if you're starting out. A recurve bow is the perfect replacement for heavy longbows. These recurve bows require comparatively lesser force and provide the archer with the same vintage archery feels (unlike fancy bows).
The archer has to pull the string with his full body force and aim the target with his eyes (no rangefinder). Honestly, that's the real fun of archery! Either you have planned to target practice, or want to try your luck in turkey hunting with a bow, we've got you covered.
My list of best recurve bows will let you pick one as per your budget and purpose (no need to buy a bank-breaking weapon if you won't use it frequently). So, let's find the best recurve bow for you now.
Best Recurve Bow: Our Picks
---
Last update on 2023-12-01 - Images from Amazon Product Advertising API
---
Best Recurve Bows: Product Reviews
---
1. Southwest Archery Tigershark Take-down Recurve Bow
---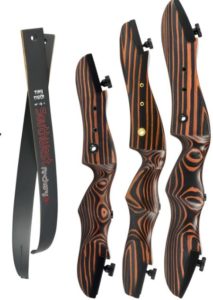 Southwest Archery is in the bow business for the last two decades, which makes this brand one of the finest gear manufacturers of this era.
Their Tigershark take-down recurve bow is a mighty and robust bow that can hold your full body force and lets you shoot with ultimate preciseness.
Its limbs are made from solid wood, which indicates your Tigershark bow won't wiggle when you shoot arrows through it.
This is a 62″ long bow that offers eight different draw weights, ranging from 25 to 60lbs.
You can pick a draw weight according to your body strength, height, and level of expertise. For beginners, 25lbs draw weight is perfect.
Similarly, for big game hunters, 50-60lbs draw weight works wonders.
Southwest archery has explicitly crafted this durable and lightweight bow for all terrains, and carrying it around won't bother you at all. You can easily disassemble its limbs and pack it when you're traveling.
1-year manufacturer's warranty ensures that you'll get value for your money in the form of this precise and efficient recurve bow.
Features
62" long.
Made from solid wood.
Take-down design.
3 lbs weight.
25-60 lbs draw weight.
Both right and left-handed designs available.
Hand-crafted riser.
Stylish limbs.
Pros & Cons
Pros
Precise pin-locking feature.
Lightweight
Included useful acessories
Adhesive arrow set.
Portable
Easy-to-balance
1-year manufacturer's warranty
Cons
Not suitable for young adults.
Last update on 2023-12-01 - Images from Amazon Product Advertising API
---
2. Southland Archery Supply Take-down Recurve Bow
---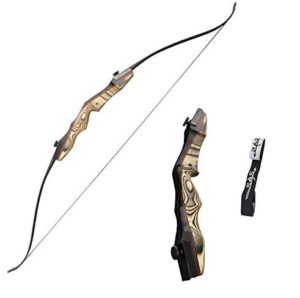 This southland archery supply bow should be your ultimate choice if you're a beginner archer. This flexible bow will allow you to practice endlessly without leaving your muscles strained.
Also, since this take-down recurve bow has a flexible body, it can bear as much force as you wish to put in.
The southland archery bow is crafted from maple lamination that shines brightly and make your bow look sophisticated when you hang it on your shoulder and roam around (you'll get all the veteran hunting feels).
Its draw weight varies from 22 to 64lbs, which suits everyone's needs. Either you are a seasoned hunter or are a mere learner; this take-down recurve bow will always make archery delightful for you.
Its string and riser are specially made stable and resilient for long archery sessions.
This all-in-one bow is affordable and precise simultaneously, which ensures that your money is going in the right place.
Southland archery supply has decorated this bow with all essential features and made it the best recurve bow for hunters.
Features
66" long.
22-64 lbs draw weight.
Weighs 2.5 lbs.
Made for maple lamination.
Solid riser and string.
Take-down limbs.
Pros & Cons
Pros
Comfortable for beginners
Flexible
Precise shooting
Compact design.
Inexpensive
Great for hunting.
Cons
Difficult for people under 6 ft height.
No products found.
---
3. SPYDER and SPYDER XL Takedown Bow
---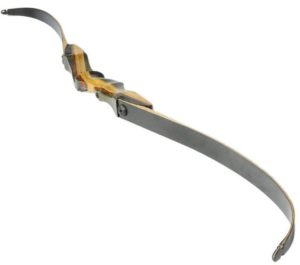 The southwest archery take-down bow offers 20-60 lbs draw weight; you can select a draw weight as per your needs. This bow is one of the ideal choices for big game hunters who do not want to spend a lot. Although this 62†long bow can become difficult for short heighten archers, you can still learn to manage it if rough-tough hunting is your passion.
Its wood riser and shiny limbs look elegant and give your hunting gear a sophisticated touch.
Also, the SPYDER recurve bow comes with numerous accessories i.e. a case, arm stringer, arrow-set, and three strong arrows. Southwest archery has specifically added these tools to facilitate beginner archers.
Due to its up to 60 lbs draw weight, this bow allows power shooting and doesn't let the prey escape if you succeed in spotting it timely.
Moreover, as this recurve bow comes in two sizes i.e. L and XL, it's perfect for tall archers. The market is loaded with average length bows, but finding a long-yet-effective bow used to be tough. Fortunately, Southwest Archery has designed these two bows with ultimate precision and high-quality material; regardless of your height, you'll love practicing with it.
Albeit its lightweight body, the SPYDER recurve bow is exceptionally robust and doesn't wiggle when you shoot; hands down, this is the best recurve bow for hunters in all aspects!
Features
20-60 lbs draw weight.
Wood and maple manufacturing.
2.1 lbs draw weight.
Wooden riser.
Well-focused.
Sturdy limbs.
Pros & Cons
Pros
Numerous useful accessories included.
Forceful shooting.
Builds archers' muscles.
Well-balanced.
Comfortable grip.
Smooth riser.
Best for tall archers.
Cons
Last update on 2023-12-01 - Images from Amazon Product Advertising API
---
4. KESHES Takedown Hunting Recurve Bow and Arrow
---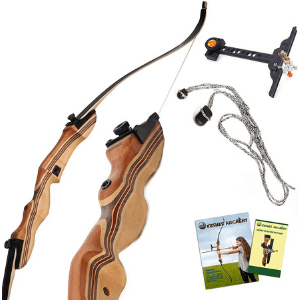 KESHES Recurve Bow is one of the best versatile recurves bows under $150. It is excellent for both beginners and advanced hunters. It is made in both left and right-handed iterations, which adds to its versatility.
It comes in multiple drawback weight options ranging from 15 lbs. to 55 lbs. You can the drawback weight according to your requirement without worrying about the price as all of the drawback weight options are available at a standard $114 price.
Another excellent feature of KESHES Recurve Bow is its material type. It is made with different kinds of wood, making this rare bow lightweight yet highly durable and sturdy.
If you want to invest in a recurve bow that will last you years and can be upgraded with your experience level, then KESHES Takedown Hunting Recurve Bow is a reliable option. Its preinstalled brass brushing makes it easier to add upgrades as you require.
Features
62″ long.
2.7 lbs in weight.
15–55 lbs draw weight.
Made with different sourced wood.
Features preinstalled threaded Brass Bushings.
Pros & Cons
Pros
An excellent option for both left and right-handed people.
Perfect for beginners and advanced hunters.
Affordable yet highly durable.
Lightweight and comfortable.
Attractive design.
Well-balanced.
Cons
Fragile plastic arrow rest.
Last update on 2023-12-01 - Images from Amazon Product Advertising API
---
5. Samick Sage Takedown Recurve Bow
---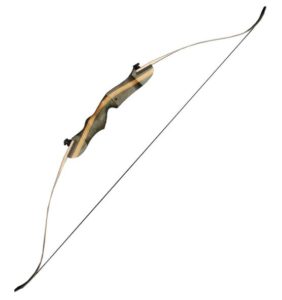 Samick sage recurve bow is doubtlessly the master-of-its-craft. Ranging from precise shooting to solid build, this recurve bow is adorned with all essential features.
Its 25-60 lbs draw weight gives you freedom of choice; from beginners to experts, everyone can flawlessly hunt with this Samick sage recurve bow.
This bow has glistening limbs made from maple and glass, which not only look vivid but are also durable.
Its take-down style will make your travels comfortable by freeing you from the hassle of carrying a long bow. You can conveniently assemble/disassemble this bow because of its well-built rider and stiff limbs.
Although this bow is heavier than my other picks, its smooth operation and power-hitting will quickly compensate for this weight.
You'd never find yourself struggling to balance this 63†long bow, all thanks to its robust and balanced body.
Features
63" long.
3.4 lbs weight.
25-60 lbs draw weight.
Made of maple and glass.
Shiny limbs.
Pros & Cons
Pros
Great for beginners.
Great for advanced hunters.
Power hitting.
Easy to balance.
Robust body
Portable design
Easy to assemble/disassemble
Cons
Sale
Last update on 2023-12-01 - Images from Amazon Product Advertising API
---
Best Recurve Bows -Â  Comparison
---
---
Buying Guide For Best Recurve Bow
---
Like everything else, buying a recurve bow also needs your attention and time. If you simply pick up a bow and think, "I'll make it work," you are probably wrong. Not all bows are the same; they all have their pros and cons. And, to help you make a wise decision, I have compiled this little buying check-list, which will ensure you don't go wrong in your first-time bow shopping.
Here're some aspects you need to consider before getting the best recurve bow:
When you're continuously practicing and can't hit the right spot, bowing sessions can go unexpectedly long. To avoid any muscle strain/pain, your recurve bow must be lightweight and compact. By opting for a bow weighing less than 5lbs, you'll be able to enjoy long archery sessions without over-exerting yourself.
How much force you can put into shooting an arrow determines the impact it leaves on the target (and that's what we call draw weight). For big game hunting, having hefty draw weight is inevitable. However, for beginners (and others with thinner bodies), the massive draw weight isn't good.
Therefore, for your first recurve bow, a draw weight of less than 60 lbs should be preferable. This weight is sufficient for small to mid-sized games and keeps the in-experienced archers comfortable as well.
Once you become a seasoned archer, you can switch to heavier weights and try a hand at big game hunts.
Now this is a bit tricky; but, I'll make it easier for you:
A suitable length of a bow varies from person to person. To measure what's yours, spread both arms and ask someone to measure your arm span.
Now, divide the acquired value (let's say 64â€, which is mine) by 2.5, and you'd get your draw length (the max you can stretch a bowstring is called your draw length).
So, when the draw length is 25â€, the recurve bow's length should be 50†(double the draw length).
This reason behind this double-length is to provide you enough leverage of shooting with full force. When your bow is short, it can break/wiggle when you shoot an arrow through it.
So, measure your draw length and pick a bow accordingly.
Why do you need a recurve bow? This is the most crucial aspect to be considered. Mainly, there are two purposes of recurve bows; hunting and target shooting.
As target shooting is only used for competitions, strength doesn't matter much in it. As long as a recurve bow is well-balanced, it can serve the archer flawlessly.
However, if hunting is your primary plan, your recurve bow must be top-notch.
Firstly, your hunting bow must offer a draw weight of 50lbs and more; this can vary according to your target.
And secondly, it should be resilient enough to bear your body force without wiggling. If a hunting bow has weak build, it simply isn't worth your money.
Recurve bows come in two forms; fixed and take-down.
A fixed recurve bow cannot be bent down and usually its curved part is a single piece. This style can sometimes make hauling this bow a bit difficult as they are long and cannot adjust in all places. Still, they offer immense stability to hunters and work incredibly well.
Take-down bows, on the other hand, can be separated into three pieces and packed with ease. The central portion of a bow is called a rider, and that's where the curved part is attached.
In take-down bows, the archer can unwind the rider and take the string and body off. Although this makes carrying a recurve bow effortless, some archers argue that this style is not sturdy enough.
Again, it depends upon your purpose. If elks and beer are your to-hunt animals, go for fixed bows. Or if you'd like hunting birds and rodents, a take-down bow will serve the purpose rightfully.
---
FAQs About Best Recurve Bow
---
1. Should I prefer a fixed bow or take-down bow?
The answer depends upon your purpose. If you are an archer who needs a bow only for practicing, a fixed bow will work fine for you.
However, if you are a hunter who needs to travel on and off, a take-down style will make things easier for you. As packing a take-down bow is painless, hunters should opt for them.
2. What is draw weight?
The force you put in while pulling a bowstring is called draw weight. In other words, the more you pull the string, the more draw weight you insert in it.
When an arrow is shot with 50 pounds or more draw weight, it travels speedily and penetrates deep in the object.
3. What draw weight should I prefer?
As everyone has different body strength, so draw weight depends on everyone's own strength. But newbies should go for draw weight lower than 60 lbs.
4. What is a riser?
The central part of a recurve bow is called its riser. This is where you place the arrow and pull it back before shooting.
In take-down bows, the riser can be removed and packed separately. In fixed bows, on the other hand, the riser and the curved part adhere to each other.
Final Words
When you have the best recurve bow in your hunting gear, nothing can stop you from acing the hunting expeditions. Best recurve bows will bring back the charm of manual hunting and keep you fully alert when you shoot an arrow from your tree stand. Once you get the knack of archery, you would never abandon it; archers call it an addiction for a reason, you know.
There are several different types of bows to choose from, but I prefer a recurve bow for its stable and consistent performance. However, before making the ultimate decision should consider several factors like bow size, price, draw weight, color, design, technical specs, included equipment & features, and so on.
To make it simpler, I have compiled this article on best recurve bows to facilitate the beginner archers so that they get best-of-the-lot pieces, and learn archery speedily and accurately. Pick any of the bows I have listed down, and you'd be amazed by its smartness, accuracy, and ease-of-use; that's a promise.
So, don't forget to take the best recurve bow with you before heading out for western hunting this year. Also, I am sure you'll enjoy hunting with a traditional hunting weapon that is sharp and accurate simultaneously. Believe me, once you get that perfect bow, you are going to enjoy target shooting and hunting like never before. Cheers!