The best red dot sights are game-changers for modern shooters. It is the fast recognition of targets and an easy tactical decision based on the simple attenuation; backed up by the co-witnessed iron sights that make a good shooter that much better. More than making a shooter better, it puts a good shooter in a position to utilize all the available field of view and offers a fast acquisition point of reference, so you can make quick decisions with accurate results. We're going to help you find the Best Red Dot Sights for AR 15 Under $100.
With the improvement in electronic sight technology and the easy path to innovation that other market technologies allow, the available options are excellent; even given the low price point of the $100 threshold. In general, the amount of bang for your buck at even a $100 entry point is exceptional.
That said, it's a battlefield full of land mines that need to navigate to uncover the best options at that price point. It will be important to temper your expectations; if you are used to a $450 Red Dot Sight, you aren't going to be very impressed at the $100/under threshold.
This article will take you through the basics of choosing an inexpensive red dot sight, and help you find the right one with a suggestion that you can take to the bank. We review some of the top red dot sights available on the market currently. These sights are surely a feat of engineering, designed to improve vision while you hunt or practice shooting.
The best AR sights are durable, lightweight, have excellent calibration, and have an energy-efficient system that uses battery power resourcefully. 
Our Top 5 Best Red Dot Sights for AR 15 Under $100 in 2020
Last update on 2023-05-28 - Images from Amazon Product Advertising API
---
The Different Types of Red Dot Sights
Let's get it out into the open quickly: the idea that red dot sight simply means a sight with a red dot in the view is outdated and ridiculous. The concept is more all-encompassing than that. You could classify any electronic optic without a lot of magnification as a Red Dot sight and any shooter worth their salt will know what you're talking about.
The chance that you'll be teased by your shooting buddies about saying "red dot sight†when referring to a holographic sight with a green triangle reticle, couldn't be further from reality.
It's important to note though, that when you are talking about very specific technologies that have a trading name attached to them, or when you are trying to differentiate two or three products, it's appropriate to clarify the type or brand and model name of the product to help aid in identification of the main attributes of a specific optic.
So here are the main types of "Red Dot Sightsâ€:
# Reflex Sights
A reflector type sight, known as a Reflex sight will act as a mirror that projects a theoretical point of aim onto the target but does not project anything onto the actual target, simply it shows as you look through the optic, that the target has a specific focal point on it. The point of aim is still viable no matter the angle you look in the sight at. Most of the sub $100 red dot sights are going to be something like this style or firmly within the segment.
# Prismatic Sights
A Prismatic sight will generally offer a sophisticated reticle image etched onto the glass and the chance for optical magnification, which may help with longer distances or for when you want a larger sight picture. It's similar to a scope, and therefore will have an eye relief component. It may not be suitable for the fastest sight picture in all scenarios, but it will be good for repeatable tasks at a specific range or for longer distances. It starts to get steeper in pricing as you get into this market segment; there are not a lot of options sub $100 in this market segment.
# Holographic Sights
Holographic sights are much more complicated options. They tend to be more expensive as well, the sight will use a laser derived hologram to project onto a target, then takes that image and reconstructs it onto the optic focal point. This allows you to have a full field of view, as well as an accurate point of aim wherever your viewport is. The reticle/focal point will then appear to be at the target for maximum heads up data. It's rare that you'll see a true Holographic sight at the under $100 price point.
What Can You Do With a Red Dot Sight That Makes it so Versatile and Viable for a Shooter?
You'll be able to say cool words like "co-witnessâ€. More than that, you'll be able to perform it. It's way cooler sounding than it is exciting. What it means is that you will be able to use two sight-specific options at the same time. Most specifically, if planned properly, you'll be able to look at your iron sights while simultaneously using your Red Dot Sight. This can be beneficial for a couple of reasons:
You can use the iron sights if the optic dies.

You'll be able to use both eyes open which will improve your peripheral view and heads up accounting for environmental information.
Is $100 Enough For a Legitimate Red Dot Sight?
Yes, and no. But mostly yes. If you are exploring the concept, you can find quality $100 or fewer red dots all day long. However, if you have a specified use case that requires a large majority of the benefits of the top tier Red Dot or other electronic optics, then it may be time to look at the next pricing tier at least ($110-$375 or so).
But don't be too worried, if you know your hard limit, top-end budget is at $100, you'll easily be able to find something that you can put to good use.
Things To Be Aware of When Choosing a Red Dot Sight For Under $100
The battery life can be poor.
The materials can be weaker or even seem like afterthoughts.
Most of them aren't built ruggedly enough to ensure that you are able to bang around with them in a legitimate hard day to day use.
The battery that comes with the unit is likely to be absolutely useless.
Before we dive headlong into the candidates for the best red dot sight for the AR-15 for under $100, let's talk about how important the practice aspect is.
If you buy a red dot sight, you don't instantly become a better shooter. You still need the fundamentals and you still need to practice with your firearm while using the red dot sight.
Most importantly, you might need to re-train yourself to use a "two eyes open†approach, that gives you situational and full target awareness, which can, in turn, make you a more instinctive shooter. A commitment to becoming a better use of your surroundings and the data visualization of your environment will contribute to being better integrated with your new red dot sight choice.
Now to the 5 best choices for a red dot sight or electronic sight for the AR platform that is under $100 right now:
Reviews of The Best Red Dot Sights for AR 15 Under $100
---
1. Ozark Armament Rhino Red/Green Dot Sight Review
Exceptional customer service
---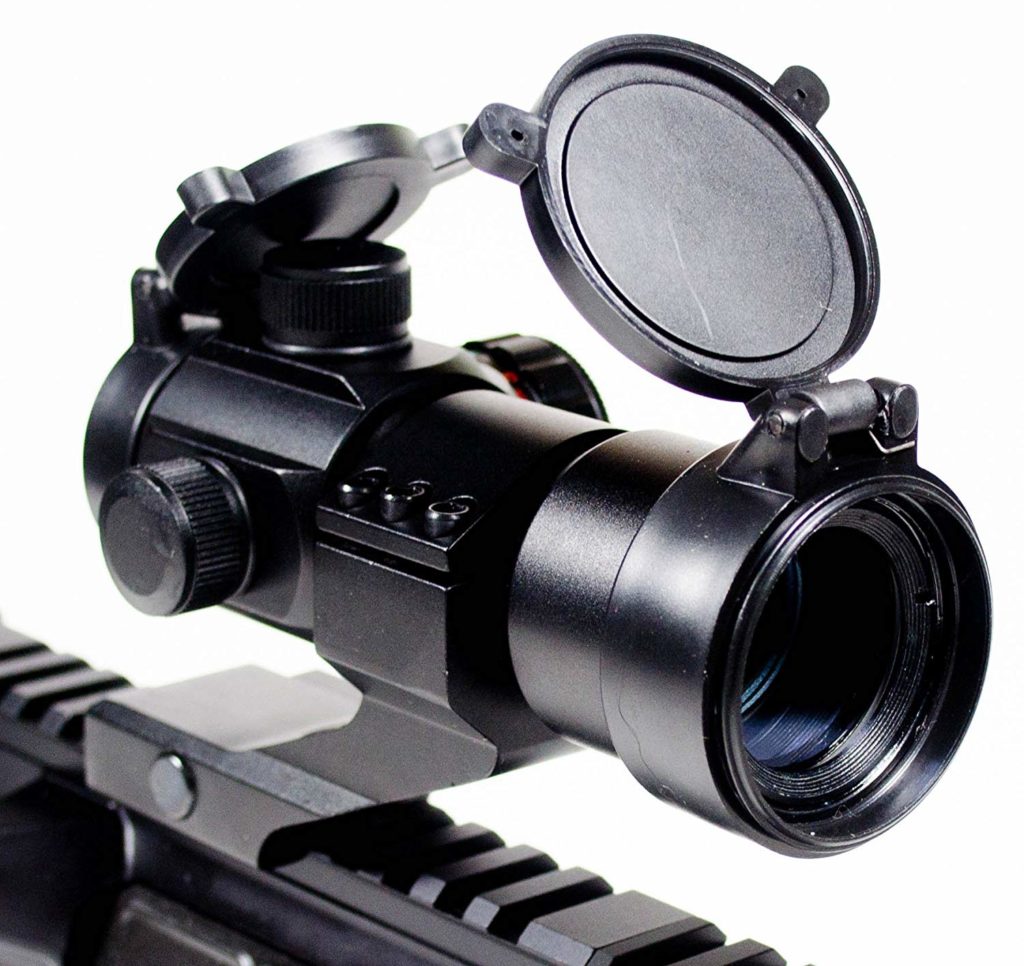 image credit ozarkarmament.com
It's an inexpensive sight with a relatively straightforward co-witnessing ability. The 4 MOA focal point will get you on target for tactical and most target shooting. It's a quick access sight and the variability of illumination and color allows you to play around with your preferences until you decide on a format you like. It's plenty durable for the money and has exceptional customer service.
Pros & Cons
Pros:
Cheap.
Made in the USA and a lifetime warranty.
Simple.
Cons:
Marketed heavily but doesn't live up to all the hype.
Not as durable as some other options.
— Why do you want this Red Dot sight for your AR 15?
You can't find something made in the USA at this price point that has a lifetime warranty. They are basically asking you to rough this thing up. For the money, you cannot find more bang for your buck, even if you must sacrifice some of the higher end fit/finish/quality and some durability. But don't question the durability too much: Ozark has that lifetime warranty.
Last update on 2023-05-28 - Images from Amazon Product Advertising API
---
2. AT3 Tactical RD-50 Red Dot Sight Review
Exceptional battery output
---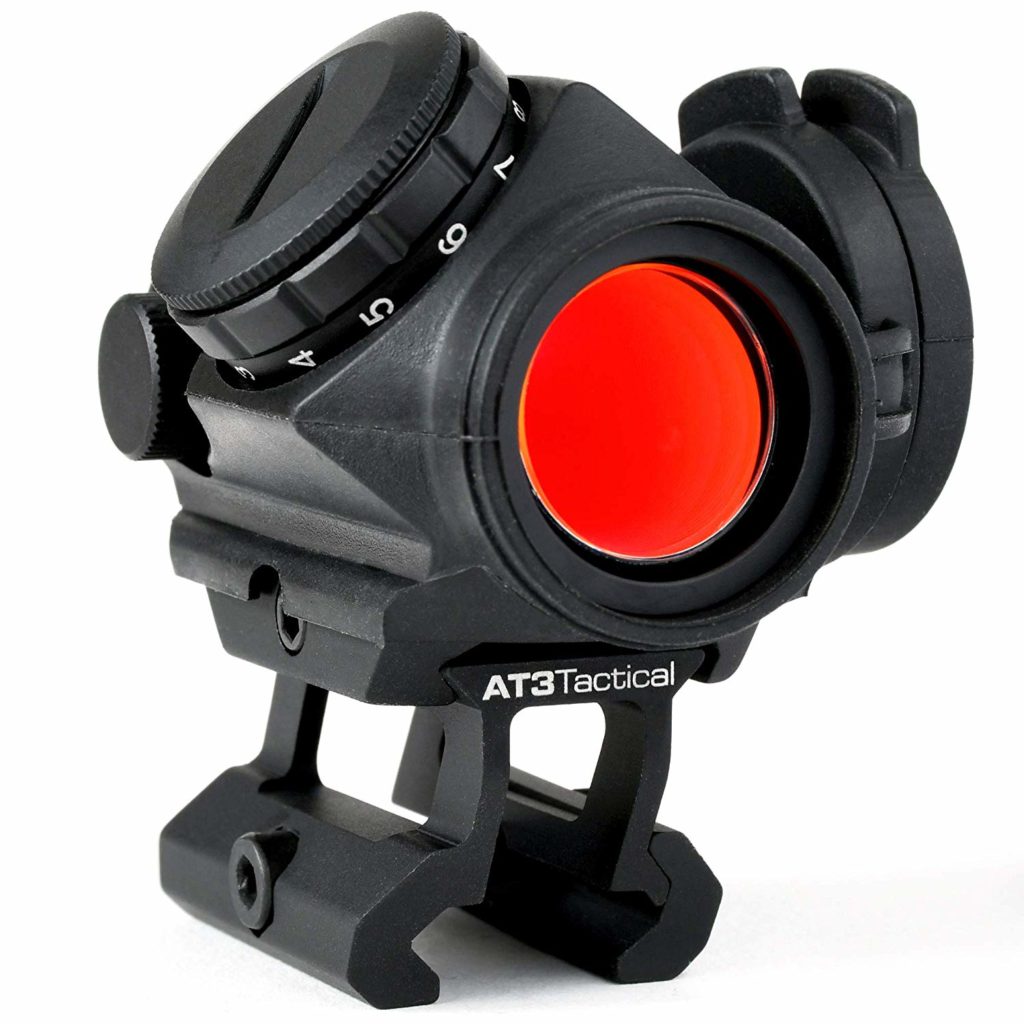 image credit at3tactical.com
AT3 Tactical Red Dot RD-50 may be the best product on this list, and it is clearly a winning option at sub $100. The adjustability and durability of this unit make it very nice to have when you need to count on your optic to get you out of a sticky situation. The known brand and good warranty mean you can actually count on it longer-term.
Pros & Cons
Pros:
Still inexpensive.
Great factory battery and battery life.
Riser mount for co-witness.
Good quality lens.
Lifetime warranty.
Cons:
Can tend to "starburst†which can be annoying in the sight picture at times.
— Why do you want the A3 Tactical Red Dot sight for your AR 15?
It's easy to stay both eyes open and the adjustability of the reticle and the brightness settings means you have ultimate control over what you see and how it behaves. The battery is not an extra expense as the factory included battery is top quality generally.
Last update on 2023-05-28 - Images from Amazon Product Advertising API
---
3. Bushnell Trophy TRS-25 Red Dot Sight Review –
Top-quality materials for the money
---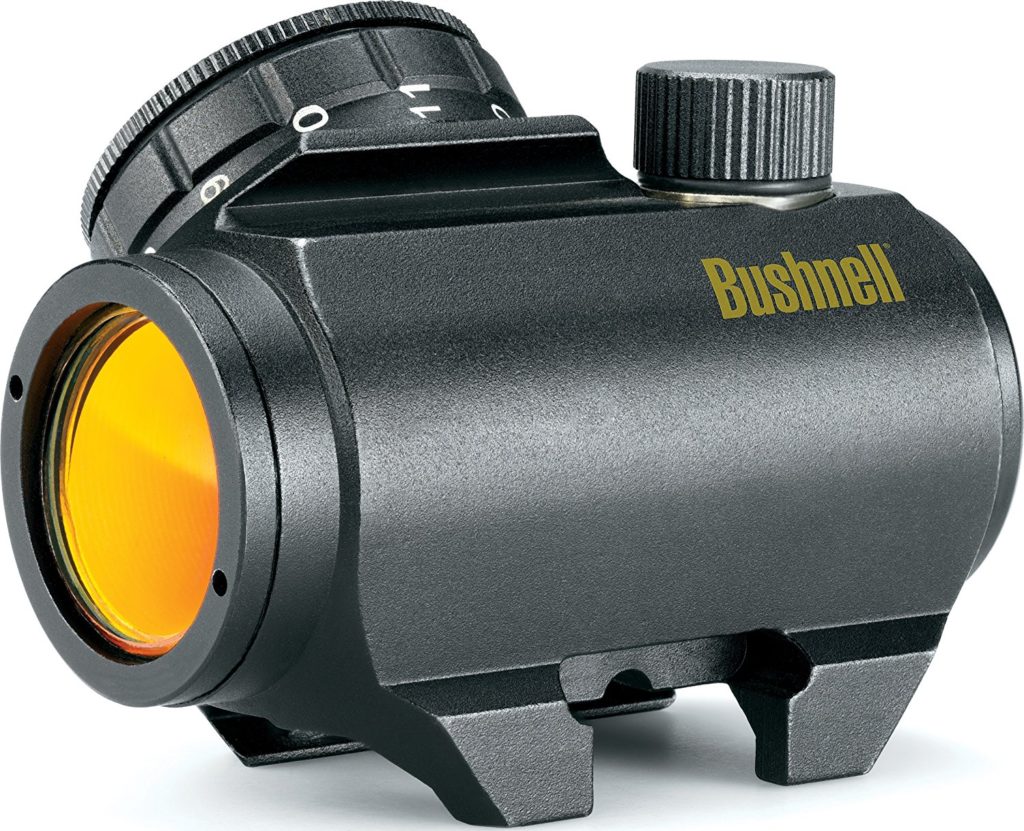 image credit bushnell.com
The Bushnell name counts for something still, despite some harsh words on internet forums in the past. This is the most brand recognition on the list and it shows with the top-quality materials for the money. The Optics are good and the fit and finish are excellent for the price point and relative to peers.
Pros & Cons
Pros:
Bushnell brand name.
Good optics.
Lightweight.
Cons:
Admittedly not Bushnell's top-quality product.
— Why do you want this Red Dot sight for your AR 15?
You get this sight because you want the optical clarity, the durability and the lightweight design with the clearly superior on-board electronics. This is a good choice for any number of firearms not just one of the best red dot sights for your AR 15 under $100.
Sale
Last update on 2023-05-28 - Images from Amazon Product Advertising API
---
4. Sightmark SM26008 Ultra Shot Plus Red Dot Sights Review
Exceptional optical clarity in any environment
---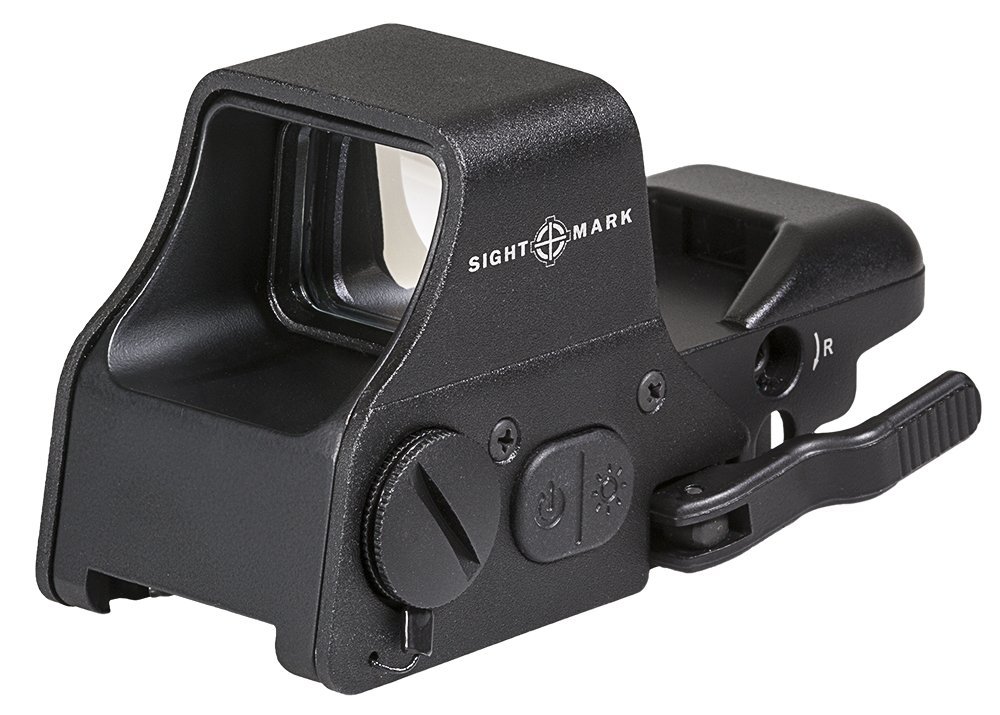 image credit sightmark.com
This is by far the most durable unit on this list, and it is ready for doing battle. That said, it's not perfect. For the money, you can easily dismiss some of the concerns, like the looser quick detachable mount which may require some thread locker. It is weather-resistant more than most on this list and at higher price points.
Pros & Cons
Pros:
Durable compared to the rest of the list.
Cons:
The nuts on mounts may need additional loc-tite or hard tightening down.
— Why do you want this Red Dot sight for your AR 15?
If you need paper writer one that can take a beating, there is no other option at below $100. Let that be the sole deciding factor, because all-in, this is a bargain piece of hardware. The lighting is not as good as it could be, but for the money, it's hard to complain about the performance of the piece.
Last update on 2023-05-28 - Images from Amazon Product Advertising API
---
5. TRUGLO TruBrite Multi-Reticle Dual-Color Open Dot Sight Review
Open sight for the fastest sight work
---
image credit truglo.com
TruGlo is a well-known brand and they usually make products that are quite competitive. This Red Dot Sight is no exception. The benefits far outweigh the price point or the drawbacks. It's the most open sight design on this list and for the money, it's hard to beat for rapid sight acquisition.
Pros & Cons
Pros:
One of the faster sight acquisitions.
Cons:
Can feel a bit cheap at times.
–Why do you want this Red Dot sight for your AR 15?
If you need a 100% open sight for the fastest sight work, this may be your best bet for a red dot sight under $100 for your AR-15. This is a strong contender based on speed and field of view alone. It is decidedly less durable than some other options but it's not a bad piece of hardware by any means.
Last update on 2023-05-28 - Images from Amazon Product Advertising API
---
Conclusion
When you need full-time situational awareness and quick sight acquisition as well as the enhanced ability to make a trigger pull decision on a target to save time, the Red Dot Sight is a top-quality option. The items on this list are all contenders for the title of the Best AR 15 Red Dots for less than $100.
But one will likely stand out to you above the rest. That's the thing about the modern shooter: there are so many options and so many great deliveries on technology, that it's really come down to aesthetics and bullet point list items for which one makes sense for you, and that's not just about picking an inexpensive optic.
Your customizability and choice for optional hardware and accessories make this shooting thing quite rewarding. It is this customization that spurs the shooter on to get better and become more capable in tactical and sporting situations. We hope we've helped you to get a bit better as you read through this list of red dot sights that will put you on target faster and more accurately.