Finding the best Rifle Scopes for 200 Yards can be a massive challenge, especially if you do not have enough experience. This blog is subjected to inform you about the seven best of the best rifle scopes in the market and help you make the right selection from the tons of 200-yard rifle scope options.
If you are in a rush and looking for the best rifle scope for 200 yards, then we suggest you look at the Pinty AR15 Rifle 3-9x32EG scope. You will need a rifle with a rail mounting system, but these rifle types are now so popular that this Pinty scope still lands high on our list. It comes with several extra parts and customizable features that make it a great scope for the price.
---
Our Selection – Top 7 Rifle Scopes for 200 Yards in 2020
---
Last update on 2023-12-01 - Images from Amazon Product Advertising API
Don't Get Scammed – These Buying Criteria Can Save You Time and Money!
---
Choosing the perfect rifle scope can be a time-consuming task. If you are not familiar with the parts of a scope, then you may have a difficult time deciding what information is important to look at when shopping. Always take the following aspects into consideration when purchasing any rifle scope. Comparing these specs will help you find what you need:
Objective lens size.
Field of view.
Eye relief.
Reticles (for style more than quality).
Read on for more information about these buying criteria.
#1 Optical Magnification
The first thing you should look into is optical magnification. If you want to shoot at a range of 200 yards, then you won't need very powerful magnification. High power magnifications for distances of 200 yards or less would be overkill. It would be like trying to look at a painting from only a couple inches away. How would you know what you are looking at?
A good fixed magnification range from 3x to 7x is good for shooting targets 200 yards out. Although, if you want to get a scope with variable magnification, then 3-9x is enough for 200 yards. I would recommend going for the variable one, because it will give you the option of shooting at a lower magnification for a wider field of view or when shooting at closer distances.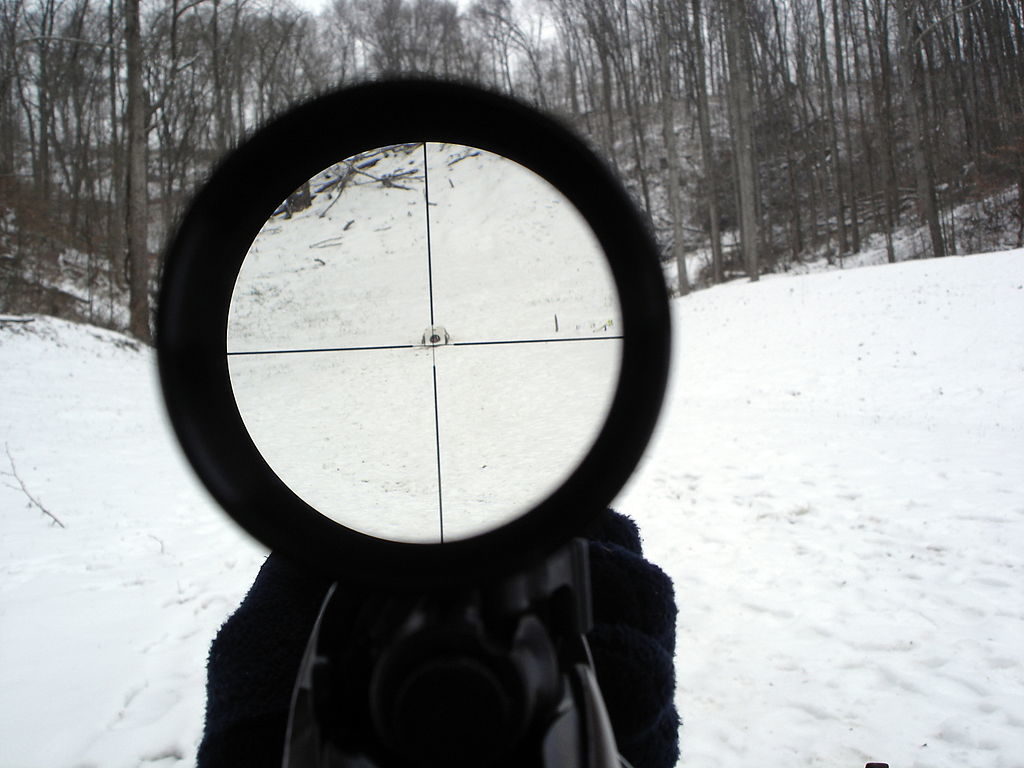 #2 Objective Lens Size 
The larger the objective lens, the more light the scope can take in. The more light the scope can take in, the more potential the scope has for bright, clear optics. I say potential, because this will also depend on the quality of the parts and the scope as a whole.
So, usually larger objective lenses are a better choice. But the larger the scope, the heavier your rifle will be. You might consider adding a bipod if you get an especially large scope with an objective lens of 50mm or greater.
To cover 200 yards, an objective lens from 32mm to 40mm will be quite enough. One in this range will give you a clearer and brighter view of any target within 200 yards.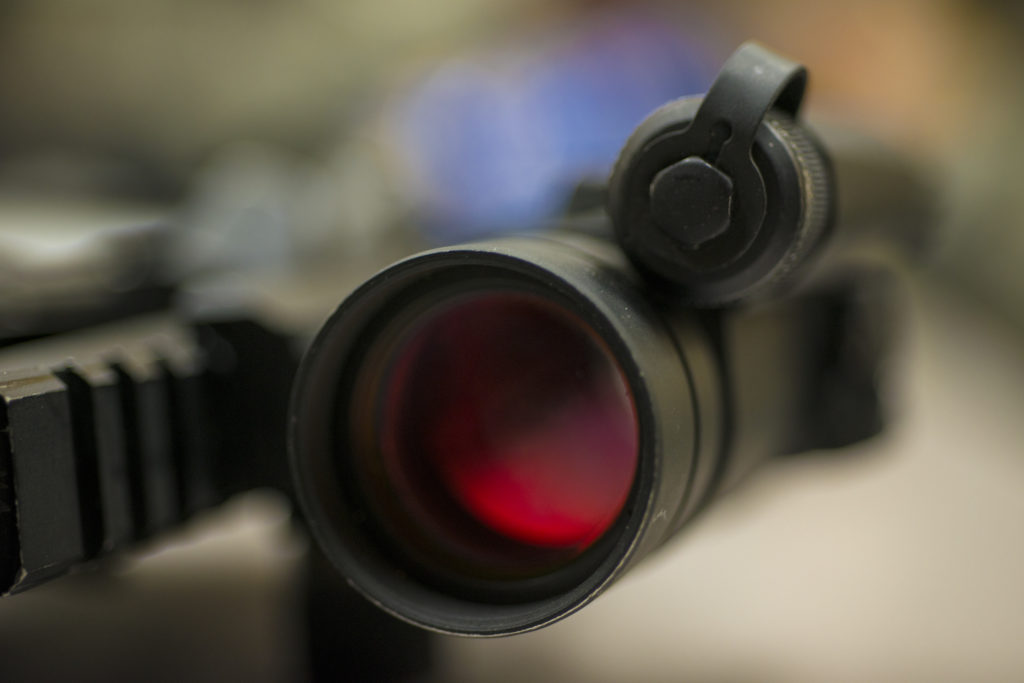 #3 Field of View
Field Of View is an important factor when it comes to rifle scopes. A wide field of view should be your desired choice, because it allows you to see more of the area surrounding your target.
Standard ratings are given as the viewable area at 100 yards. A field of view close to 30ft/100yds is a good option for a scope that you will use at 200 yards.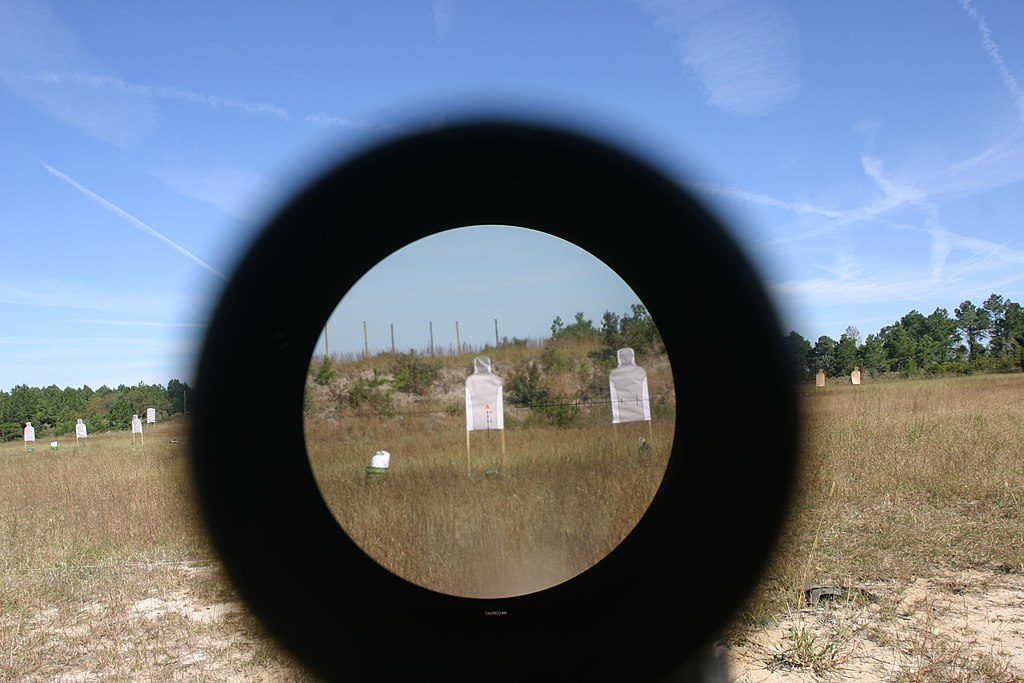 #4 Eye-Relief
Eye relief refers to how close your eye needs to be to the scope in order see a full, clear image. Eye relief will be an important buying criteria if you wear eyeglasses, safety glasses, or sunglasses when shooting. The more eye relief you have, the less you have to worry about your scope hitting your glasses.
Eye relief of 3†is considered acceptable. Some rifle scopes provide eye relief up to 6†which allows a scope to mounted further forward on the rifle. If you have to mount in front of a receiver, then make sure you have enough eye relief.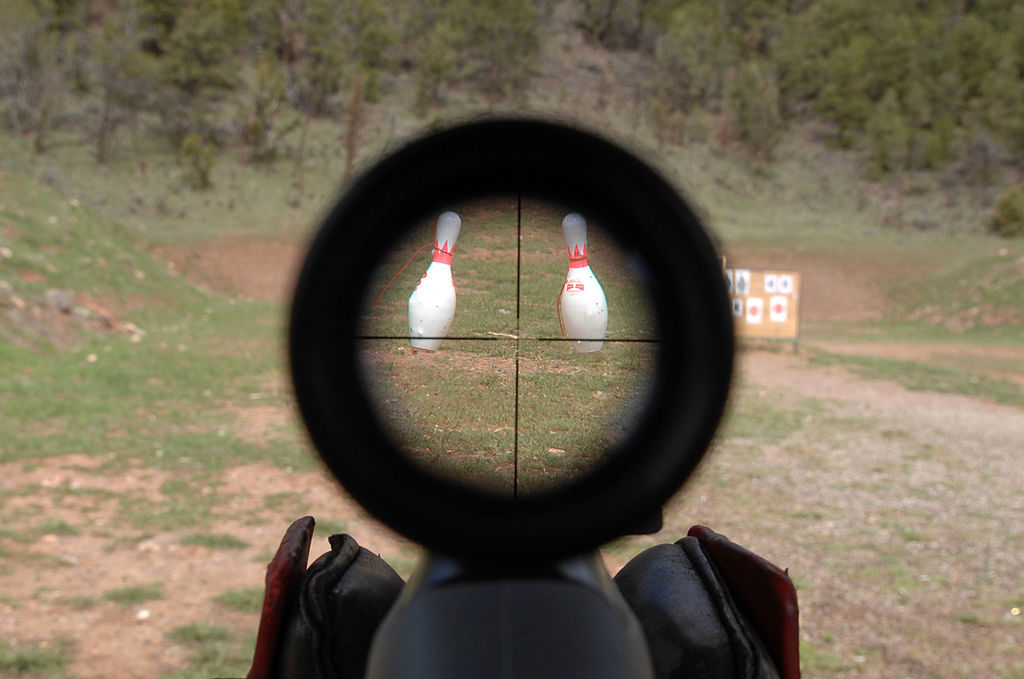 #5 Reticles
Reticles are the fine lines in the optical pieces. They are the "crosshairs†used to line up a target in the scope. There are two very popular versions of reticles—Mil-dot and BDC (bullet drop compensation). Both versions of reticles work by "zeroing†the scope at a certain distance so that you always aim in the middle, the intersection of the X-axis and Y-axis, at that predetermined distance.
The difference between the types of reticles comes in the way that the markings are used to calculate where to aim at distances other than the "zeroed†distance. For a distance of 200 yards, the differences are not that important, because both are simple to understand and use.
For shooting at 200 yards or less, the type of reticles should not greatly sway your purchasing decision. But reticles are an important part of the scope, so understanding them will aid in your shopping process.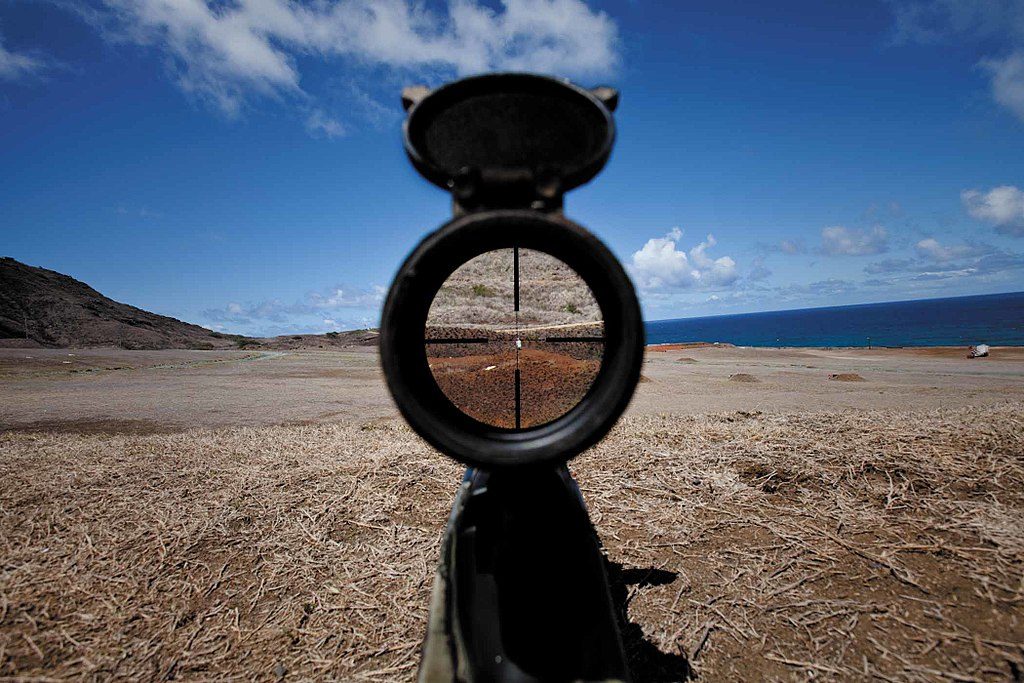 ---
The Reviews – Best Rifle Scopes for 200 yards: Go for the Perfect One
---
1

. UTG 3-9X32 1″ BugBuster Rifle Scope Review – Best Scope Under $100
Best for beginners
---
Last update on 2023-12-01 - Images from Amazon Product Advertising API
This scope was made to provide a crisp view of any target. With its variable 3x-9x magnification, you can see any target within a wide range. And not only is it well suited for 200 yards, but you can also use it for shooting at up to 500 yards if you wish to try for that.
When you need to get your son his first hunting rifle, this is the scope for you. You don't want to put a state of the art scope on a basic rifle, but you also don't want your son to hate hunting because you got a scope that doesn't even zero in properly. The UTG 3-9×32 1†Bug Buster is the middle ground you are looking for.
This quality, the low-cost scope will suit your needs or your child's needs for multiple situations. You won't have to worry about buying another scope as your son's marksmanship improves and he moves from 50-yard targets to 200-yard targets.
And you're all about safety first, right? Then you'll love the generous eye relief that will let your child wear safety glasses with ease when shooting his rifle with the UTG 3-9×32 1†BugBuster scope mounted.
Customer impressions:
Red and green illumination help keep views clear at night.
Crisp optics provide clear views through the scope.
Comfortable eye relief.
Water, fog, and shock proofing make it a durable scope for kids.
Great scope for beginner shooters to get into hunting and target practice.
To make your rifle a little more versatile, pick up the CVLIFE 6-9 inch Tactical Rifle Bipod. The bipod will improve your aim, which you will want for those 200-yard shots.
---
2

. Pinty AR15 3-9x32EG Rifle Scope  Review
Best for night shooting (and tactical look)
---
Last update on 2023-12-01 - Images from Amazon Product Advertising API
Let's face it: sometimes we just want a setup that looks cool. Style can be important, and there is nothing wrong with that. Maybe you already own a more traditional hunting rifle, but you recently got an AR that you want to outfit with a sleek tactical setup that is also functional.
This Pinty Rifle scope does just that. Really, you get several pieces of equipment in one, which adds to that tactical look your friends will love. This can be an excellent setup for wild pig hunting, too. The laser sight of Pinty AR15 3-9×32 EG Rifle Scope will help you get quick target fixes at close distances, and the red and green sights will help you in the low light of night hunting for pigs.
The Pinty scope also comes with a rangefinder so that you can get more accurate shots in the field, too. But you'll probably want a bipod if you hunt with this setup because all this equipment will weigh you down some.
Customer impressions:
Great for a cool, tactical look.
Great for night shooting.
The laser provides fast aiming at close distances.
A wide field of view at higher magnification lets you see more of the target's surroundings.
---
3

. Bushnell Optics Drop Zone-223 BDC Rifle Scope – Best Scope Under $200
Best for use with eyeglasses
---
Sale
Last update on 2023-12-01 - Images from Amazon Product Advertising API
If you need to wear eyeglasses when you shoot, then you must be careful to get a scope with adequate eye relief. Maybe your eyesight is fine, but your favorite perch during hunting season has the afternoon sun in your face and you need to wear sunglasses. You definitely don't want your slick pair of shades cracked by the scope during recoil.
If that sounds like you, then the Bushnell optics Drop Zone-223 BDC Reticle Riflescope is perfect. Generous eye relief and a large optical lens provide easy, bright viewing that makes taking aim synch. And not having to worry about brightness or clarity while trying to take down a big buck can save you a few seconds in a situation where seconds can make all the difference.
Customer impressions:
Bright optics for easy viewing during daylight hours.
Bushnell quality at an excellent price point.
A wide field of view lets you see your surroundings.
Clear viewing makes for easy use with eyeglasses.
If you do have a tactical rifle, then you will need the CCOP High Profile AR-ArmourTac Rifle Scope Mount Rings. This add-on will allow you to mount your Bushnell scope on a Picatinny rail system.
---
4.

Athlon Optics Helos BTR 6-24×50 FFP Riflescope
---
Last update on 2023-12-01 - Images from Amazon Product Advertising API
An affordable and robust scope with clear optics and locking turrets
The Athlon Optics Helos BTR 6-24×50 is an affordable option that does not compromise on features and durability. It features an APMR FFP IR MIL reticle and locking turrets that you can holdover your target easily on 200+ yards. The lift up and lock down knobs for the turrets make it easy to zero them and put them where you need. The multi-coated anti-glare lens is clear and offers bright clear images on distance far greater than 200 yards.
To ensure maximum durability, Athlon has chosen high-quality materials, including aircraft-grade aluminum for the body of the scope, which is ideal for bearing impact or recoil. This Athlon scope is also fog-resistance and water-resistance so that you can use this in both dry and wet conditions.
The illuminated reticle of the scope could have been better, but for the price, it is decent enough to work within different light conditions and weather conditions. Nonetheless, the multi-coated lens, the robust built quality, and the locking turrets make up for the few minor shortcomings of the scope.
Customer Impressions
Good combination of features for the price range
Locking turrets zeroed easily and put it to where you need quickly
FFP Mil reticle ideal for ranging and holdover
Illuminated reticle works in low light conditions
---
5

. Bushnell Banner Dusk & Dawn Multi-X Rifle Scope Review
Best for a wide field of view
---
No products found.
Some hunters want a very close up view of their game, and others want to see more of their surroundings. Strong magnification and a narrow field of view might be nice when you are shooting at small game, but some situations require a wider view.
The Bushnell Banner Dusk & Dawn Multi-X Reticle Rifle scope is our pick for such a situation. You get a wide field of view of 40' – 14' at 100 yards. This is nice for those shots where you have more than one possible target to choose from, and you want to watch them for a minute to see if one animal moves and presents a clearer target.
You will get good quality views out of this scope during those early morning hunts, too. We all know that sometimes your best chance for a kill will be right at first light. But, boy, a deer at 200 yards sure can be a tough shot at first light if your scope cannot gather enough light. The Bushnell Banner Dusk & Dawn scope will make sure that you get a clear and crisp image whether you are taking aim at a big buck at noon or at first light.
Customer impressions:
Great optical quality that provides clear pictures at distance.
Excellent field of view for its 3-9x magnification range.
Great for low light use with Dusk & Dawn Brightness (DDB).
Quality performance for its price point.
---
6

.

Leupold VX-3i 2.5-8x36mm Riflescope

Review
Best for eye relief
---
Leupold VX-3i 2.5-8x36mm Riflescope
Model #170678 - VX-3i 2.5-8x36mm with Duplex...
100% Waterproof, fogproof, and shockproof.
DiamondCoat 2 - Ion-assist lens coating for higher...
Last update on 2023-12-01 - Images from Amazon Product Advertising API
Some rifles require a scope to be mounted more forward than others. If your rifle is like this, then you will need a scope with as much eye relief as you can get. In such a situation, shrugging your shoulders and saying you will make due is not an option. Don't move your old scope from your old rifle to your new rifle with a mounting position 3 inches further forward. Your old setup might have been perfect, but your eye relief probably will be terrible now.
If distance from your eye to the scope will be different on a new rifle, then you need a new scope. For rifles requiring more eye relief, we suggest looking at the Leupold VX-3i 2.5-8x36mm Riflescope. This is not the cheapest scope, but it is one the best brands out there. When you head out with a Leupold scope, you can be at ease knowing that it will perform as intended.
Alongside the generous eye relief, this scope has a wide optical lens that makes for bright, crisp images. So, overall, this scope is very easy on the eyes which will make for a more enjoyable hunt if you don't carry binoculars and like to use your rifle to scan the horizon instead.
Customer impressions:
Good optical clarity with bright views.
Very generous eye relief.
Reasonable price for a quality brand.
---
7

. Vortex Optics Viper HS-T Second Focal Plane Riflescope VMR-1 (MOA) 4-16×44
---
Last update on 2023-12-01 - Images from Amazon Product Advertising API
Vortex is a brand that has become synonymous with quality and innovation. Their offerings are ideal for serious hunters and shooters willing to pay a premium price for top of the line features, good quality, and superior artistry.
Vortex Optics Viper HS-T Second Focal Plane Riflescope in the VMR-1 (MOA) style and 4-16×44 size is another exceptional scope by Vortex. It features the typical sturdy optics and the brand warranties you would expect from the brand.
This particular model is ideal for shooting at 200 yards and more. Built out of a single piece of aircraft-grade aluminum, this scope is robust and well made to withstand the rigors of hunting as well as tactical shooting. The 44mm objective lens and 4-16x magnification range performs well for long-range shooting beyond 200 yards.
It is no doubt that HS-T Second Focal Plane Riflescope is an excellent premium scope from Vortex; however, we do have out qualms – for the price, the scope should have included lens covers.
Customer Impressions:
Precise, robust, and offers long-range performance
Sub-tension marks make it easy to make range calculation and adjustments
Reticle hashmark enables accurate holding of scope at long ranges
The Final Verdict
---
Choosing the perfect scope for a 200-yard shoot can be really tough. Not all the scopes on the market are actually capable of handling such a shot. Some scopes will magnify too much for that range, and some may not magnify enough. Some scopes will have an optical lens that is too narrow, which creates a dark image that will strain your eye. And then some scopes are only good for the middle of the day shooting, which can really limit your hunting hours.
All of the above rifle scopes for 200 yards are fine, but our favorite one is the Pinty AR15 Rifle 3-9x32EG Rifle Scope. This scope lands on top with us, because it is a good quality scope that works well and has the extra features of a rangefinder, low light viewing, and a laser dot. All of these features have the added bonus of giving your AR rifle a really cool look when using a setup with the Pinty scope.