Remington first introduced now-iconic .223 in the market. Since then, the .223 has always been the top most popular round for marksman across the globe. The .223 is popularly known as a more budget-friendly alternative to the all-time famous 5.56mm. Similar to the 5.56mm, the .223 round is also an easy shooting round that can work up close as well.
For the .223 Bolt action shooters out there, a scope is really the only way to get the most out of your rifle. The .223 can easily take the small and intermediate game out past 350 yards, but on iron sights, especially the anemic options on most factory .223 Remington bolt action rifles, you'd be hard-pressed to hit the target in a humane way at that distance. The best scope for .223 bolt action rifles is listed below in our reviews of some of the top candidates.
You may be surprised to not see any scopes over $1000 on this list. We understand the ridiculousness of recommending top tier glass for a bullet that has a very tight range of operational use (in a hunting scenario) that doesn't require more than what we put on this list. We have nothing against the top end of the market, they are great scopes, but they are more than what is needed to excel with this type of rifle and this caliber (the .223 Remington bolt action).
We chose some great all-around scopes that are made for general hunting duties and we invite your feedback.
Best Scope for .223 Bolt Action in 2020 – Our Picks
Last update on 2023-10-04 - Images from Amazon Product Advertising API
---
Reviews of The Best Scope For .223 On The Market Today
With all the basic info, it should be easy for you to choose the best scope for .223. However, we also understand that this can be an extremely tough process with all the options and we have decided to simplify the selection process.
Here are a couple of great scopes you can choose for your .223:
---
1. Bushnell AR Optics 3-12×40 Riflescope, BDC Reticle Review
Best for: Intermediate Fixed Range hunting or target shooting
---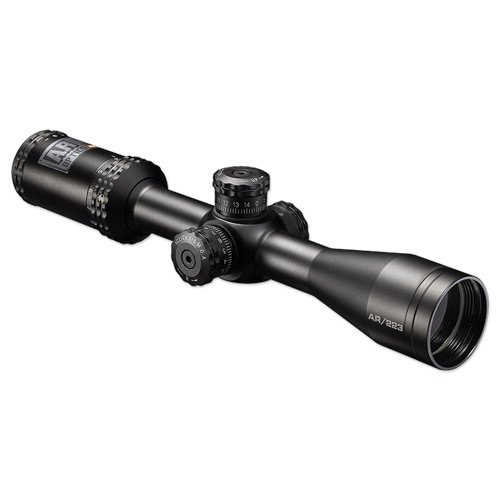 image credit bushnell.com
Bushnell still enjoys quite a solid reputation in the optics world and this is a testament to the fact that when you can produce on a massive scale, you can leverage the economy of the matter heavily. The leverage you get here is proving the power and top-quality materials don't have to cost ridiculous amounts of money.
— Why do we recommend this?
Bushnell AR Optics 3-12*40 can go seamlessly to your AR rifle. (fact: most of the other scopes can as well) But the versatility of the adjustments for the AR and the reticle specifically makes this an excellent choice not only for the AR-15 but for a bolt action .223 too.
Last update on 2023-10-04 - Images from Amazon Product Advertising API
---
2. Leupold VX-Freedom 3-9X40mm Riflescope
Best for: Using as a General Use scope for multiple guns
---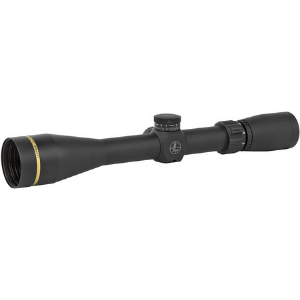 image credit burrisoptics.com
100% Waterproof, fog proof, & shockproof
Made with 6061-T6 aircraft quality aluminum
Twilight Light Management System
If you want a premium quality scope, but you have a limited budget, then Leupold VX-Freedom Riflescope is hands down the best scope under 300. This scope is designed to handle the most challenging situations as it is made with 6061-T6 aircraft-grade aluminum, and it is punisher tested.
Leupold VX-Freedom 3-9X40mm Riflescope easily fits on to your riffle. It features a 3: 1 Zoom Ratio, Scratch-Resistant Lenses, and Twilight Light Management System improves shooting light and ensures crisp image quality.
— Why do we recommend this?
We recommend Leupold VX-Freedom to American shooters because this scope is 100% built-in America with American parts. Thus you can quickly get it serviced in the USA if required. All-in-all, Leupold VX-Freedom offers superior performance at a reasonable price.
Last update on 2023-10-04 - Images from Amazon Product Advertising API
---
3. Vortex Optics Crossfire II 6-24×50 AO, Second Focal Plane Riflescopes Review
Best for: Fixed Distance Shooting
---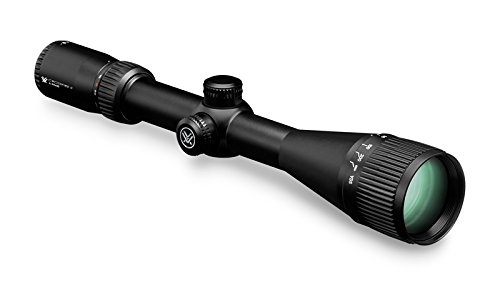 image credit vortexoptics.com
An affordable way to get the superiority of the Vortex line, without having to pay too high a premium for it. The massive objective lens and power magnification variability are second to none in the price point and the BDC reticle is very helpful.
— Why do we recommend this?
Vortex is a premium brand now in the "brandscape†of the scope market. The price for this riflescope that has a Bullet Drop Compensation reticle and 6-24 power (!!) with a massive objective lens means this one is too good to pass up if you can use a Second Focal Plane scope and don't want to spend more than twice as much for something better.
Last update on 2023-10-04 - Images from Amazon Product Advertising API
---
4. Vortex Optics Viper HS LR 6-24×50 First Focal Plane Riflescope – XLR Reticle (MOA) Review
Best for: Long Distance Tactical Shooting or Hunting
---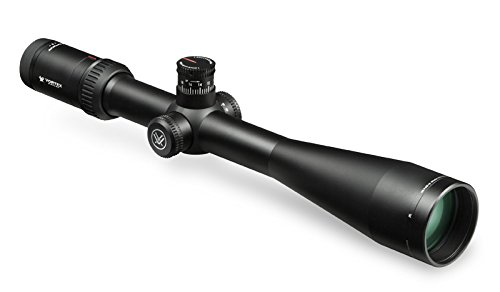 image vortexoptics.com
This was an easy choice for the money, despite it being very heavily on the opposite end of the pricing spectrum from most scopes on this list. This is a full-featured scope that was made for the exact thing that we reviewed these scopes based on: pushing the outer limits of a proven round; for hunting and unpredictable conditions. Given these variables, this scope gives you more opportunities to succeed than any other scope in the field under $1k.
— Why do we recommend this?
Mostly it was the First Focal Plane build as well as the overall general build quality of the Vortex optic. The massive objective lens and 30mm tube with their enhanced light-gathering capabilities didn't hurt the decision either. This is overkill for the limits of the .223 Remington cartridge, but it's always nice to have a top tier piece of glass that can easily be moved from firearm to firearm. The reticle is also not just a novelty, it's well thought out and well-executed. With the First Focal Plane construction, this is a powerhouse on targets out to 800 yards on a .223, which is beyond the agreed-upon terminal ballistic range for the intermediate-sized game, so yeah, there's that overengineering aspect of it.
Last update on 2023-10-04 - Images from Amazon Product Advertising API
---
5. ACOG Trijicon 3.5×35 Riflescopes Review – Honorable mention
---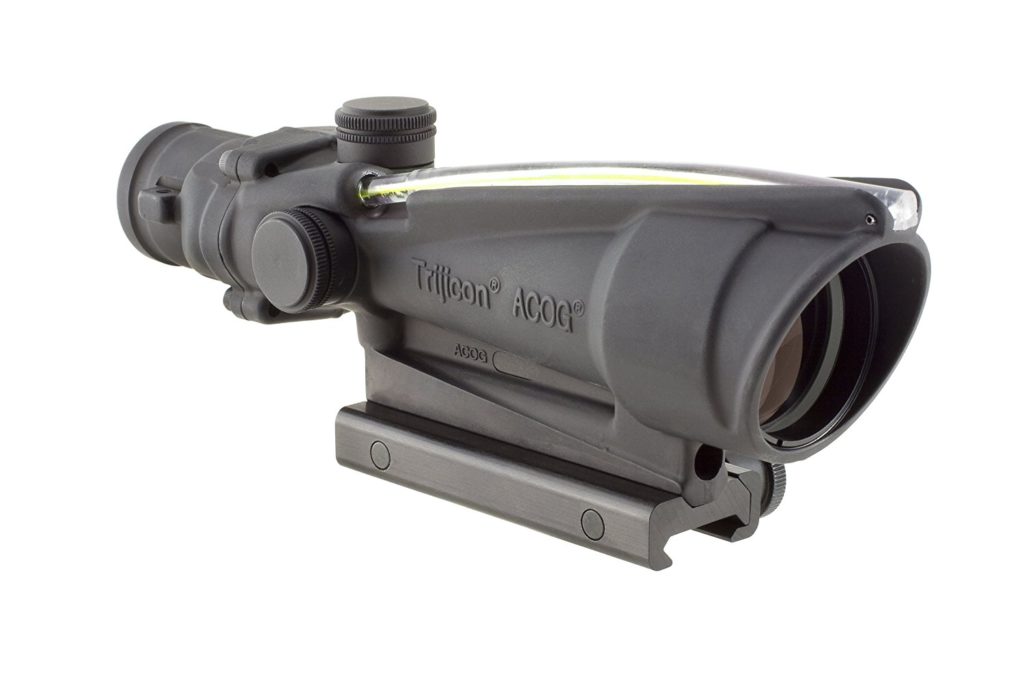 image credit trijicon.com
This is the most controversial scope on the list for a couple of reasons: mostly it's a lot of money for a fixed power scope and it's typically seen as an accouterment to a tactical rifle, not a more traditional bolt action rifle.
Furthermore, it is a fixed power and it's got an illuminated reticle; which makes it very specifically not for a range of hunting distances or for most typical hunting conditions. The mount is for an AR-15 very specifically (or other Picatinny).
But this scope also happens to be the most durable glass optic on the planet. It's been proven for decades in real-world use and it's the quickest to deploy a shot. All these things earn it an honorable mention, just make sure if you buy it, you get the mounts to make it work properly too.
Last update on 2023-10-04 - Images from Amazon Product Advertising API
---
6. Nikon P-223 3-9×40 Mate BDC 600 Review
Best for: Short range Hunting with low cost of entry
---
image credit nikonsportoptics.com 
You need a scope to dramatically improve your shots on target, but you don't want to spend an arm and a leg. Enter the Nikon P-223 3-9×40 scope. If you look closely enough, you're going to see all the best features (with the exception of the first focal plane) from the other items on this list but this scope can do it for less and offers a better-finished product for most of the perks delivered on the scope from factory.
— Why do we recommend this?
It's inexpensive and it does 95% of everything you would ever even consider asking it to do.
Last update on 2023-10-04 - Images from Amazon Product Advertising API
---
Things To Consider Before Buying Scope For .223 Bolt Action
Why Does Everything Seem Build For an AR15?
Even some of the scopes on this list are "AR†branded. It's a symptom of the AR "epidemicâ€, which actually isn't a bad thing. The AR-15 is modular, fun looks cool and shoots well in different scenarios. It is also tested and proven rifle/carbine. The market, as a result, caters to what it knows will sell through more often.
What's important to note though: the .223 bolt action is here to stay. For any legitimate hunting need it is almost always a better option than the AR platform for a couple of reasons:
It tends to be more accurate for less money than an AR-15.
It tends to be simpler to operate.
Built tougher with fewer moving parts for general hunting use.
Modularity and add-ons are not generally needed for the type of hunting that a .223 Remington cartridge is best suited for (small game, and intermediate game at short and intermediate distances).
The same scopes will work on a Bolt Action given the right mounts and rings.
Why Would I Want a Bullet Drop Compensation Reticle?
Unfortunately, that's part of the game when it comes to .223 Remington – you get wind drag on the lightweight bullet and out past a certain range, the bullet is going to drop fairly precipitously. Fortunately, the Bullet Drop Compensation is a science, and it is a well-vetted one when it comes to scopes that are made for the .223 Remington.
Out of bolt action, you get pretty good bullet stabilization, but once you are dialed in with your scope, your BDC reticle will be invaluable. Only one reticle on this list is not a traditional BDC, but it does incorporate a graded BDC into the reticle it offers, so you can see the utility when it comes to .223 Bolt Action Riflescopes.
How Much Power Do I Need in a Scope?
While we did pick some very powerful scopes for this list, almost all of these scopes are overkill by way of the power they bring to the table for the .223. That said, it's always nice to have some expansion or a little room to breathe.
The amount of power needed will be dictated by a few factors; including your general eyesight, the target distance; your preferred game and the surroundings, which will dictate the field of view and surrounding environment especially when talking about the power to magnify at extreme distances. 
Does Durability Matter for a Bolt Action Rifle Scope?
Absolutely. Durability matters for anything in the shooting. Why would we recommend you spend anywhere from a third of the money you spent on your rifle to more than double what you spent on your rifle if it couldn't be considered as a durable good?
That said, some of these are built better than others from a durability perspective. None of the reviewed/recommended scopes are unusually less than "durable†but there are a couple of standouts. Particularly our "Honorable Mention Scope†which made it to this list on the back of its time-tested durability and performance.
In the field, your gun will be hitting against things (trees, the ground, your back or legs) which can damage your scope.
Proper equipment and preventative measures can best cope with potential hazards, but it helps to have a set of durable scopes, to begin with.
What Do I Need to Know About Objective Lens Size?
This is the amount of light that can be gathered through the scope lens. The larger the diameter, the better the light gathering ability and in turn, the better the view in your eye, and the crisper the image under degraded light conditions.
A very important consideration regarding the Objective lens size too is the height of the scope mounts that are necessary for larger tube objective lens sizes like 40mm and 50 mm or higher.
We chose a couple of larger diameter scopes for this list, and therefore we also chose some appropriate rings for mating to them.
You, of course, will need to find the proper mount to use these rings, but the mount is pretty straightforward as you just need to buy for your specific rifle.
---
Why Did We Pick The Scope We Did?
Our top choice for the Best Scope for .223 Bolt Action rifles was the Vortex First Focal plane scope. We know what you're thinking: "of course you picked the most expensive oneâ€, but we assure you, that aside from the fact that usually cost is a good indicator of quality and utility for the optics world (in general), the price was the least heavily weighted factor.
Quite simply, we chose it for the versatility of the power magnification and the objective lens as well as the fact that the first focal plane works astoundingly well for times when you will be hitting targets at different ranges and it is fast for the deployment of a variable shot.
The other scopes are very nice too, though, and if you don't need a first focal plane or the top tier quality of the glass from Vortex, then you'd be very well served with any of the 5 other scopes reviewed in this article.