Picking the best scope for .308 long-range use is a tough decision. There are so many scopes that can be had from even under $100 to well over $3000.
Some of the more capable scopes can even reach $10,000+ in rice; and for the specific use cases where they make sense, they are worth every penny.
In this article, we are exploring a diverse use case group that will attempt to find the best scopes for those who shoot .308 Winchester rifles in various configurations and try to help you find a reasonable candidate amongst a saturated field of scope options that range in price and capability from the very mundane to the shocking.
For this article, we have limited the price range to under $2750, though most are well under $1500 or even $1000.
The main point here is that scope for a .308 rifle is a much different scope than those for a .22LR or a 5.56×45 even.
The punishing recoil and longer-range needs for clear glass and excellent build quality mean that you will be paying a premium for a scope that is built to handle the jobs a .308 Winchester can throw at it, compared to lesser rifles.
---
List of The Best Best Scope for .308 Long Range Rifles
---
Last update on 2020-09-30 - Images from Amazon Product Advertising API
Buyer's Criteria: Things To Consider
---
Why Use a .308 Instead of Another Rifle?
The point of choosing a .308 is several-fold. It has long been the de facto standard for the intermediate to long-range rifle for the U.S. Military, with only the .300 Win Mag and the .50 (BMG) Caliber genuinely taking any of the shooting spectrum from the cartridge beyond 600 meters or so.
The basic attributes of the .308 and why you would want it over something else for intermediate and long-range shooting are as follows:
Longer range than other recoil controllable rifles for most shooters.
Excellent versatility in the load range and the ballistics of the round.
Much better terminal ballistics after the 600-meter range.
A good supply of aftermarket options, accessories and a broad range of rifles available in a broad range of configurations.
Still a relatively inexpensive cartridge – usually less than a dollar a shot even for high-end ammunition.
The recoil can be tolerated by most accessories.
What is a .308 Reticle and Does it Actually Make That Big of a Difference?
Similar to a standard bullet drop compensation reticle, a .308 reticle caters to the unique trajectory and ballistics of the .308 Winchester round or the 7.62x51mm (the NATO "equivalent").
What you gain by using this type of reticle is a built-in adjustment that makes on-the-fly decisions in the field easier to make and more accurate when you are looking down range and need a bullet to hit your target.
It does make a big difference for the less experienced shooter – that doesn't mean only an inexperienced shooter would opt for one – but it isn't entirely a necessity.
With the right amount of experience, any reticle will work and depending on your type of shooting other reticles will be more of a necessity than a .308 reticle.
How Much Power Do I Need in a Scope?
You can decide what you prefer, but most shooters can do what they need to do on a routine basis with a 6-power scope and never have difficulty hitting the target even out to the limits of the .308 load.
One of the best scopes on this list uses a fixed 5.5 power (the magnification) to operate. It is more than enough glass for most use cases, and it is specifically built for the sweet spot of the .308 Winchester round.
However, having the extra adjustability of most of the scopes on this list will give you a bit more detail in your viewfinder.
Does Scope Durability Matter on the .308?
Yes. Durability is particularly important for the .30 caliber and larger loads. The .308 is right on the cusp of where you can start to punish a scope too much.
The recoil profile of the gun is moderate, but the sensitive internal working of a glass optic can be seriously damaged if it is not properly built at this range and above when it comes to power.
Most .308 scopes are built MUCH heavier duty than comparative lower caliber scopes. You must be careful of the durability of builds, hence our chosen price point for this range of scopes.
The best scope for .308 long range rifle use will be a robust, over-engineered scope capable of a lifetime of use on a .308 or larger gun and will be able to easily maintain zero without internal changes.
The .308 even though many consider it on the low end of the power spectrum for the bigger cartridges, still packs quite a bit of recoil when you are talking about items that are sensitive to recoil, like optics.
You will want to use thread adhesive to ensure the best scope zero over long-term usage. Most consider the Blue 242 or 243 Thread locker by LocTite to be the best there is because it offers good dampening for recoil abuse but still allows hand tool removal of screws.
Durability is a major factor in the price and choice of these options for the best scopes for your long range shooting needs. You'll see that as a trend as you look over the following reviews on the best scope candidates below.
---
Reviews of The 8 Best Scope for .308 Long Range Rifles in 2020
The range of pricing will open up a bit compared to lesser caliber scopes for a few reasons, mostly because the internal designs and materials have to adhere to a higher threshold of capability in a gun that can transfer so much recoil power to an accessory (despite most shooters not having a problem with the recoil profile of a .308).
The following scopes represent what we believe to be a diverse set of use cases and offer best in class performance while also spanning a realistic price range.
---
1. Barra Hero MP 4-16×50 Rifle Scope First Focal Plane Review [Made in Japan]
Best for: Budget-conscious (yes, it is still pricey) users that actually need the First Focal Plane and other perks of this scope
---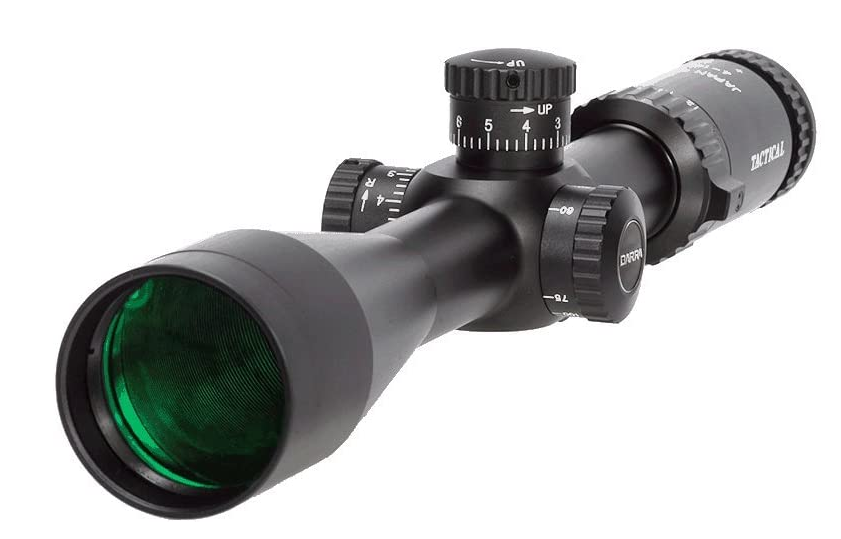 For a dedicated first focal plane scope, this is actually quite a good deal. The quality Japanese components and the impressive build quality for the money mean you are getting a scope that competes with others that are twice the price very easily.
— Why do we recommend this?
For a first focal plane scope that can handle .308 recoil, there is not a better option, certainly not from the bigger names in the industry. This is a steal!
No products found.
---
2. Primary Arms 4-16X44 Illuminated Mil Dot Scope Review
Best for: Those who need a great scope at a great price for a bigger gun
---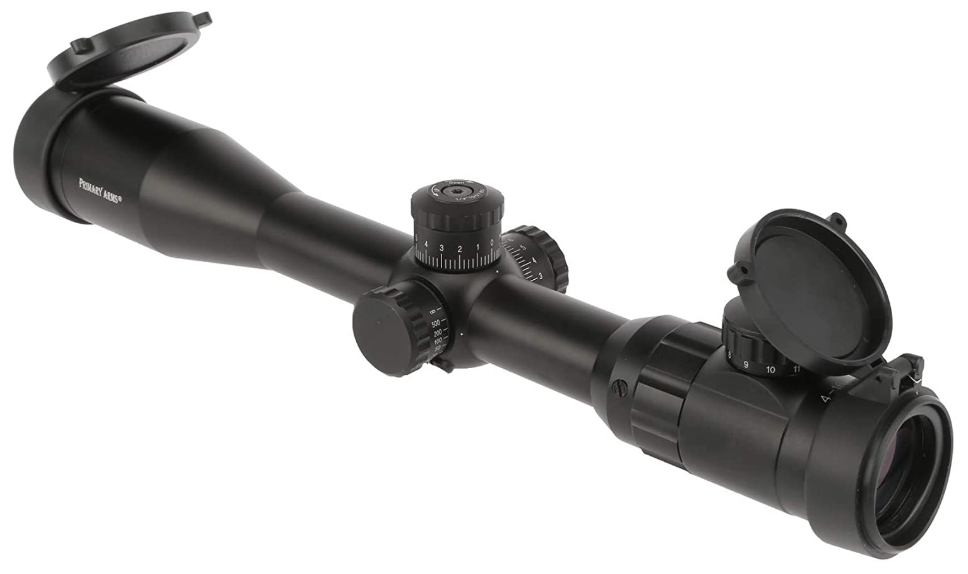 It is simple and straightforward and doesn't require a trained sniper to operate the scope. This is a great choice for those that need a great scope but can't justify spending more than their rifle cost. Primary Arms has excellent customer service; surprisingly good build quality for the price point and they are emerging as a legitimate optic manufacturer.
— Why do we recommend this?
It just works and doesn't take a ballistic scientist to adjust and use.
Last update on 2020-09-30 - Images from Amazon Product Advertising API
---
3. Bushnell 756245B Trophy Xtreme X30 6-24×50 Scope DOA LR800 Reticle Review
Best for: Intermediate Fixed Range hunting or target shooting
---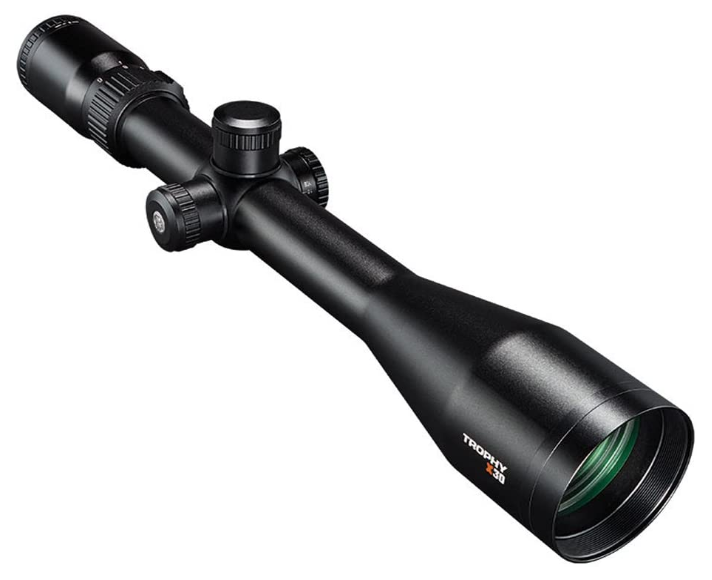 Bushnell, despite having a few items in their overall product portfolio that fall flat, is still a well known and quality producer of optics. This is no exception to that statement.
The price point is far less than the feature set dictates it should be. The coated lenses are fantastic and truly show what economies of scale can do for pricing when a big manufacturer can produce enough units to improve on the cost point.
— Why do we recommend this?
It's relatively tough, relatively inexpensive and will move well from gun to gun without being too finicky.
Last update on 2020-09-30 - Images from Amazon Product Advertising API
---
4.

Nikon M-Tactical .308 4-16X42SF Matte BDC800 Scope

Review
Best for: As a General Use scope for multiple guns in .308
---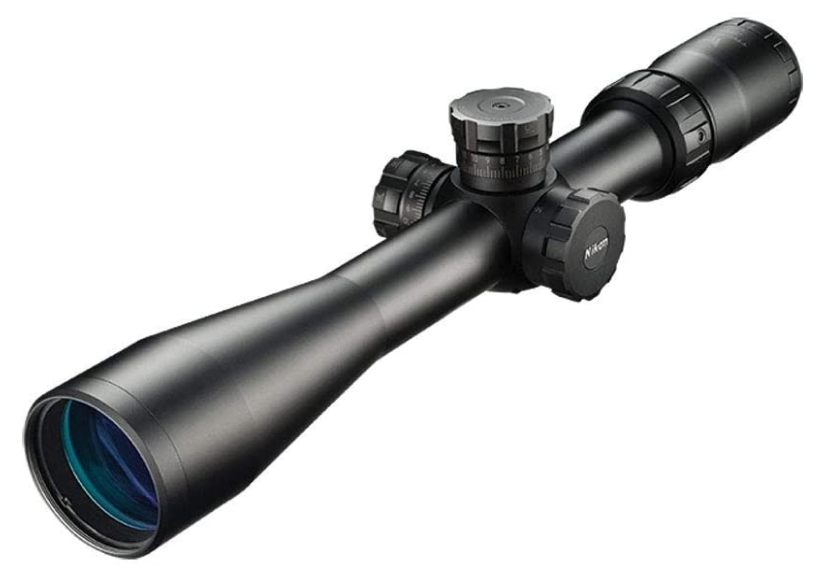 It's affordable and made for the general use cases of a .308 rifle. It can be as tactical as you need it to be, or it can shoot big game. It can be a target rifle scope, or it can be used for competition. At the price, there are few other competitors and none that can actually best the feature set.
— Why do we recommend this?
It is purpose-built for the .308, and that is not just a gimmick to sell a few additional scopes. They took legitimate time and effort to make something that can go cross-platform and get the best out of all your .308's.
Last update on 2020-09-30 - Images from Amazon Product Advertising API
---
5. Trijicon VCOG 1-6×24 Riflescope Ballistic Reticle Review –

Top Pick
Best for: Legitimate hardcore use where normal scopes will be broken easily
---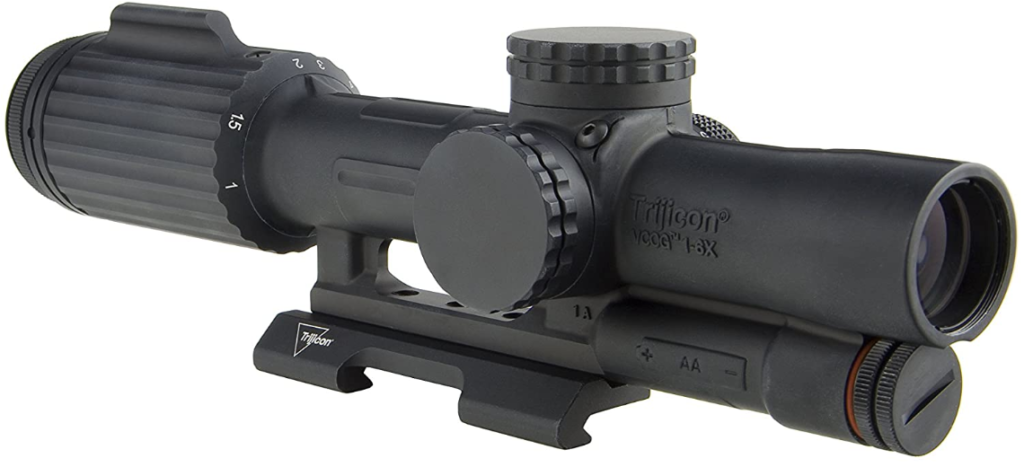 No question, this is the best scope on the list, and for what it can do and for how durable it is, there is nothing like it on the market – a true unicorn, this riflescope is the absolute pinnacle of the tactical riflescopes for the .308.
— Why do we recommend this?
Mostly it was the First Focal Plane build and the inherent durability, but more than anything from a consumer perspective is the legacy of the brand and the way they have consistently outperformed across their own line and the broader market. You buy a Trijicon once. Until you need a second scope – then you buy another Trijicon. They will outlive you generally.
Last update on 2020-09-30 - Images from Amazon Product Advertising API
---
6. Hawke Sport Optics HK6426 Endurance 30 Side Focus 4-16 223/308 IR Scope Review
Best for: Use on .30 cal guns
---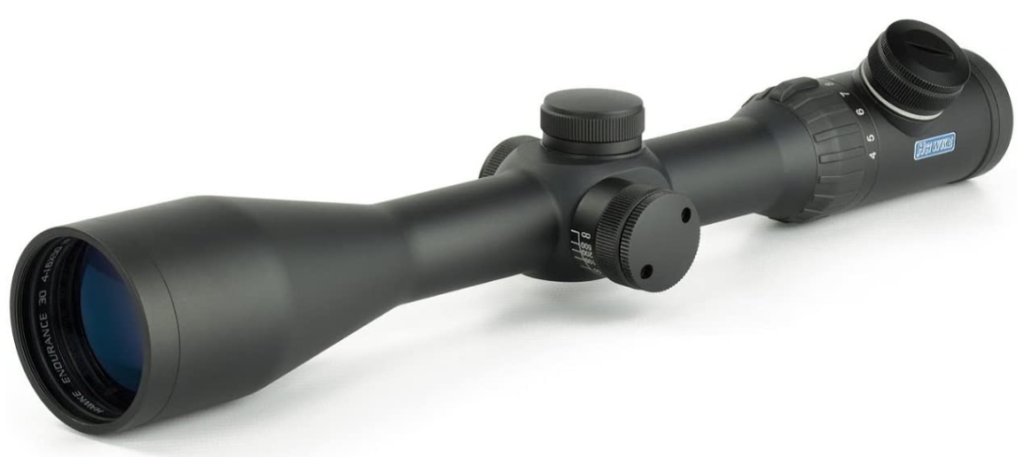 A great, Euro-specific build style that favors certain sport shooting attributes over other scopes. This is a very adjustable and capable scope that can easily be used on any of your .30 caliber rifles. It has excellent versatility.
— Why do we recommend this?
A few of the features seem like a novelty, but they are actually usable, as you learn why they were built in. The parallax adjustment is once such feature and it is impressive, especially given the modest price point for the quality of the glass.
Last update on 2020-09-30 - Images from Amazon Product Advertising API
---
7. Trijicon TA55A ACOG 5.5 X 50 Red Chevron BAC Flattop .308 Reticle Review
Best for: Hard use and fixed-point targets
---

Another no-brainer for the Trijicon scopes. This is the de facto poster child for tactical warfighting optics for the venerable .308 in a fixed power deliverable. It is battle proven, built to withstand the nuclear holocaust and still relatively decently priced. Yes, you give up a little in adjustability, in return, you get unmatched durability and dead-on precision for the specific use case of this tool.
— Why do we recommend this?
Because of Trijicon. If you have owned any Trijicon items, you know what that means. If you haven't, do yourself the favor.
Last update on 2020-09-30 - Images from Amazon Product Advertising API
---
8. Bushnell AR Optics, Drop Zone BDC Reticle Riflescope
Best for: Affordable scope with multiple features to improve the precision
---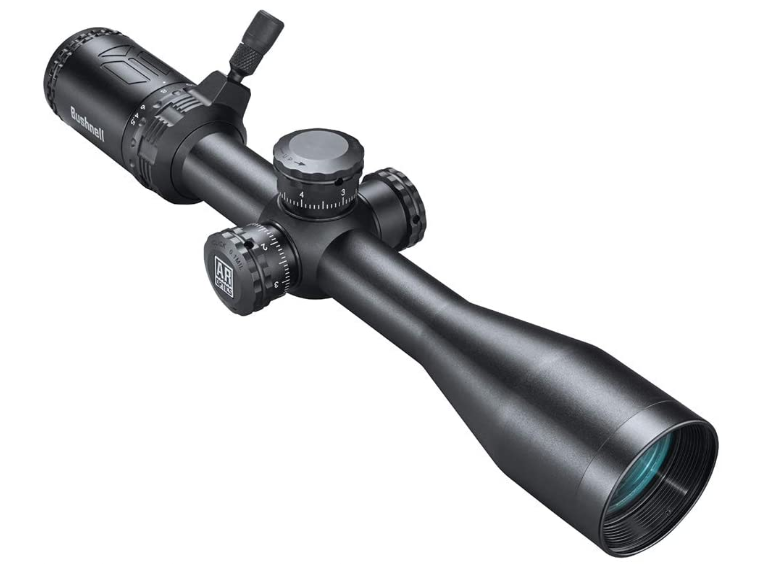 Bushnell is a well-established and highly trusted brand of scopes. Their many years of experience means they have mastered the craft of producing exceptional riflescopes and the Bushnell AR Optics, Drop Zone BDC Reticle Riflescope is no different. It comes loaded with an amazing feature that makes it one of the best in the .308 scopes in the market.
Much like the Nikon M-308, Bushnell AR features side focus parallax that is effective in correcting parallax in various long shooting ranges. The combination of features in this riflescope makes long-distance shooting enjoyable thanks to the corrective parallax for the perfect aim.
Furthermore, the BDC reticle of the scope makes targeting easier for ranges between 104 yards and five hundred yards above. For precision, you have the caliber-specific reticle. You can use the target turret for high precision adjustments. Additionally, to help you up to your games even more, the 1/4 MOA click value is designed for long-range precise adjustments.
The multi-coated BDC reticle offers clarity of vision and optimal brightness in low light conditions. Getting a sharp, clean and crisp image of the target is easy with the Bushnell AR Optics, Drop Zone BDC Reticle Riflescope. For the rapid acquisition of targets, you can trust the fast-focus eyepiece. With 4.5X to 18X, magnification this scope is a great choice for long-distance shooting as well as hunting.
— Why do we recommend this?
This scope has a wide range of features including fully multi-coated optics, fast focus, side parallax correction, and 4.5-18X magnification.
Last update on 2020-09-30 - Images from Amazon Product Advertising API
---
Conclusion: Our Best Pick
---
We picked a mid-ranged scope for the obvious build quality for a traditional glass optic and for the dedicated build that focused on the .308 cartridge. The Nikon M-308 is a no brainer for the moderate price tag and full-featured specifications.
We also picked the toughest, most capable scope on the list for the other choice, not because it was super expensive, but because nothing else on this list or within the price range of most normal shooters would even compete on the same playing field as it.
In fact: to get the quality of this scope replicated you're going to be in the $3000-3500 range all day every day. To get the toughness? No, you cannot. The Trijicon's toughness cannot be duplicated at even a thousand or two thousand dollars more in price.
If we had tried to pick a single scope, we would have been leaving out half the market. For the .308 you either need a rough and tumble optic like the Trijicon is, or you need something that can deliver great performance for not a ton of money like the Nikon can.
As versatile as the .308 is, many use cases come up for the rifle, and we think those two ends of the spectrum give you enough to find a fantastic field of options to choose the best rifle scope for .308 long range rifles. We feel confident in our choices of the finest scopes you can buy for the .308 for long range usage.
Comparing Our Best Scopes for .308 Long Range