Some people are never ready enough to come out of their comfort zones, and that's when they prefer a cozier bed and pillow of their own too. The tale of the other side is 360° different, as backpackers are the beings who opt for adventures for themselves. If you're a backpacker you will second that the struggle is for real, one might face sleep-deprived nights under the sky or even turn insomniac in the worst cases. Before you get this in your destiny, here we have listed down Best Sleeping Bags that are most probably lightweight, compressible, and warm too.
So, with these sleeping bags for backpacking, you guarantee a comfortable night after you're done with a long trail since morning. The weather abrasions and climate change are for real, and that's when sleeping bags, which tend to remain dry throughout, can be your ultimate savior.
Many outdoorsmen prefer lightweight sleeping gears as once packed; one has to carry all this weight on the back while hiking. In summer, a quilt and a mattress may offer you relaxing sleep. But that's not the case when the temperature is dropping down, and you're eyeing some serious rescue to sleep for the rest of the night. Just in case, you want to know, the bonfire around doesn't help you the way the sleeping bags do. 
What makes a Sleeping Bag a Best One? 
It may change person-to-person, but there's some mantra of a suitable sleeping bag that most of the backpackers or pro backpackers would agree. Here are the points that make up an ideal sleeping bag for backpackers.
Less Weight – More Capacity – Compact When packed
The backpacking is an art of just keeping a few of your essentials for all your undecided long trips. So, taking a bag that weighs much will be more likely to give you a backache as you have to walk around while hanging it on your back. The point is a sleeping bag weighing less makes a great deal, but there's no compromise about the spaciousness and comfort it offers. It should be quite spacious when unpacked, but when packed, it should be compact as much as it can get.
Insulation to give you warmth
It's all down to asking you prefer a synthetic bag or the down sleeping one – let us make it easier. The down bags offer much-need warmth along with the lightness. On the other hand, synthetic bags maybe a bit heavier are designed to provide insulation even when they get wet. Now the choice is yours; synthetic bags offer a kind of 3-dimensional insulation while down sleeping bags are 2-Dimensional.
More Zip Sliders for Ventilation
That's what is always on the cards for the avid backpackers as they thoroughly understand how crucial ventilation and zip sliders are to offer matchless comfort. These zip sliders allow you to get intentional cold spots if it gets too hot inside. The variety of sleeping bags even brings the zippered pockets for different parts to get an exclusive insulation mechanism.
Best Backpacking Sleeping Bags of 2020 – Our Picks
---
Last update on 2023-10-04 - Images from Amazon Product Advertising API
Best Sleeping Bags of 2020 – Product Reviews
---
1. Coleman North Rim 0 Degree Sleeping Bag
---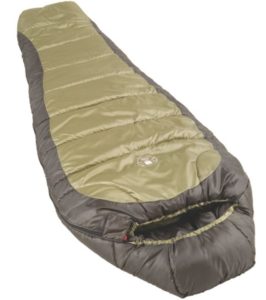 This sleeping bag makes up an ideal deal when you're all set to dive in adventures without fretting too much about low-temperature. To be very exact, Coleman North Rim 0 Degree Sleeping Bag is designed to cuddle you when the temperature is around freezing point. The superior retention ability makes it one of the best sleeping bags money can buy. The mummy-styled hood of this sleeping bag pampers you from all around and gives all the coziness you could ever ask for.
The 100% Polyester is spacious enough for the people tall up to 6 feet 2 inches. The anti-snag feature makes the zippers flawless to run up and down without any lag. At the same time, the zip portion in the bottom part gives you the freedom to unzip and get the ventilation required. If that's the other way around insulated foot box keeps your feet warm even when it's freezing out.
Weighing 4.7 pounds, the Coleman Degree Sleeping Bag is a bit heavier than ordinary sleeping bags but that's very much justified as it's a Mummy Sleeping Bag. This might be difficult to handle for the newbie backpackers but it has got all the reasons to be in globetrotters' must-have list.
Features
Thermolock Draft Tube
Foot box Insulation
ZipPlow System
Mummy-Shaped Design
Pros & Cons
Pros
Spacious
Works fine under low temperatures
Offers the ventilation through zip
Cons
Bulky
Difficult to carry
Only perfect for colder climate
Last update on 2023-10-04 - Images from Amazon Product Advertising API
---
2. Sleepingo Double Sleeping Bag
---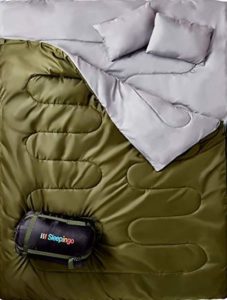 The XL Sleepingo Double Sleeping Bag is all about your choice if you want to share it with someone really special or get it split as two individual bags. The queen size bag offers the soft internal lining that has to stay in touch while you're asleep. The sturdy texture from the out is set to challenge the extreme weather conditions without getting wear and tear.
It may lookalike and perform actions as good as a giant bed, but just an average weight makes it good-to-go for everyone. The double sleeping bag is hikers favorite and lovebirds too when they want to have some quality time under the sky. Even if it offers an ample amount of space, it's never a compulsion that two of you have to stay together in it as it can also be used as two individual sleeping bags.
When unfolded, it's all about your convenience as it's just like holding a small bag which never looks disorganized. Once you roll it out, it'll make up a perfect sleeping bag for you and your loved ones.
Features
Queen-size Portable Sleeping Bag
Sleeping Bag for 2 Adults
Waterproof
Tetron and Cotton for the inner lining
Pros & Cons
Pros
Can be used as TWO Individual Sleeping Bag
Soft from the Inside, Durable from Outside
The package comes along with two pillows
Cons
Thin and Less Warm
You may need blanket along
Sale
Last update on 2023-10-04 - Images from Amazon Product Advertising API
---
3. REDCAMP Cotton Flannel Sleeping Bag
---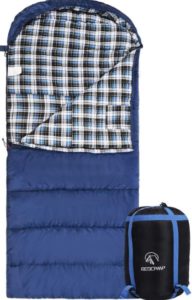 If softer is safer for you and you aren't planning to travel to some colder region, this sleeping bag made up cotton and flannel is one for you. Though it topped up and rebounded with polyester ripstop fabric, still, it's more of the cotton standing as a doer in the case. The male hikers may find it one decent option when they are eyeing for something minimalistic, and that is to perform complete functions.
What we mean by the complete function here is the fine performance when the temperature is between 32-59°F/0 – 15°C. Once it drops down, you may be shivering with a cold unless you were wise enough to carry one or two extra blankets with yourself.
The 2-way zipper option, from the right and left, allows you to combine these flannel sleeping bags to become one XL sized bag. So, if it's party time, this sleeping bag may get you over the line.
Features
Softer Material
2-Way Zipper
Compressed Sack
Pros & Cons
Pros
Internal pockets to store your essentials like ID and Cards
Combine 2 to make 1
Cons
Not recommended for females
Sale
Last update on 2023-10-04 - Images from Amazon Product Advertising API
---
4. UPSKR Sleeping Bag Lightweight & Waterproof Bag
---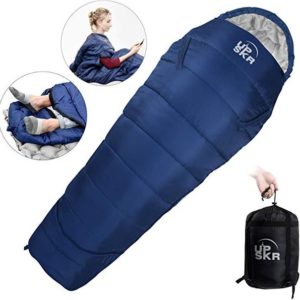 Some of the backpacking enthusiasts face it difficult to sleep under the sky and it even gets worse when they feel uncomfortable sleeping in the envelope kinda sleeping bag. This happens as one might feel tightly packed in the sleeping bag. Before you relate yourself with this as you're also desperately looking to free your arms and get enough of the ventilation, here we are with one handy option.
UPSKR sleeping bag is planned in a way that you can free your arms and feet, making this sleeping bag lookalike some sort of raincoat on. The outside and insider zippers make it happen this way by ensuring all the required ventilation while you slumber.
The comfort temperature range is something between 35°F to 40°F for this, which makes it one option to look out for when you're heading to some cold place. The 210T Polyester shell and lining is responsible for both comfort and warmth. It's only 1.7lbs in weight, which means you won't get tired that easy while holding it on your back for long.
Features
Inside-Outside Zipper
Made up of Nylon
Also works as a Camping Comforter
Pros & Cons
Pros
Use without a big liner
Free your arms and feet
Compact and lightweight
Cons
Not effective when it's colder out
Last update on 2023-10-04 - Images from Amazon Product Advertising API
---
5. Sportneer Sleeping Bag with Zippered Holes for Arms and Feet
---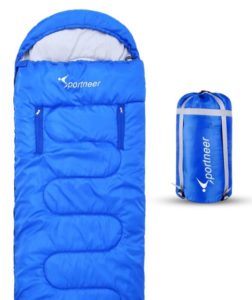 The best of silk and cotton tasked to keep you warm even when the temperature keeps dropping, Sportneer Zippered hole justifies its position among the best backpacking sleeping bags list. Moreover, it keeps it up with an innovation that makes it more than just a sleeping bag. The free, your arm and feet option allows you to jog around or even indulge in other activities. It'd feel like a stylish overcoat on while sleeping.
In case you're just pondering about if it makes you look too disorganized and bulky, it's never the case. The vibrant colors on the bag are enhancing your sporty look, whereas the inventiveness gets you to grasp something never-before kind of feeling. The optimum quality quilted cotton just makes it look like a bomber jacket if you already have a toned physique.
Even being lightweight, it offers support at a temperature as low as 20 degrees. It's all in the polyester shell providing the outer covering, which fights the cold and even brushes off the moisture with ease. When unfolded, it can easily fit in your backpack and stay as your partner for the outing. 
Features
Warm Cotton Filling
Innovative Zipper Design
Portable
Pros & Cons
Pros
Comes with a hoodie
Zippers for ventilation
Lightweight & breathable
Free your arms and feet
Cons
Weighs more (4.4 lb)
Isn't that suitable against the wind
Last update on 2023-10-04 - Images from Amazon Product Advertising API
---
6. Bessport Mummy Sleeping Bag
---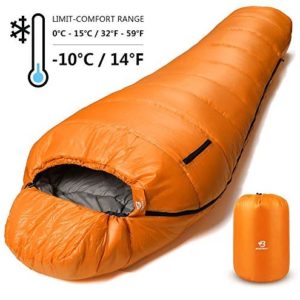 If you call upon looking for something compact that sets the benchmark when it's too cold outside, Bessport Mummy Sleeping bag should be your choice. Unlike other mummy bags, this one is more organized and less bulky. What makes this sleeping bag more conspicuous among the bunch is the space and warmth it has to offer once you lay inside it. Just in case you're curious to know, it can easily hold on a 6'1″-6'6″ adult.
The matchless feature of Bessport Mummy Sleeping Bag is combating cold waves and dropping temperatures, and that's when it works flawlessly when the temperature is between 32° to 59° Degree Fahrenheit. For sure, the drawstrings attached and premium quality adds more to this, one of the best sleeping bags.
The large foot box offers the much-required insulation and makes it happen to like as its ideal for a peaceful sleep. Moreover, the double-layered lining on the top of this sleeping bag performs rigorously when the winds are waving around and checking on the temperament of the backpackers.
The zipper functionality is limited to the upper part, which means, like many other sleeping bags, this one isn't meant to be your blanket. Still, it isn't a deal-breaker as there are many positives to look out for in this product.
Features
Innovative Heat Retention Technology
Double-Sided 2-way Zipper
Pros & Cons
Pros
Easy storage in compression bag
Water resistant shell
Drawstring feature for more insulation
Cons
Last update on 2023-10-04 - Images from Amazon Product Advertising API
---
7. TETON Sports XXL Bag
---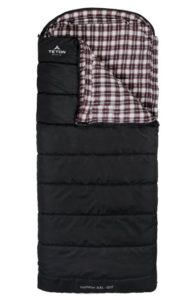 If sleeping in a capsule bag isn't your cup of tea, and you want to unleash yourself and keep rolling around, here comes Teton Sports XXL bag. The extra-spacious sleeping bag may be enough for two adults at one time or good-to-go for one muscular lad. Even being of such huge size, it just gets compact when folding with the help of compression sack.
The combination of draft tubes and double-layers get the much-needed warmth by your side so you could book your slot for a peaceful sleep all night long. The zips at the top and bottom fancy your way to the ventilation, and that's what makes it ideal for camping across three seasons. The draft-collared and rectangular, this sleeping bag rolls out as an ultimate product of brushed polyester and soft synthetic lining.
The innovative fiber filing inside rescues you from the extreme weather conditions. The fairly priced tag justifies the features it comes along and makes a strong case as one of the best backpacking sleeping bags. The bottom line is it isn't the sleeping bag made to go through your care-free usage and machine-wash.
Features
Double-layer Construction and Draft Tubes
Zips at top and bottom
Compression sack included 
Pros & Cons
Pros
Interior pockets for storing valuables
Easy access and ventilation
Half circle-hood and drawstring
Cons
Just zip on the top part
Only hand wash
Last update on 2023-10-04 - Images from Amazon Product Advertising API
---
Read More: The 5 Best Camping Tents – Best Choices for Backpackers
Best Sleeping Bag of 2020 – FAQs
---
1. What does Zero Degree Sleeping Bag mean?
The Zero Degree Sleeping Bag is ideal when the temperature is dropped to zero degrees or even something less than that. It's purely your call even if you take that sleeping bag in warmer climates as you better know what suits your body temperature.
2. Can we use these Best Backpacking Sleeping Bags in summer as well?
The backpackers prefer quilts and blankets when it's warmer out there. These sleeping bags are specially designed to give you an edge when it's colder around. Still, you can use the lightweight sleeping bags in warm conditions just to feel more pampered around.
3. What's the difference between a Quilt Sleeping Bag and Mummy Sleeping Bag?
The Mummy Sleeping Bags are your ultimate savior when the temperature is below freezing point. Many of the outdoorsmen even prefer them; it isn't that cold around. In contrast to that, Quilt Sleeping Bag is one regular bag that has nothing extraordinary to offer when the temperature falls below zero degrees.
4. How to clean the Sleeping Bag?
The advanced technology has made these sleeping bags easily washable even with the help of a machine or by hands. So, for those who aren't satisfied with merely a dry clean can wash their sleeping bags the way they want it to be. Up the next, they can slowly dry it using a dryer.
Conclusion
The guide above, along with some best sleeping bags jotted down would have given you a clear idea about getting a sleeping bag that suits you. The list of best backpacking sleeping bags is created while keeping in the simple ideology of ours 'something for everyone.' So, no matter even if you're a pro backpacker or someone new to the scene, this write-up would have helped you to get the best-suited sleeping bag for you.