It doesn't matter if you fish lakes and rivers for bass and catfish or inlets and estuaries for speckled trout and redfish, a well-made spinning reel is what you need to get the job done. So whether you're searching for the latest and greatest or simply need a high-quality but affordable first reel, this article will fill you in on the three best spinning reels currently available.
Our Selection – Best Spinning Reels Under $50, $100, $150 & $250
---
No products found.
Who Should Choose a Spinning Reel?
---
But before we get into the reels, let's address a common question… who should choose a spinning reel?
The short answer:
Anyone who's serious about fishing and wants a reel capable of handling a wide variety of fishing scenarios and species.
Why?
First, spinning reels are hands-down the most versatile fishing reels ever made. They come in a huge range of sizes from small, ultra-light models made for finesse techniques to giant-spooled behemoths with extra-heavy drags capable of hauling in a tuna.
Secondly, spinning reels are the easiest-to-use style of reels available — that's why they're widely recommended as the best fishing reels for beginners. Simply pinch the line to the rod, flip the bail, and cast away. Make sure the drag is properly adjusted and you're all set — no complicated braking systems to fuss with and minimal risk of the infuriating tangles that are so common when using baitcasters.
Finally, the best spinning reels are incredibly durable. The models we've chosen made the list because they're stout enough to take a beating and can stand up to the stress of hard fishing. And the good news is, you don't have to spend a fortune to get a great reel that will last for many seasons to come!
Now the question is:
Which spinning reel should you choose? After all, there are hundreds of spinning reels on the market across a wide range of prices. How can you tell what's good and what's junk?
Review Criteria: What Makes a Good Spinning Reel?
---
Here are the five most important things to consider when shopping for a spinning reel:
#Rigidity
Affected by gearing, rotor, and body material. In simple terms, the more rigid the reel, the more hook setting and fish fighting power it has.
# Corrosion resistance
Reels with sealed bodies and non-corrosive materials like graphite can withstand rust from water and corrosion from saltwater.
# Bearing count
Typically, the more bearings a reel has, the smoother it casts and cranks.
# Drag material and strength
The drag material used affects the smoothness and fish-stopping power of a reel.
# Reel size and line capacity
Most reels come in several different sizes which hold different amounts of line. Generally, the bigger the fish, the more line needed.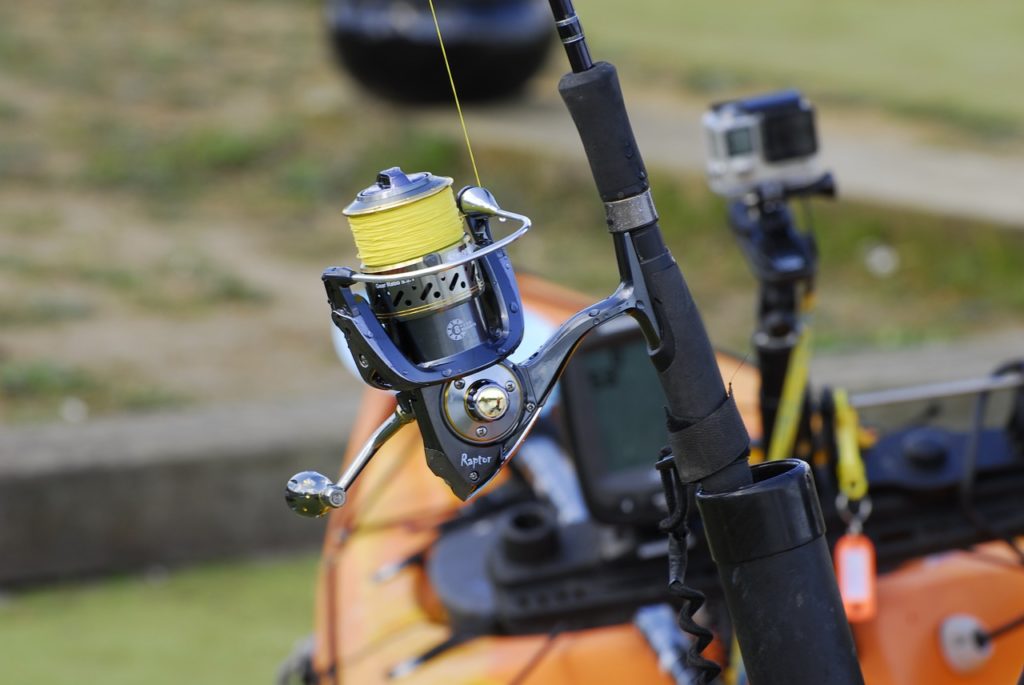 These parameters affect everything from a reel's casting and fish-fighting ability to its long-term durability and overall performance. The three reels we've chosen surpass the competition in all these areas, making them the best reels for each budget level.
Now, without further ado, let's dig into the nitty-gritty of our reel selections…
Reviews of Best Spinning Reels Under $50, $100, $150 & $250
---
1. Best Spinning Reel Under $50
Okuma Ceymar
---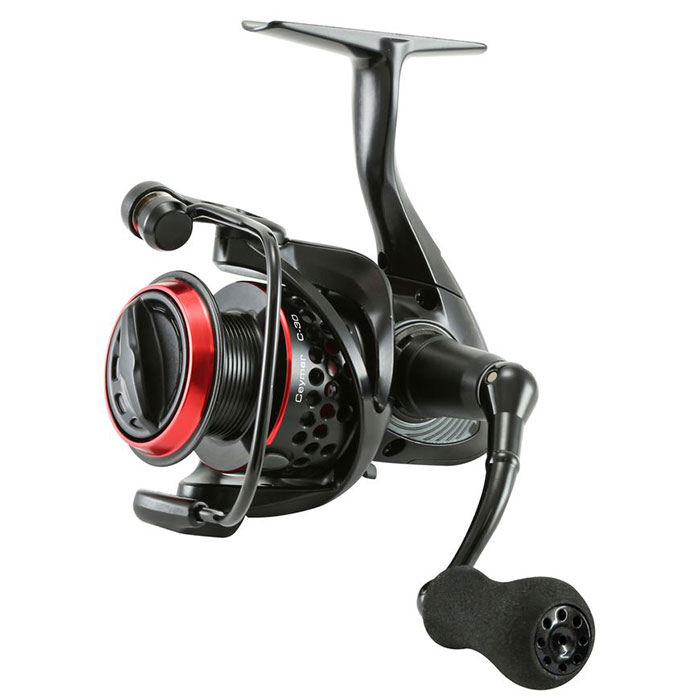 Okuma Ceymar Spinning Reel – image credit okumafishing.com
Highlights
Multi-disc oiled felt drag system.
7 stainless steel ball bearings, 1 Quick-set anti-reverse roller bearing.
Precision-cut brass pinion gear.
Corrosion resistant graphite body.
Precision Elliptical Gearing system.
Machined anodized aluminum spool.
Cyclonic Flow Rotor.
EVA foam handle grips.
5 sizes available.
When you compare this reel's spec sheet with its price, it almost doesn't make sense… How can such a smooth, powerful, and all-around high-quality reel cost so little?
But even if you aren't shopping for a budget-friendly reel, you shouldn't pass up the Okuma Ceymar. With a lightweight and corrosion-resistant body, machined anodized aluminum spool, and Okuma's Cyclonic Flow Rotor design, the Ceymar is an amazing reel for first-time anglers and perfect for anyone searching for an inexpensive but high-performing backup reel.
The Ceymar has plenty of fish-stopping power thanks to a straightforward-but-effective Multi-disc oiled felt washer system. Seven stainless steel ball bearings give it silky smooth action on the retrieve and its EVA foam handle is easy to grip even in wet conditions. And although it isn't completely sealed, all of the Ceymar's components are corrosion resistant making it ideal for both freshwater and saltwater use — just be sure to give it a good rinse with fresh water after each use.
Overall, the Okuma Ceymar is lightyears beyond all other reels in the under $50 range. Check it out!
No products found.
---
2. Best Spinning Reel Under $100
Penn Battle II Spinning Reel
---

Penn Battle II Spinning Reel
Highlights
Fully metal body 

Sideplate and rotor included

HT-100 drag system provides usability on both side and powerful drag 

Carbon Fiber Drag Washer

Instant Anti-Reverse bearing

Heavy-Duty bail from aluminum wire

Line Capacity

Five stainless steel sealed ball bearings

Superline Spool
Penn Battle II Spinning Reel features the brand's unique Drag Washers in spool so you can use the drag washers on both sides. This is important because it offers maximum drags, start-ups that are smoother and improved range, especially compared to other spinning reels in the same price range. The Penn's grease used on the washers improves durability. 
The Penn Batlle 2 spinning reel is not only pleasing to the eye, it is also impressively durable and has a remarkably smooth drag. The sturdy stainless steel body is easy to maintain and can withstand extreme punishment without losing its gear alignment.
Furthermore, the slip of the super lines is controlled thanks to the rubber gasket. The combination of the impressive features makes this reel one of the best reels you can buy for under $80.
You have a choice between eight reel sizes. The lightest model of Battle II is the 1000 size that is my preferred choice for shallow and freshwater fishing. The 5:2:1 gear ratio of the normal models and 6:2:1 of larger models, which signify the reel's performance, so you can select according to your needs.
No products found.
---
3. Best Spinning Reel Under $150
Abu Garcia Revo SX
---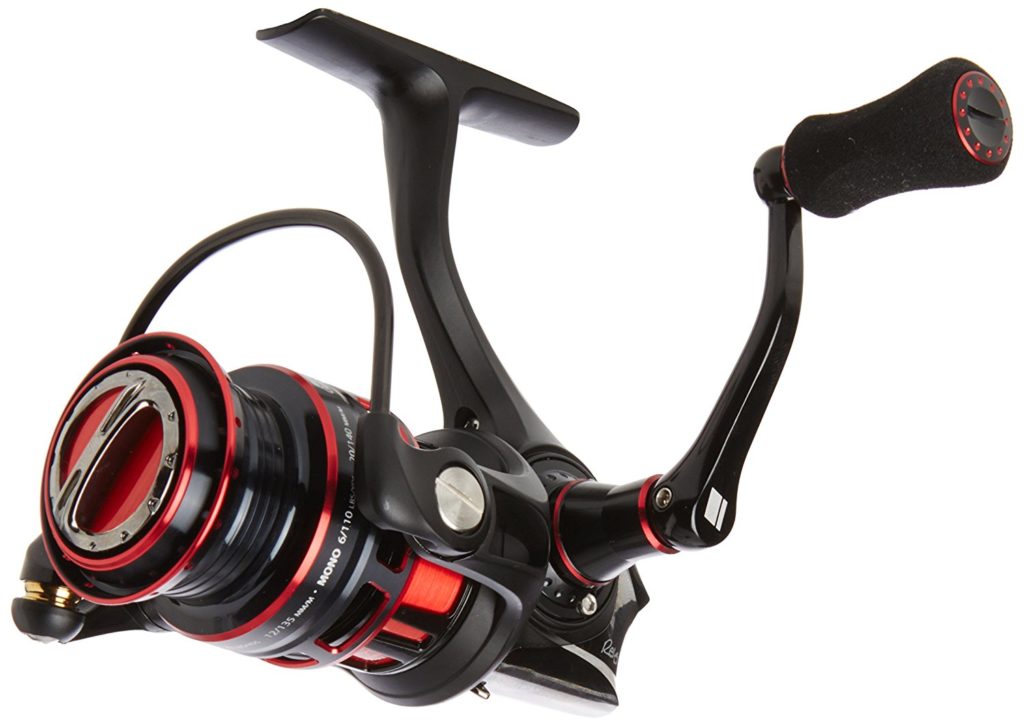 Abu Garcia Revo SX Spinning Reel – image credit abugarcia.com
Highlights
8 stainless steel HPCR (High-Performance Corrosion Resistant) bearings, 1 anti-reverse roller bearing.
Computer-optimized precision machined gears.
Carbon Matrix hybrid drag system.
IM-C6 (insert molded C6) carbon fiber body.
Lightweight graphite rotor.
Rocket line management and spool lip design.
Braid-ready machined aluminum spool.
Stainless steel main shaft.
4 four sizes available.
If you have some extra money to spend on a reel but still want something reasonably affordable, there's no reel finer than the Abu Garcia Revo SX.
Although Abu Garcia is most well-known for its baitcasting reels, they've clearly stamped out their place in the world of spinning reels with the Revo SX. And like their baitcasters that are hugely popular with hardcore bass anglers, the Revo SX is a phenomenal reel for targeting largemouths thanks to an extremely lightweight design that's ideal for long days of repetitive casting.
The Revo SX's feather-like feel in the hand is largely due to Abu Garcia's signature IM-C6 carbon fiber body and graphite rotor. The reel is also very rigid and responsive thanks to its X-Craftic gearbox that keeps the precision machined gears in perfect alignment. Further, its machined aluminum spool features Abu Garcia's Rocket Lip design that allows the line to peel off the spool without resistance for longer, more accurate casts.
Think of the Abu Garcia Revo SX as the fast, nimble sports car of spinning reels. And if you're a bass fanatic who's hooked on bait casters, the Revo SX is a great reel to expand your arsenal.
No products found.
---
4. Best Spinning Reel Under $250
Shimano Stradic CI4
---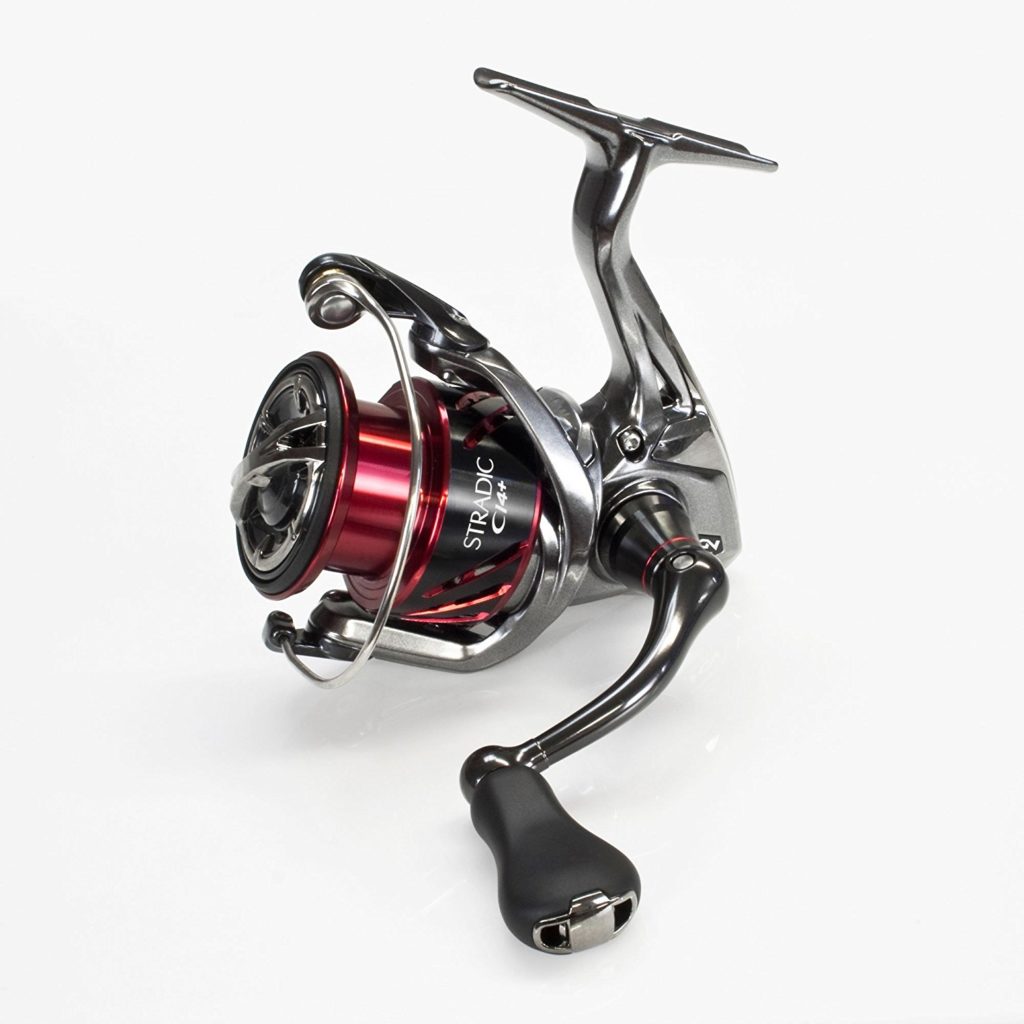 Shimano Stradic CI4 Spinning Reel – image credit shimano.com
Highlights
6 shielded stainless steel ball bearings, 1 anti-reverse roller bearing.
Magnumlite rotor.
CI4+ (Carbon Interfusion) body.
Hagane cold-forged gears with X-ship pinion bearings.
Coreprotect water-resistant sealing.
Aero Wrap II two-speed line oscillation system.
Super Stopper II anti-reverse bearing.
If you're looking for a bomb-proof spinning reel that will crossover from freshwater to saltwater, look no further than the Shimano Stradic CI4. Although it isn't Shimano's most expensive reel, it features many of the company's most advanced technologies making it completely corrosion resistant, extremely rigid and powerful, and lighter than practically any reel in its class.
The secret to the Stradic CI4's lightweight design is found within its name — "CI" stands for Carbon Interfusion, and "4" represents the number of electrons in the carbon atom. According to Shimano, the Stradic CI4 weighs 25% less than similar-sized reels thanks to its carbon fiber body and rotor. It features a Hagane cold-forged gear with Shimano's X-Ship system which adds bearings to both ends of the gear drive to maintain perfect alignment even under heavy loads.
Greatly increasing the lifespan of the reel, the Stradic CI4 is fully sealed with Shimano's Coreprotect system. The parts of the reel most susceptible to water penetration and corrosion including the roller clutch, body, and line roller, are sealed without inhibiting the smooth action of the reel. So while you will spend more money on the reel upfront, the Stradic CI4 will likely outlive any reel that isn't sealed — now that's a wise investment.
No products found.
Choosing the Best Spinning Reel For You
---
As with most things fishing-related, reel selection depends on many different factors including the type of water you fish, the species you target, and the techniques you use. Simply put, a reel that does it all doesn't exist.
But if you're looking for the most versatile reel possible, one that you can fish for bass one day and flounder the next, consider choosing one of the three best spinning reels we recommended today. Be sure to choose the right size for your endeavors and pair it with a suitable rod. Then, it's time to go fishing!