Elk hunting is not cheap. By the day of the hunt, you may have already spent several hundred dollars. After worrying about travel expenses, in-state (or even worse, out of state) licenses and tags, and range fees to sight in your rifle for the new hunting season, the need for a dependable hunting backpack can slip through the budgeting cracks.
This is a mistake! Some of the best elk hunting pack frames can be had for under three hundred dollars, so don't let an ill-suited backpack ruin what could otherwise be one of the most memorable experiences of a lifetime.
You want a pack that is made for serious hunting, one designed with a big game in mind—a pack like the Eberlestock M5 Team Elk Pack. The M5 is big enough for overnight hikes and hauling a serious amount of meat but small enough to be used as a daypack as well.
It's designed to be comfortable and practical, so things such as the enclosable rifle scabbard make for safer hiking when your hands are free or give you more space for gear if needed. The M5 Team Elk Pack is our top pick, but the other four contenders here are quality packs as well.
---
Our Picks of Best Elk Hunting Backpacks
---
Last update on 2023-10-04 - Images from Amazon Product Advertising API
---
Best Elk Hunting Backpacks – Buyer's Guide
---
How Do I Pick the Right Pack for Me?
After establishing a budget and price range to shop in—let's say $150 to $300 for a good mid-range pack—you may find that you are still overwhelmed by the large selection of backpacks.
To ensure that you choose the right pack for your hunting style, ask yourself some important questions to make sure your purchase checks off all the correct buying criteria.
How Will I Use This Hunting Backpack?
Be honest with yourself about your style of hunting and what you need out of your pack. So you for sure have an elk hunt this season, but do you really need the best pack frame for hauling meat, or would you be better off with the best hunting day pack?
If you are staying near the base camp and have access to an ATV, then you might prefer the Badlands 2200. But, if you have to carry your kill several miles to camp, then you might want the hauling capabilities of the F1 Mainframe.
How Much Space Do I Need?
The first question may tell you if you need a multiday or day pack for your hunt, but each of these categories is broad and covers a wide range of packs. Our favorite multi-day packs are 51 liters, 82 liters, and anywhere in-between depending on how the F1 Mainframe is configured.
At 51 liters, the M5 Team Elk Pack is closer to an overnight pack. If you will be backpacking for a few days and expect to carry much meat on the hike out, then you will need a much larger pack.
When considering the necessary capacity, it is also important to be honest about how much weight you can carry. For example: if you can only safely carry 40 pounds, and your pack and gear already weigh 15 pounds, then after you pack 25 pounds of meat you will have a lot of dead space in an 80-liter pack.
Dead space equals unbalanced loads, which causes discomfort. This can be solved by using foam to space out the gear and meat and balance the load—or you can get a slightly smaller pack.
Is This Pack Comfortable?
A pack that is big enough and strong enough to carry all your game is no good if you can't walk more than 100 feet before throwing it down. A hard frame that digs into your body, narrow and thin straps that rub your skin raw, an unbalanced design that puts too much weight directly onto your shoulder—these are all comfort problems that can ruin an otherwise great pack.
The difficulty is that some packs may be great for one body type but not so great for another. This situation is more often encountered in external frame packs and cheaper backpacks that lack resizing straps.
If you cannot wear the pack before purchasing it, then be sure to read reviews from someone of your height and body type or multiple reviews from people of different body types.
If the pack is adjustable and comfortable for a tall lanky person and a short stocky person, then chances are it will fit someone in between. For external packs, be sure to take note of any rigid, un-movable frame parts that rise about the shoulder straps. Depending on your height, such frames could limit head movement.
Luckily, most reviewers are very conscientious about reviewing hip belts and shoulder straps, so you can usually find out if the pack you really want is notorious for weak seams or a thin hip belt that doesn't adjust well.
In the end, understand that some comfort may be sacrificed to achieve a cheaper price point, and sometimes the more comfortable packs will weigh more.
Are Those Special Features Necessary?
If the hottest new thing in hunting is an isolated pocket for your spotting scope or some other piece of gear, then I guarantee you will find this feature highlighted as a big selling point on some packs. But don't get sucked into the little things. Instead, focus on the big picture.
The idea of a backpack hasn't been reinvented. It's still you carrying a lot of stuff on your back as comfortably and efficiently as possible.
A good arrangement of compartments and features certainly adds a touch more organization to a pack, but make sure you delve further into the specs and check the pack's weight, load capacity, hip belt thickness, frame adjustability, and customer reviews, because—in the end—you're walking around with a lot more than just your spotting scope on your back.
---
Reviews of The 5 Best Elk Hunting Backpacks in 2021
---
Budgeting is on most of our minds when it comes to shopping for our hunting gear. We want high-quality stuff, but we try our best to balance that with the practical realization that this is not an item used every day—at least not by me.
Maybe you're lucky enough to be a professional hunting guide who gets to grab his backcountry hunting pack every day he wakes up for work, but for the rest of us here are some affordable packs that don't sacrifice quality.
I began this review by compiling a list of mid-range packs that provide top-notch quality without breaking the bank.
That list was narrowed down to packs designed for big game hunting, and then finally these five packs were chosen for the different purposes or hunting styles that they each represent. For a mid-range budget, these are five of the best hunting backpacks available in 2021.
---
1. Eberlestock M5 Team Elk Pack Review -Â 

Top Pick 
            Best for overall use
---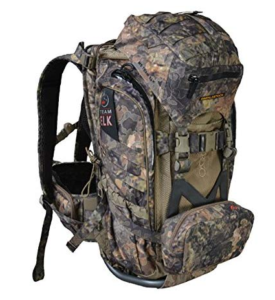 The Eberlestock M5 Team Elk Pack is our top pick for best elk hunting backpacks in the mid-price range. It has a lot going for it that makes it one of the best overall backpacks in this category. This thing has a built-in bow carrier, a rifle scabbard, and a water-resistant shell with compression straps.
Now, I get weary of packs that boast "best-in-class features,†because that "feature†might be some accessory-specific pocket that only eats into the overall pack size. For instance, if you don't have a spotting scope, then you better have some small items that can fill up that space.
The Eberlestock M5 Team Elk Pack has a hydration sleeve and a specific spotting scope pocket, but don't let these features deter you, because it has plenty of general-use space that will allow you to pack things your way.
Some customers find the pack to be heavy when empty. It is heavier than many 50 liter packs, but not by much. Consider the extra weight to be comfort and durability, because owners love how much meat they can haul with the M5 and how comfortable it is when fully loaded. An extra bonus that delights everyone is the ability to zip the weapon scabbard into an enclosed pocket for gear.
—Why do we recommend this?
The Eberlestock M5 Team Elk Pack is a multiday backpack that works just as well for day hunts. Its construction provides a good number of pockets for the excellent organization and durability well-suited for hauling a lot of elk meat. This pack provides the space, strength, and comfort needed for a big elk hunt.
Last update on 2023-10-04 - Images from Amazon Product Advertising API
---
2. ALPS OutdoorZ Traverse EPS Review
         Best For Low Budgets
---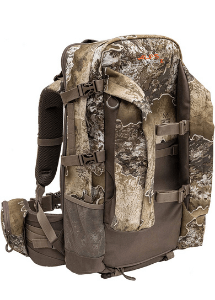 The standout features of the ALPS OutdoorZ Traverse EPS Hunting Pack are its affordable price and high-capacity. This elk bag is available for almost the third to a half of the price of similar backpacks available in the market, which is why I recommend this backpack. I genuinely believe that it offers excellent value for money, especially considering how low it is priced.
This bag would be ideal for anyone looking to spend under $150. It offers 4,500 cubic inches of space while weighing less than 7 pounds.  It features padded shoulder straps, tons of pockets inside and outside the bag, including a gun/bow pocket, plus a built-in safety rain cover to protect your valuables from water and dampness.
While the quality of the material this bag is made may lack the strength and durability of more expensive bags, it is still a worthy pick thanks to its holding capacity. The only downsides to this backpack are the subpar padding on the shoulder straps that don't work as well when you are carrying a heavier load. The sliding chest strap is also not the best. However, don't let these small issues deter you from this bag because it offers many advantages.
—Why do we recommend this?
The Traverse EPS from ALPS OutdoorZ earns my recommendation because it is built for holding a lot of items and gear in an organized manner without weighing too much. It is reasonably priced.
Last update on 2023-10-04 - Images from Amazon Product Advertising API
---
3. Eberlestock F1 Mainframe Review
            Best for packing out meat
---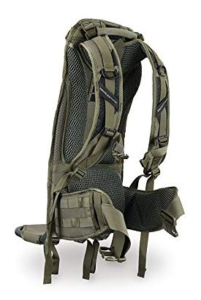 The M5 Team Elk Pack maybe our overall top pick, but if you plan on packing as much meat as you can carry for a long distance then the Eberlestock F1 Mainframe may be the best Eberlestock pack for elk hunting and hauling your spoils considering the Eberlestock F1 Mainframe reviews.
Elk hunting isn't just about the kill: You don't want to drop that big bull and just walk away. You want the experience to be memorable for years to come, and part of that means harvesting those large antlers and as much meat as you can so that the animal doesn't go to waste and you can remember the hunt when you grill a steak, eat some jerky, or cook some sausage in the months to come.
If your goal is getting that entire elk out of the field, then the F1 Mainframe has the bare frame you need to pack meat to your heart's content. And at 26 inches tall and 4 lbs 5 oz it is surprisingly compact and lightweight.
Owners of the Eberlestock F1 Mainframe rave about its relatively short height. A shorter pack frame like this will comfortably fit many body types. Users also report that the frame is narrow enough to avoid snagging on the brush when not carrying bulky loads.
That's one less thing to worry about while stalking your game. Lastly, let's not forget that this is a modular frame. If you have some extra money, then you can create just about any pack configuration you want.
This versatility is loved by hunters because conditions always change but with the F1 Mainframe, the perfect bag is only a couple pouch swaps away.
— Why do we recommend this?
The Eberlestock F1 Mainframe pack provides nearly limitless carrying capacity. You can strip the F1 down to its bare external frame and load as much meat as you can carry, which makes this one of the best hunting packs for packing out meat. Furthermore, its modular capabilities are amazing and provide a lot of versatility.
Last update on 2023-10-04 - Images from Amazon Product Advertising API
Even if you plan on 80 percent of your load being meat, you still have other gear to carry. Check out the Eberlestock Batwing Pouch which fits perfectly on the modular F1 Mainframe. Get one—or two for a balanced daypack setup—and still have enough space to carry tons (not literally, of course) more meat.
---
4. Badlands 2200 Hunting Pack Review
            Best for day use
---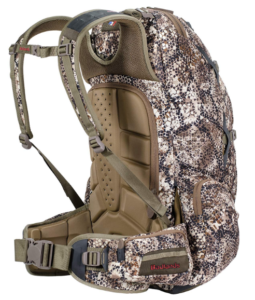 Do you almost always have single day hunts? Do you keep ATVs at camp? Are you not able to haul full game loads in one go? If your answer to one or more of these is yes, then a smaller pack like the Badlands 2200 Hunting Pack will suit you well. This is our choice for the best daypack for elk hunting.
Badlands doesn't skimp on quality just because you're going on day hunts. The Badlands 2200's pack fabric is water resistant, odor resistant, and stain resistant, which means you can spend less time cleaning your gear after a successful hunt.
The packing material is also made to be quiet, so there should be no "swishing†noises to give away your position. But Badlands doesn't stop there, either: even though the pack is only 37 liters, it has a good hip belt and excellent pack design that helps balance the load comfortably, which is going to be important once you have a quartered elk strapped to the outside of this pack. The meat shelf on this daypack is truly impressive and can support a lot of weight.
Owners love not only the backpack but the company itself. Badlands backs up their bags with an unconditional lifetime warranty that is transferable to whoever owns the bag. That's pretty awesome.
The biggest drawbacks to this pack seem to stem from size limitations. Some buyers feel that the different pockets detract too much space from the main compartments, while some other owners decry the lack of a boot for bow carrying.
These are certainly all things to consider in a pack, but when it comes down to it the Badlands 2200 is a daypack that will get the job done and see you through a successful elk hunt.
—Why do we recommend this?
When you want a daypack that has the quality and durability of a much bigger bag, you get the Badlands 2200. Constructed from "quiet†fabric—along with the stain, odor, and moisture resistant properties—2200 promises to be as stealthy as you are. Its small size hugs your center of gravity, which gives you better balance as you crouch, crawl, or walk around stalking your prey.
Last update on 2023-10-04 - Images from Amazon Product Advertising API
Grab some Alaska Game Moose, Elk, Caribou Rolled Quarter Bags, 60-inch to securely pack out your elk meat. Bag the quarters to keep them clean as you make your trips to load up the ATV. These bags are durable and machine washable, so you'll be using them for many hunts to come.
---
5. SITKA Gear Flash 20 Review
            Best for bow hunts
---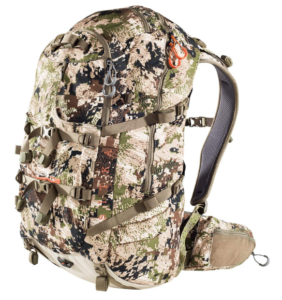 This daypack is great for hunts close to camp or a vehicle. While the SITKA Gear Flash 20 is a strong and durable pack, it is only 32 liters which means it is not designed to carry half an elk in one load, so you'll not want to be hauling an elk out across miles of backcountry terrain.
Organize your necessary gear in quick-access side pockets, and have room in the main compartment for emergency rations and shelter or keep it empty for hauling some extra meat. After your hunt, you can easily secure your bow to the front of the pack by employing some cross compression straps and a pull cord that secures the bottom of the bow.
Customers agree that the SITKA Gear Flash 20 works exceptionally well as a daypack. It conveniently and comfortably holds everything you need for a hunt: calls, spotting scope, GPS, and maybe a snack and a drink. Perhaps the biggest drawback to this pack is the bow harness feature.
Some owners complain about the bottom cord not securing their bow. The compression straps secure most bows well enough, but it can be annoying to have a feature that doesn't work quite as promised.
—Why do we recommend this?
The SITKA Gear Flash 20 is an excellent daypack that will carry your essentials from camp or car into the woods for a short-distance hunt. You'll be able to load up some elk meat, but you will want your ATV or truck nearby because this is a smaller daypack and not meant to carry very heavy loads. If you're a bow hunter, make sure this pack is well suited for your hiking distances, and you'll use it for years to come.
No products found.
---
Best Elk Hunting Backpacks – Our Top Pick
You want a pack for hunting elk. You know your game, you know the meat it yields, and you know what you need to get the job done. So do we. And with that in mind, we best like the Eberlestock M5 Team Elk Pack. This pack is not too heavy; it's durable, and it's comfortable when fully loaded.
The M5 will get you to the hunt and let you neatly pack out your gear and meat. The specific features and pockets are functional and don't detract from the primary purpose of hauling meat and large hunting gear.
At 51 liters, the M5 Team Elk Pack straddles the multiday and day use categories and functions well in multiple scenarios. It is big enough to do well on an overnight hunt, and it is small enough to be packed for a day hunt without a lot of bulky, dead space left in the pack.
After you use the M5 once, you will find yourself using this backpack again and again—hunt after hunt, year after year.
Comparing the Best Elk Hunting Backpacks