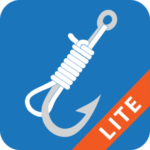 Any fisherman who has been looking for a  resource to take out on the water will find this app to be just that. They will be able to look at knot instruction and put that instruction to work all in one shot. Whether you are fishing the deep blue sea for Mako sharks or small streams for native trout Fishing Knots Lite fishing app will offer some benefits.
This could also be a great app to have on hand for the  ⊗ average camper, survivalist, prepper or outdoor enthusiast ⊗ . Though these knots are labeled as fishing knots they could have many other uses as well. As far as consumers are concerned, I think this app could find a great audience with preppers in their quest to prepare for disaster.
Main Features of Fishing Knots Lite Fishing App
Fishing Knots Lite fishing app is a very straight forward application. It is a small download that won't take up much of your phone's storage at all. After downloading, you are looking at a very simple interface that offers 13 different sections. These sections are based on the types of knots that are included in each section.
EXAMPLE: Knots exclusive to bringing two different lengths of line together, like a blood knot will be one section.
Each of the 13 sections can be drilled down by pressing on the desired section. Once inside each section, you will see a collection of knots to meet your needs. A smaller interface features each knot. This interface also includes a video that will show the knots being made. Some videos are pulled directly from YouTube. Others will include a step by step video of pictures.
The interface also offers a picture of the knot that is in progress as well as a few symbols that offer information about its recommended use. There is a recommendation for monofilament and/or braid as well as something about the weight capacity.
What I Liked The Most?
Fishing Knots Lite Fishing App is all about convenience and navigation. As I mentioned earlier, it is not a very complicated app. There aren't any options or upgrades you can make to the app outside of spending some money to get rid of small ads that are at the bottom of the page. Honestly, I hardly noticed the adds. They do pop up full-page sometimes but that's after you look at a few knots.
Simplicity overall
Where this app shines is in its simplicity. Whether you know what you are looking for or not, the simple pictures make it easy to find. Having experience with knots, I think I could tie most of the knots off the simple picture provided. The video is always a great option to have.
Videos to tie knots
Regarding a video, I really liked the idea of how they present each knot. The first shows how to tie the knot on a larger piece of orange rope and a large metal eye. This is not to be used for fishing, but the example offers a magnificent view of how the knot comes together. From here, they grab larger hooks and make the knot using a small length of the line. They even go down one step smaller, after that. So, in total, you get to see the knot tied three times on three materials. This really helps in learning just how to do it right.
Simple picture research
My other favorite feature of this app was the simple picture search. If you are a hardcore fisherman looking for a new knot that will add strength to your rig, you will easily navigate the many types of knots. Conversely, if you are new to fishing and are not sure what you need, there are simple pictures of hooks with knots on them or lures with knots on them. When these sections are opened, you find multiple ways to accomplish that goal.
Mobility
Most importantly Fishing Knots Lite Fishing App offers pictures for each knot so even if you are fishing the Rockies, you will be able to use this app. You do not need the videos to be successful. I also love the mobility, in that, you can work these knots on the water. The old way of learning knots required that you bring the fishing line into your home and read out of a book.
⇒ It's a must have for fisherman and outdoorsman alike. As I said, preppers and survivalists would really be into this app as well.
What I Liked The Least?
Fishing Knots Lite Fishing App is certainly more good than bad when it comes to Fishing Knots Lite. There is room for improvement and little tweaks in this app. For the most part, you are dealing with a simple app that could use a little more explanation in certain areas.
The interface is not explained
My biggest qualm with the app is that the interface is not explained at all. Once you have selected a section of knots, each one included in that section has a set of five symbols. The symbols are similar to the legend on a map. Unfortunately, there is nothing to explain what these five symbols are. The video symbol is simple enough because you can click on it. There is one for mono-filament and one for braid if you look closely. The other two, one is a percentage and one being weight in KG is completely unexplained.
Info Redundancy
You also see the same knots show up in several sections of the app. I am not saying this is entirely a dreadful thing but it has a weird feel to it. From the casual user's point of view, it seems like they were fluffing up the app to appear as though it offers more than it really does.
⇒ I would also like to see Fishing Knots Lite Fishing App offer a few simple additions to the app. Maybe some information about the lines. For true beginners, they will struggle to understand the difference between braid or mono-filament. These are important concepts that a fisherman should understand.
User Experience
Splash Screen, Tips & On-boarding – Rating: 2.5/5
Splash screen missing, the App gets you directly to the homepage. We believe that in this case the splash screen is not an absolute necessity but it would be useful to communicate the essence of the App.
No roadblocks to usage and adoption through a not-necessary onboarding sequence.
The app loads instantly.
Home screen & Navigation – Rating: 4/5
The home screen provides users with the journey and functionality to complete their priority feature.
Primary navigation and content are visible.
User settings are easily accessible.
Content is used instead of a traditional home screen to engage users immediately.
Content & Design – Rating: 3/5
Users can't discover new content via an Infinite stream. Some knots categories have only 1 knot in the list which displays the screen with big empty spaces.
The visual design engages and enhances user experience.
Usability Hygiene  – Rating: 4/5
Content is accessible when the user has no internet connection.
Primary call-to-action buttons are persistently visible.
Do not ask users to rate the app too soon after downloading it.
My Final Take
Fishing Knots Light Fishing App is a very useful app. The collection of knots and instructions for each knot makes it something that could only be replicated by carrying a book around. This is just not practical. It also ♦ allows you to practice these knots and use them immediately without having to learn each and memorize the steps.
The app could stand to focus a little more on details. I would appreciate being able to understand all aspects of the application. It would also benefit on some basic explanation of fishing line types and uses. These little tweaks would make Fishing Knots Lite the best at what it does.
The app would offer any fisherman a great resource on the water and its size won't bother storage space at all. You don't have to sacrifice for this app and that is always important.