Finally, you reach a point where convince yourself to enter into the realm of long-range. There could be of any reason that let you decide your passion as long-range hunting shooter likewise below hundred yards crack shot or switching your momentum of playing shooting game to real-world of long-distance shooting.
You cannot neglect the fact that distance is considered to be the backbone of the weapon.  While in playing the shooting shots the most arguable trend is Precision shoot. Moreover, the shooters believe that by purchasing the latest cutting edge gadgets and gizmos they can acquire long-distance abilities. Although, I am in favor of buying the upgraded gizmos and gadgets yet it's always the man behind the rifle.  He is the nut behind the bolt or a man behind your sophisticated shot.
You won't disagree on an epitomize relationship between marksmanship ability with precision firearms technology in the long-distance shooting. The tune of the musical instrument can finely be played by the skilled musician if all the pieces such as suitable caliber, top-shelf optic, steady trigger finger and a quality rifle work together in a harmony. To be the best long-distance shooter, you must be the best practicing the extensive training of consistently shooting 500 plus yards in different circumstances.
Long-range hunting is not about pulling the trigger but to think, aim and hit. So before hitting your grip to experience the longest rifle shot, make sure you take a sneak peek from this guide. Here is the quick sneak peek of the things that we will cover in this article:
Beginner guide of long-range hunting
Key Steps of Long Distance Shooting
Beginner Guide of Long-Range Hunting
---
We are sure that this long-range hunting guide will be worth rewarding to experience the ultimate exposure and bring fun to your hobby. This beginner guide includes:
How far you want to go?
Mind over Matter
Pick your base ground
Stay Steady
Flickering side of nature
Considering Scope
How far you want to go?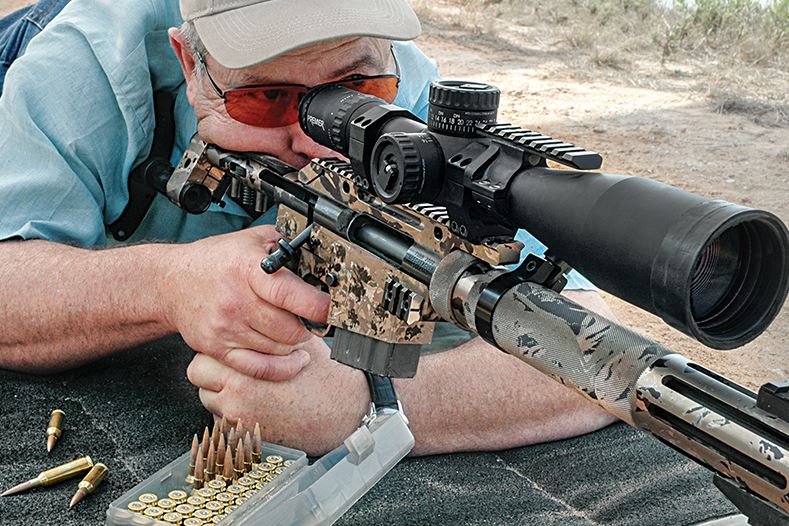 The exact definition of how far you can go to never existed. Also, no one can comprehend the exact statement to explain the estimation. You can go from a basic hundred yard to go over 500 yards. Regardless of your passion for going far in long-distance shooting, the rifle you are using is relatively important. There is an obvious difference between .22 long rifle shot and .50 longest rifle shots.
Typically, hanging between the ranges of 300 yards can be a good point to aim your long-range hunting. This distance can neither be a close point to achieve easily nor too far that you can't put down easily. Hence, this range can keep your potential high, keep you active and save you from getting bore easily for a longer time. However, to set a 300-yard point for your longest range of hunting, you still need to consider steps, gradually thinking and enhancing your skills.
Mind over Matter
The most important part of being any shooter old, new, beginner, professional, die-hard or casual is to adopt discipline. Regardless of shooting experience in the reel world, the real world is quite different. Here the real world requires patience, long, grueling and slow process of learning long-distance shooting. And at the end of the day, you will be able to aim your target rightly along with a perfect landing.
Initiating from short-range experience to long-distance hunting you have to keep your mind clear. Maintaining the disciplined, learn to use the gadgets and slowly aiming the targets will make you an experienced one. Embracing yourself with this loses you into the gradual process of learning long-range hunting techniques.
Pick your Base Ground: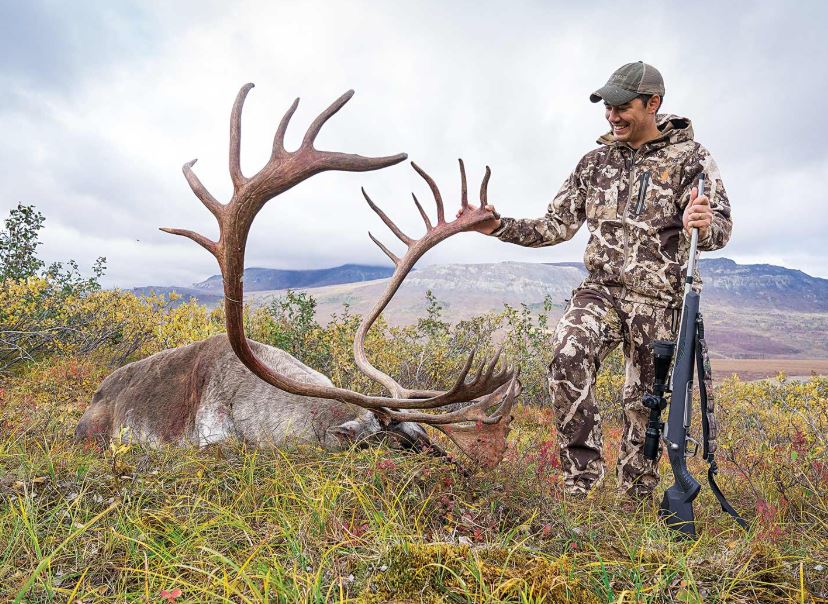 The beginning of your longest journey of long-range shooting begins with a point from where you start. You should be careful while choosing your base camp or can be termed as your home base. The base ground you are using to lay down on can either be solid, consistent or even and strong enough to hold you for a longer period. However, if any of these below factors don't meet or satisfy the desired base ground then you can eventually have a rougher time in the beginning.
Furthermore, as you have to lie down on the ground for a longer time, you have to make sure that the ground is a little comfortable. Moreover, the marshy and swampy ground will affect the elevation level and cleaning conditions as well as disturb your practice by sinking you into the ground over time. Additionally, the uneven and inconsistent solid ground makes frustrated by causing you major and minor injuries and soreness before time.
Ideally, a flat, sturdy base with the elevated ground is a perfect partner for your long-distance shooting experience. However, you still have soreness in your body and unnecessary torso pain but it's worth it, right?
Stay Steady
The hardest that every shooter must need to focus on is grasping the longest rifle shot by keeping yourself to stay fully calm. Fully calm as in full still than ever before.
Honestly, the farther the distance at which you are shooting, the more important it is to keep the body movement as low as possible. You don't have to worry about moving up, getting close, breath-related or swaying moments as these things don't affect the target. You can still aim the point by simply applying basic math rules.
It's all about distance. However, at a distance of 200, 300 yards, the small or controlled breathing can mess up your shot or even can miss the target. It is not an easy task for a beginner to master the stillness. But eventually, by time and practice, you will become a pro.
Flickering Side of Nature
Imagine you go out, set up your place, getting ready to go on a hot streak, aiming the target and hitting consistently, but suddenly something changed, your bullet whizzes higher or lower from one side to another side. The wind factor is the flickering side of the nature that will affect your long-distance hunting experience.
Considering Scope:
Lastly, there is an arguable yet the most important phase is to scoping down the long-range shooting. The scope includes many factors such as magnification, reticle options, lens coatings, eye relief, and objective lens. After, you finalize the scope of your target point you can gradually make an effort to go further by increasing the distance and hardly hitting the target.
Keys Steps of Long-Range Hunting
---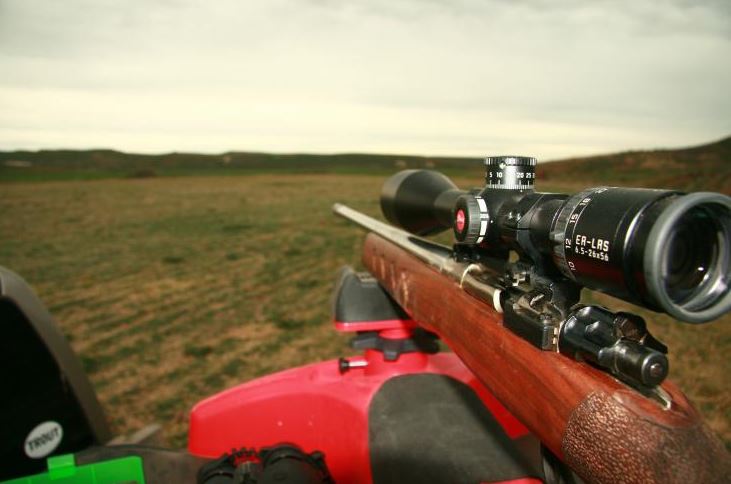 The skills of picking up the right gadget for your next long-range hunting are critically important.  Take a look at these skillful tips that will save you from big messy troubles.
Choose your weapon wisely:
Making sure you choose the right gadget that ensures the perfect grip. Grasping a firearm for a shooter is the most important step then placing your head and eye on the optic. The major part while choosing the rifle is being able to control it, establishing the relationship between shooter shoulder and rifle.
For the precise shot, the placement of a clear and focused reticle is critically important. Adjusting the individual setting that can be viewed by different eyes. For the precise adjustment, the good long-distance scope is always a good choice.  Focusing on the reticle, by using ocular adjustment through plain backgrounds such as sky or wall.
Parallax is the movement of the reticle by viewing it through different angles and distances magnification. Below and at 9 xs there will be no issue, however, if it's above 10 x then parallax needs to be adjusted to a point or else it will affect your impact point. While adjusting the parallax all you have to turn it all the way out to infinity and then bring it back to focus. It is best to stop the reticle and focus while adjusting the parallax at a different distance.
In many popular high-end scopes nowadays have illuminated reticle, so you don't have to buy an extra burden of buying an extra piece? Its blooms' effect will thicken the reticle size and disrupt the proper focus range while viewing the objects through the human eye.
Modifying the Focal Plane:
When you are adjusting the target with the ranging reticle, you must be clear about the first focal plane that works for all types of magnifications and the Second focal plane ranges to only the highest magnification points. However, to realize which focal point you have, you have to put some focus on adjusting the magnification.
So if the size of the reticle is adjusted you are at first focal plane and if the size doesn't change then probably you are at the second focal point. It's not going to be a big deal issue in focal plane modification if the scope lies between 2.5 x to 10 x.
Placing the body posture:
To have a long-range accuracy, squaring the body behind the target as it will provide a more reliable base and the shooter can accommodate recoil. This body posture will help you in staying with the target to follow up on the long rifle shot or to observe the bullet strikes.
Ensuring reticle modification:
Ballistics is made to maintain the relation of a horizontal reticle. So it's better to maintain the proper adjustments if scope improperly mounted or sitting at rest. The angled reticle can eventually alter the relationship between your target and actual bullet trajectory that leads to missing the shots of long-distance shooting.
Dial-up and come up variation:
The critical position is where the shooter needs to carefully complete the homework and knowledge regarding ballistic performance. Firstly, determine the increment and how much each adjusting point will alter the impact point and the measurements within MOA or mils. The more adjustment is required within the elevation if you go farther to shoot. Additionally, making sure that the scope has sufficient adjustments.
Furthermore, you must also understand the come ups and dope sheets. You must be clear about doping elevation, knowing how much it requires for a bullet to drop at the distance you are shooting from.
BDC (Bullet Drop Compensating) Reticle:
If you're shooting scope has Bullet Drop Compensating (BDS) reticle than your major calculation of dropping the bullet has already been done for you. However, it's important to note down that these reticles are made for specific caliber and bullet at a particular elevation.
Follow through the trigger
Firmly grip your long-distance rifle and pull the trigger back. Don't stretch your posture, don't rash it and don't try to put off your head from the stock. Keep maintaining the relationship of your trigger even after your long-distance rifle shot. Keep watching the bullet passing through thoroughly from the scope.  Holding in the same position will eventually help you in aiming for your next shot.
Furthermore, this position will make you relax and understand the angel for your next aiming shot. Also, you don't need to reposition your body as well as the scope angle. Put yourself in a position till your bullet hits the target. The keynote to remember, you are not done with shooting until your bullet hit the target, however, it took a few seconds to determine the situation in the long-distance shooting.
Read More: Spotting Scope vs Binoculars – Who's the Winner?
 Long-Range Hunting – FAQs
---
1.   How far is the long-range hunting?
It is considered to be long-range hunting if it covers a distance of over 109 yards.
2.   What is meant by a minute of angle (MOA)?
Minute of Angle or MOA is an angular measurement. Normally, MOA is 1/60th of degree that spreads around 1"/100 yards. 1 MOA can be of different sizes at different distances 8" at 800 yards can be still considered as 1 MOA.
3.   Explain zeroing a gun?
Zeroing a gun or sighting is considered to be aligning the sight or scope of your rifle so that your bullet hit the target of a particular aim at a specific distance. You cannot change the rifle to change the bullet's path but you can adjust the sight angle.
4.   How long does a bullet take to travel a mile?
Here is the simple arithmetic to calculate the minimum time for a bullet to travel:
5280 feet in a mile / 2600 feet per second = 2307 seconds
5.   Can you dodge a bullet?
Apart from the speed and finesse, a human cannot dodge a bullet within close range. Hence, the bullet travels way too fast then a normal human can imagine. Furthermore, the slowest bullet shot by a handgun is at 760 miles/hour.