People who wear glasses are often confused about whether to pick a compact binocular or a comparatively bulky spotting scope. The reason behind this reluctance is the fact that both optical gears have similar features and help you see far-off objects with utmost clarity. You can enjoy hunting, bird-watching, stargazing, cruising, and various other activities with a good scope/binocular in hand.
However, which one is more proficient is a long-standing question. Both spotting scopes and binoculars have their respective pros and cons. If you want a genuine evaluation between spotting scopes and binoculars, keep reading, and I'll help you compare these two premium glassing tools with ease.
Spotting Scope vs Binoculars – Comparison by Features
When your glassing gear has incredible features, it performs amazingly in all indoor/outdoor ventures. But how to be sure if the one you're using is the better alternative? A detailed comparison between binoculars and spotting scopes will help you wade through this muddle. So, let's compare some prominent features of scopes and binoculars side-by-side and decide which ones got better dynamics.
1. Magnification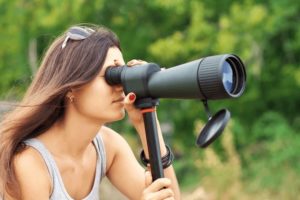 A glass's high magnification is mandatory to see a subject clearly and thoroughly observe its details. Whether you're an outdoor birder or a hunter, your lens must be capable enough to produce better imagery of far-off objects in a gist.
Since spotting scopes have higher magnifications, they win this category. Most entry-level scopes have above 60x magnification, which is perfect for all excursions. On the other hand, even the high-end binoculars are confined under 25x power. Although 18x and above is a useful magnification, it can't match the level of scopes.
So, if your missions are far-ranging, look for a powerful device that can assist your throughout.
2. Optical Quality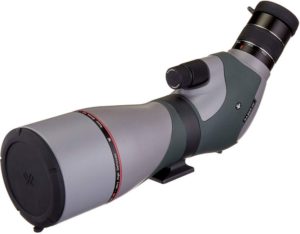 Binoculars have a more complex lens and prism systems that always produce razor-sharp views. In addition. the lens glass in binoculars is multi-coated to prevent chromatic aberrations and enhance light transmission. If you have an excellent binocular, you'll surely love its vivid and fringing-free optical quality.
In the spotting scopes, however, there's one lens are comparatively simple prism system. Light crosses the scopes in a straight path and doesn't scatter much. The final image quality is good, but the chances of edge fringing are relatively higher in the scopes. Also, if you focus on a nearby object with your spotting scope, you'll see a slight false color-composite on the sides.
Therefore, binoculars have the upper hand in optical quality; as they focus on a limited area, they produce exceptionally bright views.
3. Field of View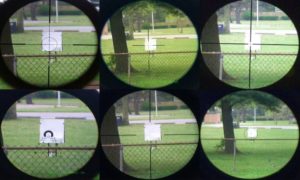 Most 15-20x binoculars offer 300-400 ft FOV, which is excellent for mid-range glassing. But, to see beyond that set limit, a spotting scope is the answer.
Here's a thing:
Although the specified FOV in spotting scopes is very low, they still cover a broad region is one go. As I mentioned above, magnification is the real deal. A scope's above 60x magnification compensates for the FOV and never limits your sight. You can enlarge the farthest objects in your eyes' path and get a detailed look at their features.
Once again, spotting scopes win here. They let you look at the bigger picture, instead of a limited one.
4. Comfort-of-use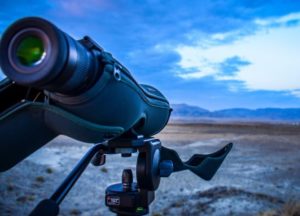 Binoculars are undoubtedly more compact, portable, and easy-to-use. You don't need a tripod, adapter, and a flat surface to set your binocular. Simply hold your bino and always be knowledgeable.
On the contrary, spotting scopes are hard-to-carry around and bulkier than the binos. You must have a stable ground and an adjustable tripod to adjust your spotting scope, which takes time (obviously).
If your time spent outdoors is limited, don't waste it in setting a scope. Get a handy binocular and walk freely. Also, focusing on a thing with two eyes is more relaxed than one, which is another plus point for binoculars.
You can hang a binocular around your neck, and it is always ready-to-serve; scopes on the contrary, take time to set. So, choose accordingly.
5. Ergonomics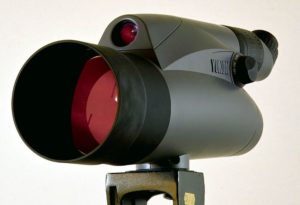 If your equipment is thoughtfully designed to serve you speedily in the woods, it becomes an invaluable asset. Both spotting scopes and binoculars have large focusing knobs, firm housings, and protective coatings. If your scope/bino is from a trusted optics brand, you shouldn't worry about sheltering it from environmental harms.
Both binocular and scope lenses are (mostly) purged with dry nitrogen/argon that doesn't let moisture enter inside them and keeps your adventures stress-free.
Another significant difference between scopes and binoculars is their way-of-use. A binocular is a hand-held glassing device whose weight is mostly below 2-3 lbs. Similarly, a spotting scope is larger and heavier than a bino. You'll have to use a tripod for a spotting scope, which is an additional burden. If you seek comfort, go for a high-end binocular.
Spotting Scope vs Binoculars – Comparison by Performance
The activities of glassers include birding, hunting, cruising, peeping, and so on. Therefore, a scope/bino should be compatible with all glassing missions. Before picking any of these two gears, be sure about your planned adventures. Whether you'll go for hunts of balcony birding, decide beforehand. Now, let's compare binoculars and spotting scopes in different scenarios to get a better insight.
1. Birding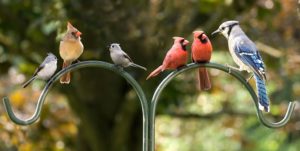 Outdoor birders require incredible magnification capacity, wide FOV, smooth focus, and impressive light transmission. Fortunately, a proper spotting scope will provide all these comforts and make birding more fun for you.
Additionally, if you opt for a binocular, it will also perform exceptionally during your bird-watching trips. The only down point of binos for bird-watching is their limited magnification. A spotting scope is the best way-out for someone who loves to focus on minutest details of birds.
2. Hunting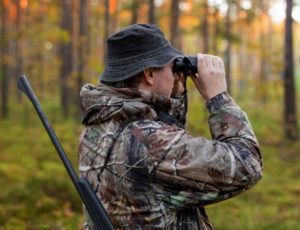 Although the spotting scopes make hunting a great experience, they challenge your patience in the wild environment. A hunter doesn't have time to make a set-up and then repeat the process if he shifts his position. Hunting is generally a quick venture, and the hunter's gear must be top-notch to meet his requirements.
If you have plans to go hunting, make sure your glassing tool is compact. Even some spotting scopes are made light and small for hunters so that they can effortlessly enjoy long-range hunts.
Frequent hunters always prefer binoculars due to their ease-of-use and free hand hauling.
3. Photography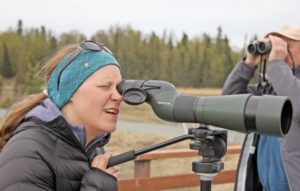 Without any doubt, spotting scopes are ideal for photographers. You can quickly attach your camera after mounting the scope on a tripod. There's always a T-thread on a scope's eyepiece, which immaculately assists the photographers. You can take brilliant pictures from your digital camera if you combine it with a reliable spotting scope.
However, photography isn't very convenient with binoculars. The main reason is the adjustment of the camera; you cannot do this to a bino's lenses. But that's quickly possible with spotting scopes.
Must Read: How to Choose a Spotting Scope for Target Shooting?
Final Thoughts
Spotting scopes and binoculars make outdoor ventures memorable and help us cross our eyes' set limits. If you wish see a broad region in one glance, get either a binocular or a spotting scope.
Both produce sharp imagery, true colors of the objects, and offer brilliant magnification. The difference is in their dynamics and your preferred activities. If you like short-range activities, a compact binocular is your answer. However, if you are a long-range birder or hunter, a spotting scope will captivate you by its features.
Keep your plans and target terrains in mind before picking any of these. Happy glassing!