You might be a budding hunter or wildlife enthusiast looking to add a trail camera to your arsenal of equipment.
A trail camera is a helpful gadget for gathering crucial information about the wildlife movement in an area. You can use the images or videos captured by the camera to improve your skills as a hunter and better understand the animals you are dealing with and it can also prove to be a wonderful gift for outdoor lovers.
Today's post explores the world of trail cameras. We inform you about the purpose of this digital camera, what features you should be looking for in our expert buying guide, and reviews of the best trail cameras the market has to offer.
What is a Trail Camera and its purpose?
A trail camera is a gadget designed especially for hunters to collect video or photographic data about the wildlife in hunting areas. The hunters used the information to analyze the situation and make better hunting decisions.
A trail camera takes high-quality photographs or videos when the highly sensitive motion detector is triggered by the movement of wildlife.
There is a large variety of trail cameras that offer a range of great features, as well as some disadvantages. You will have to do your research before selecting one.
How Do Trail Cameras Work?
Learning about how trail cameras work will help you identify the essential features that you should consider when purchasing the best trail camera.
For the most part, Trail cameras stay in the state of electronic standby while the motion-sensor equipped in the camera continues to remain fully alert. Most trail cameras have a Passive Infra-Red (PIR) detector, which is commonly used in burglar alarms. As soon as the PIR sensor detects motion, it triggers the camera, and the flash and photos or videos are captured according to the predetermined settings. The photographs and videos are stored on the SD memory card in the camera, and then the setup goes back to standby mode.
The following factors determine the camera's ability to capture video and images:
Lens – it determines the field of view
Image-Sensor – it captures the light passing through the lens
The illumination level – the most common sources of illumination for a trail camera is sunlight during the day or infra-red flash at night.
Trigger-time – this is the time between the detection of the movement detection and the picture being taken.
Generally, modern trail cameras capture colored images/videos in daylight. Whereas, black and white images are captured during the night through the infra-red (IR) flash instead of the typical white-light flash. The user decides the settings needed to control the camera on the camera through a screen and user interface. These settings are fully customizable and can be changed when required. You can also view the images on the screen.
Essential Aspects To Consider When Purchasing A Trail Camera:
Detection Circuit: How good is the trail camera at detecting activity?
Batteries: How long will the battery last?
Infrared Flash: Does the nighttime flash emit red light when triggered or an undetectable flash? How clear and bright are the night images?
Picture Quality: how are the sample photos? Are the details clear and sharp?
Setup: How user-friendly is the interface and the settings? Does it come with a viewing screen?
This must give you a brief idea of what to look for in a trail camera. It is important to remember that every camera has multiple aspects to evaluate when purchasing one.
Today you can find trail cameras based on cellular networks as well as energy-efficient solar-powered variants.
Let's discuss the features that mask the most difference in a trail camera.
Power Options
Thanks to modern advancements, you can now choose different kinds of power options according to your needs. It is now prevalent to find cameras equipped with a solar power plate that allows the camera to keep running on standby for months without changing batteries. However, such cameras need sunny conditions to continue operating.
Another common and popular option is the use of standard AA batteries. AA batteries' power option is preferred because of the convenience and reliability, but you need to switch the cells as soon as they run out of juice. Buying a fresh set of batteries every time can add to the running cost, which can be avoided using rechargeable batteries.
Image Quality
Image Quality is an essential feature in any camera, including allowing you to gather data about a hunting area. A good trail camera will provide crystal clear, still images and videos. Stay away from any cameras that don't offer a decent quality of images.
A good benchmark for quality trail cameras is 7-megapixels, but you can also find high-end models that offer better quality with 10-megapixels, which is more expensive.
If you are on a budget, then don't worry, you can find some inexpensive models with 2-megapixel quality.
Trigger and Recovery Time
The time between motion detection and camera capturing the video or image is known as the trigger time. The trigger time should be as short and quick as possible, so you don't miss relevant data. Most cameras have a trigger time range between 0.2 seconds, which is exceptionally fast and 0.7 seconds, rather sluggish.
On the other hand, recovery time is how quickly the camera can take a photo or video and be ready to capture the next photo/video. You also want this to be as quick as possible.
5 Best Trail Camera Options
---
Last update on 2023-10-04 - Images from Amazon Product Advertising API
---
1. Campark Trail Camera-Waterproof 16MP 1080P Game Hunting Cam – best trail camera under 100

The Campark T45A is hands down the best trail camera on the market for several reasons. Unlike the majority of remote digital cameras with a single passive infrared sensor, the T45A has 3. This allows the device to increase sensitivity while cutting detection time down to 0.3 secs and saving energy.
Campark T45A captures sharp, vibrant, and bright pictures and videos with its 16MP 1080p camera. Forty-two low glow infrared LEDs offer excellent nighttime lighting without frightening the wildlife animals.
The T45A also offers a microSD card slot, but you would have to purchase the microSD card separately as it doesn't come with the camera. The only con of Campark Trail Camera is that it comes in the Chinese language by default; however, it is not difficult to change it to English.
Features
16 Megapixel Image and 1080P Video
42 pcs upgraded infrared LEDs
850nm infrared flash technology
3s Trigger Speed
Night Vision Range – 20M/65FT
Night Vision Type – Low Glow IR
120° Wide Angle Lens
Pros & Cons
Pros
Good low-light picture and video quality
Available in 2 camo colors
Super Infrared Night Vision
Cons
Check Price
No products found.
Victure is popularly trusted and recommended for its best trail camera range. Like other models, you get the perfect combo of specs and unique features with Victure Wildlife Camera. It is not the most user-friendly device; however, once you get the hang of it, you will not face any difficulties operating it.
Victure Wildlife Camera is amongst the most budget-friendly 16MP 1080P trail cameras on the market. The 26 pcs infrared LEDs have a no glow IR technology that makes Victure the best trail camera for nighttime use.
Features
16 Megapixel Image and 1080P Video
26 pcs infrared LEDs
940nm infrared flash technology
Night Vision Type – No Glow Technology
5s Trigger Speed
4″ LCD screen
Pros & Cons
Pros
Low Battery Alarm
Impressive IP66 water and dust-proof
Good value for money
Cons
A low number of infrared LEDs
Check Price
No products found.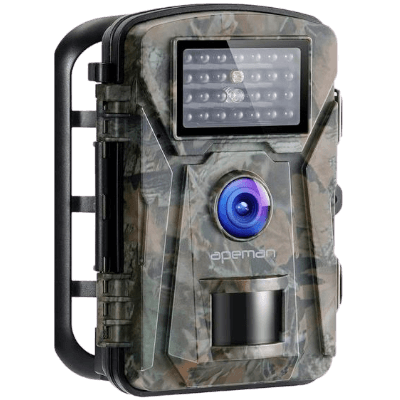 APEMAN H45 is the best trail camera if you are on a strict budget, but you require a top-quality device that offers excellent performance in low-light conditions. With 16 Megapixel Image and 1080P Video quality, you will always have sharp and fully saturated images and videos.
Lightning trigger speed and Night Vision up to 65ft/20m, you will never miss a clear wildlife shot. APEMAN H45 comes with a 1-year warranty, and the best thing is that you can also purchase a 3-year warranty for additional quality assurance.
Features
16 Megapixel Image and 1080P Video
26 pcs upgraded infrared LEDs
940nm infrared flash technology
5s Trigger Speed
Night Vision Range – 20M/65FT
Night Vision Type – No Glow IR
Pros & Cons
Pros
A Good budget-friendly option
1-year warranty
IP66 Spray Waterproof
Cons
Inconsistent support staff
Check Price
No products found.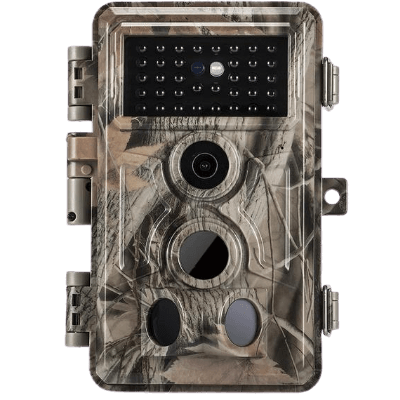 This Meidase Trail Camera is one of the best trail camera devices that I have ever tired. The impressive features and performance will make you second guess its price. Meidase Trail Camera takes remarkable shots with its 16 Megapixel 1080P camera, and the ultra-fast 0.2s trigger and no glow IR ensure that no shot is missed.
It also offers outstanding night vision performance with 3-level passive infrared sensors and durable weather protection with IP66 waterproofing. The TV remote style UI design keypad ensures easy operation and programming. All-in-all Meidase Trail Camera is an excellent option for both newbies and pros.
Features
16 Megapixel Image and 1080P Video
36 pcs upgraded infrared LEDs
940nm infrared flash technology
2s Trigger Speed
Night Vision Range – 82ft.
Night Vision Type – No Glow IR
120° detection view
Pros & Cons
Pros
Comprehensive specs available online
Three motion sensors
Ultra-fast Trigger Speed
Remote-style easy to use operation
Playback on the Screen mode
Cons
Does not come with batteries
Check Price
Last update on 2023-10-04 - Images from Amazon Product Advertising API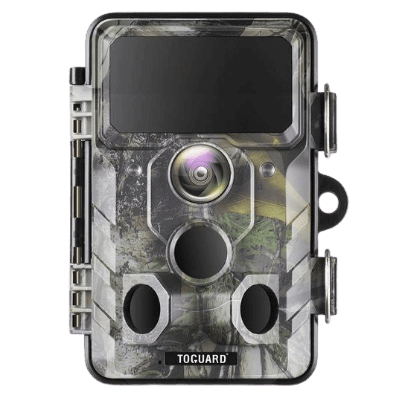 With Toguard Upgraded Trail Camera, you will enjoy detailed and crystal clear 20 Megapixels images and 1296P videos. TOGUARD Upgraded Trail Camera has several impressive features, including its unique WiFi turn on/off with Connect Bluetooth feature, which makes this TOGUARD the most easy-to-use WiFi trail camera under 100.
Although TOGUARD Upgraded Trail Camera is one of the best game cameras for feature vs. performance, according to my opinion and other trail camera reviews, this camera is on the pricy side. You can find similar specs trail cameras for a lower price.
Features
20 Megapixel Image and 1296P Video
36 pcs upgraded infrared LEDs
850nm infrared flash technology
3s Trigger Speed
Night Vision Range – 20M/65FT
Night Vision Type – No Glow IR
120° detection view
Pros & Cons
Pros
Three passive IR sensors
High-quality design and equipment
Impressive range of features
Cons
Check Price
No products found.
---
Verdict
Searching for the most efficient and reliable trail camera can be a huge challenge! We hope that our review and buying guide will help you find the best trail camera that fits all of your requirements.
No matter if you have an expansive budget or you a limited one! It is essential to ensure that you remember to keep the image and video quality, detection range, battery, storage, camouflage, connectivity, and other function in mind before deciding the best trail camera for yourself.
If you have any favorite trail cameras, please share it with us in the comments section.
---
---
Frequently Asked Questions
---
What are Trail Cameras?
Trail cameras are slightly different from the commonly used digital cameras. Also known as game cameras, trail cameras are specifically designed for wildlife hunters/photographers. However, they are also used for security reasons. These cameras are weatherproof; thus, they can sustain harsh weather conditions, including scorching sunny weather to torrential downpours and snow.
Are Game Cameras any different from game cameras?
Game Cameras, also known as Trail Cameras, serve the same function. They're developed especially to aid you in recording your target's accurate location and picture, which is usually a significant challenge in the wilds.
Most game or trail cameras have a detection field of approximately 50 to 100 feet. Right after the camera is installed and set, they begin to sense movement and activate the trigger, thereby collecting necessary details for hunting without your presence.
What is typical for long-range detection of Trail Cameras?
Trail cameras are generally designed for long-range detection from 40 ft. up to a 120 ft. The long-range detection in inexpensive cameras is commonly much lesser than the high priced trail cameras. Also, keep in mind that harsh weather conditions can severely affect the range detection.
How do I select the Trail Camera with the correct detection range?
The range requirement depends on where you are planning to camp/set up the trail camera. If it is set inside a cave or a small clearing, then a lower range trail camera are a good option for you. However, if you wish to capture a large field or mountainous areas, then a long-range detection trail camera would be ideal.
What is the ideal position for setting up a trail camera?
According to professional recommendations, you should ideally set up your trail camera approximately 3 to 5 feet above the ground or at 8 feet height and angle it downward. However, you may have different requirements according to your specific location.
Are Trail Cameras a camping essential?
The answer is both yes and no! Yes, if you are setting up your camp in the wilds and can keep an eye on your campsite or wish to capture a pro-shot of the less-known wildlife. However, Trail Cameras are not essential if you are camping at a secure camping site.
Are game cameras a suitable substitute for home security cameras?
Yes! Trail/Game cameras are a reliable substitute for home security cameras. Trail cameras camouflage easily and usually have dependable motion detection feature, so you can catch any trespassers who breach the detection zone. The only issue with trail cameras is the lack of trigger alert feature; however, you can resolve this issue using a cellular camera.