Spotting scopes used to be a very specialized and expensive item for a hunter or shooter to have in their collection. Thanks to a falling global optics price standard and improved technology, as well as some great newer companies in the field, what once was an expensive addition,  can now be reasonably had for the hobbyist or the hardcore hunter or shooter.
The best spotting scope for 500 yards or even beyond that range is the one that caters to your specific needs, but also has some versatility to allow you some additional value.
Spotting scopes aren't limited to hunting and target practice though, they are also used frequently with excellent results for viewing the night sky and planets, stars and even meteors; as well as for bird watching and for sporting events.
Anywhere that the object you wish to view is far away and in a generally fixed position and you want to see it up close, a spotting scope probably makes sense.
So, while you might normally find this author offering insight into hunting and shooting products, the spotting scopes we have encountered have been multi-purpose tools because they are built well and have a range of options.
To highlight the best, we have come in contact with, and to make sure everyone who is reading this has a fair chance at finding something that appeals to them, the article will cover a wide range of options and budgets.
Some are better suited for hobbyists and others are for the more technical users, but all who read this article can benefit from the insight we have gathered and from, ultimately the utility that a great spotting scope can offer.
As an initial NOTE: The price range of the selected optics (spotting scopes) varies a lot in this article, and that is to ensure each reader has an option that works for their budget.
Best Spotting Scopes for 500 yards in 2020 – Our Picks
---
Last update on 2023-10-04 - Images from Amazon Product Advertising API
The Buyer's Guide -Â Spotting Scope for 500 Yards
---
Why You Should Use a Spotting Scope as Opposed to a Rifle Scope or a Pair of Binoculars?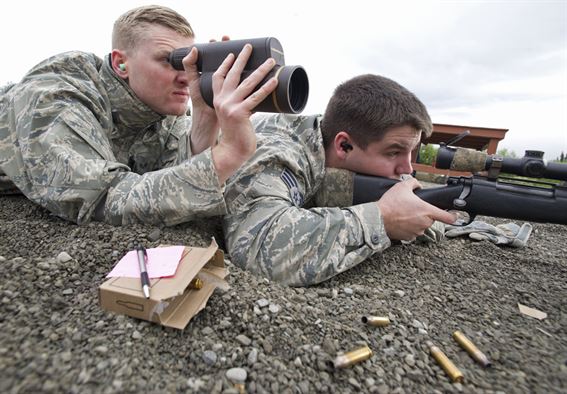 It's not so much that you should use a spotting scope instead of a rifle scope, but you can certainly find reasons why that makes sense (see below). Rather the two can be used in harmony to make you a more effective hunter and the added versatility of the spotting scope can help you on hunts, but also in other scenarios like sporting events or for nature activities, without the single-use concerns that come with a rifle scope.
Why a spotting scope is better than a rifle scope or a pair of binoculars for hunting?
It's safer to point an optic than it is to point a firearm.
You get better light gathering generally and a bigger field of view.
You get the higher quality glass for less money and you can magnify far greater than most riflescopes especially when you compare prices dollar for dollar.
Binoculars have some duplexing issues and are a bigger target for animals to react to.
Mounted on a tripod, a spotting scope will give a ton of versatility and can be within easy, concealed reach of the shooter too.
With a fixed position, you can easily find out your data or scan the landscape instead of having to re-index each time with a scope or a pair of binoculars.
A spotting scope is a truly versatile item to have in a closet, for when other situations might be able to use the various features of the optic too. This includes sky viewing or birdwatching; sporting events and things like airshows. Spotting scopes offer a great mix of use cases.
Will a Spotting Scope Actually Work for Watching the Sky/Stars/Moon? 
Not only does a spotting scope work for this type of observance, but they also are substantially more useful and versatile, and incidentally more robust in build quality than most competing telescopes. Especially on the lower end of the market.
The build quality and toughness of a spotting scope is much higher than competing telescopes in the same price range up to about $400.
The stability of the optic on a tripod and the general adjustability is leaps and bounds better for fixed work, and the glass quality is generally at a much higher-level dollar for dollar.
That said, this is not a plug and play item for using on astrological events. You don't get the bundled information and the compounding extras you might get with a bundled kit that is built for star and sky watching.
So, you will have to do a bit of research online to get yourself oriented in the sky if you aren't already well versed in celestial object positioning. Aperture can be exceptionally important for Deep Space objects too, so that is an important consideration if you aren't viewing just the close orbit objects.
The better light gathering capabilities and the higher tier of glass quality will have a substantial increase in your enjoyment if you are looking at the moon or large stars often.
Be careful of light saturation though, as the large objective lenses can pick up a lot of light pollution from city lights and as with any stargazing type activities, the darker the surroundings, the better.
A final note about astrological viewing: Meteors shouldn't be viewed with optics, they should be enjoyed with the naked eye, with as little background light as possible to see their entire movement.
The chances that you will see significant meteor movement on the fixed positioning of any optic, including binoculars is low. The single exception to this general rule of thumb is when you are viewing a dedicated meteor shower or meteor storm during a classified event and you have a wide field of view, where an optic like these spotting scopes can make some real sense.
How Much Power Do You Need in a Spotting Scope?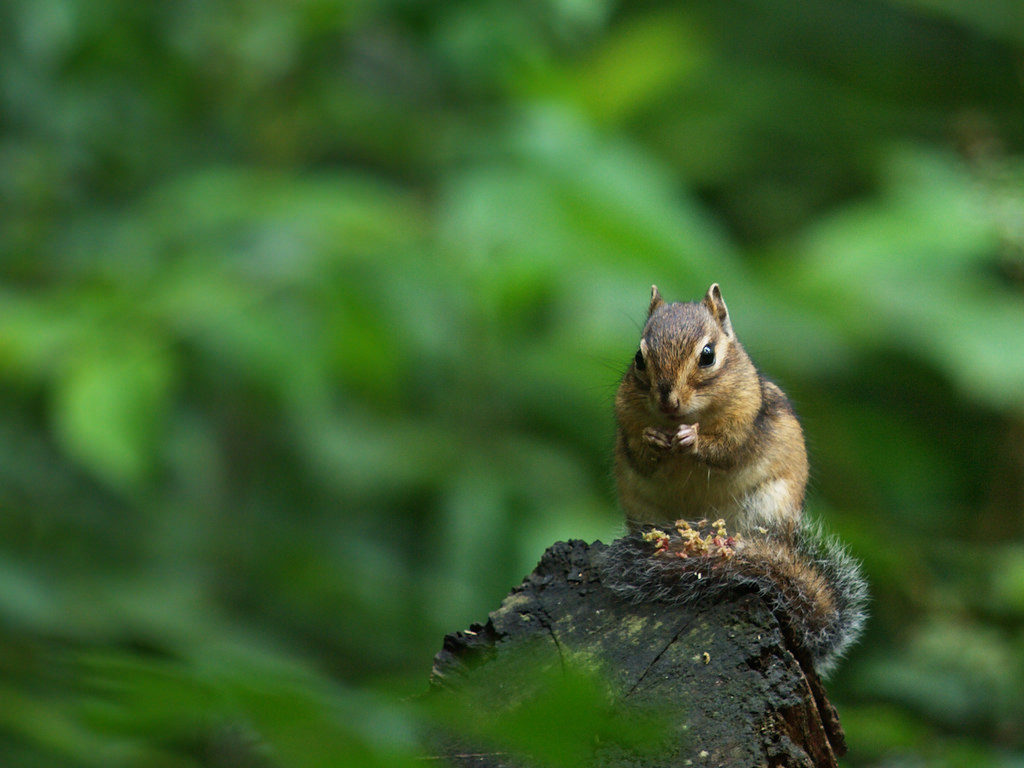 Most spotting scopes are in a range between 12x and 60x, with many varieties offering at least 20x and going past 80x. That number is indicative of the magnification power.
With an 80x unit, made with premium glass you will be able to view distortion-free well past the 500-yard standard used in this review article.
With 20x you can easily view this distance and most of the spotting scopes here will be crystal clear at that distance, and far beyond it, even though several of them are budget offerings. Simply put: a 20x or greater Spotting Scope with a 50mm or greater objective lens is more than enough glass to comfortably view this distance and see a decent field of view. 
Extras you Should be Considering with a Spotting Scope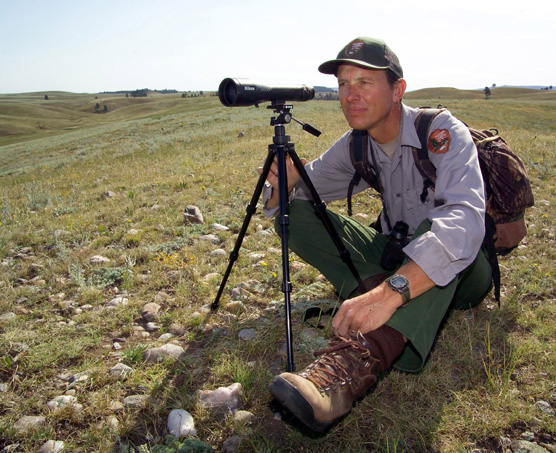 A tripod is a must have. A couple here includes a tripod or accessories for easy mounting to a tripod. But you will want to opt for a high quality, easily adjustable tripod like the two that follow here. One, a budget version, is a standard in the space and gives great utility and value.
The other has a few advanced features that take the versatility of the spotting scopes listed here as the best spotting scopes for 500 yards and beyond, well past their normal capabilities (as versatile as they already are).
If you want the best value-priced tripod to look no further than the Amazon Basics version which is a proven item over many years and thousands of users.
If you are looking for fast panning with your spotting scope for use while in the field hunting or birdwatching, the ball head and the extra adjustability of the Vanguard VEO 265AB Aluminum Travel Tripod with Ball Head will make your spotting scope a legendary performer.
Reviews of The 6 Best Spotting Scope for 500 Yards or More
---
Because this is about the tools of the trade more than it is about explaining the usefulness of the spotting scope, we shouldn't delay any further to bring you some top notes on each of the chosen best 6 spotting scopes for 500 yards.
We felt it was important to offer a wide range of use cases and price points, and for some, the price range might be a big range. Suffice it to say, when you are jumping up quickly in price, you are not paying for magnification, but enhancements on the quality of the glass and the capabilities of the added features.
So, if you only need magnification and objective lens size, you can feel confident buying one of the under $200 spotting scopes.
The others are reserved for hardcore users that can benefit from the user features and creature comforts of the higher end build listed.
---
1

. Vortex Optics Razor HD Spotting Scope Review 
Best for: The purist who knows they need premium glass for long distance work
---
Last update on 2023-10-04 - Images from Amazon Product Advertising API
A ridiculously well-made spotting scope that enjoys elite status among many of the commercially available scopes on the market. It is also priced to reflect the top tier quality of the glass. It is made for those who know they want the crispness and distortion free viewing that only glass this level or higher can provide.
— Why do we recommend this?
It's a premium product and one that is made to last forever and be transferred on to the next generation of shooters or outdoor enthusiasts to be used and enjoyed like the legacy piece that it is.
---
2

. BARSKA Colorado Waterproof Spotting Scope Review
Best for: Those who aren't sure yet, that they can use all the power of a spotting scope.
---
Last update on 2023-10-04 - Images from Amazon Product Advertising API
You are getting a huge bargain with this purchase. It's simple, straightforward and easy to see the immediate value. You get robust magnification, great light gathering capabilities and this thing is built to last; with a warranty to match (lifetime). It's plug-and-play too with an included tripod so you can get out there and use it right away. The quality is top-notch for the price point.
— Why do we recommend this?
You can't beat the value for the money spent. The use cases will present themselves more often with a piece like this, that's built well and can take a beating, and does what you ask it to do.
---
3

. Bushnell Trophy XLT 20-60x 65mm Waterproof Compact Tripod Spotting Scope Review
Best for: Someone who wants utilitarian style and multi-use spotting scope that is easy to travel with.
---
Last update on 2023-10-04 - Images from Amazon Product Advertising API
It's tough and comes with an easy travel bag and a hard case. This is the one you go to when you want something that can go anywhere and do most of what you need it to do without any hiccups or adjustment issues.  Great for general field use and comes with a tripod, this is a well-priced unit for someone who wants to view public events and sporting events or airshows/car races, etc. It's capable of hunting use and it's been proven in the field doing it over many years, but this is a very versatile option that is still priced nicely for many users.
— Why do we recommend this?
It's relatively tough, relatively inexpensive and will serve you in any use case generally.
 
---
4

. ATN X-Spotter HD 20-80x/200mm Smart Day & Night Smart HD Spotting Scope Review 
Best for: The shooter who wants to archive the entire process in HD.
---
Last update on 2023-10-04 - Images from Amazon Product Advertising API
All the bells and whistles for the gadget lover in you. ATN X-Spotter is the unit you buy when you have already used glass only spotting scopes and you want something more. You can archive your entire hunt with this, stream it wirelessly and capture HD video. It has a rangefinder, compass and anti-shake technology that makes it the cream of the crop for the electronic spotting scope user. Great for big family events or memorable hunts, this can save memories you can't with other spotting scopes.
— Why do we recommend this?
Because the functionality of ATN X-Spotter is massive and it's unlike any other static glass-only spotting scope on the market.
---
5

.Vortex Optics Crossfire II Review 
Best for: The dedicated bird watcher or sky watcher
---
Last update on 2023-10-04 - Images from Amazon Product Advertising API
Anti-reflective, fully multi-coated lenses
Dead-Hold BDC reticle
Constructed from aircraft-grade aluminum
O-ring sealed and nitrogen purged
Vortex Optics Crossfire II 4-12×40 Adjustable Objective features Dead-Hold BDC reticle that is excellent for shooting and hunting at varying ranges. The adjustable objective also features image focus and parallax removal to enhance shooting performance.
The anti-reflective, fully multi-coated lenses ensure crystal clear, bright views. The fast focus eyepiece allows you to focus on your target quickly and easily; while making long-distance shots. Vortex Optics Crossfire II is waterproof and fog proof, so it is excellent for extreme weather performance.
— Why do we recommend this?
The Vortex Optics Crossfire II scopes offer a fantastic range of features without breaking your bank. This is one of the best scopes for hunting at various ranges, and it is also reasonably easy to use, thus an excellent option for both experienced and new hunting enthusiasts.
---
6

.Burris Fullfield II Ballistic Plex Rifle Scope Review
Best for: The budget optic for those who will use it in a lot of different environments and don't want to worry about a super pricey piece of gear.
---
Last update on 2023-10-04 - Images from Amazon Product Advertising API
Features the Ballistic Plex reticle
Reinforced quad-seal gas seals
Hi-Lume Multi-coated lenses
Long-range accuracy
If you want the best riflescope for everyday use at 500 yards and more, then Burris Fullfield II Ballistic Plex Rifle Scope is an excellent option under $300. This scope one of the most user-friendly and effective scopes around.
Burris Fullfield II uses a Ballistic Plex reticle that ensures effective performance, and the parallax adjustment allows for high accuracy at longer distances. The only con of Burris Fullfield II is its average transmission of light; thus, it is not the best scope for low-light conditions.
— Why do we recommend this?
This Burris Fullfield II scope is designed for beginners. It is affordable, feature-packed, and easy to use. Its versatility allows excellent performance in various ranges without having to spend an abundance of money.
 
The Best Overall – Spotting Scope for 500 Yards
---
You cannot deny the fact that having the correct equipment can significantly improve your overall shooting experience. We have shared some of our tried and tested top favorite 500 Yard Rifle Scope options.
Without a single doubt! All of the above mentioned Best 500 Yard Rifle Scopes would help you improve your shooting performance.
We are hesitant to give you a single choice for the best spotting scope for 500 yards, without at least picking one on each end of the spectrum (one full-featured and one bare bone), because they do two different things fundamentally.
Our favorite for the dabbler, the bird watcher, and the budding sky viewer is the value priced Barska Colorado. For what you are paying, the quality is there, the capability from a pure optics perspective is there, and it won't make you cry if you aren't treating it with kid gloves and it picks up a ding or two.
Furthermore, and the main reason we picked it as our favorite bare bones offering: it's the "gateway drug†for the spotting scope market. You get to pay only a small price to see what you've been missing by not having a spotting scope up to this point.
If you decide you need more features later, you can still keep the Barska and get great use out of it, and you'll actually know what features you desire because it offers some great baseline features already.
If you want a full-featured spotting scope to go with the ATN X-Spotter HD 20-80x/200mm spotting scope. It has everything you could ever want. But make sure you have battery backups because it is driven only electronically. You can record, stream wirelessly and it offers the best optics at the price point relative to peers.
Smart features like range finding and anti-shake technology make this a fantastic option. It's more delicate, and significantly more money but if you already know you want the features it's the best in class solution.
Whichever you decide to take to the hunting trip, the air show or to view stars at night in the nearest national park on vacation, a spotting scope opens up a lot of options for the user.
It's capable of doing so much more than a rifle scope or a pair of binoculars, assuming your target for viewing is fixed and far away.
We think you'll be pleasantly surprised with any of the options on this list of best spotting scopes for 500 yards and beyond.