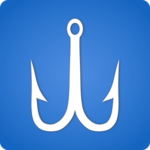 Fishing Points App can be used by the fisherman of all shapes and sizes. It's the versatility that will make this app useful to all. As a seasoned fisherman, I can attest to the many settings we find ourselves in.
⇒ I could find value in this app whether I am on the top of a mountain fishing for native trout or if I am out on the Atlantic fishing for flounder, this app will offer great benefits. Logging conditions and catches will benefit any type of fisherman.
I would dare say this app could present simple benefits to commercial fisherman as well.
Main Features of Fishing Points App
The Fishing Points app can be used for many things. I will tell you about the functionalities that set it apart from other apps. Where this fishing app really shines is in its ability to log and save data. Whether you are concerning yourself with the catch or the location you can record both.
⇒ Logging your location comes with several locations. You can use a basic GPS coordinate and pin a location or you can create locations based on trotlines you may be using or even trolling a fishing hole. These are two unique functions that lend themselves to a real fisherman's game plan.
⇒ For your trotlines, you will be able to mark where your line starts and stops. When it comes to trolling you will record your boat path along the water. You can press the stop button to finish recording or the app will automatically stop recording if you stop moving.f
⇒ You can also log your catches. Each catch can be logged using a specific interface. This function will capture the exact location of the fish as well as the time of day among other things. This is one of the coolest features of the app.
What I Liked The Most?
Catch Feature 
There is a lot to like about the Fishing Points app. Though logging spots via GPS is incredible and has a lot of benefits, it's the catch feature that really made me appreciate this app. I haven't seen anything like this before. I should also mention that the catch feature will log the location of the catch. This information is vital to what you will need the next time you visit this location.
In the menu, you will press the catches' selection. The catches menu will open to show all the catches that you have made since you started using the app.
From there you will add a catch and this will bring up a new screen. You can name the catch whatever you want and this can be a lot of fun. You could name your big bass the KING HOG and have a lot of fun with this.
It also allows you to add photos, select locations, add the length of the fish, the weight of the fish and time of day the fish was caught. In fact, time auto-populates. The best part about the catch function is your ability to add a note. This could be where you detail what method and bait you used to catch this fish. You will also include important conditions unique to that day as well.
⇒ The catch feature is far and away from the best part of the Fishing Points app. That's not to say the app is lacking in other options but it's an awesome part of the app. You can sort your catches as well so you don't become overwhelmed by all the fish you caught. Without this vital sorting option, you would find it nearly impossible to find a location or fish.
What I Liked The Least?
Fishing Activity Forcast
Fishing Points app has an interesting way of deciding fish activity I must mention it because to me it seems nearly random. I cannot really discern what makes the app decide on a good day of fishing activity or a dreadful day. The days are also broken up between several peaks and valleys of fishing times. I cannot help but notice some very strange peaks in fishing time. They are contrary to what most fishermen believe to be true.
1. To illustrate this by example I took the 18th of October which seemed to be like a stellar day of fishing based on the app's standards. The app said that fishing activity would be very high today. This set off an alarm because at this moment it is about 38 degrees Fahrenheit outside. This is never a wonderful way to start a fishing day unless you are after some catfish in the winter.
2. After being puzzled by this situation I decided to check a day that was decidedly a much better fishing day. I moved to the 14th of October which was a beautiful day. Low 60s in the morning with a little cloud cover and gave way to a great partly cloudy warm afternoon. I was at one of the state's top fishing locations and boaters were studying the lake. The app said that fishing activity rated a 41 and was average for these conditions.
To me, it looks like this app is putting a little too much of its forecasting on tides and the solunar conditions. This is the only explanation I can come up with for these strange Fish Activity grades and how they decided which days will be average or very high.
⇒ In the pro version, you can move days ahead in the fish activity forecast and I would be very upset if I set out on a fishing trip that was deemed to be very high with activity only to find my starting temp was in the high 30's.
Fishing Points App – User Experience
Splash Screen, Tips & On-boarding – Rating: 4/5
The splash screen is consistent with the brand.
Splash screen engages users and communicate the essence of the brand, and doesn't keep the user waiting.
The app supports on-boarding, it is used to get some user's settings data. The on-boarding is well-designed and requires a minimal step to accomplish.
Home screen & Navigation – Rating: 4/5
Uses a menu drawer.
Only primary content and functionality are on-screen by default.
App purpose and the priority user journeys are clear.
Content & Design – Rating: 5/5:
Content is used instead of a traditional home screen to engage users immediately.
Return users can set alerts for items or searches.
The visual design engages and enhances user experience.
Usability Hygiene – Rating: 4/5
Content (cached) is accessible when the user has no connection.
Primary call-to-action buttons are sticky / persistently visible.
On-screen content and transitions between screens appear fast and responsive.
My Final Take
♦ The Fishing Points app is a terrific addition to any fisherman's toolkit. I must go back to the importance of your fishing diary. Knowing the conditions of a spot and your success year over year will give you the ability to duplicate that success.
This app will allow you to easily access this information for various fishing spots and revisit all your recorded catches year after year. This information can also be transferred to a hard copy journal as well.