Inside the dense forests, laying calmly and glaring at the sparkling stars that soothe your soul, all these things are only possible when you have the best camping tents. A weatherproof tent that doesn't soak you while you sleep and also has a meshed net to ensure you don't return from the woods with malaria.
Getting your hands on the best backpacking tent will always make your vacations safer, comfortable, and hassle-free. When you select an old-school tent, you'll be struggling to set it right. Especially, if you are a lone wanderer, your camping tents must be light, easy-to-set, and weatherproof.
The gear market has endless choices in every budget category; the one that you buy should always be top-notch, affordable, and compact.
I am sure you'd loathe hauling around a bulky tent that doesn't fit in your backpack and drain your energy while you walk. To eradicate all these concerns and help you pick the best backpacking tent, I did thorough research, compiled the best camping tents list, and sorted a detailed buying checklist.
If you're planning to enjoy your leisure time in the lap of mother Earth, read through my review of the best camping tents and pick one depending on your target location. So, let's dive right in:
Best Camping Tents – Our Picks
---
Last update on 2023-12-01 - Images from Amazon Product Advertising API
---
Best Camping Tents – Product Reviews
---
1. NTK Cherokee GT 5 to 6 Person Family Camping Tent
---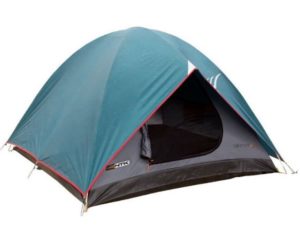 Serving outdoor enthusiasts since 1975, NTK is undoubtedly one of the seasoned names that produce the best camping tents. If you have the plans to spend the weekend on a lake view, this NTK Cherokee should be your priority.
Apart from accommodating 5-6 people comfortably, the Cherokee tent is easy-to-assemble, portable, and secure.
When your destination is a windy place, this NTK camping tent will ensure that you get a good night's sleep.
NTK has crafted this master-class family camping tent from a robust 190 T polyester. This durable polyester will bear all hardships that the weather throws your way and still pleasant-looking.
With its large rainfly, you'll stay dry; this tent will let you sleep while it pours outside, sounds great, no?
Its quick to attach/detach ring and anchor system doesn't bother you during its set-up and quickly connects to the ground.
Moreover, due to its resilient mosquito mesh. you and your kids will remain sheltered from wild insects and mosquitoes. As we know, mosquitoes are prevalent in damp places; your NTK camping tent will ward them off quickly.
This incredible tent has an anti-fungus polyethylene floor that doesn't get affected by greenery, moisture, and dust.
You can head towards any thrilling location; this NTK tent will always accompany you and your family.
Although this tent is a bit heavy, when we look at its occupancy, the weight is justified. You'll get a central loop for hanging lantern/light in the dark and enjoy calm family times in the middle of nowhere.
Features
Accommodates 5-6 people
Made from durable 190 T polyester
Weighs 15.2 lbs
Comes with an impressive rainfly
Pin and ring anchor system
One door
Pros & Cons
Pros
Easy to assemble
Durable
Waterproof
Anti-fungus Polyethylene floor
E-port available
Thin mosquito mesh
Inner loop for light/lantern
Cons
Last update on 2023-12-01 - Images from Amazon Product Advertising API
---
2. Coleman 2-Person Pop-Up Tent
---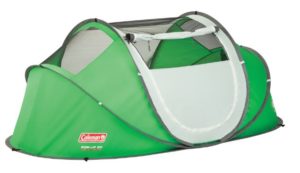 By going camping with your partner, you can make life-long happy memories that never daze. While you two pick up backpacks and head towards a trek, don't forget this incredible Coleman camping tent.
Unlike bulky and hard-to-set tents, you can set this pop-up tent in a breeze. You only have to un-tie this tent and throw-in on your camping spot. And by the minute it hits the ground, your ruffled polyester piece will turn into an exotic camping tent. That's the reason pop-up tents are so admired these days.
Coleman is also one of the most trusted names in the world of campers, trekkers, and wanderers. Its gear is always exceptional, affordable, and secure.
This Coleman tent offers enough room and headspace for two people; even three people can adjust in it if they are comfortable with each other.
Setting this tent takes only 10 seconds. After a tiring walk/trek, you won't be hassling with your tent. Instead, it will be instantly ready for you to sleep/relax in.
Its durable polyester rainfly never lets water seep through it, and work brilliantly in stormy/ rainy weathers.
Even though this is a pop-up tent, it will astonish you by its strength. This small and lightweight tent doesn't waver when the wind blows, and its comfortable taped floor lets you sleep calmly.
So, if getting a budget camping tent for a short duration is your aim, don't look further than this Coleman pop-up tent. It is light, smart, easy, and secure; all positives packed together.
The only drawback it has is its incompatibility with freezing weather. Since its walls and floor is polyester, you can't use it in snowy/frozen regions.
Features
Made from 185 T water-resistant polyester.
Offers occupancy for two people
Weighs 6.5 lbs
Pre-assembled poles
Rainfly added
Pop-up style
Pros & Cons
Pros
10 seconds set-up
Taped floor for comfortable sleep
Protected seams for weatherproofing
Robust frame for heavy winds
Inexpensive
Cons
Not good for cold weathers
Sale
Last update on 2023-12-01 - Images from Amazon Product Advertising API
---
3. ZOMAKE Pop Up Tent 4 Person Beach Tent
---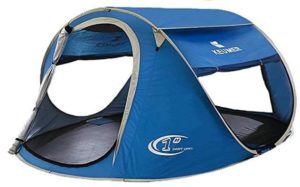 Spending Sunday on a warm sunny beach feels excellent after a tiring week. However, once the sun is out, we can't bear the sun-rays for long. A time comes when we need shelter from those scorching rays.
Fortunately, you won't have to quit your basking session while taking some time off.
Instead, you can quickly open up your ZOMAKE tent and get inside for a break. It's UV protective coating will reduce the heat and allow you to chill for a while.
This pop-up tent suits best to windy/sunny places where stays aren't that long, but you still need a reliable camping tent to wade through the weather extremes.
This ZOMAKE tent is quick to assemble and stays nicely hinged to the ground. Tent-balancing stakes come with this exciting tent so that it doesn't give in to harsh conditions.
You'll never struggle while hauling your ZOMAKE tent around as it weighs merely 5 lbs. Its large D-doors and mesh windows offer impressive ventilation and don't suffocate you in hot weather.
Also, its long-lasting tarp material is easy to clean and feels soft to touch.
This camping tent is best for short treks, pool days, and weekend trips where you don't stay for long.
As I mentioned already, you can't rely on this tent for long week/month vacations.
Features
Four people occupancy
Crafted from 190 T PU coated polyester
Weighs 5 lbs
Stakes added
Round carry bag with straps
2 D-doors and two mesh windows
Pros and Cons
Pros
UV light protective coating
Extremely portable
Lightweight
Wetherproof
No typical polyester smell
Durable tarp bottom material
Easy cleaning
Best for couples
Stakes added for tent light holding
Incredible ventilation
Cons
No rainfly
Not for windy regions
Last update on 2023-12-01 - Images from Amazon Product Advertising API
---
4. MoKo Waterproof Family Camping Tent
---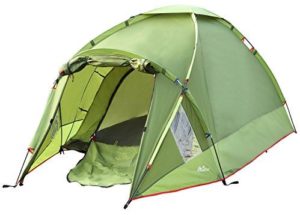 Camping inside thickets and mountain basecamps is always risky; we never know how the weather will turn out in a while.
Making sure that you are prepared for all challenges will give your trip a boost, and you'll ace those tough tasks.
This MoKo waterproof tent is made to survive difficult terrains, stormy weathers, and continuous wear-tear.
If you are a frequent camper, go for this long-lasting tent, and you'd never have to replace it.
This MoKo tent is a large dome-shaped tent that offers much headspace, footprint, and gear storage capacity.
Its vestibule will let you cook under a shade and will ward the flies off. Also, its size-able meshed window is excellent for sightseeing, stargazing, and feeling hues of the evening air.
It is crafted from exclusive water-repellent fabric that never disturbs your rest times. It will help you regain your energy before heading towards the next location.
Its side pockets are excellent to store your essential gear and don't let you create a mess inside the camp.
MoKo tent is a little hard to assemble alone, but if you have a helping hand, it will be set in a jiffy.
Features
Three-person occupancy
Made of 210-D polyester
9.92 lbs weight
Dome-shaped tent
A vestibule and one window
Pros & Cons
Pros
Water-repellent fabric
Removable Rainfly
Spacious interior
Comes with a durable bag
Best winter camping tent
Breathable material
Cover for mosquitos
Side pockets and hooks
Cons
Little hard to assemble alone
No products found.
---
5. Kelty Salida Camping and Backpacking Tent
---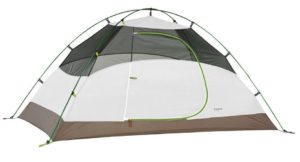 This is again a brilliant family camping tent for those who are frequent travelers and never waste a day off. By spending some good bucks on this family tent, you'll make a worthwhile investment for life.
Kelty Salida tent can resist all four kinds of weather, keep you secure, and doesn't wobble in winds.
Its floor is made from sturdy Nylon, but the walls and roof are crafted from 68 D polyester; both of these are perfect for outdoors.
Kelty Salida has made color-coded poles for this camp so that you don't hassle while setting them.
Additionally, the large vestibule and meshed walls provide impressive ventilation and don't make you feel claustrophobic.
This is a quick-to-set tent in which 4-5 people can easily adjust. If buying quality outdoor gear is your dream, invest in this premium camping tent and throw away all the worries.
Go to Sahara or camp in Alaska; your Kelty Salida tent will let you enjoy everywhere.
Features
Four people tent
68-D nylon floor
68-D polyester sides and roof
Added rainfly
A vestibule and 1-D door
Dome-shaped
Pros & Cons
Pros
Color-codded poles
Easy set-up
Great for family picnics
Four seasons tent
Mesh walls for better ventilation
Taped waterproof walls
Detachable rainfly
Lightweight
Comes with portable bag
Cons
Last update on 2023-12-01 - Images from Amazon Product Advertising API
---
6. Coleman Sundome Tent
---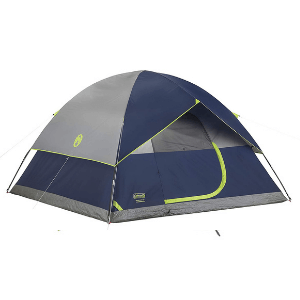 It is always a good idea to go fully prepared when camping inside thickets and mountain basecamps because you never know how the weather will change.
For a comfortable and safe camping trip with friends and family, the Coleman Sundome Tent is an incredible choice.
Although, Coleman Sundome Tent is not made from the fanciest fabrics; however, it provides a spacious, durable, and comfortable tenting experience.
We do not recommend Coleman Sundome Tent for camping sites with harsh weather conditions as it cannot withstand heavy rainfall and extremely windy conditions.
However, if you are camping in moderate weather conditions and you want the best camping tent at an affordable price, then Sundome is a reliable choice.
When it comes to selecting the best camping tent based on roominess, durability, and weather protection, the Coleman Sundome Tent will surely exceed your expectation without breaking your bank.
Features
Six-person occupancy
Made of Polyguard 2X double-thick fabric
16 lbs weight
Dome-shaped tent
Conventional Setup Type
Pros & Cons
Pros
Roomy, comfortable, and durable
Strong frame design
Affordable option
Rainfly added
Includes storage bag
Design features Storage Pockets
Enhanced Ventilation
Cons
Not ideal for harsh weather conditions
Last update on 2023-12-01 - Images from Amazon Product Advertising API
---
Best Camping Tents – Comparison
---
Best Camping Tents – Buying Guide
---
Since camping tents are used in all surroundings, buying them requires special attention. You cannot randomly select a tent and believe that "it will do the job". Some might expose you to pouring rains while others might be uprooted during heavy winds, we never know.
To ensure that you get one of the best camping tents, keep these points in mind while deciding:
1. Style
Gone are the days when most tents used to be of the same manner; this is the era of comfort and modernism. Brands are producing camping tents in various styles and shapes, allowing you to pick freely.
There are 5 major styles of best camping tents:
These tents are large, have ample headspace, and offer immense stability. If you are camping alone or in a pair, a dome tent will be best for you.
Just like the name indicates, these tents look like letter A when you set them. A-frame tents offer incredible stability and come in various sizes.
For family travels, a cabin tent will work brilliantly. When you camp in groups, privacy is often hard-to-find. Luckily enough, a cabin tent will let you all sleep comfortably and will respect your privacy too.
These are trivial, light, and comfy tents. If you are moving on foot, I am sure you won't like those massive tents. So, on your backpacking tours, pick one of these portable tents and enjoy the treks.
These are innovative tents. You won't have to set them up. Instead, a pop-up tent is already assembled. Once you open a pop-up tent's hook/rope, it quickly gains the tent-like position. During hectic travels, the last thing you'd want is to struggle with your tent; a pop-up tent will eradicate that worry.
There are many new styles of tents too. However, these five are the most common ones. Depending upon your preference, select any of these, and they'll provide you comfort and shelter alike.
2. Weight
When you are a backpacker, you have to lug your tent to far-off locations without any vehicle/help. In such times, if your tent is massive, you inevitably tire yourself and get body pains/strains. To stay comfortable during your journey, make sure your best-camping tent is light and portable.
3. Size/Occupancy
Sometimes we camp alone, and sometimes we go out with family, circumstances keep changing. While spending a good sum of money, you should consider the current and potential required occupancy in your tent. If you have plans to camp in a group, go for a family camping tent. Similarly, for singles and pairs, small-sized camping works fine as they offer enough sleeping space to 1-2 people.
4. Material
Nylon and polyester are the two primary materials used in the making of best-camping tents. While polyester is more weatherproof, Nylon is more on the lighter side. However, luckily enough, there isn't much difference between their durability, you can opt for any of these two.
5. Set-up Process
This again depends if you camp alone or take someone along. If you are alone traveler, go for a pop-up tent as it won't take your time and energy in the setup process. But if you can arrange helping hands, dome-shaped and A-frame tents have the upper hand in terms of resistance capacity.
---
Read More: Best Camping and Survival Accessories
Frequently Asked Questions (FAQ's)
---
1. What is Vestibule?
A vestibule is a small open space in front of the sleeping area of a tent. It doesn't have the floor, but is covered from the side and has a roof. This works like an open-yet-enclosed space where campers usually keep their muddy gear, shoes, and set the stove to cook.
2. What is the footprint in camps?
How much laying space a camp offers determines its footprint. For example, if a 6 feet tall person can lay straight inside a tent, that tent's footprint would be 6 feet. This figure varies immensely depending upon the occupancy and style of a tent.
3. What is a tent rainfly?
A rainfly is additional coverage that thoroughly covers a camping tent and is fixed with the skates/poles. Usually, camping tents have net-like floors from where you can see the sky and peep outside. However, in rainy weather, a rainfly will cover your tent wholly and keep you dry while you sit inside it. This rainfly can be easily attached/detached according to the weather.
Final Words
Getting the best backpacking tent is not stress-free with this much saturation in the market. If you are a first-time buyer, this will feel like a tough challenge for you.
However, by following my list of best camping tents, you can easily narrow down your options and get a budget camping tent for your upcoming adventurous journey. My objective is to test a wide range of products, in different conditions, especially those in which the tents will be used most often. Furthermore, I analyze the features of the camping tents, as well as compare them to other models. I have also taken into consideration reviews from other users while compiling my reviews to give you practical and comprehensive information.
Whether you've planned to camp with others or would like to explore nature alone, get one of the above-listed best camping tents, and enjoy your journeys thoroughly.
I wish you good luck with your future camping vacations, greetings!