Anyone that has fished long enough knows that even the most faithful fishing spots will dry up from time to time. That submerged rock formation, weed bed or outcropping that normally always produces fish has inexplicably yielded nothing the last several times you have been there. So what do you do when your favorite fishing spots stop producing? The answer is you better have a good fish finder on board to help you work way through this dry spell. This even applies if you are fishing for catfish too.
So what is the best fish finder for catfish? Catfish are pretty large so any fish finder with decent resolution should be able to spot them pretty easily.
In recent years, fish locators have become more popular and highly desired among serious sport and commercial anglers, which has fortunately ushered an increase in the number of quality fish finders available in the market today. However, having more products to choose from makes finding the right one for your needs a more confusing job.
Every angler has their own preferences, but when it comes to my personal choice is RAYMARINE DRAGONFLY 4 PRO if you want to catch that big catfish. It is an excellent model fish finder that has good screen resolution, multiple frequencies and the added bonus of having GPS navigation built into it too.
Selection of The Best Fish finder for Catfish
---
Last update on 2020-09-27 - Images from Amazon Product Advertising API
Key Characteristics A Best Fish Finder For Catfish Should Have
---
There are many different models of fish finders out there in the boating marketplace. Some have fancy buttons and controls, some have nicely colored screens and others have weather radios built into them.
When the dust settles on the dressed-up features of all these different fish finders, there are really two key components that you must focus on in order to get that catfish dinner you have been craving.
#1 Screen Resolution/Size
---
To put it simply, it does not matter how many objects your fish finder identifies in the water around your boat if you can't tell what they are. That is what makes the screen resolution on a fish finder so important.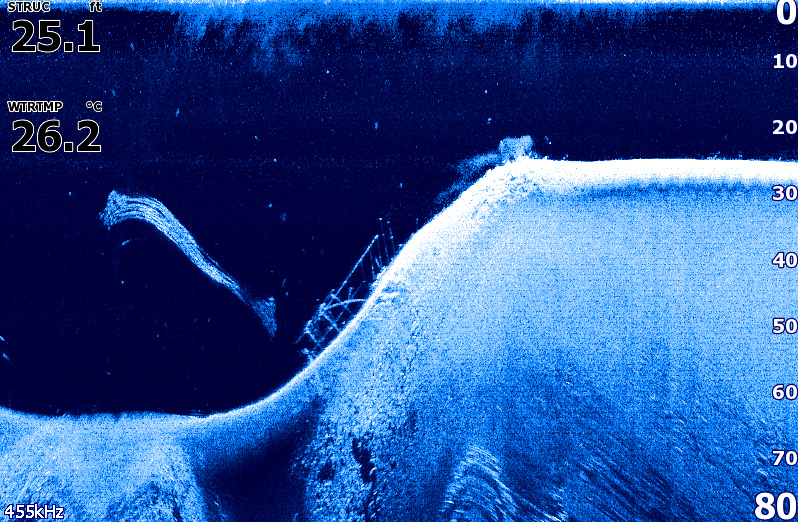 The size of the screen is important too. Even the best resolution on a fish finder is useless if you have to strain to see the objects on your display because your screen size is too small. A display size that is over 4 inches is highly recommended here.
#2 Multiple Frequencies
---
We don't live in a perfect world and sonar frequencies fit the mold nicely here. There is no such thing as a perfect sonar frequency because the waves they emit are impacted by the depth of the water you are in. Multiple frequencies will help you overcome these imperfections.
In general, higher frequencies give the highest resolution and work best in shallow water. Low frequencies are just the opposite. They work best in deeper water but the resolution gets worse the further down you go.
More Readings: Best Catfishing Reels Review.
Reviews of Best Fish Finder for Catfish
---
Fishfinders are tricky items to purchase. It's not like you can take them out and test them before you buy them. That is why we have taken the time to review three model fishfinders that will do a great job of leading you to catfish or any other type of fish you wish to go after.
---
1. Raymarine Dragonfly 4 Pro Fish Finder Review –

TOP PICK
Excellent daytime friendly display resolution
---
Last update on 2020-09-27 - Images from Amazon Product Advertising API
To be quite honest, there is not much that we don't like about this fish finder. We consider it a do-it-all product that will allow you to search for and find many different species of fish.
The screen resolution on its 4.3-inch display is more than acceptable. The display on this unit is also nicely backlit so it can easily be seen under both day and night time fishing conditions. The display information can also be conveniently streamed to your smart device for easier viewing from where you are in the boat.
Its best feature is the dual CHIRP sonar systems it has. One CHIRP sonar system will allow you to spot fish from a distance and the other will give you much higher resolution images of what those fish are once you get close to that area.
The GPS feature on this product is great for way pointing areas you typically find catfish and for use as a navigational safety aid.
Pros & Cons
Pros:
Excellent daytime friendly display resolution.
Dual channel 'CHIRP' sonar in two configurations.
The ability to stream data to a smart device.
Cons:
No battery level monitor.
Owner's manual could use some improvement.
— For more info, you can check out this video or download the User Manual here!
---
2. Lowrance 000-12635-001 Hook-3X Fish Finder
Affordable quality
---
Last update on 2020-09-27 - Images from Amazon Product Advertising API
If you are looking for a good mix of reliability and affordability in a fish finder, then you really want to take a closer look at this very good model by Lowrance. It is a nice entry-level fish finding product.
Lowrance 000-12635-001 features such things as an excellent resolution 3-inch backlit color display and easy to use controls. It will tell you such important things as the depth of the water you are in and the current water temperature.
Lowrance 000-12635-001 also has an 83 kHz sonar frequency to help spot large schools of fish and a 200 kHz frequency sonar to give you more details about those fish when you get closer to them.
Pros & Cons
Pros:
Affordable quality.
Dual Frequency.
LED backlit display.
Cons:
Some resolution problems at faster speeds.
Transducer for this unit is sold separately.
---
3. Garmin Striker 5DV Fish Finder Review
Good resolution 5-inch color display
---
Last update on 2020-09-27 - Images from Amazon Product Advertising API
Garmin is a proven name when it comes to fish-finding equipment and this unit does not disappoint. This model Garmin Striker 5DV fish finder will help you navigate around any waterway, identify fish from a distance and then give you more detail about them as you are over the top of them.
Garmin Striker 5DV has good resolution on its generous sized 5-inch color display and will easily take you to find where the largest concentrations of catfish are near you. It also has multiple channel CHIRP sonar to help you spot and identify catfish or any other species of fish you want to go after that day. The included GPS is a nice feature to have too.
Pros & Cons
Pros:
Good resolution 5-inch color display.
Multi-Frequency CHIRP sonar.
Added GPS with waypoint indicator.
Cons:
No pre-programmed charts for the GPS.
Waypoints can be hard to set.
— For more info, you can check out this video or download the User Manual here!
---
A Good Fishfinder Is Essential To Enhance Any Catfish Fishing Experience
---
There is no doubt about it, if you fish for catfish or any other type of fish long enough you will go through periods where you will swear there are no fish in the water. That is when good fishfinders like the ones mentioned above are so valuable; just remember to make sure they have a good display and more than one type of sonar to search for fish with.
You can certainly never go wrong purchasing any of the excellent model fishfinders we reviewed here. Get your best fish finder for Catfish today so you don't get shut out on your next fishing trip.
More Readings: Best Fish Finders For Shallow Water