Anyone that has fished long enough knows that even the most faithful fishing spots will dry up from time to time. That submerged rock formation, weed bed or outcropping that normally always produces fish has inexplicably yielded nothing the last several times you have been there. So what do you do when your favorite fishing spots stop producing? The answer is you better have a good fish finder on board to help you work way through this dry spell. This even applies if you are fishing for catfish too.
So what is the best fish finder for catfish? Catfish are pretty large so any fish finder with decent resolution should be able to spot them pretty easily.
In recent years, fish locators have become more popular and highly desired among serious sport and commercial anglers, which has fortunately ushered an increase in the number of quality fish finders available in the market today. However, having more products to choose from makes finding the right one for your needs a more confusing job.
Every angler has their own preferences, but when it comes to my personal choice is RAYMARINE DRAGONFLY 4 PRO if you want to catch that big catfish. Â It is an excellent model fish finder that has good screen resolution, multiple frequencies and the added bonus of having GPS navigation built into it too.
Selection of The Best Fish finder for Catfish
---
Last update on 2023-10-04 - Images from Amazon Product Advertising API
Key Characteristics A Best Fish Finder For Catfish Should Have
---
There are many different models of fish finders out there in the boating marketplace. Some have fancy buttons and controls, some have nicely colored screens and others have weather radios built into them.
When the dust settles on the dressed-up features of all these different fish finders, there are really two key components that you must focus on in order to get that catfish dinner you have been craving.
#1 Screen Resolution/Size
---
To put it simply, it does not matter how many objects your fish finder identifies in the water around your boat if you can't tell what they are. That is what makes the screen resolution on a fish finder so important.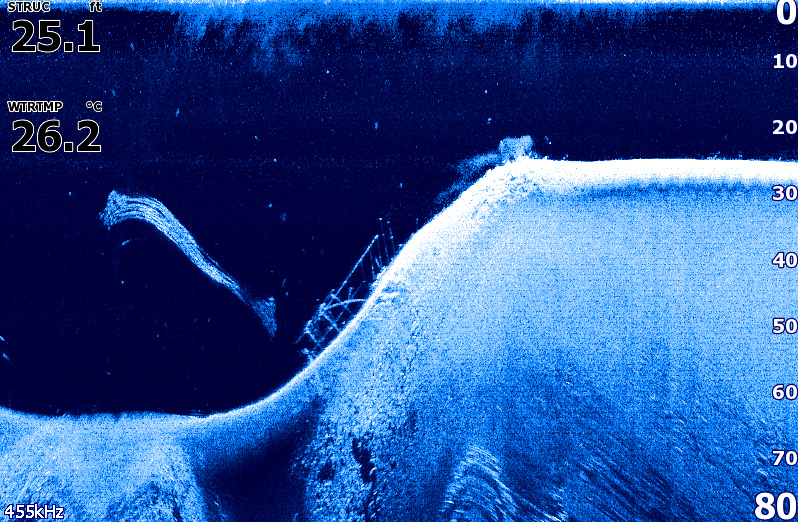 The size of the screen is important too. Even the best resolution on a fish finder is useless if you have to strain to see the objects on your display because your screen size is too small. A display size that is over 4 inches is highly recommended here.
#2 Multiple Frequencies
---
We don't live in a perfect world and sonar frequencies fit the mold nicely here. There is no such thing as a perfect sonar frequency because the waves they emit are impacted by the depth of the water you are in. Multiple frequencies will help you overcome these imperfections.
In general, higher frequencies give the highest resolution and work best in shallow water. Low frequencies are just the opposite. They work best in deeper water but the resolution gets worse the further down you go.
More Readings:Â Best Catfishing Reels Review.
Reviews of Best Fish Finder for Catfish
---
Fishfinders are tricky items to purchase. It's not like you can take them out and test them before you buy them. That is why we have taken the time to review three model fishfinders that will do a great job of leading you to catfish or any other type of fish you wish to go after.
---
1. Lowrance HOOK2 7 – 7-inch Fish Finder –

TOP PICK
Dependable brand with great quality and features
---
Last update on 2023-10-04 - Images from Amazon Product Advertising API
Our second pick from the brand Lowrance is Hook2 7, a popular choice among experts and users alike because it delivers the right balance of price, quality, and features. It offers a good sonar function that is ideal for locating catfish and crappies. The SplitShot transducer and the broad range sonar detection of fish are accurate even at bear bottom submersion.
The large 7″ screen provides a clear, realistic view of the information, including the structure and fish arches with minimal eye strain and guesswork.
I am confident to inform you that the setup and running process is beginner-friendly because it's hassle-free thanks to the mounting transducer and simple menu with an auto-tuning sonar making it the perfect choice for anglers who are new to the sport.
Additionally, this fish finder will also prevent you from getting lost because it comes with thousands of inland lake maps across the US.
Pros & Cons
Pros:
Affordably priced
Ideal for the novice with easy installation and use
SplitShot transducer offers quick and accurate detection of catfish
Large 7″ screen provides clear and sharp views
Comes with inland mapping
Cons:
---
2. Lowrance 000-12635-001 Hook-3X Fish Finder
Affordable quality
---
Last update on 2023-10-04 - Images from Amazon Product Advertising API
 If you are looking for a good mix of reliability and affordability in a fish finder, then you really want to take a closer look at this very good model by Lowrance. It is a nice entry-level fish finding product.
Lowrance 000-12635-001 features such things as an excellent resolution 3-inch backlit color display and easy to use controls. It will tell you such important things as the depth of the water you are in and the current water temperature.
Lowrance 000-12635-001 also has an 83 kHz sonar frequency to help spot large schools of fish and a 200 kHz frequency sonar to give you more details about those fish when you get closer to them.
Pros & Cons
Pros:
Affordable quality.
Dual Frequency.
LED backlit display.
Cons:
Some resolution problems at faster speeds.
Transducer for this unit is sold separately.
---
3. Humminbird 410950-1 Helix7 Chirp MSI G3 Review
High-tech features and large bright screen
---
Last update on 2023-10-04 - Images from Amazon Product Advertising API
The 410950-1 Helix7 from Humminbird packs an impressively powerful punch with its high-tech features, a large screen, and a competitive price. Features like the Mega Side really give this fish finder an edge over other similarly priced variants. Thousands of pro fishermen consider the Humminbird Helix7 Chirp MSI model a gem, and for a good reason.
As I previously said, this model's standout feature is the Mega Side and Down Imaging, which greatly improves the performance by searching and detecting over 100ft radius of surrounding waters and providing accurate results.
The clarity of the feed is awe-inspiring; the brightness and details might even fool you into thinking that you are watching HD quality live footage. Of course, the large 7″ screen helps improve the viewing experience even further because it clearly displays all the information, including the SwitchFire sonar option.
The model also features Bluetooth connectivity and the option to save waypoints and fish spots which you can visit later.
Pros & Cons
Pros:
Mega Side and Down Imaging improves the chances of detecting fish
Amazing clarity and brightness of 7″ large screen
Option to control the information presented
Waypoints and active fishing spots can be saved
Cons:
Complicated and time-consuming setup and running procedure
Incomplete information in preloaded base map charts
---
4. HawkEye Fishtrax 1C Fish Finder with HD Color Review
Superior features for great accuracy
---
Sale
Last update on 2023-10-04 - Images from Amazon Product Advertising API
When you are fishing for a specific fish, such as the catfish, it is important to remember that not every fish finder will provide what it needs to search and detect catfishes. For this purpose, a fish finder needs to have a precise, accurate, and detailed combination of features. Fortunately, the HawkEye Fishtrax 1C fish finder has the ideal combination of features that will help you up your catfish catching game.
Thankfully, despite having great features, the HawkEye Fishtrax 1C Fish Finder isn't expensive. It has fantastic strong and accurate sonar rays that search and locate catfish up to a 240ft diameter around it. It is also impressively quick at detecting targets and alerting you to cast a line.
The sharp and clear images on the fish finder's screen will inform you of the fish arcs, the depth, and the bottom structures. The LED-backlit screen is easy to view in low light with minimal eyestrain.
Thanks to its robust design and powerful performance, this model is popular among avid anglers and beginners alike. This fish finder is versatile and easy to mount, float, and troll.
Pros & Cons
Pros:
A portable and small device
Straight-forward and easy to use
Quick detection of fish within 240ft parameter
LED-backlit screen
Audible fish alarm
Cons:
Expensive
No transducer mount.

---

5.Venterior VT-FF001 Fish Finder Review

Affordable, durable, and effective

---

Last update on 2023-10-04 - Images from Amazon Product Advertising API

Don't let the compact size and the low price fool you into thinking that the VT-FF001 Fish Finder from Venterior isn't a worthy option for catfish finding. The affordable Venterior VT-FF001 features fish finding technology that is accurate and reliable.

This model's strength lies in its simplicity and durability, which focuses on a straight-forward setup and running process. Things are easy to learn and follow with no unnecessary bells and whistles. There are, however, a few shortcomings, but the model seems to make up for it in other ways. The cable is shorter than average, which means you won't be able to throw it very far. Still, it offers a good picture of the waters you are in, including information about the fish, vegetation, rock formations, and the bottom contours. Similarly, the screen on the unit is small, but it is clear and simple, and it is LED-backlit, which makes it easy to view in low light conditions.

A battery powers the unit, but a single charge will last throughout the day if you are careful, thanks to multiple power saving options.

Pros & Cons

Pros:

Robust and compact
Affordable
Easy to use includes multiple user modes.
Accurate within 3ft to 328ft depth range
2-year warranty included

Cons:

Batteries don't last long enough
Short-length cable
Accuracy is compromised when the boat moves fast
---
A Good Fishfinder Is Essential To Enhance Any Catfish Fishing Experience
---
There is no doubt about it, if you fish for catfish or any other type of fish long enough you will go through periods where you will swear there are no fish in the water. That is when good fishfinders like the ones mentioned above are so valuable; just remember to make sure they have a good display and more than one type of sonar to search for fish with.
You can certainly never go wrong purchasing any of the excellent model fishfinders we reviewed here. Get your best fish finder for Catfish today so you don't get shut out on your next fishing trip.
More Readings: Â Best Fish Finders For Shallow Water