The two most unlikely worlds have begun to converge. We are watching a slow collision between technology and the great outdoors. It's like watching planets collide. It's pretty interesting if you have been paying attention. It's also unavoidable. There will come a day where tech and apps are as common as a tackle box and that good old hat you love.
From a distance, the tech world and the apps developers see the great outdoors as a massive, mostly, untapped market. Technology is a greedy thing. It just keeps getting better and better. Now with the help of apps and phones this tech is finding its way right into the hands of a fisherman. These best fishing apps can bring valuable information right onto the boat or shoreline.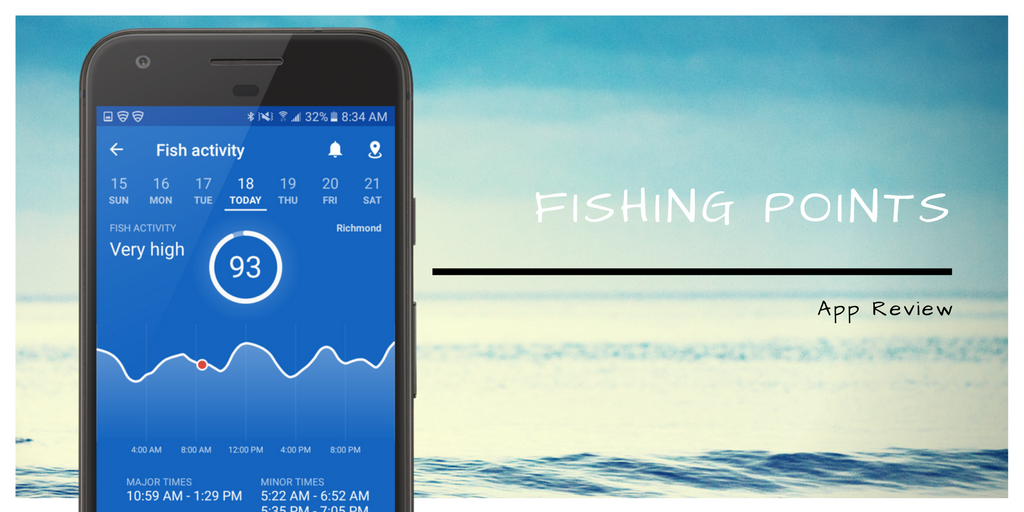 ---
The outdoorsman is primarily the most reluctant party in this relationship. While many prefer the break from technology it seems others are finding uses for these apps. What we are seeing is a group of people who are often heavy on gear seeing the tech in the periphery. I think they like what they see. If a fisherman can spend weeks choosing just the right reel for his setup there is no reason why that same focus would be wasted on tech.
Like the average fisherman, these best fishing apps can go from incredibly basic knot tying tools to apps that log every bit of information about your fishing trips. You will find that these apps can be as responsive as you'd wish. While you may not be much of an app or tech person today I would take the time to explore these apps and find out what they are all about.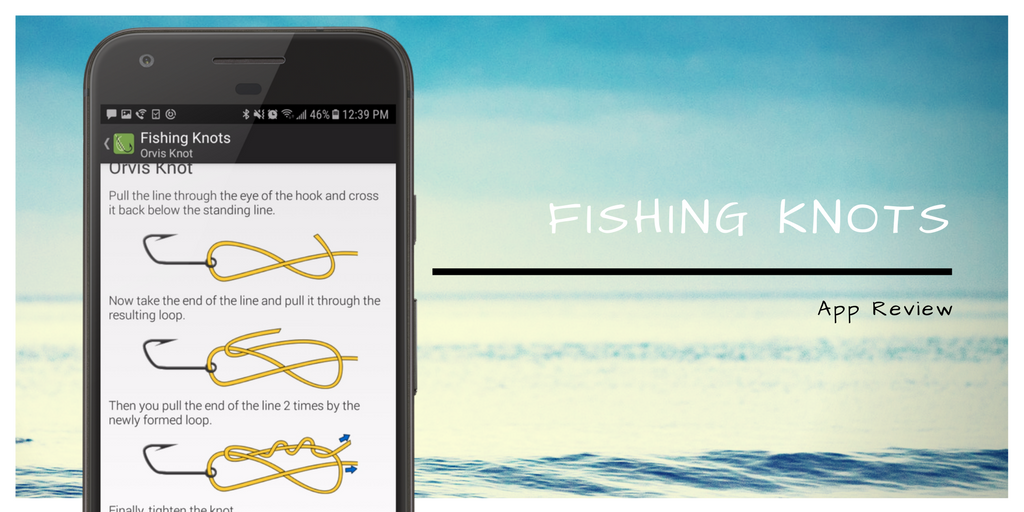 ---
One of the very best ways to increase your catch, year over year, is to look at trends. The most successful businesses in the world are all running off trends and metrics. As an outdoorsman, we should take a cue from these business owners. The fishing journal is one of the most effective ways to take advantage of this.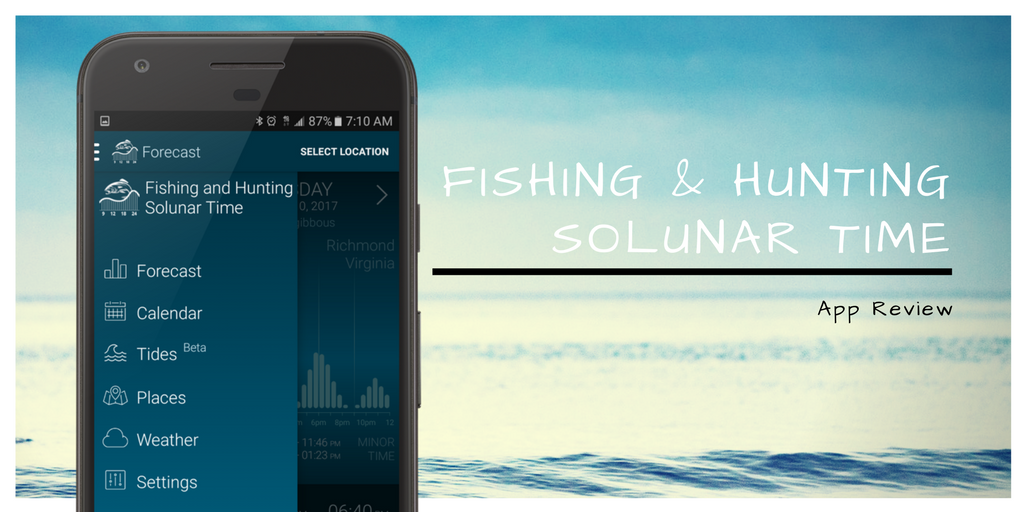 ---
Fishing apps like the pro angler app have the ability to log all sorts of information for you to refer to. Whether its conditions or locations, baits or catches, you will find it to be valuable information in the future. Let's say you are facing a day on the water that is offering bad wind and rough conditions. It's not your first rodeo and having access to prior trips will allow you to see what you did to combat those rough conditions.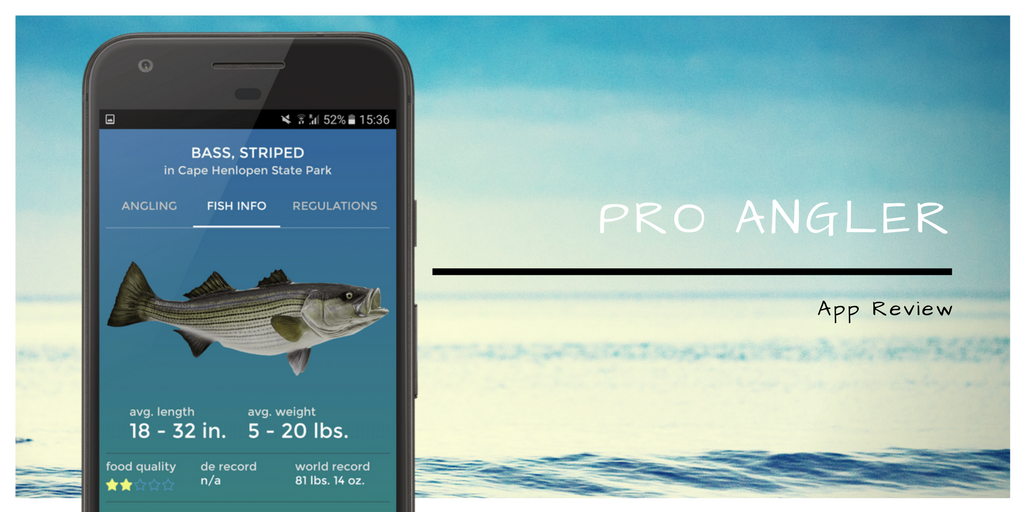 ---
We are on the doorstep of a revolution in the hunting and fishing world. While traditionalists are struggling to keep the doors shut on technology it seems the flood of apps and tech is just too powerful. That said, the time is now for you to get involved. If you want to become more serious and more successful with your time in the outdoors taking advantage of these best fishing apps is a step in the right direction.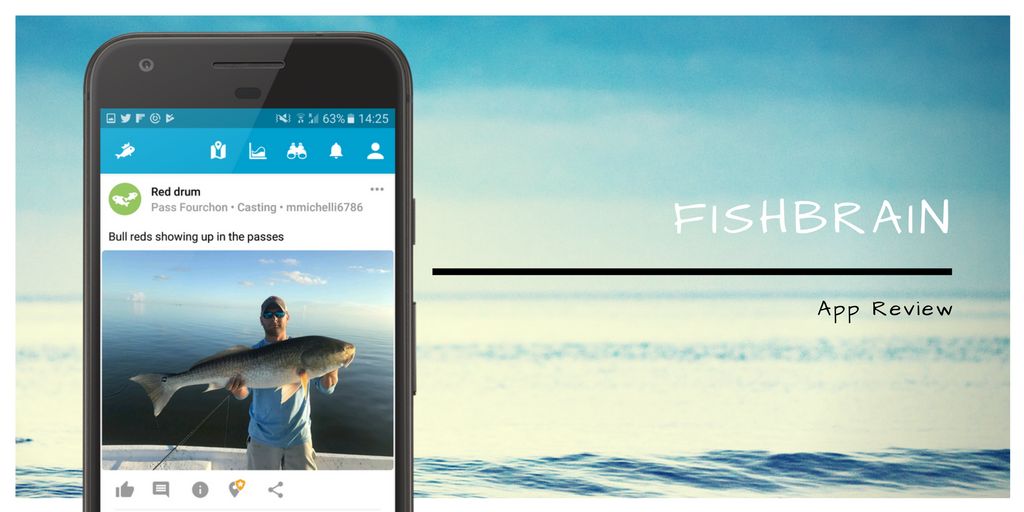 ---
The very best part of all this is that these apps are completely free to try. You can install them and use them completely free. If you don't like them, merely delete them. You have nothing to lose!
Best Fishing Apps in 2019- Free for Android and iOS
---
1. Pro Angler Fishing App – Saltwater Fishing App
---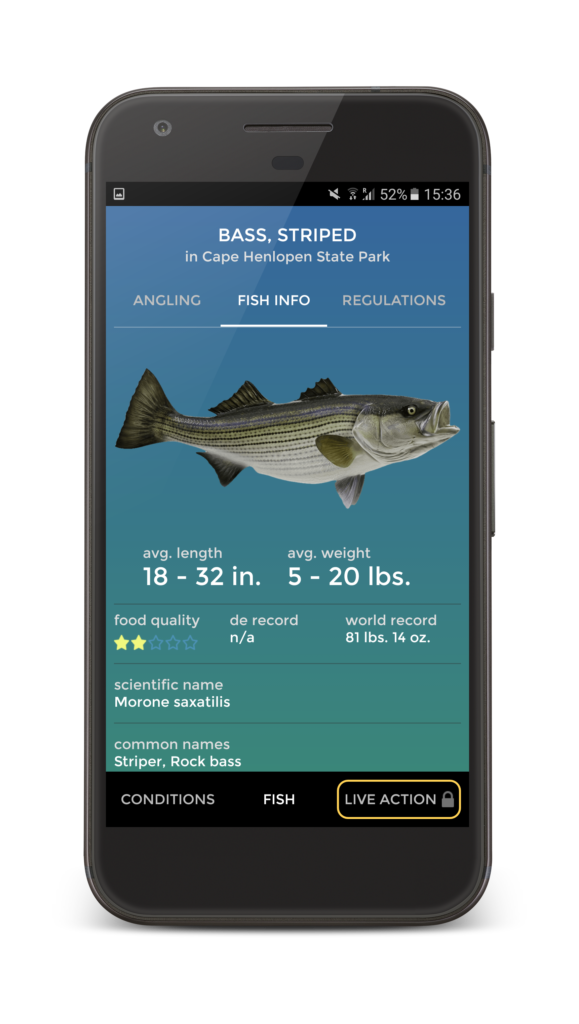 There are many words that can be said about the Pro Angler app. What I must say is WOW! If you are a fisherman who prefers the 'salt life' or spends a lot of time on the coasts and fishing those deep blue seas, you will be blown away by the capability of this app. I have never seen anything like this and I am wondering why it has taken so long for something like this to surface.
Pro Angler app is so thick with information it's incredible. I have a tough time understanding who could put this app together. Whether it's the complete list of coastal cities and even Guatemala that this app offers information on or the fact that you can drill down into the app and learn more than you can imagine, the app is a one-stop-shop for all your saltwater fishing needs in America.
There are even more options within the app for those who decided to pay. The Pro Angler app comes to life with real-time reports and charts if you pay $4.99 per month. The Pro Angler app is full of information but it becomes a bit more tailored to you and to the season in the paid version.
---
2. FishBrain Fishing App – Saltwater Fishing App
---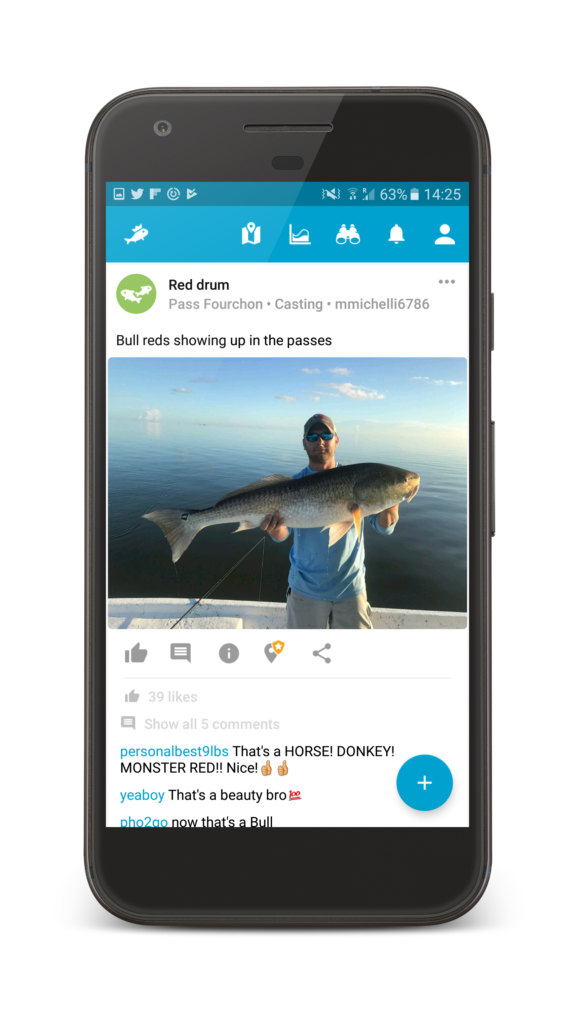 It seems that every hobby these days has an over-saturation of apps for it. The same is true when it comes to fishing apps. Most of the time these apps don't do much of anything that is really useful. Every once in a while though there is a fishing app that will surprise me with just how well it works and how much it can enhance your fishing experience. Such is the case with a newer fishing app called 'FishBrain'. It is the latest must have a smartphone or smart tablet app for those that like to fish.
How does FishBrain app enhance your fishing experience? Let's just say you will be amazed with all this simple to use fishing app can do for you. You can simply use it as a convenient way to record your catches, find fishing spots or you can take that a big step further and become a part of the FishBrain online community. That is one of the great things about this app. It lets you become as big or as small a part of the FishBrain experience as you so desire.
Let's take a closer look at how the FishBrain app will help you greatly expand the fishing world that you currently live in.
---
3. Animated Fishing Knots App
---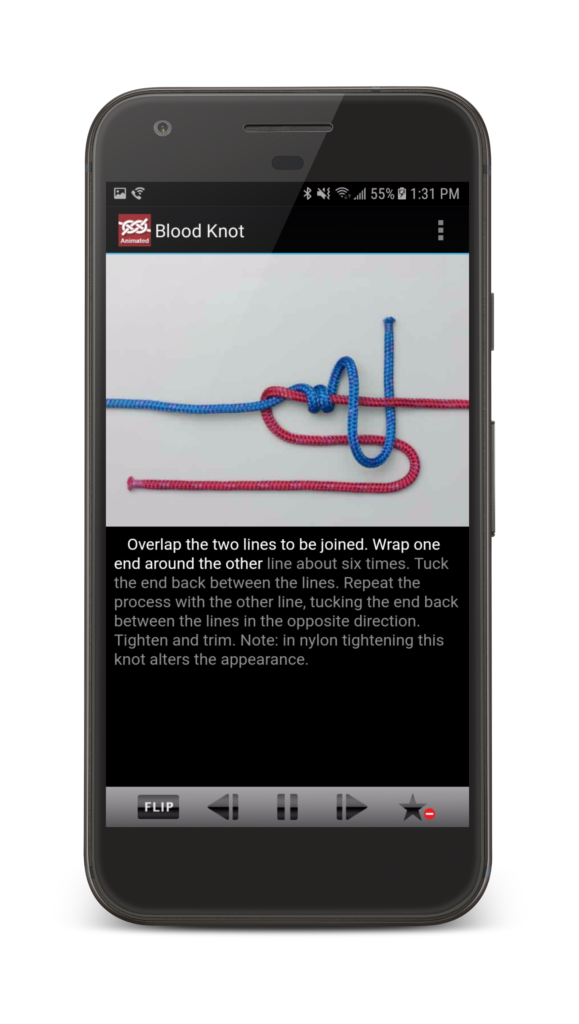 In the fishing world, there seem to be one skill hides in the shadows. While there are shows and, magazines all about various fishing techniques and gear. It would seem the fishing world cannot get enough gear or methods for reeling something in. We are spending over $10 on a single lure and there is very little concern or emphasis on how this lure is affixed to that hook.
The world of apps is a pretty impressive one that lends itself to fishermen if he is curious enough to try them out. The app is called Animated Fishing Knots and it's got a massive collection of knots that can do several things.
In the world of angling, knots can help with all sorts of things. Some knots affix lines together so that you can utilize things like leaders and tippets. Other knots affix baits to your line.
Some knots even offer you the ability to affix multiple hooks to one line. Finally, there are several knots that allow you to employ several types of fishing techniques. The first one that comes to mind is the drop shot.
---
4. Fishing Knots Lite App
---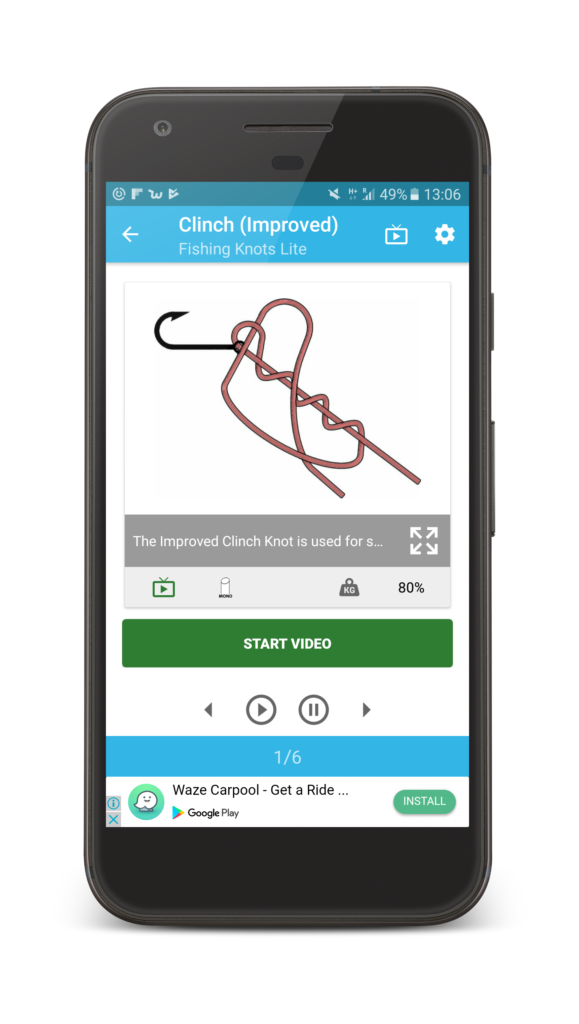 You probably have a few winning knots that are part of your fishing tool kit. If I had to guess, you have something to tie a lure to your line. You may have a knot that also ties a leader to a line, as well. Distinct types of fishing call for several types of knots. When I am hauling in giant river catfish upwards of 40lbs, I use a snelled hook. When I am flinging lures for smallmouth, I use an improved clinch knot.
You probably have a few winning knots that are part of your fishing tool kit. If I had to guess, you have something to tie a lure to your line. You may have a knot that also ties a leader to a line, as well. Distinct types of fishing call for several types of knots. When I am hauling in giant river catfish upwards of 40lbs, I use a snelled hook. When I am flinging lures for smallmouth, I use an improved clinch knot.
As fishermen, we always want to know more. It's usually time or money that negatively affect that goal. For years, I contemplated learning new knots but there was just not enough time and I was using effective knots already. That is until I downloaded fishing knots lite.
If you are truly looking to expand your knowledge and technique you should learn more about knots. There are knots like a dropper loop and alpine butterfly that will allow you to drop shot baits into just the right spot. We learn about gear and we learn about baits but fishermen so rarely take the time to try new knots.
---
5. Bass Pro Shops App
---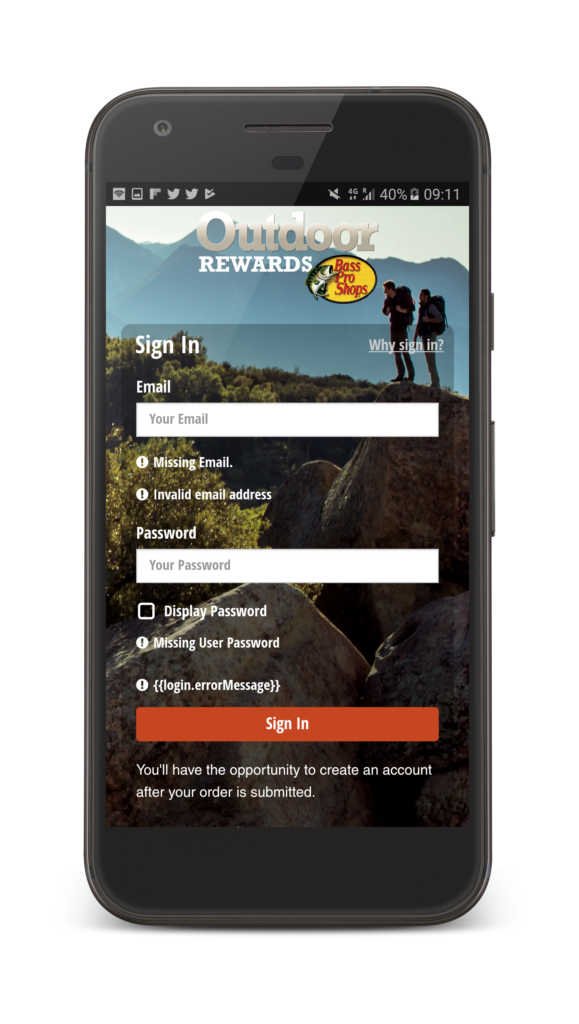 Bass Pro Shops has set itself apart as the go-to location for all things fishing. With the recent acquisition of Cabela's, Bass Pro Shops has become the hands down the leader in supplying all the gear you could possibly need. As a fisherman and outdoorsman, I love that I can go to one place and get what I need.
I was equally excited to learn that Bass Pro Shops had an app for my smartphone. If you are anything like me, you are always curious about what new gear is out there that you can add to your bag. I was hoping I would be able to use the app to find new toys when inspiration strikes.
Unfortunately, Bass Pro Shops is in the process of retooling their app and online store. After I installed the app, I was all set to start hunting for the gadgets my wife swears that I don't need, but discovered that all shopping was routed to BassPro.com.
The app is still worth getting your hands on, though, especially if your credit card statement routinely lists triple digits sliding toward Bass Pro Shops. You may be wondering, "how?" Well, my friend, the app's current function is housing all of the information for your Outdoor Rewards.
---
6. Fish Rules App
---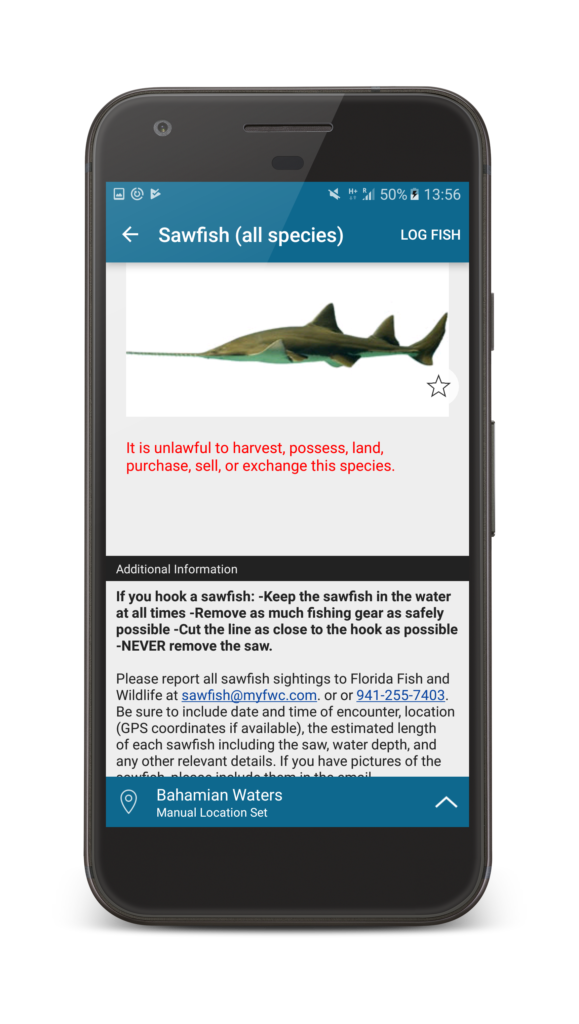 I love being able to fish, but I am terrible at fish identification. Knowing the difference between greater and lesser amberjack, or all the different types of tuna swimming around the vast blue ocean is extremely confusing.


Not to mention, the stiff penalties associated with making the tiniest mistake. I feel like I have to take a course at the local college just to be able to fish without fear of the game warden. Sure, you can buy a fish ID book, or get all the regulations from the local office and online, but then I spend my whole fishing day trying to identify if the fish I finally caught is a legal species. Then I have to account for how to measure each species, legal size minimums, and maximums, and how to store the darn things.
I'm not a sport fisherman, I fish for fun and for food. Nothing quite like conquering your meal before you eat it, right? So, I don't go out looking for a specific fish. If I did I probably wouldn't have this problem. Fortunately, I came across an app that solved my problems and concerns. The Fish Rules app, while not perfect, has helped me relax more every time I put reel to water.
---
7. Fishing & Hunting Solunar Time App – Best fishing weather app
---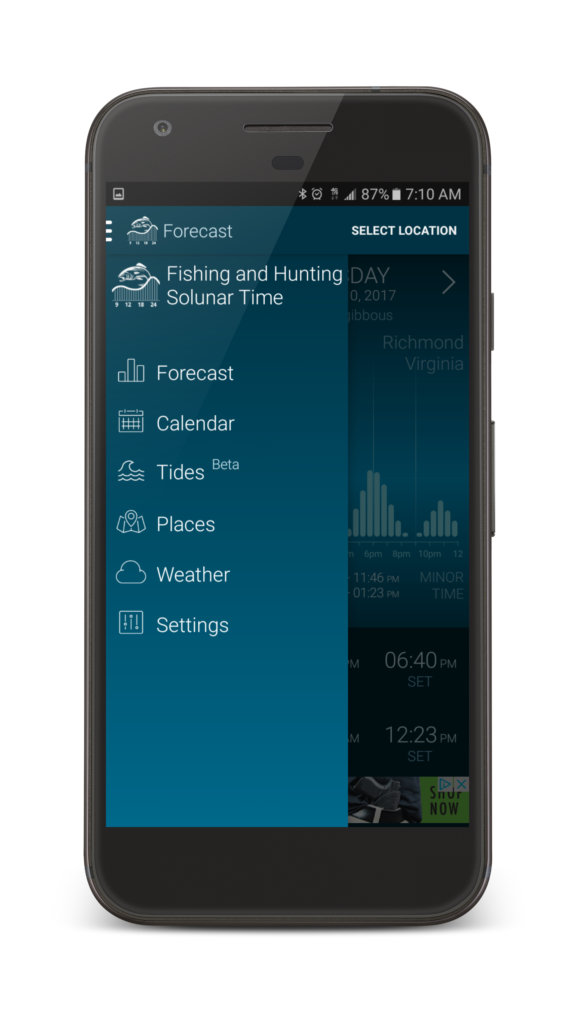 We are all looking to maximize our time on the water. This is no surprise to anyone reading. The app we are looking at today uses all of the available environmental tools to help you deduce the very best days and times for your next outing.
A basic forecasting tool Fishing and Hunting Solunar Time is an app with a lot of potentials to help the average outdoorsman. This app has pulled lots of important data into one location to keep you from jumping around to find things like tides, temps and sunrise/sunset. This collection of data can be manipulated by location as well.
This data is all built into a very pleasing and easy to use interface. I find it to be a familiar app to use. The best word I can come up with is familiar because though it offers a unique set of data all in one place the use of the app feels and looks very familiar.
---
8. Fishidy Fishing App
---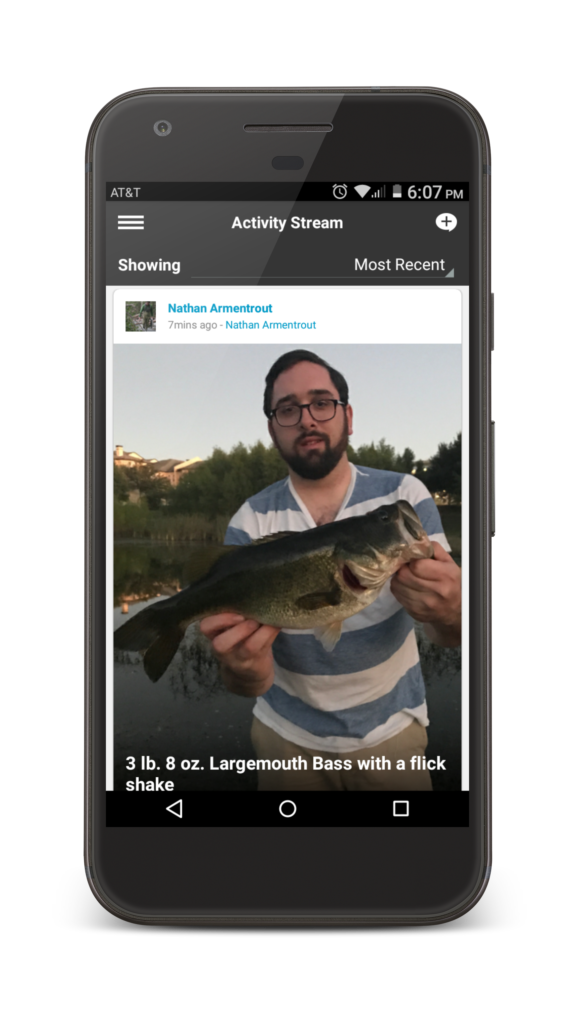 Social media is everywhere today. You can't watch a game or buy a good drink without being shown a Twitter or Facebook logo. We love social media because it keeps us in touch with all the wonder of the world. We can share accomplishments, ideas, photos, jokes, videos, fishing spots and so much more. Sometimes, though, you want to be able to get to the good stuff without weeding through endless vacuum riding cat videos and photos of your weird cousin's DIY projects.
This is where Fishidy comes into play. This app is social media for the angler. Whether professional or just starting out, this app is designed to make, "fishing more accessible and encourages people to go out and try it". I picked up the app and gave it a spin on a recent trip to the Sierra Nevada Mountains in Northern California.
It has been about twenty years since I have fished in the area, so I picked up Fishidy app to help me get the lay of the land. For those who aren't familiar, the Lake Tahoe area of the Sierra Nevadas has dozens of freshwater lakes and rivers. As an amateur fisherman, I needed more insight to help plan out my fishing weekend.
---
9. Fishing Points App – Best fishing weather app
---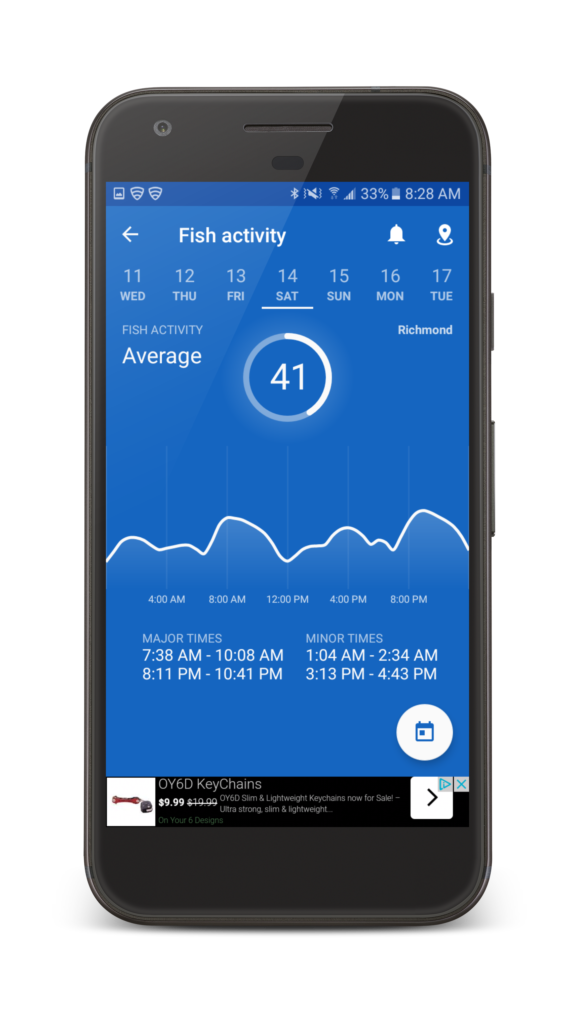 One of the most powerful tools in a fisherman's toolkit is not even in his tacklebox. For years I have been keeping a diary of fishing expeditions. This diary is critical for the following years of success. I have yet to find a fisherman that can remember what baits he used, water temperature and conditions from exactly a year ago. Therefore, it's so important to keep a journal. You will know what works and what doesn't.
The Fishing Points app is the 21st century answer to the pen and pad journal of the 20th century and prior. This app offers you some incredible information as well as the ability to capture that inspiration in the form of locations and fish caught. The app also comes with other critical information that can help you along your path as an angler.
You will get up to date conditions on the day of angling as well as fish activity, tides and a solunar chart to be used to your advantage. This is all governed by GPS access that pinpoints your location. There is even an active wind read on the home screen that gives you wind speed.
---
10. Fish Track App
---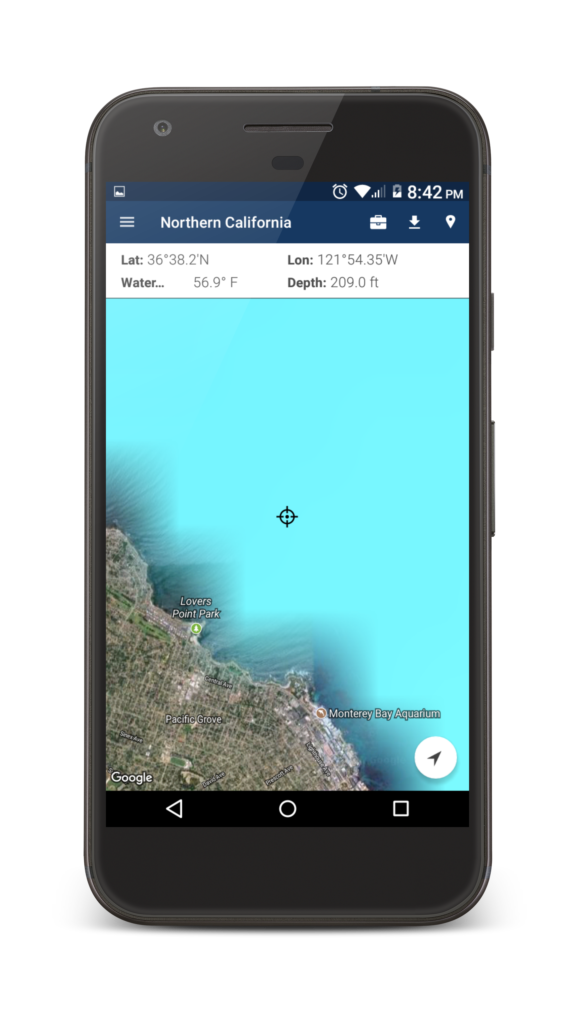 "Mirror, Mirror in the boat tell me where to cast my float. Help find the place to fish that will answer my dream and wish." "Based on your track record, I would say the closest supermarket."
"Stupid sassy Mirror!" If you're like me, you often wish that there was a magic crystal ball that could divine the best place to fish, and how to lure the fish into your hook.
Unfortunately, science has not progressed far enough to make magic a reality. So, for us regular, everyday anglers we typically have to go by our wits and hope that luck is on our side.
Or, you can take advantage of the wonders of modern technology and hard work of engineers to help you gain a rod up in the search for a successful fishing day. Welcome to Fish Track, the intersection of technology and fishing.
Fish Track is an app developed specifically to help ocean anglers find the best conditions on any given day. There will always be an element of chance involved whenever you jump into your boat and take to the sea, but the more you can reduce that chance the more likely you will end the day with a trophy and a good meal.
---
11. Fishing Knots App – Best bass fishing apps
---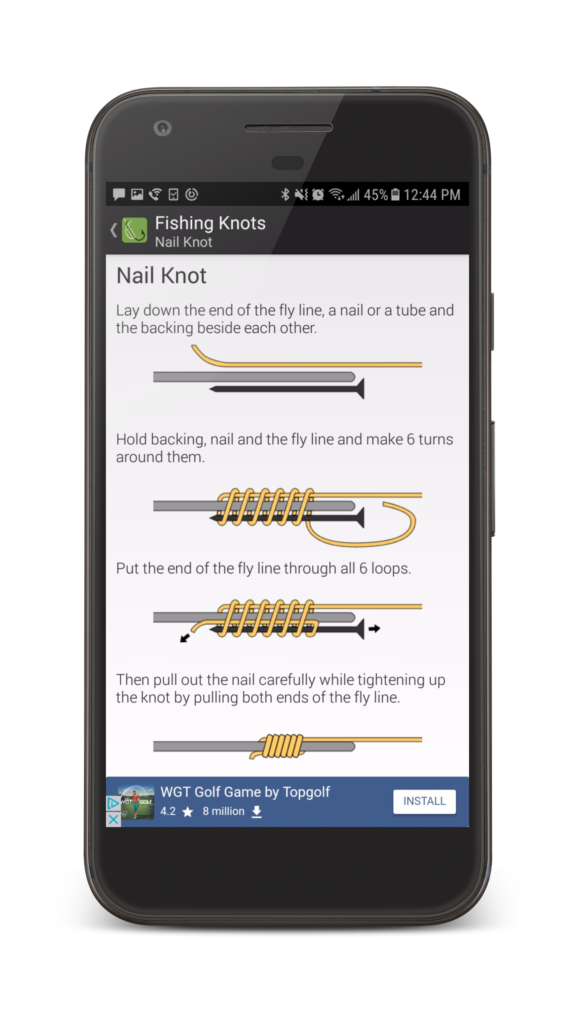 Every fisherman has a collection of knots they lean on. This could be for tying on baits or securing line to a spool. If you are a fly fisherman than you also have knots for securing fly line to leaders and leaders to tippets. If you are going after massive fish in the ocean your snelled hooks with high test line look very different than the average bass fisherman's rig.
No matter how you look at it fishermen need knots. A fisherman's repertoire is often based on which knots he has practiced most.
The Fishing Knots app offers you a chance to carry a collection of knots in your pocket as well as the instructions to tie those knots. If you think this is merely a matter of 'which knot is best' there are many more benefits to using this app.
Techniques like the drop shot require specific types of knots to be tied to achieve this productive fishing method. This app offers 30 knots of distinct designs for various uses in your next fishing adventure.
Fishing Knots has a very simple interface that is made up basically of a list of knots you can click on and the directions that follow.
---
12. Animated Knots App
---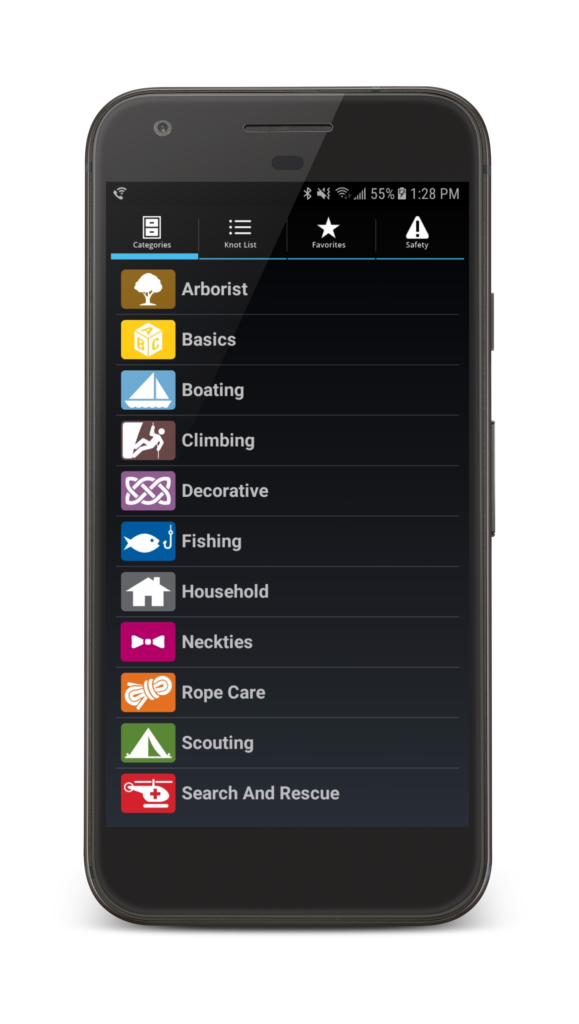 For most of us there very real limits to what we are capable of in the angling world. Most fishermen have their level of expertise. There are certain skill sets and certain fish that anglers are better prepared for. For most of us there very real limits to what we are capable of in the angling world. Most fishermen have their level of expertise. There are certain skill sets and certain fish that anglers are better prepared for. Unless you are a die-hard fisherman who travels coast to coast, you cannot know everything. Of course, that doesn't mean that you don't want to. If you want to enhance your techniques and skills quickly, there is only one.
Your quickest avenue for advancement of skills is technology. Fishing apps have created a new way to advance your skills. The Animated Knots app is such an incredible example of that exponential learning that an angler can undertake with technology at his side. While you might be thinking about what good is a collection of knots.
Well, knots can allow you to fish in new ways that you never have before. If you need a concrete example, consider learning to tie a drop shot and jig your baits in this new way.